How they began their open marriage
Romance is the child of destiny. Both Rani and Harish knew what this meant, having bumped into each other at a party hosted by a common friend. Their meeting was the prelude to an affair, which culminated in marriage in a year's time.
Appearances can be deceptive. Rani's demure facade and Harish's simple choices in life disguised the fact that the two had been in an open relationship before marriage. Even as they dated each other, part-time partners would walk in and out of their lives.
Things remained unchanged after they became man and wife. Both of them kept each other informed about their dalliances outside marriage. Confident in the knowledge that the spouse hid nothing, neither questioned the other. For five long years, the relationship cruised smoothly.
It was only thereafter that the boat began to rock. Unknown to Harish, Rani had started feeling restless. When she met up with her monogamous friends, she envied their approach to marriage.
When she met up with her monogamous friends, she envied their approach to marriage.
She had started wondering whether Harish would be the same man if he had to let go of his lovers.
The open marriage had to end. She would speak to Harish as soon as possible and tell him she wanted stability in the old-fashioned sense, she decided.
Related reading: How many of you are open to the idea of an open marriage?
Our open marriage is not working
It was on a wet Sunday that she finally spoke to him. Both of them had been sitting quietly on the veranda, watching the drizzle wash the lane that led to their house.
"Listen, I wish to tell you something." Rani interrupted the silence after a while. "I think we must lead the sort of lives regular couples do."
"Don't we do that, sweetheart? Or is something missing?"
"A lot is missing, Harish. We have been married for more than five years, and I now feel that we must move away from being in an open marriage. To tell you the truth, it is not working for me any longer," Rani spoke in a soft but firm whisper. A woman who knew what she wanted from life, she had stated her expectations without beating around the bush.
Harish looked at her. "I love you more than anyone else, Rani. I won't be dating anyone else in future. That is a promise," he murmured without playing the game of reasoning and debate.
They broke up with their lovers
If marriage was a commitment, so was the promise. Soon after his conversation with Rani, Harish was faced with an unlikely challenge. Extramarital romances had to be avoided, which meant putting an end to his relationship with Sulajja, his lover he had met at work. He'd been also dating Nisha, a friend's former girlfriend, on occasions. He had to break up with both of them – as soon as possible.
He met Nisha a few days later. He told her he was breaking up and apologised. Nisha didn't ask for an explanation and requested him to be her friend for life. He agreed with a smile.
His experience with Sulajja was somewhat similar. Sexy, intelligent and fiercely independent, she didn't pose any uneasy questions either. She didn't seek lifelong friendship, but Harish was happy to observe that there was no bitterness or anger in her voice.
He shared his experiences with Rani, who was visibly happy. She told him about Nitesh, whom she had been dating in recent months. She had told him that she wanted to end the relationship.
Nitesh had accepted the decision rather sportingly. "You will miss me," he had said and winked before heading towards his workplace.
For a while, life was good. Harish didn't come across Nisha. Nitesh was getting ready to move to a new city where he had found a better job.
When the other woman issued an invitation
Problems began after Sulajja invited Harish to her apartment. He could not resist the temptation, and the two of them ended up making love. After that day, the two of them kept meeting in secret.
Rani continued to be clueless about the new development. She was experiencing a new kind of happiness, and she held on to it with a never-disappearing smile.
Her happiness did not last long. Wanting to surprise Harish, she landed up in his office without notice one day. Her joy dried up at the sight of her husband, who was stepping out of Sulajja's car. Rani froze as Sulajja emerged and kissed him on the lips.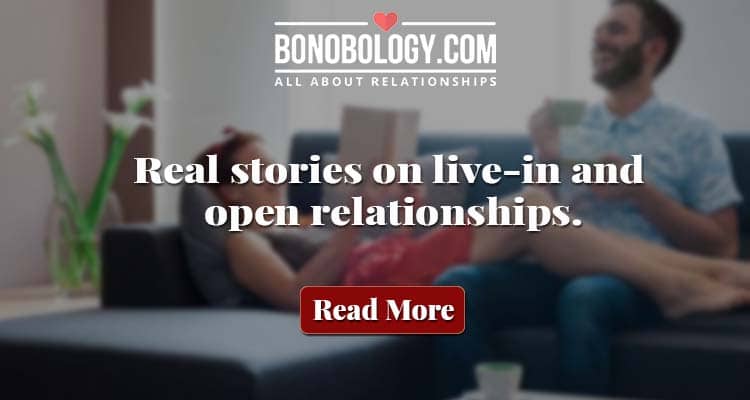 Neither of them saw Rani leave the place.
When she confronted Harish at night, he admitted that he had been unfaithful. "I should have stuck to my promise, but I have failed," he said meekly.
Rani, who had already packed her bags, left for her childhood friend's house.
Related reading: 10 important components of trust in a relationship
Where does the relationship stand?
Harish and Rani have been living separately ever since. The two of them talk on the phone. But they do not meet.
Sulajja and Harish spend a lot of time together. He has been trying to break up and have Rani back in his life. But his efforts haven't paid off.
Used to the idea of being in an open marriage, Harish has failed to lead a regular life of the kind Rani aspires to.
The marriage will end – very soon.
We've had an open marriage, where occasional flings were okay. Was it a bad idea?