At first, neither of us was a keen traveller. Before 1982, travel meant going from Kanpur to my mother's place, Rajahmundry in Andhra Pradesh. I lost my mother in 1982. Around 1980 the Indian Government started giving Leave Travel Concessions. That was an incentive to explore faraway places. By 1982/83 we also had an empty nest. Both my husband Gokhale and I wanted to get away from our busy schedules.
Some of our friends joined us. As we were geographically close to the Himalayas, we started going there frequently in groups. Our first visit was in 1983. I tell people, you fall in love with the Himalayas and the hills will call you back.
Gokhale was a civil engineer with a geology background. When we travelled in the Himalayas, Gokhale would enlighten us on plate tectonics, how the Indian plate is pushing the Eurasia plate from under, and how the Himalayas are young and still growing taller!  All of us became familiar with terms like faults and folds; what causes landslides. Once when we were returning from Tunganath to Ukhimath near Kedarnath, there was a fresh landslide, causing a roadblock. Emergency workers moved some rocks and boulders so that we could be helped across. My husband was like an encyclopaedia, giving us insight into the Himalayas right from their formation. All our friends cherish those memories even now.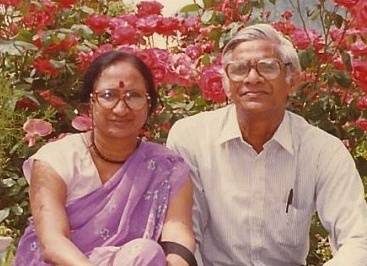 After we retired from our IIT service, we were able to continue travelling, as Gokhale was a visiting professor at many engineering colleges. He would choose places that we could use as bases to visit nearby places of interest. For example, as a music enthusiast, I wanted to attend the Thyagaraja Aradhana, held annually in Thiruvayyaru. When a university located in Thanjavur invited Gokhale for lectures, he arranged his schedule to coincide with the festival. So my wish was fulfilled!
Related reading: The trip that tested our relationship
We were set for more travel, as we were planning a trip to Singapore, Bangkok, Indonesia and Bali during March 2011. But then suddenly Gokhale collapsed at home and passed away on 25th December, 2010.
I was completely devastated, as this was sudden and I was not prepared to accept the loss. For about 2 years after my husband's demise, I was sad, lonely and very depressed.
Then I started gathering myself and felt that if I did things that we both enjoyed together, I could keep him in my thoughts forever!
I realised travel is something that we both liked and enjoyed together. I wanted to regain my confidence.
I went with my son and family to Bali and Indonesia in 2012. In January 2013, I went to Kerala with three friends and spent a week sightseeing. Some of the places, like Munnar, I had visited before with my husband. As we travelled, I constantly remembered him. Later, I went on a group tour of Europe, revisiting places that we had visited together in 2006. My son's family and I went to Alaska recently and as we saw the unique landforms and the glaciers, etc., I missed my husband all the time. I felt that somehow he was by my side explaining the geological importance of these formations.
Related reading: On Shiva, Parvati, and showing up well for partners
When you get busy with daily chores, somehow couples don't really give each other the quality time that's needed. However, during travel, one ends up spending all day with each other. Even when I travel alone now, I can't help but feel his presence, recall his remarks and connect with him emotionally.
In so many ways, we used to share the responsibilities of travel. He was fastidious about some things, like locking up the house and being at the airport or railway station well ahead of time. Now, I have to take care of everything single-handedly. Photography was always his job. I would just point out some scenic views and he used to capture them on his camera. Those photos encapsulate so many memories to live by!