Since 2000, in Bollywood suddenly everyone has started talking how hard an actor has worked for their role. No, they are not talking about the hard work or acting talent. The 'hard work' was entirely about actors achieving six pack abs and actresses achieving size zero or a bikini-ready body.
In the midst of this, Vidya Balan entered Bollywood in 2005 with Parineeta. There was no talk about how bikini-ready her body was, because she did not wear a bikini in the film. Also, everyone was busy talking about her talent. With her first film, Vidya managed to make a mark.
Then she gave more hits like Lagey Raho Munna Bhai and Heyy Babyy. But they were hero centric films, where Vidya played the pretty face.
In this phase she acted opposite Shahid Kapoor in Kismat Konnection. The media shamed her for being older than Shahid, as if it was a crime. And to look young she had gone for a Western look but failed miserably, according to them.
After this she stayed loyal to sarees, especially by designer Sabyasachi. While actresses wore gowns to events, she wore her saree with élan. Now everyone is wearing sarees, but Vidya has been donning it before all.
Strong as Silk
Vidya really arrived as an actress with The Dirty Picture, a biopic of the late Silk Smitha who was a B grade actress in south Indian films. The film demanded quite revealing scenes, but Vidya did those scenes without attaining a zero size body. For her, looking beautiful was secondary to remaining true to the character. Silk Smitha had a full body. The film attained both critical and commercial success.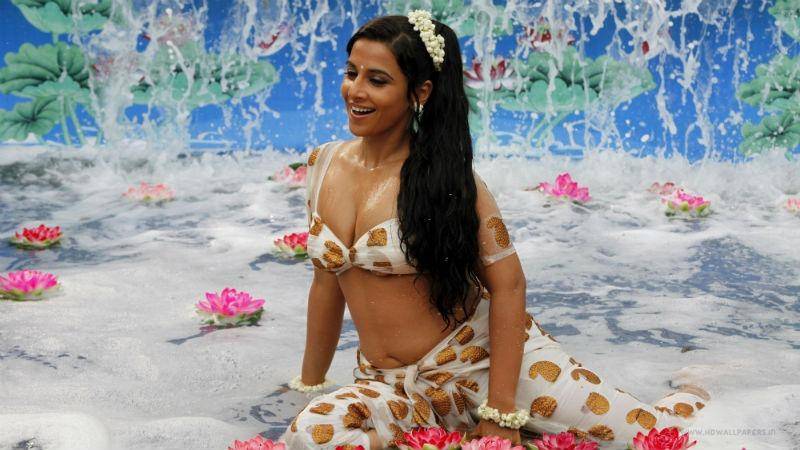 Vidya jumped to the big league. This, along with her marriage, took her in a different direction. From 2011 onwards, Vidya stopped playing just a pretty face in big male stars' films. But as a side effect of fame after The Dirty Picture, she constantly came under the scanner for her weight.
Lately she has been doing only the choicest films, which have her as the central character. This is a big gamble. Her films often do not get commercial success. But she has started having a group of loyal fans. These include people, especially women, who want to see a real and sensible woman onscreen with whom they can identify. Most importantly, playing writer backed real women, she does not have to stress about her weight so much.
In an interview in 2015, Vidya had talked about being 'a fat child growing up' and then she mentioned how in 2008 she consulted a nutritionist and then got to know she has a medical condition which makes it difficult for her to lose weight. She has made her peace with her weight.
Shutting down the shamers
She has an impressive body of work, yet still she has been in the news for her body. Vidya was recently talked about for successfully shutting down a journalist for body shaming her.
She was asked if she would keep on doing women centric films or would consider losing weight. In response, she said "I am very happy doing the kind of work I am doing and it will be really great if you people can change your mentality."
Related reading: How comments about her weight were threatening her belief in her marriage
Not just the media
She was not only shamed by a section of the media, but also by people from her industry also.
In the recent season of Big Boss, Salman asked the housemates to draw a portrait of Katrina Kaif. And then, reminiscing his past, he spoke about how once he himself had drawn a portrait of Katrina and it was so bad that Katrina was looking more like Vidya Balan.
In an interview Shahid Kapoor's wife Meera Rajput criticised her look too.
Vidya has not responded directly to anyone. She talked about body shaming in general in an interview.
But Vidya Balan has got the last laugh on all the critics with her recent release Tumhari Sulu being a hit.