Virushka – The couple that India can't have enough of
Virat Kohli and Anushka Sharma (or popularly known as Virushka) are everything today's India is striving to be. The couple has found their place under the sun not just with wealth or a family name but with their sheer talent and hard work. So it is not at all surprising that they are a darling couple of the billion plus population.
But the problem is that the billion plus population doesn't behave consistently with their loved ones all the time. For instance, when Virat and Anushka started dating, after the initial excitement settled, the people on social media started blaming Anushka every time Virat performed poorly on the cricket field. Some third-grade celebrities like KRK even got their ten seconds of fame by shaming Anushka.
Related reading: The two most impactful gestures of Virat Kohli for his lady love!
She became the daughter-in-law of the nation who was held responsible for each of Virat's failures. I could imagine two elderly people in some corner of India discussing "Hamara beta toh achha tha. Anushka ne usko bigada." (Our son was fine. Anushka's influence has spoilt him.)
In reality, things were quite the opposite. Anushka was a sane effect on the hot-headed, foul-mouthed Virat. After being with Anushka, Virat changed his old ways of cursing and sledging on the field.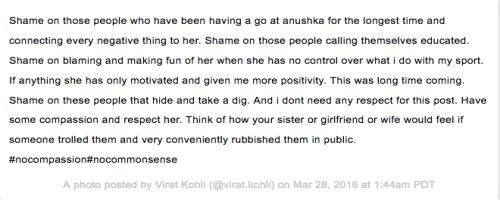 There were rumours of their breaking up, but Virat put all rumours to rest when he posted a tweet in 2016 shaming all people who have been blaming Anushka for his poor performance. After this, the couple went from strength to strength.
Related reading: We want our partner to look at us the way Virat Kohli looks at Anushka Sharma!
They were never the coy celebrity couples, who parrot the line, "We are just good friends". They were always open about their relationship by appearing together and expressing love for each other on their social networks.
They broke the internet in December 2017 by suddenly announcing their intimate wedding in Italy.The nation gushed on their pictures that included the pre-wedding ceremonies, wedding, receptions and the honeymoon. No one seems to have got enough of them or their pictures.
Virat had taken a short hiatus for his wedding. In January he joined the Indian team for the South Africa tour. Anushka was with him for some time and then came back to India to promote her upcoming film 'Pari'.
Unfortunately, India lost the test series. And haters again started shaming his newly married status and his wife for the poor performance of the Indian team.
It did not take long for fortune to turn and India won the One Day Series in South Africa with a big margin. After facing the haters and with his love away, it was only natural for Virat to become extremely emotional after the win. There is no doubt that he loves his wife immensely and missed her by his side during this win.
He put all his emotions in his Instagram post captioned
"My one and only! ♥♥"
The post has a picture of a couple tightly hugging each other in front of a poster of another couple hugging. The picture is sweet and classy at the same time.
https://www.instagram.com/p/BfaVLXNAXeq/?taken-by=virat.kohli
The faces of the couple were not visible so few people doubted if it was Anushka. But all the doubts got cleared when Anushka commented on the post
"I miss you too my love ♥ ♥ ♥"
Will this couple ever stop giving us couple goals? They are excelling in their respective careers by working hard and staying apart when needed. But they are showing us every time that love can flourish despite a busy career and long distance.
10 times Virat and Anushka proved they are made for each other
https://www.bonobology.com/pink-new-black/