Do you remember Vivek Oberoi for Company and Saathiya, or do you remember him for his infamous fiasco of a press conference where he spoke about how his then girlfriend Aishwarya Rai's ex-boyfriend Salman Khan was hounding him with phone calls and threats?
When I think of Vivek Oberoi, it is as the young man who rushed to the villages of Tamil Nadu just four days after the Tsunami hit India in 2004 and was doing relief work. Later on, he adopted a village in Tamil Nadu and has been changing their lives since then.
But sadly, despite all this, it was that single press conference that still defines him. Now he has landed himself in yet another soup. Was there really a need to share a meme  (picture below) on social media about his ex when both the stars have moved on, married and settled down? This is indeed in bad taste.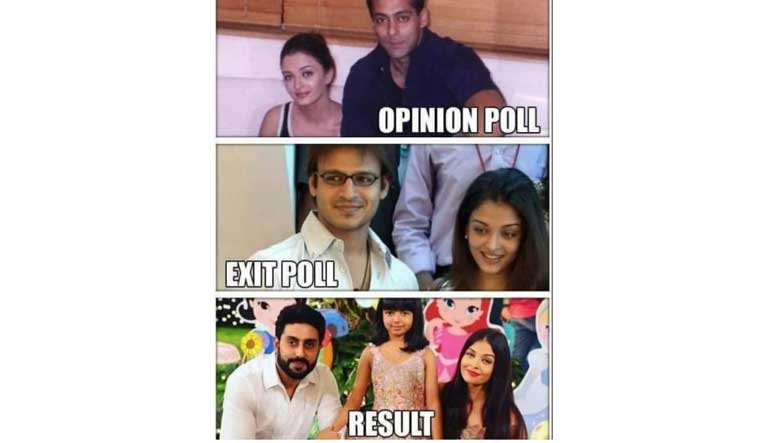 Vivek Oberoi is not the best decision maker
The actor could be someone with a good heart but he is not someone who has exhibited great decision-making skills. In several chat shows, he has blamed his then girlfriend Aishwarya Rai for egging him on to have the press conference. But fact remains that if you ask a struggler standing in the audition queue whether taking on a filmi giant like Salman Khan was a wise idea, he would shake his head vigorously in the negative.
It's true love does strange things to you, but sometimes when you are at the peak of your career, you need to think with your head and not with your heart. Something that Aishwarya Rai quickly did. She distanced herself from all the controversy and from Vivek too.
Years later, a public apology by Vivek Oberoi while performing at a stage show, didn't do anything much to resurrect his image. The royal ignore that Salman Khan gave him sealed things then and there.
Vivek Oberoi has no sense of timing
After a very long time, he had landed a role that would have brought him some fame again as a performer. His film PM Narendra Modi, where he plays the Prime Minister is scheduled for release on May 24. But what did he do? He ended up sharing a meme that once again brought him to the centre of controversy. Initially, he defended himself saying it was innocuous and there was nothing derogatory about it. But when social media went berserk asking him for an apology and when he was served a notice by the Maharashtra State Commission of Women, he realized things had got out of hand.
In his apology he wrote: "Sometimes what appears to be funny and harmless at first glance to one, may not be so to others. I have spent the last 10 years empowering more than 2000 underprivileged girls, I can't even think of being disrespectful to any woman ever."
Will this controversy work in his favour?
It is a bit uncanny that if Vivek Oberoi has to hit the headlines and get trending it always has something to do with his ex Aishwarya Rai. While he was grappling with yet another controversy, new posters of his film were released and promotions started all over again. But sadly, no one was talking about his movie, his work. He was only trending for a bad decision again, where he dragged his ex. So it's unlikely this sudden spurt in publicity would increase the footfall in movie halls. If the poll results on May 23 are in favour of BJP, then there could be a spurt in ticket sales for Modi's biopic.