There are a few films in the history of Indian movies which have crossed the barrier between reel and reality, such as Silsila, Mughal-e-Azam and Kaagaz Ke Phool.
Kaagaz Ke Phool is the swan song of the brilliant filmmaker Guru Dutt, who was known to be ahead of his time. He put everything he had in making the film. He was completely invested emotionally in the film too. Interestingly enough, the basic premise of the film was close to his real life.
Guru Dutt was looking for a fresh face for his films when he spotted Waheeda Rehman in Hyderabad and gave her her first chance in CID as a moll. Then later she became his muse and inspiration behind the classics he made. The classics of Guru Dutt considered as milestones in world cinema are Pyaasa, Kaagaz Ke Phool and Sahib Bibi Aur Ghulam. In all these films, Guru Dutt and Waheeda Rehman acted together.
A real to reel life story
In Kaagaz Ke Phool, Guru Dutt plays a director called Suresh who's in search of a fresh face. He spots Shanti (Waheeda) in Delhi. Then she becomes his muse and heroine.
Both on screen and off screen, Guru Dutt was married with children when he worked with Waheeda. The only difference was, in real life he was still with his wife, the famous singer Geeta Dutt, while in Kaagaz Ke Phool the director Suresh Sinha is separated from his wife.
Shanti knows Suresh is married, but that doesn't stop her from falling for him. In real life too, Waheeda and Guru Dutt were an item, as was an open secret in those days. The fling was supposed to be one of the reasons behind Geeta Dutt living separately with the children, according to gossip.
But no one knows for sure if Waheeda really broke up Guru Dutt's home or not. However, everyone knows definitely that with Waheeda he was able to make the films which made him one of the greatest filmmakers of the world.
No happy ending
As in real life, in Kaagaz Ke Phool too, Suresh and Shanti never get a happy ending. This movie is one of the most intense love stories to be told on the silver screen, yet surprisingly there is no conventional characteristic of Indian romances in the film.
Suresh and Shanti are separated not by the usual rich/poor or caste divide. They are separated by a marriage, a child and age gap. They never run to a park or a foreign locale to sing a romantic song. In fact, in the years they know each other, they have very few chances of being alone privately.
They have a few deep conversations, but mostly they understand each other's unspoken words. Nothing is ever said, but they understand the true feelings. As Suresh says, "Hum ek dusre ko hamesha samajh lete hain" (We have always understood each other so well).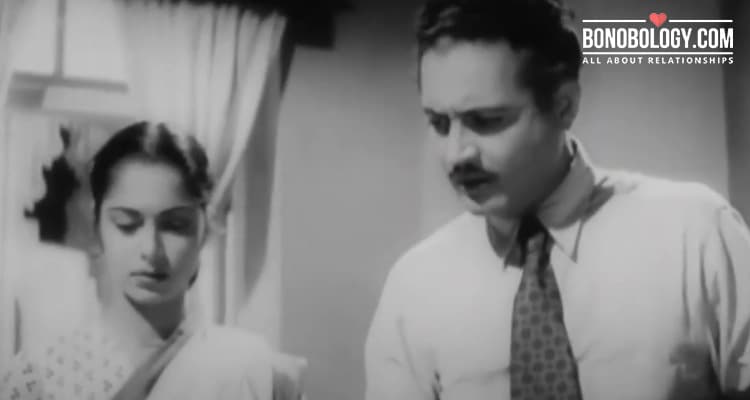 The most surreal moment of the film is when in the dark deserted studio Suresh and Shanti stand facing each other and in the background plays the song "Waqt ne kiya kya haseen sitam" crooned with a strange sadness by Geeta Dutt, Guru Dutt's real life wife.
Drink drove him to death
Suresh makes a successful film, "Devdas" with Shanti. After that he's separated from both Shanti and his child due to circumstances. The loneliness becomes unbearable. He stops caring about anything other than alcohol. Because of alcoholism he loses everything he had earned in film industry, including the goodwill. The only thing he doesn't lose is the sweater knitted for him by Shanti. That stays with him until his last breath.
Related reading: 6 reasons why women have an affair
Shanti is shattered after being separated from Suresh. She still acts in films, but is dead inside. The only thing that gives her hope is knitting half finished sweaters for Suresh.
Real life imitated reel life. Kaagaz Ke Phool was commercially a disaster, which led Guru Dutt into a path of alcoholism, undisciplined life and finally death.
We will never know
Waheeda Rehman continued her acting. She acted in many beautiful films like Guide and Khamoshi. She got married very late, in 1974, to a little known actor called Kamaljeet.
Waheeda Rehman lost her husband in 2000. She appears in films occasionally. She's now living in Mumbai. She has never talked openly about her supposed relationship with Guru Dutt, but refers to him as her mentor while talking to the media.
Ask Our Expert
You must be Logged in to ask a question.