The Holiday season is great for a lot of things! The weather, the food, family and friends together after slogging through the entire year, and of course, gifts! Receiving and giving gifts are some of the best things about the holiday season! But what's more important than all of these things, is saying two words – thank you – to people that have been there the most for you during the course of the year. That's right, being kind and expressing gratitude in the form of saying 'thank you' can go a long way!
As people so caught up in the daily humdrum of life, we often forget how to say thanks! It may sound bizarre, but when the holidays are around the corner and you want to express your love, affection and gratefulness to people, you find yourself in a slump. So how can you really express thanks to the people that have always been there for you?
1. Say Thanks in Person
It can never be enough to thank a person for things they have done for you. It takes a huge amount of reflection to understand the people who have been there for you in your life, and have helped you become the person you are today, even if in a minuscule way. Go up to people, call them on the phone or take time out to video call them – and say thank you in person (or virtually, as may be possible). Making eye contact to express thanks can really warm someone's heart and are considered excellent manners.
Related Reading: 11 Last-Minute Hostess Gifts Ideas | Inexpensive Hostess Thank You Gifts | 2020
2. Say Thanks via beautiful illustrated Thank You Cards
Another great way to say thanks, is through cards and notes. We've put together a few readily available interesting cards that can help you light up someone's day: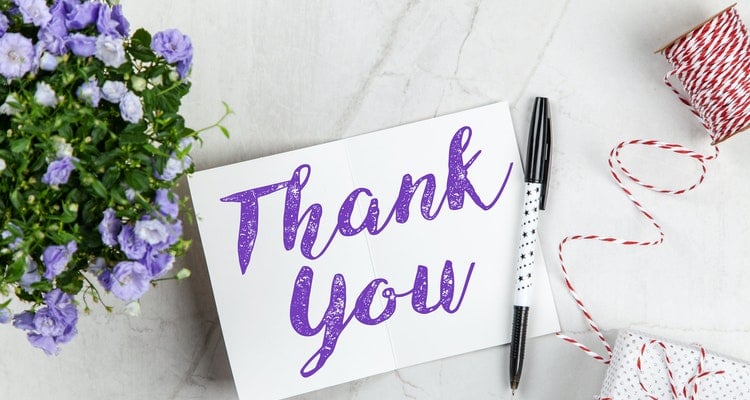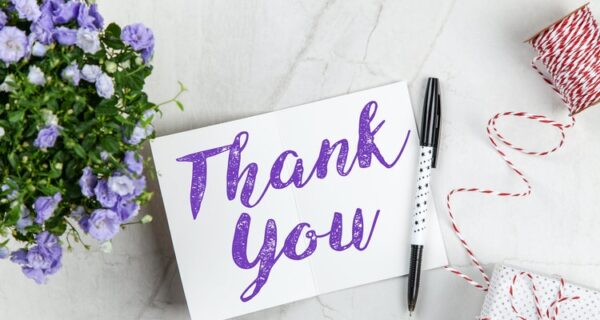 We know that saying thank you is not in solitary, there are many people we encounter over time that impact us in a multitude of ways, some more than others. It is important to let them all know that we are grateful for them and their silent support. Quality Designs LLC's beautiful, hand-illustrated, deluxe card set includes 6 individual cards and envelopes featuring authentic hand-drawn, thank you illustrations.
These cards are a symbol of adoration, loyalty and longevity. The cards have floral prints which are known for being called the "happy" flowers, which makes this card illustration the perfect symbol to say thank you to your close friends, family, loved ones or even co-workers! The set has envelope colour options of Kraft Brown or white and can be used for any occasion!
3. Say Thanks using Quirky Cards
Are you more of a quirky person? Do you often find it awkward to portray your sentimental side? Are you the type who avoids heartfelt conversations? Then this card is for you! Show your co-workers, friends or loved ones how much you appreciate them all the while keeping the air light! No need to get teary-eyed now. We all know how uncomfortable emotions can get. These cheeky designs are original illustration by the Best Card Company Store on Amazon and will be sure to produce a few laughs. It is ideal for those who have a more carefree attitude.
Related Reading: 21 Christmas Gifts For Parents [2020]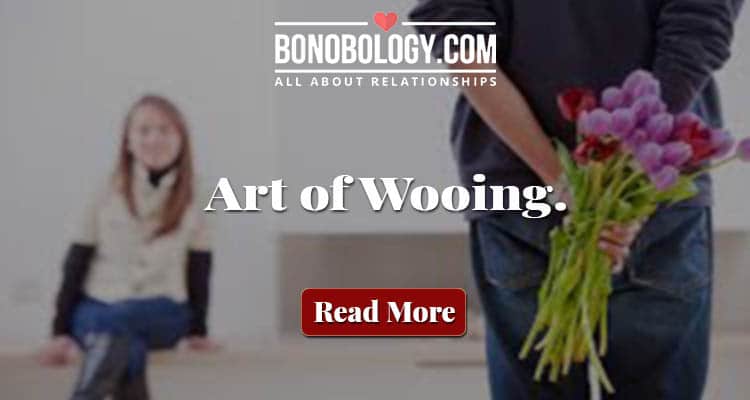 The inside of the card has been left blank for you, you may write a message or possibly a few more puns. (We leave that up to you!) Made to order and digitally printed on a luxurious 350gsm heavyweight card the materials are sourced sustainably and produced ecologically. The card comes with a recycled envelope snug in a clear cello bag to give it a clean finish ready to say thanks and spark joy!
4. Say Thank You Through a Gratitude Bracelet
If you're looking to really express your thanks to someone, consider getting them a small present! Here are a few items that you might want to gift to a special someone in your life, and have them feel really lucky!
Show your gratefulness and say thank you with this creatively unique inspired jewelry. This is a fun and covert way to share a token of appreciation with your loved ones, co-workers, and or friends. This bracelet will allow you to share an inspirational mantra with your loved one and have them keep it close to their heart. Each bracelet is crafted keeping various inspirations in mind ranging from the mountains to towns and cities – and equipped with motivational and gratitude drove words.
It is handcrafted by the Shag Wear Store who use light nylon threads and even seed beads to match, which give the bracelet its ethereal shine and radiate warmth. A free size bracelet, this has been created for convenience as the sliding knot can be adjusted easily to fit perfectly on just about anyone's' wrist! Each bracelet is packaged with a beautiful card and a clear protective bag.
The words on the bracelet serve as a subtle daily reminder of your gratefulness and can even serve as quite the conversation starter. Perfect for a unique gift for your special someone, close friends, co-workers, and family members. These bracelets give a personal and thoughtful twist to the conventional way of saying thank you and will surely be treasured by the receiver for years to come!
5. Say Thanks By Helping your Loved Ones Feel Warm During the Holidays – Literally!
Gifting socks is great! You are literally giving your close friend or loved one both comfort and warmth! Hence, they make a great "Thank you" gift. Available in an insane variety of colours and styles on Amazon, you can literally find socks with all sorts of funky prints! From pizzas and ice creams to pokemon, Pac man and spaceships, they have thought of it all.
They even have socks with command quotes "If you can read this, get me a donut." Everyone loves a comfortable pair of socks. They are reliable and useful items that you just cannot go wrong with whether it is the size or the style, the funkier the better! So, we suggest you scour through the world of options Amazon has to offer to you. Show how grateful you are to your close friends, family, or co-workers with a quirky pair of socks you know they will cherish!
Related Reading: 11 Last Minute Gift Ideas For Neighbors | Make This Christmas Happier
Another way to say thanks is making your way through someone's heart with a warm beverage – through a beautiful herbal tea gift set available on Amazon. A warm cup of herbal tea is great for ones' health and is an interesting way of saying thank you. Tea is known to symbolise harmony and peace.
A social activity that almost everyone enjoys, brewing yourself a cup of warm herbal tea has always been a therapeutic process. So, what better way of showing your appreciation to your loved one, a close friend, or even co-worker than by gifting them this perfect assortment of herbal teas! This gift set is a pocket-friendly vial of teas (each can brew up to 3 cups) curated based on availability. The tea selection comes in natural tissue paper, carefully packaged and placed in a quality kraft window box, tied with brown string giving it a rustic finish. You can even add a beautiful heart-shaped stainless-steel Tea Strainer to the box to complete the gift set for a holistic brewing experience.
6. Say Thank You through Handwritten Notes
Still, have a few people in your life that didn't fit into this list yet? Worry not. It is easy to convey thanks are easy even if you don't have the budget to get a present, or the person isn't that close to you but you still want to find a personal way to say thank you, we suggest giving out 'Thank You' notes. Some family members, friends, and colleagues could easily fit into this bracket. You can give out thank you notes around your office, or pass them to family members after a nice family dinner together. Even if it is a simple handwritten note, they are bound to cherish it for years to come.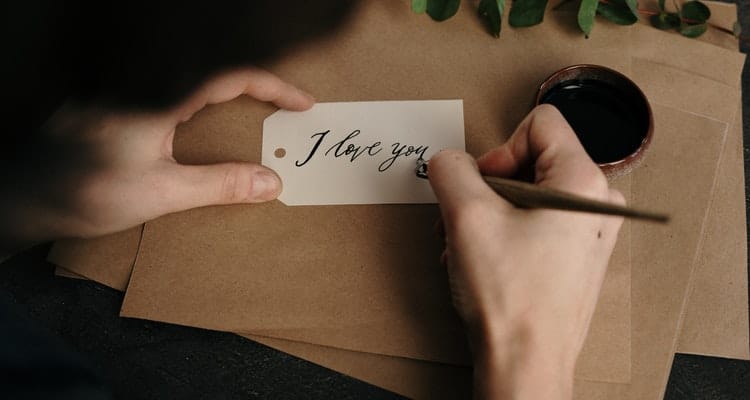 In whichever way you choose to say it, saying thanks is really better than not reaching out to the person at all – especially during the Holidays when everyone is already in highs spirits and uplifted moods with warm hearts waiting to be warmed by others. So, make sure you say Thanks to this holiday.
21 Gifts For Beach Lovers [Gifts For People Who Love The Beach] | Christmas 2020
21 Gifts For Sister-In-Law | What To Get Your Sister In Law for Christmas | 2020
21 Long-Distance Relationship Gifts | Updated List [Oct. 2020]