Marriages are made in heaven, at least in this part of the world, they still are. These are the happily-ever-after events planned by entire families that jump to take due or undue credit. The soon-to-be-married couples get to choose the dates for the next lunar mission or if they are lucky then the honeymoon destination and wedding attire. The less important tasks like the venue, dresses for every event, the lengthy guest list, music and everything else falls under the dictum of the parents. And we all know that the prime task in any Indian wedding is the choice of the perfect bride/groom! So what happens if you decide to flow against the tide of Indian sanskar of arranged marriage? The way your parents react to your love marriage it could be same as spotting a ghost in the room.
Well, since it's your life that you wish to spend with someone of your choice, it falls upon your delicate or muscular shoulders (depending on whether you are the prospective bride or the groom) to inform your parents. And then?
7  Ways your parents react to your love marriage
I've-found-true-love declarations often evoke priceless reactions from the parents. Here's a list of reactions we put together.
1. Shell Shocked
Oh no!! These are moments when you feel like softly pinching them or even placing a finger under their nose to see if they are still breathing, that's how non-reactive they can be.
2. Distraught as it's a matter of honour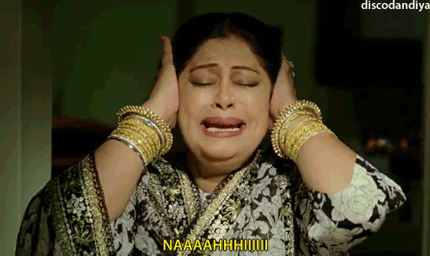 Parivaar ki prathistha daav pe lag gayi kind of a reaction. In case the parent lays more emphasis on societal norms than your happiness, it's heartbreaking for them to witness this huge let-downer. They wonder if the chosen partner would be able to match their social status or not. The 'or not' is terrifying for them. Your parents react to your love marriage thinking of that 'or not'.
3. Superiority Complex
Be prepared to get raised eyebrows and cold stares if your parent has this complex. They'll consider your decision to be similar to that of an immature fool who can never succeed in life.

4. Emotional melodrama
Hmm, toughen up! If you've been a darling of your side of the family, you just might hear things like, "Your brothers will go and beat up this person," "Your dad is never going to accept this" or even, "What will your great grandmother's soul say when she watches over the nuptials!" Oh my God now how do you react?

5. Inquisitive Interviewers
Kahaan rehta hai / kya karta hai – These are a pure delight to witness… well for some time at least. They will go out all horns blazing to find out every minute detail about the prospective bride/ groom and will not even bother about infringing upon your privacy to do so. Your parents reaction to your love marriage could mean asking you every single detail from how you met to how you dated to the salary drawn to food habits and what not.

6. Super Excited
Such parents will make you wonder why didn't you decide on marriage much earlier. For them, the very fact that you are getting hitched is one of hope and joy that they'll either run to their temples to seek blessings or they'll take out their necklace and kangan to bless the long-awaited new member or plain simple go crazy.
7. Chilled out cool
These are your best buddy parents. They'll support you, encourage you every step of the way and even help you sort it out with the other side of the couple parents. You won't have to worry much if you get such a reaction from your parents.
Well, these are some of the common reactions witnessed in that glorious moment when you declare your intent. You might be lucky enough to witness something new… in that case do let us know. Meanwhile, watch out for the signs and well hope for the best reaction.
How To Convince Parents For Love Marriage Without Hurting Them?
https://www.bonobology.com/mistakes-my-parents-made-in-50-year-old-marriage/