He sits comfortably in his office, the walls of which are plastered with bookshelves. At last count, there must be a thousand books in his office library. "Have you read all of them?" we ask. "No, but I'm getting there," he says.
He meets us on the eve of his promotional tour of Jab Harry Met Sejal, a film that he stars in with Anushka Sharma. "It's a simple love story about companionship and being a couple," he informs us.
"There is no philosophical message in this film or heavy-duty philosophical stuff. Just an extraordinary love story between seemingly ordinary people," he says.

Isn't every relationship like that? We wonder.
A lot has been said about how Shah Rukh Khan met Gauri Chhiber and followed her to Bombay. Then they got married and now they have three lovely children.
How has that relationship changed, every fan has always wondered. So, now that we have Shah Rukh in front of us, we decided to throw those questions directed at him. He answered each of them in his typical style.
BJ: What is the best thing about having a companion for life?
SRK: It's the nicest feeling of security for any man. If you are compatible with each other then you will be able to create space for each other at the same time.
BJ: You lead a very public life, doesn't that affect your companionship?
SRK: If you can keep your private life away, then there is no effect on the companionship at all. It is a blessing if, despite the fact that your partner belongs to the public and leads a very public life, the companionship remains unaffected. My wife and children are happy knowing that I lead a very public life. They find happiness in my happiness.
BJ: A lot of young people tend to look at marriages cynically these days…
SRK: Everyone's marriage is different and I'm sure some have enough reasons to look at it cynically. It's different strokes for different folks. Every marriage and relationship has different dynamics. Some have happiness and have sorrow written all over them. You will find a resonance of that in my film, Chalte Chalte. We made the film to speak about the issue (unhappy marriages). You have to take both in your stride. If you don't want to go through it and don't enjoy being married, you don't get married. It's that simple. Unhappiness creeps in when you do something you don't enjoy.
Did you know that Gauri Khan's maiden name is Gauri Chibber? When SRK first saw her and fell in love he was just 19 and she was 14 years old. A few years later SRK proposed to her while dropping her home.
BJ: How much has your personal life changed after achieving stardom?
SRK: I'm reclusive by nature. Even when my wife, children and sister are around. If I'm alone at home, I sit alone in the house in some corner with my laptop. I don't have a lot of hobbies.
BJ: What do you miss most when you are sad?
SRK: I miss my parents. I remember my childhood but I don't think about it. Once a year, I go to their grave and pray to them. I usually live from moment to moment. God has given me a lot but my life hasn't changed much. People cherish me and call me a star but my personal life hasn't changed.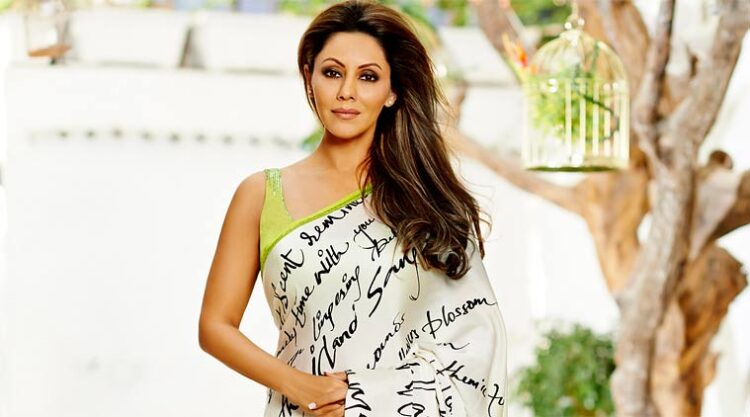 BJ: Good things apart, what is it about you that Gauri doesn't like?
SRK: She doesn't like to see me smoking. She hates it when I eat less (SRK has a habit of not eating on time and not eating enough). Even my daughter complains all the time about it (smoking frequently).
BJ: So what are you doing about it?
SRK: I have started smoking less (number of cigarettes).
BJ: Less?
SRK: When they start complaining, I usually run away but they don't spare me. (Quickly changes the topic) I'm not organised and I'm late all the time. Gauri scolds me for that too. Everyone in my office knows that I don't work in detail. Look, I'm a little spoilt. There are a lot of complaints but nothing's serious.
Related reading: "Gauri is the superwoman in my life" – SRK
BJ: Do you give anything in return to society from the fame and money that you have earned?
SRK: I don't want to be photographed when I'm giving something back to society. I haven't done much but I try to do things on my own, small ways. I work hard for it. I want to build more ladies' toilets. I respect women and do a lot for them. Me and Gauri, we both want to work for acid attack victims and maybe, give them jobs. I want all of them to be self-reliant and self-sufficient. Look, I was an orphan at one stage. I feel that more than sympathy, everybody should be treated equally even if life has treated them unequally. We want to involve our daughter too so that she understands it and takes it forward.
https://www.bonobology.com/the-top-5-irritants-in-a-married-mans-world/