When I had to stay with my future in-laws
I was engaged to be married to the love of my life. He was working in Mumbai. My in-laws-to-be were in Pune, the city which beckoned me for a month-long project.
Once in Pune, my mother-in-law-to-be and I spent the day together combing the streets, looking for a decent rental space for me. Each place seemed worse than the last and my self-esteem took a major hit when I saw the miserable quarters I could afford on my budget. Thankfully, by teatime my MIL-to-be had declared, "No bitiya of mine is going to live in these conditions". Much to my relief, she made me bring my boriya-bistar over to her place. That night I had a simple dinner at home with my MIL and FIL-to-be. I went to bed with the calming reassurance that the rest of the month would go by soundly.
The hell did I know.
Related reading: 7 women share: Things their in-laws did to make them feel at home
The maid who ruled the house
Monday morning all of us got sucked into the vortex of our daily lives; home, office, family. MIL-to-be, Lila Bai (the elderly cook-boss-lady) and I were pottering about in the kitchen, when Lila Bai dismissed me with a, 'tum bahar jakar baitho'. I was about to say with the enthusiasm of the 22-year-old that I was, that 'I absolutely must help and participate and that it was the least that I could do' but… one look into her accusing eyes and it hit me. She had just been informed that I would be living here. I had fallen in her eyes. So fallen. I was the loose woman who was 'living in' with her in-laws-to-be. Shaadi ke pehle. I deserved no privileges. Not of the family. Or of a bahu. Not even of a guest.
The ubercool, independent working woman in me, who held her own through all-India solo travels and stressful office deadlines was nowhere around for my rescue. I took my shattered confidence and joined dad-in-law-to-be at the dining table. His eyes lit up immediately and he put his newspaper aside to chat with me. I immediately felt better about myself. Lila Bai came in with the toasts and stuff, her biting hostility slicing through me and only me. She was brilliant at it. Admirable really.
The rest of the week I took refuge in my 12-hour workdays and was thrilled when my sister-in-law-to-be visited from hostel soon after. We'd chat late into the night and I used to be too drowsy in the mornings to notice reminders of my lower status, in the eyes of Lila Bai. The bad wali plates, the old wala cup, the side ke bread slices, the puri that didn't fuli, I took them all, blissful in my sleepy haze.
Related reading: Pros and cons of living with the in-laws
Then it came down to me and her
My MIL-to-be shook me out of the comfortable daze one Friday evening when she asked, 'Aarti, you can manage the house over the weekend, right?' Her octogenarian parents needed her and she had to leave immediately. MIL-to-be packed her bags and left.
It would be just Lila Bai and me next morning. I wanted to cry. But I didn't. Saturday morning SIL-to-be and I were pottering about in the kitchen. Lila Bai cooked the lunch. I did the breakfast and SIL-to-be hung around as my little helper. As soon as she left with the bowl of porridge, Lila Bai turned to me and asked, 'use kyon bola'? Why had I asked my SIL-to-be to work in the kitchen? 'Holiday mein gudiya ko breakfast in bed dete hain!' She was furious with me, the fallen woman, who had made her SIL-to-be take the bowl of porridge to the dining table. The blasphemy!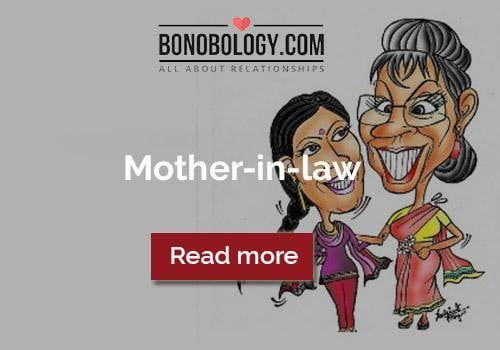 Mumbling a fearful justification incoherently, something about my SIL-to-be being in the kitchen of her own free will, I felt blood leave my head and opened the shelf close by and grabbed a glass to have a quick drink of water, when Lila Bai firmly said, 'yeh mehmano ke liye hai' (that glass is for the guests). I made amends immediately and took the old glass assigned to me by her and left for the breakfast table.
When I came back as a bride
On Sunday night MIL-to-be came back. Her parents were fine, the crises averted. I had never been happier to see her. The rest of the month went by in the daily 12-hour office schedules, late-night chats with SIL-to-be and drowsy mornings.
I returned a few months later, dressed in wedding finery, my husband beside me. I almost didn't recognise Lila Bai. She looked at me with different eyes. Eyes that saw in me both her employer and a miserable worm that she had quashed a few months earlier and now felt marginally bad about it.
A few days later, she found me alone and asked me, 'Why didn't you complain about me' and I replied, 'Who was I to complain about someone who was so wonderful to my parents-to-be?' Pouring tea into the finest tea cups that my in-laws had, she said, 'Yeh apno ke liye hai' (this is for family) and gave a cup of tea to me. I exhaled.
I had always been proud and a little smug about the warm chemistry that I'd had shared with my in-laws-to-be. Who knew that a solid month-long mother-in-law experience was waiting for me, albeit from a different quarter and shaadi ke pehle!
Who knew that a solid month-long mother-in-law experience was waiting for me, albeit from a different quarter and shaadi ke pehle!
The experience taught me something valuable; it reaffirmed my belief in people and relationships. I had witnessed that relationships that start with bad crockery and side ki breads, if given time and a bit of understanding, can sometimes conclude as delicious and pretty cups of tea. Like it happened for me.