No, this is not about a Presidential fight. It's not comical or satirical either. The stuff below is pretty severe, as dangerous as Vetaal riding on king Vikram, telling different stories every single day with the concluding nightmare unchanged. I wonder how the mythical King Vikram would have behaved if he had a wife reminding him constantly about this ghost of the past. Come on; he was bearing the burden! He should know it himself.
What hurts in my story is that I got banished from the Garden without a single bite into the bad apple. Yes, I met a woman without my wife's knowledge. Yes, I spent a night with that woman, in the same room and yes, I made the mistake of sending my talkative, trusted office driver to drop the lady at the airport. And, no, to disappoint you, spending a night in the same room with a lady does not always translate to a night of physical indulgence, though my intention was such. The lady was not sure and I, despite however I might come across, have always been a gentleman.


Related reading: It had all started with innocuous flirting on WhatsApp
With the uncanny sense that women frequently display, my wife had gauged a gap in my story of absence for 36 hours from home in Kolkata. Jamshedpur was a good alibi. My trips there had been frequent then.
My story would have sailed smoothly had I been more confident in my narration and articulated my tones and tenor like a veteran philanderer. What nailed me was that I did not look into her eyes while detailing my last-minute rush to catch the Shatabdi Express at Jamshedpur Station.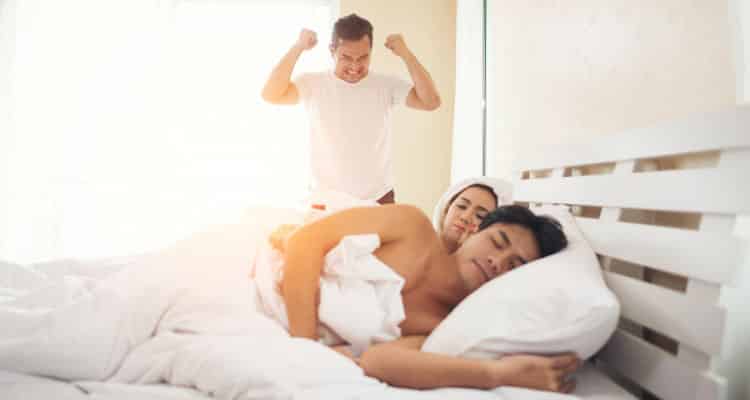 She quickly understood that the subsequent stories of a delayed train and my staying near the station due to unavailability of a cooperative cab so late at night did not entirely fall into place.
She met the office driver a few weeks later. It was on her trip for a routine medical check-up. I picked up from my office during their return trip. She didn't speak a word to me during the 5-mile journey home.
She had got every detail of the lady. The driver was under the impression that the lady was my relative, and my wife had used the same cue to get all the physical and metaphysical description of her perceived opponent.


The usual sob story of Ms Trust followed. It was almost to the script of the umpteen TV series she watched. Of course, she supported by her incessant teardrops. I tried to defend with some semi-truths; it got worse. I found silence a better pacifier.
Related reading: I love my husband, but sometimes I love the other man a tad more
What remained since was my guilt trip.
For every negotiation, whether it was for sending her to her hometown, or for getting my son a new and expensive toy, she had an easy arrow to pick.
Eloquent tears mellowed her anger and kept raising my guilt levels.
She guessed that I had met that lady through the Internet. So, her prime time TV serials were given a quiet burial. She made it a point to read a book or do some crochet sitting in the same room where our powerful desktop kept. I could feel her X-ray eyes passing through my body from behind and keeping a vigil on the monitor. My searches and researches got more academic and professional. Thanks to her vigilante justice, a couple of my articles on energy-saving measures were published in environmental and sustainability magazines.
Do I regret my rendezvous with that lady? Not for a moment. The thrills of that clandestine night had stuff that could produce good literature in the hands of an able writer. The sheer incompatibility of two people across the continents, all hunky-dory across the veils of the Internet cloud, was so staggering in one physical meeting – different tastes, different sensibilities – a different universe practically. The stress of being so close to the boundary line and yet, the dilemma of not crossing it, commitment and passion playing tug of war, was almost cathartic and purifying.
Will, I ever explain to my wife that had it not been for that aborted play of lust, I would never have appreciated the importance of a solid anchor like her in my otherwise buoyant existence? I won't. She stopped playing detective since she got the impression that she had me under her thumb.
(As said to Tapan Mozumdar)
https://www.bonobology.com/husband-lost-libido-i-turned-to-my-school-friend/