"Yes, my dear!"
I read it twice and once again checked the sender's name. Excitement melted to wonder, and boiled to anxiety pretty soon. It was not that 29-year-old insurance girl who has been sending me messages bordering on flirtation, yet not getting blocked. It was from my wife of 23 years.
What did I do to evoke this response? I couldn't recall the last time I was endeared such. Was it during our honeymoon trip in a first-class 2 seater coupe to Darjeeling? Nah! We were too busy to exchange pleasantries. Was it the time I bought on an impulse that Pochampalli saree from Hyderabad airport and sent her a picture of it? No, if I remembered right, her first response then was a rebuke for being careless with money.
What began it all
I checked the message that I sent to get her declare such dearness.
"Your profile picture looks beautiful. Let's take a print of this."
It was her decked up picture in front of the floral decoration for Onam at our apartment block.
The picture was lovely, and I had impulsively expressed it. I got busy in a nitpicking price analysis of quotations after that. Her message didn't ping as I had kept the notifications off. Just before lunch, I saw her response.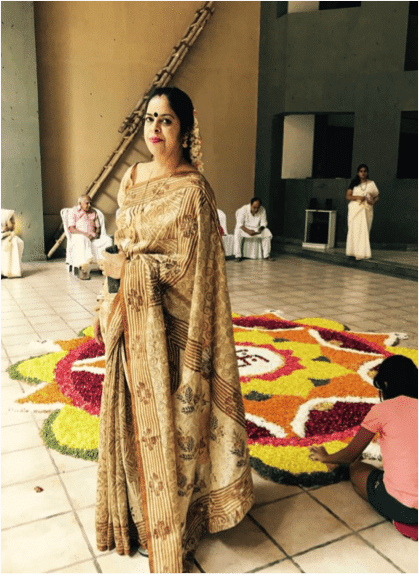 I began to try to recollect when was the last time I had called her, or her picture for that matter, beautiful. Was it her picture sent during the marriage proposal? Before I had even met her once? Memory tracked and showed that at that point, I was left so desiring to meet her and pursue a few verbs, that all adjectives were abandoned. Was it when she wore that Pochampalli in real Gujarati style, as the bride for the function belonged to that state? Oh no! I got busy standing beside her and having my picture taken by the photographers. Some people thought that we might be grabbing some attention from the new couple.
Related reading: 10 things every girl loves to hear but the men never say
The mundane overtook
I had lunch without noticing the combination that my tiffin box carried that day. I was too engrossed trying to recall occasions when we whispered, or texted, niceties to each other.
"Did you send the courier?" "Has Babu reached home?" "You need to walk every day." "Did the plumber come?"
Our usual message exchanges began with question marks and ended with monosyllabic affirmation or negation, sometimes replaced by time-saving graphic emoji of thumbs up or down. At home, TV serials that I couldn't sit through and the Netflix series that she couldn't digest kept us in different rooms. Issues beyond our control had not allowed us to go on vacation as frequently as we would like to.
'Beautiful' and 'dear' were words that we had not heard from each other for as long as I could remember.
Lingering taste
My lunch was over. Tastes lingering in my mouth reminded me my favourite Shukto was the first dish and Mochar Ghonto was the second. Somehow, the dishes felt the right amount of salt and sweet. That had been a constant refrain from me, as I would want to cheat-drop my weight without exercise, just through what she feeds me.
"Great taste today," I WhatsApped.
A namaste emoji followed. My girl seemed to be enjoying her new found love, emojis.