The trailer of Sanjay Leela Bhansali's magnum opus, Rani Padmavati, is out and has sent tremors throughout India. The fan fraternity has already started calling Ranveer the 'Khal Drogo' of Bollywood and has showered so much love and enthusiasm that Ranveer broke down while sending a 'thank you note' to his fans on social media and Deepika was similarly overwhelmed by the positive response.
And guess what, Bahubali that till date enjoyed the royal status as India's favourite epic historical fiction is threatened by the historical saga of Rani Padmavati.
Who was Rani Padmavati and why has she become a saga of love and agony?
According to www.thequint.com, "What has been documented, however, is an imaginary Padmavati in Padmavat (1540 AD), a poem composed by an Awadhi poet named Malik Muhammad Jayasi. The poem takes us a whooping 250 years back in time – a time when Delhi Sultanate and Rajput kingdoms ruled over North India. Surprisingly, annals of history are silent on the existence of Padmavati or Padmini as she was popularly called, despite having chronicled the various conquests of Alauddin Khilji."
According to the legend, Padmavati was born to King Gandharvasena and his chief consort Champavati. Described as breathtakingly beautiful, Padmavati was trained in warrior skills from early childhood and even for her Swayamvar she wished to win the most valiant man of India.
King Ratan Rawal, the ruler of Chittor, defeated Padmavati (who was the opponent herself in disguise) and won her heart.
The love story of Ratan Rawal and Rani Padmavati took a tragic turn when the king's former artist, Raghav Chetan plotted a revenge strategy by filling the obsessive Khilji's ears about the beauty of Padmavati. Raghav was banished from the kingdom for practicing sorcery.
Khilji along with his trusted army visited Chittorgarh and requested a conversation with the real beauty of Chittorgarh. The unsuspecting King Ratan Rawal agreed to Khilji and in the process laid bare the loopholes of his palace security.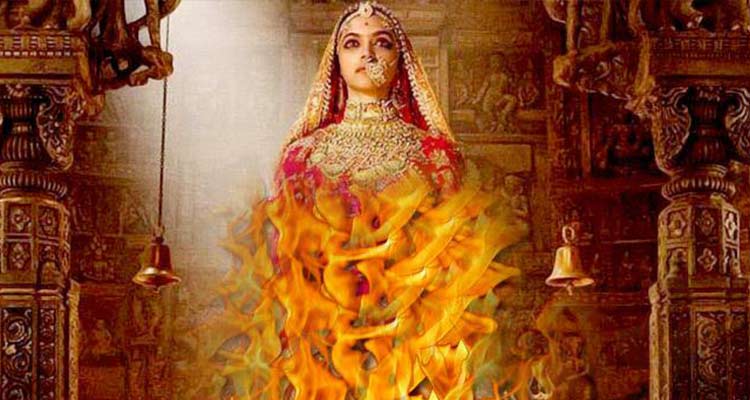 However, Khilji got see the mere reflection of Rani Padmavati in the mirror and that was enough to drive him mad to possess her at any cost.
When the evil Khilji captured Ratan Rawal and led his army to capture Padmavati, the valiant queen led all the women of Chittor through a secret passage to the Jauhar Kund.
Padmavati became the first woman to jump into the fire, committing self-immolation. She chose honour over a life of captivity and remained true to her only love – Ratan Rawal Singh.