It had been a few months since we'd broken up but given that throughout the relationship she had been my entire world, I felt like I was in limbo after we split. Every time I saw her, I wanted to ask her to come back. I didn't because I didn't want to face the prospect of her turning me down.
We were living together, and when we broke up, she took our dogs with her to her new house. I was to bear the cost for their maintenance, and she was to care for them. Beyond that, she said, she wasn't ready to share anything about her life with me anymore.
Days turned to weeks and then to months. She'd snapped out of it and was coping with life just fine, but I kept swirling in the whirlpool of emotional turmoil. I tried to focus on times when she'd hurt me, insulted me and made me feel terrible about myself, but my heart was more stubborn than I'd thought possible and refused to relent.
One day we took the dogs for a walk together. On coming back to her place, I needed to use the washroom. I spilt water on myself and wiped it off with a tissue. When I opened the dustbin to toss the tissue in, there lay a used condom. For a moment, I think I blacked out. It was like a sledgehammer had just gone through my ribs, crushing them. Yes, I know we'd broken up, and it wasn't any of my business if she was sleeping with someone else, but love doesn't always follow etiquette or principles, does it? So I asked her. She refused to answer. I was, after all, just another ex. She also hinted that her friends had come over, but by then, in my head, I had overthought a lot of things. A lot of scenarios. Ugly scenarios.
I walked out of the house, bidding farewell to the dogs and gasping for breath. The mere thought of her being intimate with someone else tore me from the inside.
And the worst part was not the possibility of her having had sex with someone else, but the fact that she isn't a person who'd just randomly hook up till she felt emotionally comfortable with someone. And the possibility of that emotional proximity was what was bugging me.
I walked home in a trance.
Related reading: 10 ways to deal with heartbreak
Once back home, I couldn't stop pacing up and down. No matter what I did, the nagging thought refused to leave my mind. The heartache grew. That's when a friend called. I told him about how much I missed her and how she failed to see it. The part about the condom and everything related to that, however, stayed in my head alone. After giving me a patient hearing, he started talking about how, when he'd broken up, he'd found solace in rebounds. He suggested I go to a hooker and let off some steam. Get rid of the anger and the pain.
Until that moment I hadn't really seen the reason to pay for sex because the man and the woman are both supposed to derive pleasure out of it. Besides, I was too hung up on her to go and have sex with someone else.
He sent me a few contacts from his list anyway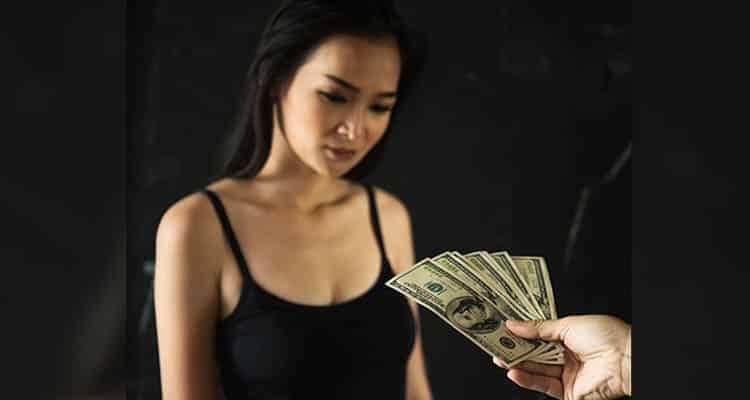 After simmering and sweating for an hour longer, I dialled one of the numbers he'd sent. Before I knew it, I was standing at the glass door of a massage parlour. I was asked to choose my 'masseuse' and make the payment. We were allotted a dimly lit room with a bed and a few condoms on the bedside table. I was unsure of what to do. Without a single word, the girl stripped, lay down on the bed and asked me to follow her lead. I did. She proceeded to get things rolling and a couple of minutes later, asked me to do it. I tried to consciously think of the discarded condom and her reaction to me finding it. With anger fuelling me, I wanted to make the experience more pleasurable for the woman in that room than I had done for my ex, even if she was just a professional. But she wasn't interested. She wanted to be done and get her money.
So I did what had to be done. And maybe, just for a second there, she let out a moan because other than that, she was pokerfaced. At the end of it, we said our goodbyes and I stepped out. But strangely, I came out feeling emptier than I had felt stepping in. And despite the discovery of the used condom, I found myself feeling guilty.
Should I feel guilty? Should I not? I don't know. What I do know is that now, more than ever, I am sure that my relationship wasn't just about sex; it was about us. It was about her laughter. Her mischief. The dreams we cherished. About so much, I can't put into words.
Why would a partner continue to stay in a marriage after their spouse cheated on them?
Why it is important to save evidence against your spouse who's cheating on you