Everyone might not know about the big O or big G. But the big D, yes each of us knows what Divorce means. And it isn't a mistake that we Indians often pronounce it as 'divorce'. For us, divorce is still a big 'no-no'; the end of life for women. A divorced woman is always viewed with a big question mark.
I have a group of friends – separated and divorced men and women – and I meet them separately, twice a month. I look forward to it. But meeting them I realise that being a divorced woman is much tougher than being a divorced man in India.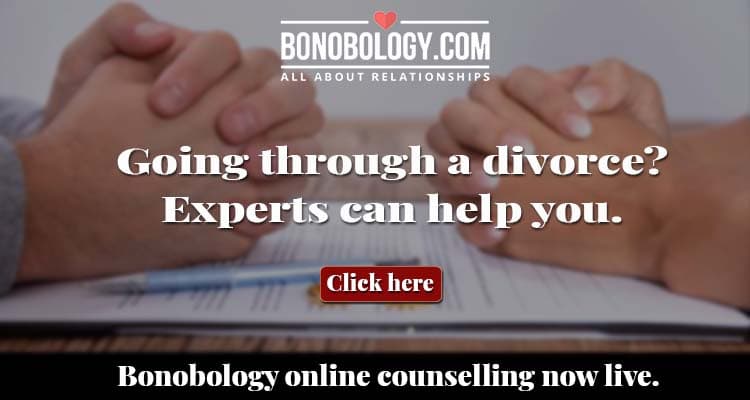 For men, it is just another get-together – like a poker night or a golf tournament – eat, drink, and be merry. But the divorced women talk about the reality of being on their own, the struggles of dealing with angry parents, and even the friends who don't really get it. Reasons for divorce are many but the easier way advised by society is compromised.
The divorced women's group shares laughter and tears and hugs, and always leaves each other a little more hopeful about the future.
Problems faced by divorced women in their pre and post-divorce period in India are many. The moment a woman thinks of divorce and shares her thoughts with her parents or friends, the advice that she receives is similar – "Don't even think about taking such a step. It's absolutely not worth it and will seem like nothing in comparison to what you actually will have to go through once you get the divorcee tag." Neeti Singh wonders "Why is it so difficult for the society to look at a Divorcee (esp. female) with respect? Why has she considered a curse ?"
Life after divorce is really tough for women in India because of the perceptions people have. "Maybe she should have tried harder! Maybe she should have given the husband and bond of marriage more important than her own self-respect! Maybe she should have just adjusted, just accepted or maybe just tried a bit harder! The whole world is happily married and adjusting – what is such a big deal if the husband beats her sometimes or has an affair.. she should have adjusted..tried harder… – these are just some thoughts thrown at a typical Indian divorced woman," says K. Divorce itself is traumatic, but this conditioning and bias make it much harder for Indian women. "But there is hope and many people have started accepting it as just an unfortunate event and giving women the respect without judging their marital status," feels K.
Amit Shankar Saha feels, "Society basically wants to be happy with the status quo and takes the escapist attitude of thinking that all is well." It also gives others who are fortunate to have a happy marriage or who have compromised in their marriages the chance to flaunt their so-called achievement by looking down upon those who cannot sustain a marriage.
"Those who think that a divorcee is a curse are sick in the mind," feels Ashok Chhibbar. "Today, a woman is as educated if not more, as a man, earns a handsome salary or runs her own business successfully. The marital status or otherwise is of no consequence. Every human being whether single, married, divorced or widowed has a right to self-respect," Chhibbar adds.

"Women in India have always been perceived as a kind who are dependent on men for their livelihood, their emotional, financial, physical and all other needs of life," says Antara Rakesh. A divorcee is seen as a rebel. Someone who stood up for herself did not compromise, adjust, or give up. But the gender stereotypes in India kill a woman's self-confidence often.
People in India see a divorcee as a way too strong, independent, arrogant, intolerant woman who couldn't adhere to the social norm.
"Thus, instead of empathising with what situation she must have faced for her to take a step so strong, she is painted as a 'divorced woman' and the phrase itself becomes self-explanatory her character sketch," Antara sighs. M Mohanty looks at the greener side of the grass and says, "I can vouch for the fact that there are better-minded sections of our society too."
Life after divorce for women in India is not all that bad either. There is nothing that time cannot heal. As you get used to being the new you, you begin to enjoy your solitary restaurant meals, enjoy your glass of vodka while avoiding eye contact with those beer-swilling males at the bar, but remain unafraid of their curiosity. You ignore the mindless teenage laughter. In short, you begin to enjoy life once again and come out stronger, more confident, with a wealth of rich experience. If you feel the need to take the plunge, go ahead and do it. You won't just survive – you will thrive!
I Divorced My Wife, But My Girlfriend Won't Divorce Her Husband
Is talking to an ex healthy? Five people, five different opinions
Why the Triple Talaq Bill Matters to Me! A Woman's Heart-Wrenching Story