(Names changed to protect identities)
Situation 1: Anjali, a high school teacher, loves her job as much as she loves her home. Well, home is a doting husband, Prateek, and a cuddly Labrador. Prateek works as a freelance sound engineer, sometimes long hours and often needs to travel out of town. And every time he does so, things go sour between the two. She complains he's never there when he's needed and shirks household responsibility, and has a nagging and uncomfortable feeling that Prateek is just so different from her father, a retired government servant.
Situation 2: Nivedita has been juggling a successful career as an interior designer and her home. She doesn't mind going the extra mile as long as her husband Anant continues with his sales job. He's been contemplating his own business but Nivedita has firmly put her foot down. Her businessman father never had the time for her and her mother, vacations never happened because of dwindling finances and the sheer uncertainty of not knowing what tomorrow had in store for the family were painful childhood memories.
Nivedita doesn't want history to repeat.
Situation 3: Puja and Akhil have been married for seven years now, and have gladly overcome the 'itch', as she says. There are ups and downs but they've been going strong through it all. The fact that Akhil is a loving father to their 2-year-old son makes him all the more attractive to Puja. That she's been deprived of paternal affection since she was a toddler probably has a major role to play in this.
Related reading: How parents' sexual behaviour influences the child
And such is the story for many women out there, opines Atman Parmar, drawing parallels from her experience as a Homoeopath, Hypnotherapist and Healing Consultant. Like Anjali, Nivedita and Puja, many women have things going great for them. "But there's always a benchmark – be it positive or negative – and a comparison checklist that is being ticked off mentally. Believe it or not, our fathers influence the husbands we choose," she says.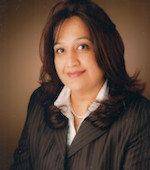 Aatmn Parmar: Homoeopath, Hypnotherapist and Healing Consultant
Aatmn roughly estimates a staggering 40% of Indian women want their husbands to be a shadow image of their father, while another 40% don't want their husband to have any similarity with their father. The remaining 20% move beyond the paternal comparison to an older male figure instead, probably a grandfather or an uncle. And this finding corroborates what many studies and surveys have already claimed – the quality of a woman's relationship with her father has an impact on what she looks for in her husband.
Issues creep in only a few years into marriage, and the reasons are so varied that it's impossible to pinpoint 'the incriminating one'. The comparison quotient is at its highest and you'd be surprised at how the most seemingly trivial reasons can trigger feelings of discontent.
From "One look at my face and my father knew how tired I was; my husband never seems to gather that" to "My businessman father had very little time for us; I want my husband to block his dates for me", are some of the many confessions Aatmn has come across during her sessions
With her years of experience she believes that such statements are rooted in the quest for the ideal man.
The 40% who are constantly comparing their father and husband say, "My father would have done a far better job." "I know how this works, thanks to Dad. Can you do it differently?" comes easily from that 40% who don't want any similar streaks running between the two men. Well, doesn't that sound like the 'comfort of familiarity' against the 'wish to have things done differently?' Expectations in the name of love are not uncommon. Break it down to smaller fragments and one sees how care, concern, gifts, even a cup of cappuccino can call the shots. But yes, women do set standards in a marriage, very high ones at that, explains Aatmn.
Related reading: The uncomfortable love of Brahma and Saraswati
There's no doubt that a father is the first man a little girl gets to know on intimate terms and he continues to remain an influence in the most overt or covert manner. Believe it or not, more and more women are likely to look for their dad's best qualities in their husbands and cover the tracks of the not-so-desirable qualities that daddy had. No wonder they say that women see themselves through the eyes of their father – this isn't a universal fact but it certainly does happen.
https://www.bonobology.com/im-lucky-to-be-a-stay-at-home-husband-and-father-but-society-disagrees/