Chris, 38 and Matt 28, is a happily married gay couple of 8 years now. But they are both in a relationship with a woman as well.
One fine morning, Chris spoke about 'opening up' their monogamous relationship to include a woman named Cait. Chris is a bisexual and before settling down with Matt, he had dated several girls. And it was on one of these dating apps that he had met Cait Earnest, 28 and a bisexual.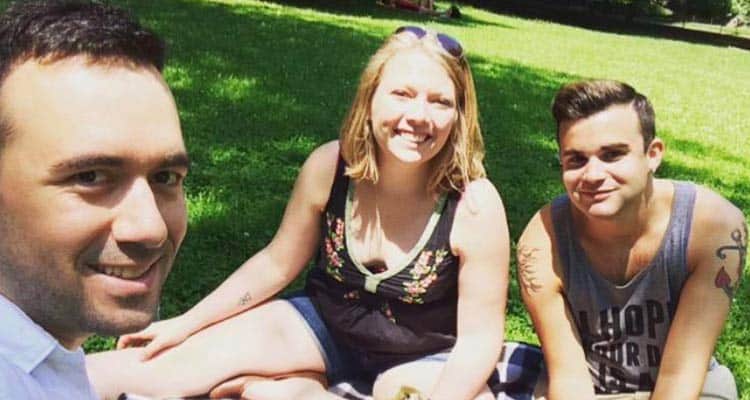 Chris and Cait slowly developed a bond and became inseparable. Chris was in a fix now. On one side was his partner, Matt and on the other, Cait, his new girlfriend.
But instead of cheating on Matt, Chris and Cait came to a unique relationship solution. Cait suggested Chris include her into his and change it into a polyamorous relationship.
But it wasn't that easy. At first, Matt was completely opposed to the idea. Matt had no experience with women and this was his 'husband' asking to know his 'girlfriend'. Chris told to Barcroft TV, "at first Matt was completely opposed to the idea but after a while, we talked about it and he warmed up to it."
The trio started spending some time together and was smitten by each other. In fact, Cait started staying over for five nights a week. And soon they adopted two dogs into their new family.
Nine months into their relationship the Chris and Matt tied the knot and they made sure that Cait was there with them, throughout the wedding.
In spite of their unusual yet unique relationship status, you would be surprised to know that the 'thruple' as they call themselves, share a healthy sexual life.
Talking about her first 'threesome' Cait confessed to Barcroft TV, "I had never been with two people at the same time before. It's different strokes for different folks but I would say it's a pretty fun sex life."
Even Matt had a sexual reawakening after their bedroom experiences. He discovered that he was a 'homoflexible': "I'm homoflexible so I like guys and I'm open, flexible to women – I prefer men. I guess I had an awakening after I had a sexual experience with a woman. It is just another body, another soul, a connection that I can have."
Even Matt's grandpa jokes about when one of them is going to make Cait pregnant.
But building a dynamic relationship wasn't easy for this thruple. In the early stages of romance, both Cait and Matt struggled with jealousy pangs.
Cait confessed, "When we first got together I was struggling with the jealousy. With having a very strong connection with Chris and sometimes feeling frustrated that I would have to split time with Matt. But with a lot of that came a lot of insecurity, because I didn't know where my place was in the relationship."
And Matt confessed, "It was a struggle even for me. The insecure part of me was like, 'Chris loves me more because he's been with me longer', but then he told me 'I love you just as much as I love Cait', so I was like, 'I need to come to terms with that'."
As strange as this relationship status might sound, Chris, Cait and Matt are a happy thruple since the two years of their polyamorous relationship. They are also planning to bring kids into their happy family.
Surely, this is 2017 and the couple dynamics are changing in strange and unique ways possible. It would always be a wonder to see what more challenging relationship statuses and arrangements humans can bring to us in future.