It does not take long to become friends to lovers. It's just that you may not know that it has happened. You might be in a relationship without even knowing it!
If you could have a dollar for every time you shook your head and told a curious pal, "Oh, we're just friends", would you be a millionaire? If the answer's 'Yes', you might be in a relationship without knowing it! Don't we all know a lot of couples who, at some point, used to be 'just friends'?
That's because a vast number of relationships are born out of friendship! But make no mistake. We are, in no way, advocates of Mohnish Behl's infamous dialogue in Maine Pyar Kiya – "Ek ladka aur ladki kabhi dost nahin ho sakte, Prem (a girl and boy can't be friends)". We find it as stupid as it is toxic. But just in case you and your partner have a fair chance of hitting it off, we wouldn't want you to regret not having done anything about it after 10 years. You just need to pay heed to the signs that you have fallen in love with your best friend.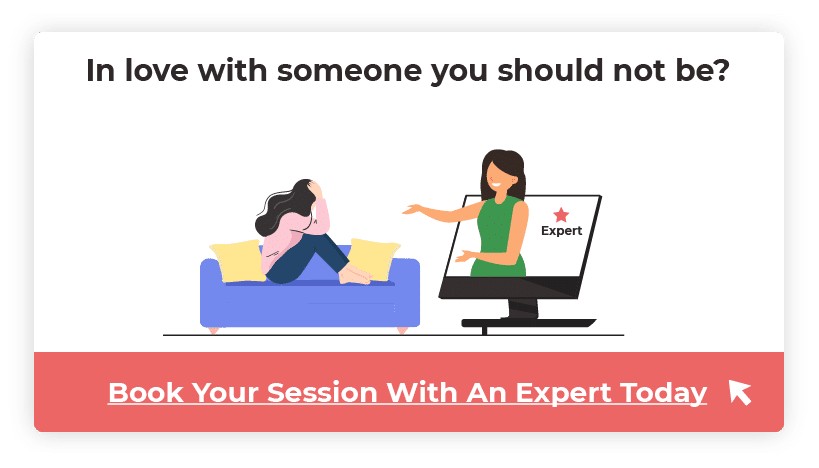 That said, here's the tricky bit: thousands of friendships don't become relationships because the other person does not feel the same way. The worst part? Sometimes the friendship suffers and dies.
Now, we want compatible friendships to turn into relationships without the fear of the two falling out. And if you're wondering how to go about it, we've got you covered! So why don't you let us tell you the 10 signs that you're becoming lovers while you focus on checking those boxes?
Related Reading: 18 Friends With Benefits Rules To Swear By
10 Signs You Are Moving From Friends To Lovers
Can friends become lovers? Yes, they can. If your friend has been hinting that he wants something more than casual friendship then you should pick up the clues about his feelings. But sometimes it does happen that you are unable to understand the hints that's when you need to know the signs.
The signs are always there that you are becoming friends to lovers. You just need to notice those and understand how your relationship is changing.
1. Harmless flirting
This is a subtle one and often goes unnoticed. Most friendships that are on their way to becoming relationships feature harmless flirting. Why harmless, you wonder?
Well, it's not anything serious if it's between friends, right? You might have to be a little aware to spot this one. Often regarded as mere banter, flirting among friends is one of the stealthier signs!
If you check out all the famous friends to lovers books like Take A Hint Dani Brown by Talia Hibbert or Friends Without Benefits by Penny Reid you will see flirting is key to people becoming lovers from great friends.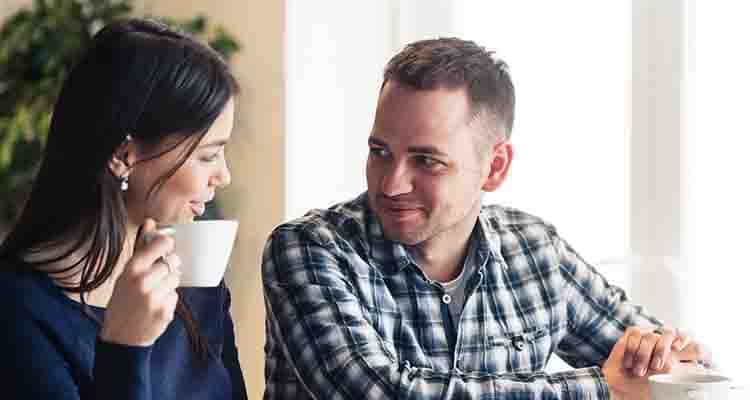 2. Awkward group conversations
You'd think that group conversations should feature all or most of the people interacting with each other, right? Not with lovebirds, they aren't. The two, while being a part of the group on paper, usually engage with each other extensively.
Sometimes this makes the rest of the group feel like one big third wheel and therefore awkward. This happens when friends are on the way to become lovers.
How to know when your friendship is turning into something more? You would seek out each other even in group. Even if you sit apart you talk to each other with your eyes. Messages are passed through a smirk or a wink. You are always connected despite being in a group and that's the most obvious friends to lovers signs.
3. Never enough
The daily dose of interaction just doesn't cut it, does it? If you two are texting each other at all possible opportunities, that's a sign!
In severe cases, the suspects tend to have parallel conversations across multiple social media platforms! They can't get enough of each other and are not realising they are becoming friends to lovers. Guess this is when you start dating a friend you have known for years.
4. Names for each other
If you've ever heard a friend of yours call another friend babe or baby, you know you've squinted at the scent of something fishy! And it isn't just about affectionate pet names. If you have names to pull each other's legs, and no one else is aware of them, you're not off the hook yet!
If you've been aware of your changing feelings toward a friend but don't know how to make that crucial first move, these cute pet names that you have for each other may well become your savior. Have a special occasion coming up? We suggest you get a customized gift for your friend-turned-love to drive home the message.
Related Reading: 15 Tips To Cope When Your Friend Is Dating Your Ex
A customized pendant, coffee mug, beer mug, sipper, t-shirt, pillow, with their or both of your pet names engraved on it can be a great way to put your changing feelings out there. Once the ice is broken, you can even ask them out directly.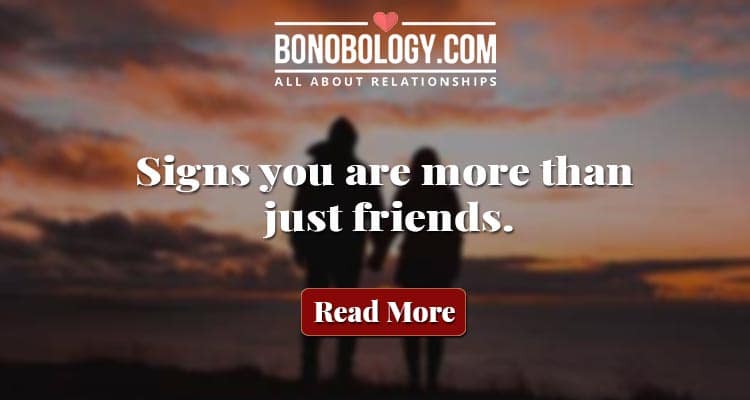 5. Body language
Few things are as indicative of a potential jodi as body language. During interactions, make a stealthy analysis! If your partner's torso and feet usually face you, they might be into you, too! A lot of accidental touches exchanged between the two of you are another strong sign!
If things between you two have reached this stage where your attraction for one another is spilling over, you may find yourself feeling a little self-conscious around your friend. For the first time, you're paying attention to the way you dress and look before meeting them.
Loving your best friend and dressing up for them is easy because you know exactly what they like. To really turn up the heat now, it's a good idea to start investing a little in your appearances.
Upgrading your wardrobe with new shirts or dresses, ordering a sensual perfume or cologne, taking the time to shave or do your hair can augment your perception in their eyes.
Your friend may already love you for the person you are. This renewed focus on your looks will give you the chance to charm them with your appearances as well.
Related Reading: 21 Cute Things To Do With Your Girlfriend At Home
6. You put them before anyone else
Your friend tops your priority list and you're not willing to give that position away anytime soon! You change plans for them, put aside work to listen to their problems, and seen zone other people to have those 3 A.M. rants.
How to know when a friendship is turning into something more? When they become your top priority. If they are unwell you will be always by their side. You help them out with studies, work, chores, you become their go-to-person. Guess that's what love starts to feel like.
If she wants to make a movie plan with you. you junk baseball with the guys to be with her and if he wants to go for a spin at midnight you sneak out of your bedroom window without telling your parents.
7. You get jealous
This is an absolute sign that you are becoming friends to lovers. This isn't one of the subtle signs, it is THE sign. If not anyone else, you'll be extremely aware of it! Does seeing them dating someone make you feel jealous?
Do you find the person utterly undeserving of your friend? Jealousy might be a definitive sign that you're into your friend! In fact, this is one of the most important friends to lovers signs.
Veronica Liam, who's dating her best friend, says, "I realised I have feelings for him when he told me he had a crush on a girl in our class in college. I just couldn't take it. Looking back I realise I started acting so funnily."
8. You feel lusty
Can friends become lovers? They do. You do feel lusty when you develop feelings for a friend. As long as you don't act inappropriately on it, having the hots for your friend doesn't have to be a bad thing.
Do you guys joke about being cool with making out or sleeping with each other? Even if you secretly find them irresistible, come clean to yourself. Trust us, life's easier that way!
Lust is a way to finding love . In fact, lust can be stronger than love and if you are feeling strongly physically attracted to your friend, then these are the ultimate going from friends to lovers signs.
9. You talk about them 24/7
If you love your best friend then chances are you cannot go for 10 minutes in a day without talking to them. Maybe that's an exaggeration, but if you two manage to make references to each other in every other conversation, you might've been bitten by the lovebug!
Give it time, and people will point it out to you that you are becoming friends to lovers, even before you realise yourself.
You know you have got something much more than just friendship when at any time of the day you totally know what the other one is up to. He could be just going to the grocery but you would know. She could be in her ballet class and you would know.
It's not that you keep each other posted, but you just know. That's how you ultimately end up falling madly in love with your best friend.
10. Friends sniff you
While we've all had friends who've wanted to pair us up with other people, and closet lovers are no different! After a while, they'll take every shot they can at convincing you that the two of you are so obviously into each other.
Friends can sniff what's going on from miles away, and they will make it a point to address the elephant in the room! You might be still wondering if you are a pair but in their hearts your friends would know, of course you are.
Elsa Raman says, "Our friends told us we were in love but we never admitted that. I always thought how could you be dating a friend you have known for years? But they told us James and I were made for each other and they were right all through."
Related Reading:  Am I In Love With My Best Friend? 15 Signs That Say So!
Two friends falling in love with each other – it doesn't get more adorable. So, the next time you're around your pal, keep an eye out for these signs. And if you've been checking all those boxes, you know what to do!
FAQs
1. Do friends make good lovers?
Of course, friends make great lovers because they have a different kind of comfort level with each other. When you are moving from friends to lovers you might not be sure that you are falling in love with your best pal but with time you do understand it.
2. Can a friendship turn into a relationship?
A friendship can definitely turn into a relationship. There are instances that people have been friends for decades but one fine day they realise they are in love, start a relationship and eventually get married.
3. Do friends-to-lovers relationships thrive?
There are many people who started being friends in high school, fell in love with each other in their youth, got married, had kids and are going strong in their relationship in their middle ages.
How To Date A Friend? Must-Follow Tips That Will Work Wonders
Thoughts on a woman's mind when her man is talking to a hot girl