Words are like the name of that band "Guns and Roses", those can be as deadly as a bullet or as beautiful as a baby's first smile. Words are something that can win millions of hearts, be it in a speech or a poem or a lyric. Love couplets have the same kind of impact. In the recent Ted Talks India, Javed Akhtar mentioned one of the Shayari by his father that "Har lafz ko chute huwe jo knaap na jaye/ Barbaad woh alfaz ki aukad kar jaye". And since the beginning of literature, people started writing poems. In fact, the old history or mythology is actually written in the poetry format.
Related Reading: How Sexism In Bollywood Is Made To Look Like Romance
With the time and the evolution of the human brain, men learned to know how to use words as their expression of love, through the form of poetry and the romantic couplet came into being. In this shortcut world of emoticons, words still possess the extreme power to make anyone cry or smile.
Related Reading: What's Alia Bhatt's Idea Of Romance
What Are Love Couplets?
There's something really romantic about love couplets. Have you ever felt someone slip that small bit of paper into your pocket or purse with two lines scribbled on it? Chances are it's been years now, you have probably even forgotten how that person looked but the love couplet has remained with you in that yellowing piece of paper. That's the power of a love couplet. Love couplets can be in Hindi or in English or for that matter in any language. Two lines or four lines written by a famous personality or by anyone who wants to convey love often have meaning that touches the soul.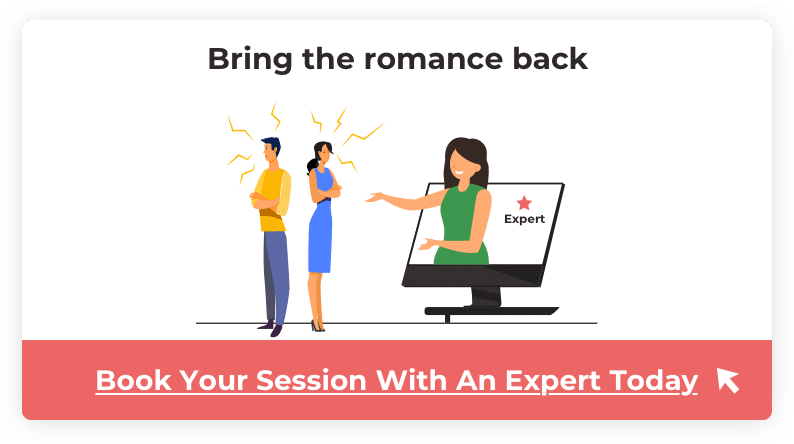 Related Reading: Marriage…part love, part compromise, but mostly a series of jokes
10 Best Love Couplets That Will Make You Romantic
We have listed the 10 best couplets about love that touch the soul. These are from famous people and sums up love and romance in love couplets in Hindi and in English. Just savour love in these two lines.
Related Reading: Love doesn't always strike; it may just tweet
It can be said that probably the best way of expressing love with a minimal approach is the use of love couplets. Be it English or Hindi or Urdu, couplets are the most amazing weapon for someone who wants to propose his/her beloved, who has a knack for words. Using couplets to impress your partner might sound cheesy, but if the pronunciation is right and the ambience is not as loud as a nightclub, these words can be the best game-changer. So here are 10 Best Love Couplets:
Related Reading: Famous Bollywood singers and their love stories
1. John Donne
Sometimes it's better not to speak and let silence do all the talking in love.
Related Reading: He no longer expresses his love as he used to, but I am marrying him for a reason
2. John Donne
It's the letters that have the capacity to touch souls.
Related Reading: Why (at least some) men do not express themselves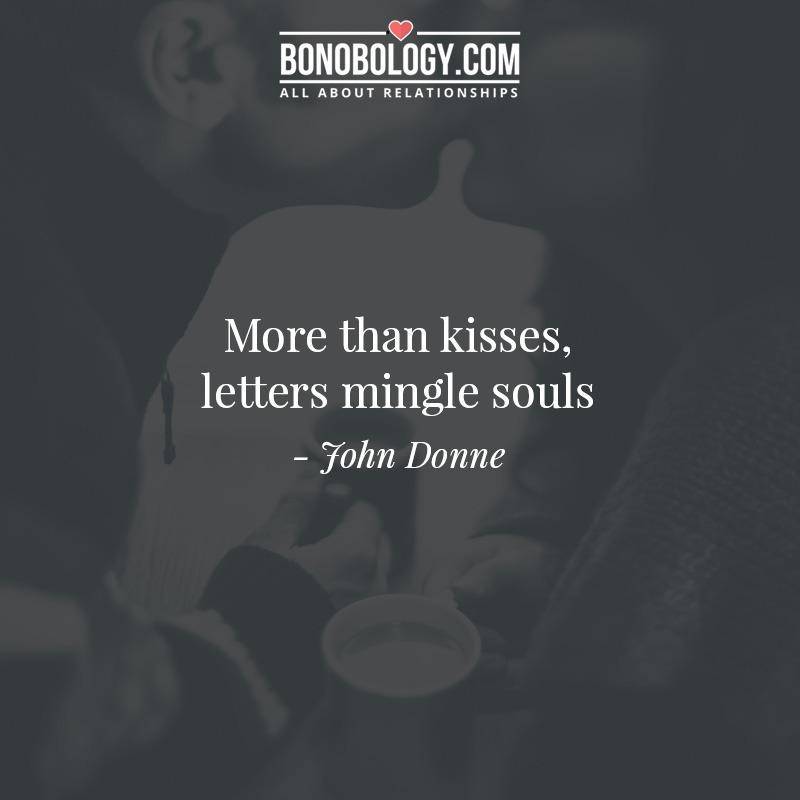 Related reading: Notes of love, and a lifetime of happiness
3. Mirza Ghalib
You have touched my soul and we have become one.
Related Reading: Did she really love him or was it just lust and an exciting midlife romance?
4. Mirza Ghalib
When there is a pain in the heart it can be suppressed but when the heart is the pain then what's to be done?
Related Reading: In That Dark Pantry Our Office Romance Met a Horrible Fate
Related reading: 10 love quotes that would make you fall in love again
5. William Shakespeare
Love hurts but we desire it.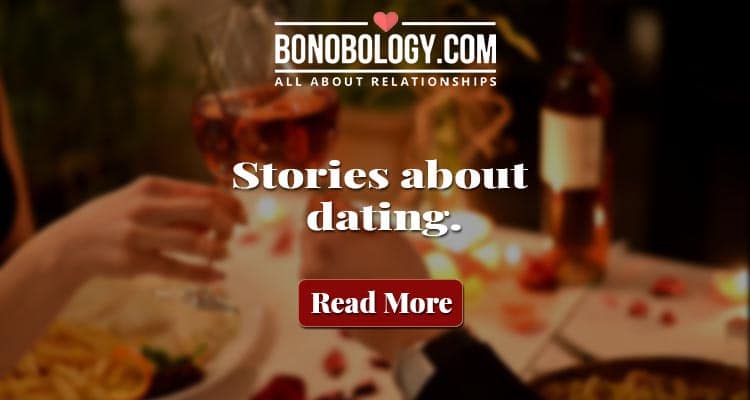 Related Reading: Durga Puja Romance: Then and Now
6. William Shakespeare
Love, at first sight, doesn't happen.
Related Reading: Monsoon Special Story: Of Long Drives and Reinventing Romance…
7. Piyush Mishra
I gave you my emotions but you gave me words in return.
Related Reading: Ram And Sita: Romance Was Never Absent From This Epic Love Story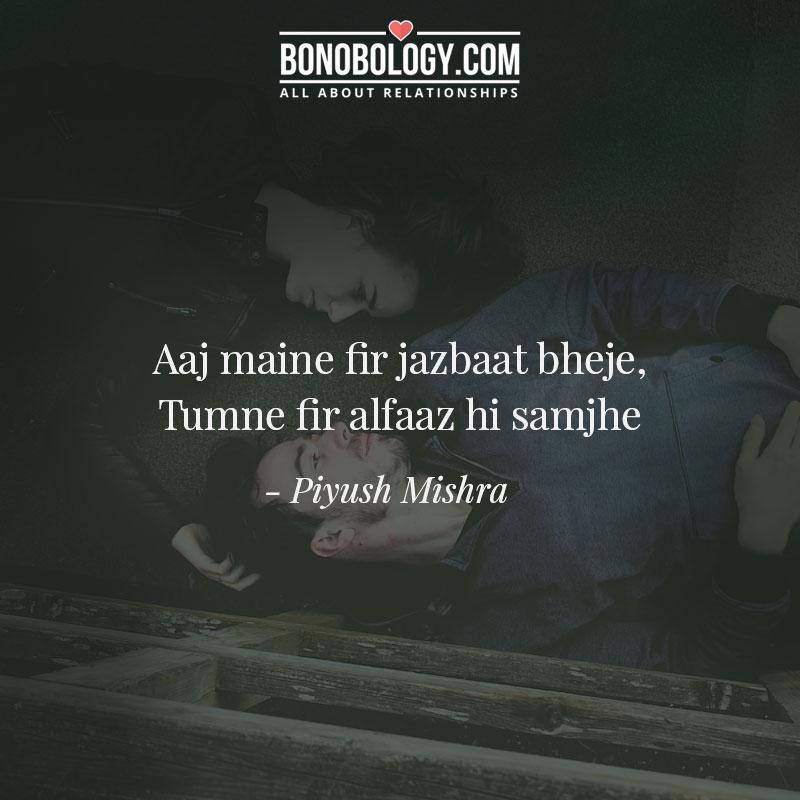 8. Piyush Mishra
This society didn't have the audacity to put a price on my head till I fell in love. Now I am peddled for free.
Related Reading: 7 habits that kill romance in a relationship
9. Sahir Ludhianvi
Let's become strangers once again.
Related Reading: Couch, popcorn and romance! 5 Netflix series every couple should watch
10. Javed Akhtar
Your words spread like perfume in the midst of a gathering.
Related Reading: 8 ways you ruin the romance without even realising
These love couplets possess the power of oozing romance. Some of them can be used as significant pickup lines and some have the power to end a fight. Remember the lyrics of the Boyzone song "Words"? "Its only words/and words I have/to take your heart away".
Which one is your favourite? Let us know in the comments section below.
He kissed me on my forehead and I felt alive again
5 Signs Of Emotional Abuse You Should Watch Out For Warns Therapist