A lot of my younger friends are always curious to know what couples like us who have been married for 30 years ever talk about.
"Do you actually talk to each other now?"
"I mean what is there to talk about, you guys lead a boring life."
"The kids are working and away most of the time, is there really stuff you can talk about?"
I don't blame them, communication is a dying phenomenon. People don't talk anymore. And if at all they do, it is through their smartphones. Love is reduced to a few emojis sent across religiously signifying deep affection and love for each other. This is the stark reality that stares at the world today.
And if there is someone to blame for all this, it is us.
We do not think chatting with each other is significant in today's connected world. After all we are always connected. Why talk.
Learning to live together again
But things happen and very often, for the better and one of these things happened to us. We grew older, we learnt to live without the children around us every hour, we moved on to dine and travel without the kids.
We kept telling ourselves that our birds need to fly from the nest. And today there is immense happiness in seeing them soar day after day. Happiness.
And somewhere in the midst of all this enlightenment, came the need to speak to each other like never before.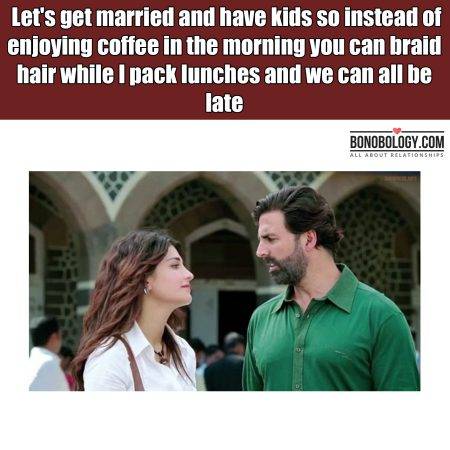 Related reading: Communication mistakes couples make
To just enjoy each other's company and discuss everything around us, be it the day that went by, or the day that will stare us in the eye tomorrow.
The late evening meeting was thus built on this amazingly warm premise of togetherness. Two hours of just good old chatting, smiling, laughing and bitching about everything that is life. Enjoying a drink together, eating ourselves silly or just looking at fancy tours that will take us around the world.
Well, it's a different matter that most often our tours begin and end within 10 km of our home.
It's about the simple things
But this isn't about travel. This is about the small pleasures of life that we often forget.
The seemingly simple joke we share, or watching Kasper our lab, or the cats Chilli and Milli playing around him. Each moment a sheer delight.
Mindful meditation of a deep order, I call it.
This ritual that happened almost by accident is such an integral part of our life today that we look forward to it every evening.
Probably the only meeting that I attend without even a hint of complaint.
Today, this meeting has become the essence of our sheer depth for each other. There is so much to talk about, so much to share that it often amazes me enough to smile back at the young who ask.
Yes, we just smile today.