Can gifts, bouquets, candlelit dinners, Valentine's day or a lot of PDA be a yardstick to measure love? I feel love is a sublime and ethereal feeling. Which can never be measured but only experienced. I could understand the true meaning of love shown by my spouse when I battled health issues.
We had just got a posting to MP and were in the process of settling down.
One evening I started experiencing an excruciating back pain. It came in waves and it was unbearable. My hubby is a calm and chilled out person and never too expressive with emotions, but seeing me in pain he was shaken. He wasted no time in taking me to the hospital. Since the intensity of the pain was too much for me to walk, he tenderly scooped me in his arms and carried me to the car. Though a cautious driver, my pain made him a reckless driver, who drove at breakneck speed, jumping traffic lights to reach the hospital in record time.
What a horrible hospital
My moaning and groaning was giving him anxious moments. The hospital was situated in a decrepit place. Filth, stench and hospital waste welcomed us. Soon I was wheeled into the emergency ward. Doctors rushed to and fro to provide me immediate medication. I was put on a drip and given a jab of morphine to ease my pain.
They prescribed a battery of tests, after which they would decide the course of action. The emergency ward was a dismal place, with peeling plaster, full of stench, hordes of mosquitoes who feasted on our blood and coughing, wailing and retching patients. Being a stickler for cleanliness, I abhorred the place but had to cooperate. Hubby didn't sleep a wink but tried to instill positivity in me. It was a long night fraught with worry.
Related reading: My husband stood by me in sickness and pain
My husband became Superman
Morning was spent getting the tests done and soon the verdict came, I had a uterine fibroid and a hernia, so immediate surgery was the answer. I was shaken, but hubby maintained his composure. He was a one-man army, who had the sole responsibility of looking after me, the kids who were managing alone and himself. Being new to the place, we had no support system.
Overnight he had turned into a Superman, managing both home and me.
It was a six-day hospital stay. I was ruffled staying in the hospital. I had been shifted to a private room. Seeing the dirty linen, roaches in the basin and a dirty loo I felt pukey. But hubby was managing everything unflinchingly, even getting me home cooked food, as I was unable to eat the insipid hospital food. The nursing staff wasn't up to the mark, they were no Florence Nightingales doing selfless service. They had to be roused from slumber, so they could give me the morphine jab.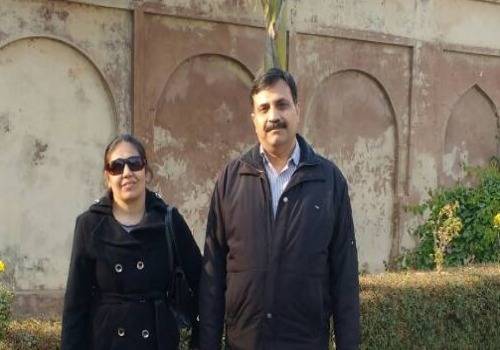 Related reading: She didn't let her husband back out even when bullets were aimed at him
He gave his blood
The hospital did not have its own blood bank, so in the middle of the night before the surgery he was asked to procure blood. It was a wild goose chase and blood wasn't available. He decided to donate his own, as our blood groups match. Both of us didn't sleep the whole night, though I had been given a sedative.
D-day dawned and soon I was wheeled into the OT. He was by my side, smiling and reassuring me, though he looked weary due to anxiety, lack of sleep and a little weakness after giving blood. But he kept a brave front and I knew I would manage it.
My surgery lasted two hours, as it was a double surgery. He waited patiently outside the OT and only heaved a sigh of relief when they wheeled me out. But they wanted to keep me in the ICU for a day, to observe my vital parameters. Seeing me in the ICU he became jittery. He was asked to take rest, as the nursing staff would cater to me. With great reluctance he left me, though he was weary. Soon I was shifted to a private room. He took a month's leave from work to help me recuperate.
Related reading: The day my husband gave life to our second child
Home at last
At last I was discharged from the hospital and I got a rousing welcome on reaching home. The children and hubby had decorated the house with streamers and get well cards. I was no less than a celebrity. I was overwhelmed with emotions.
The surgery had killed my appetite and I had lost a lot of weight. Everything I tasted felt insipid. He devised different ways to get back my appetite, paring fresh fruits, different mocktails, fresh fruit juices, making a variety of soups, feeding me loving spoonsful of the broth. His dedication helped me recuperate fast and I regained my vigour. Catering to a sick person's whims and fancies is a task but he never got ruffled.
Related reading: He looked tired, but he was there
He is the rock in my life
Only two instances broke him, one to see me lying listless in the ICU and once when the doctor showed him the size of the fibroid. But in front of me he kept a brave face. His ardent faith in God helped him to dispel the negative feelings. Having no support system also helped him retain his equanimity. He was the true Arjun of Mahabharata, who focussed on the goal of getting me back on my feet. Like Lord Krishna guided Arjun during the war, I believe the Almighty guided and steered him during the storm and he was prevented from breaking down.
Even after two decades of married life our love is rock solid. I just want to thank him for being my reason to look forward to the next day. Because of him I have risen like the Phoenix.
You can never guess the most important ingredient for love in a relationship
You can never guess the most important ingredient for love in a relationship