So, you've been in a relationship for a while and you're thinking of doing something romantic and off the wall for your person. Perhaps, the run-of-the-mill date night idea like a romantic dinner or going to the movies seems too boring and repetitive. Maybe, you and your significant other are just not in the mood to paint the town red. Or you don't want to risk being in crowded indoor spaces just yet, even though COVID-related restrictions are easing up all around you.
It's understandable why you'd prefer something intimate, private and safe – given the precarious times we are living in. Well, you don't have to. All you need is to think outside the box and transform your personal space into a perfect romantic setting for a heart-to-heart.
We may well be able to help with that.
5 Romantic Indoor Date Ideas To Keep Things Spicy
Romantic date nights are the key to fostering and sustaining healthy relationships. Snatching some time from hectic routines to focus on each other and nurture your bond is what keeps you in sync and love with your partner.
What could be a better place for it than your own home! And there is a lot more you can do than cuddling on the couch and binging on Netflix with your partner. It just takes some smart thinking and planning to put together indoor date nights that are romantic enough to set the chemistry between you both sizzling again.
To plan ahead, keep an eye out for the Lidl weekly ad for next week for specials on ingredients for your date ideas. Lidl usually carries good meats, drinks, fruits and vegetables for a balanced meal that you can source to whip up a fancy meal to be shared over conversation, wine and candle lights. To take things up a notch, you and your partner could even have a cook-off, where you each cook a dish for your upcoming date night.
Slogging it out in the kitchen together, laughing, talking and perhaps sipping on some chilled beers or warm mulled wine is among the most satisfying couple bonding activities.
However, if cooking is just not an option and you still want to do something special for your SO, here are a few must-try ideas:
Related Reading: 25 Cute Things To Do With Your Girlfriend At Home
1. Cocktail creative
If you and bae enjoy bonding over drinks on the weekends, this one is the perfect date night idea for you. Take the alcohol out of the cabinet, bring out the glasses and mixers, and have a go at creating new cocktails or recreating firm favorites.
Surely, a fun way to spend some quality time together and create new memories. And who knows you might even end up creating a signature cocktail that is unique to you. If cocktails aren't your thing, setting up a beer or wine tasting at home can be the perfect way to get your spirits high.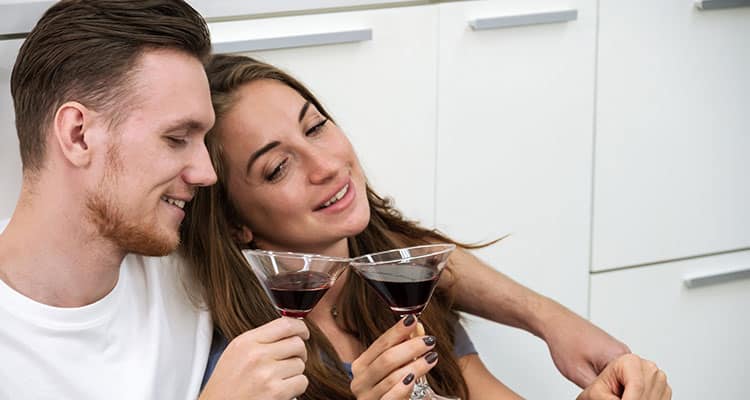 2. Delicious dessert date
Foodies with a sweet tooth pay heed. This sugary idea is just for you. There is nothing quite as warm and fuzzy as digging into a decadent dessert with your partner. If apart from sharing your love for food, you also share a passion for baking, you could try making dessert by following a classic recipe or personalizing it to create something entirely new and unique.
If your past baking attempts have resulted in fuming ovens, ordering a different dessert from the usual will work just as well. Food is intimate, eating together is intimate. And eating a delicious dessert will hit all the right spots in your bodies and relationship.
For heightened pleasure, we recommend that you invite the dessert to the bedroom for a flavorsome threesome and eat it off each other.
3. Yoga nimble
For fitness-conscious couples, yoga is a great way to wind the day down while working out together. Not only will it help you relax but exercising also releases serotonin – the feel-good hormone – which will ultimately lift your mood and more amorous toward your person.
It does not necessarily have to be yoga, but any form of exercise that you can do together and both enjoy. Remember to keep it light.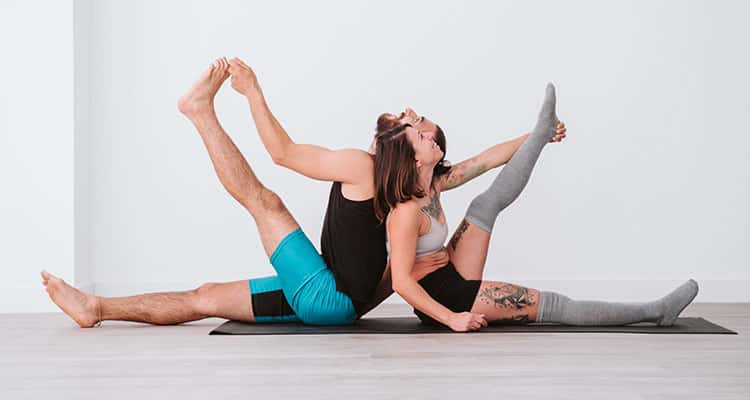 4. Date night box
This is a box delivered to you that will have fun and interesting stuff inside it for you and your partner to try at home. You can find a whole range of sites offering these date night boxes and some even customize the contents as per your preference. You can browse through their catalogs to curate an ensemble of items that align with your preferences.
This is lowkey the perfect way to enjoy a romantic indoor date with your beau. Low of effort, high on impact, it checks all the right boxes.
Related Reading: 7 Non-Sexual Couple Things To Do Over A Weekend
5. Sexy board games
While regular board games are fun, playing these good ol' games with a twist is always better. We know of some that are specially crafted to help couples spice things up and do something out of the norm. If you have children, sending them to bed early is the best idea so you and your partner can fully relax and get into it.
Games like Monogamy are quite popular and well-suited for this romantic indoor date idea.
These romantic ideas have got you covered at least for the next few date nights. There are plenty of ideas that you and your partner can come up with on your own too. If not, you can always come back for more inspiration. Remember to keep it light, fun, special and unique to you.
Expert Talks About 9 Must-Try Couples Communication Exercises