Going out on a rendezvous every other night with your girlfriend can become exhausting very soon. Spending time with your other half should be effortless and not cumbersome. Not every date can be an elaborate dinner or trying out a new activity. Eventually, you need to find things to do with your girlfriend at home. 
Home is where one feels the most comfortable, relaxed, and at complete ease. It is important for your relationship that you learn to share that space with the woman you love. Whether you are home alone or looking for boredom busters on weekends, there are many activities that you can try together at home. 
25 Cute Things To Do With Your Girlfriend At Home
Bonding at home, uninterrupted by outside influences, is an important part of sustaining a relationship. To find comfort in silence and ease is not only soothing to the self but can bring you much closer to your girlfriend. 
It is a rotten myth that spending time with your girlfriend at home is boring. There is a long list of cute couple things to do that you can start trying today itself! Here are 25 suggestions on things to do with your girlfriend at home to get you started:
1. Challenge her to a video game
If you are a video game enthusiast, we are surprised you have not tried this already! If your girlfriend is into video games, this should already be a weekly affair for you two. If she is not, you can spend some time giving her lessons and helping her get acquainted with the games that you like. 
Eventually, you can move on to a proper challenge that you can engage in as one of your couple activities. As teenagers, this activity is usually a complete hit but a good number of adults love playing video games together too. 
2. Cook a meal together from scratch
Trying out a new cuisine or making some burgers on the grill, anything is fine. From sushi to mashed potatoes, there is no level of difficulty that you need to adhere to. As long as you're in the kitchen together and having a good time, that is all that matters. 
Cooking together is one of the most fun bonding activities that every couple must do ritualistically every now and then. Your favorite person and your favorite meal make for a night that just cannot go wrong. 
Related Reading: BonoCoupleActivity: couples that cook together, stay together
3. Paint together
Time to get your hands dirty! Painting is an artistic activity, and you don't need any expertise to try it as a couple's activity. Playing around with colors can truly bring out your fun side and get those creative juices flowing. This is one of the fun things to do with your partner over the weekend.
Pick a lazy afternoon and change it up by suggesting a painting activity with your girlfriend. You can assign each other objects, ideas or concepts, and then paint away. You can also try finger painting to make it more exciting.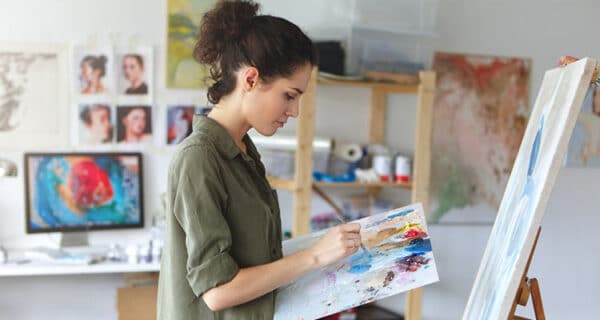 4. Do a movie night
If your girlfriend is a Tom Cruise fan, we know she will love a Mission Impossible marathon. Watching films late into the night is one of the romantic things to do with your girlfriend at home. There are some movies that every couple should watch together.
You can pick out old classics that you've both seen countless times or start watching a new series together. Each can bring a different experience to the table and truly make your evening a special one. 
5. Play board games together
Board games have a knack for making people extremely competitive. If you're feeling pumped up when at her house, bring the old board games out. Monopoly, Cards Against Humanity or Stratego – take your pick. 
Playing a round of these games with your significant other always brings out a different side of you. It is also a truly great stress buster and will promise endless fun if you want to make your girl laugh. Interestingly, it benefits your brain function too.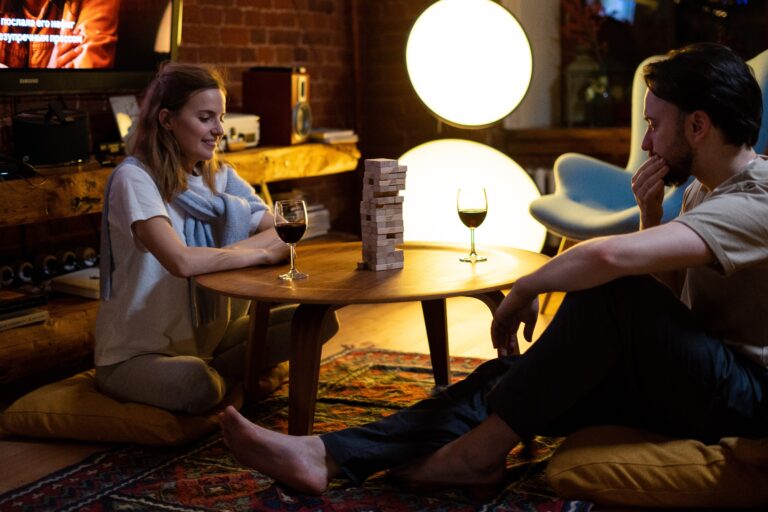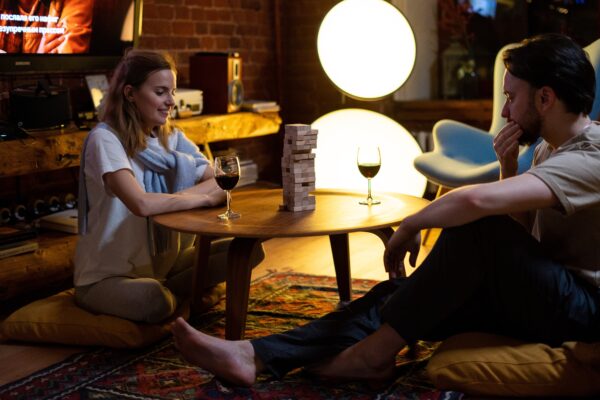 6. Stargaze at the rooftop
One of the cute things to do as a couple is to spend a night under the stars, cuddling. If either of your houses has a nice terrace, you can put that to use immediately. Spread out some blankets, put up small lights and bring a nice spread of food and wine. This is one of the cozy winter date ideas you must try with your boo.
You can spend the night talking, cuddling, holding hands and kissing while you look up at the stars. This is a beautiful activity to enhance quality time with your loved one and bring her closer to you. Make this one of the creative things to do with your girlfriend at home by decorating the rooftop yourself!
7. Bring the spa home
A long day after work calls for some relaxation for you both. One of the things to do with your girlfriend at home that can eventually turn sexy is to be a masseuse to one another. Take turns to massage away the worries of the day. 
You can also add sheet masks and hair masks to the ritual for a truly fulfilling experience. Put on some soothing music, bring out the scented candles and enjoy the most relaxing evening to end your day. 
Related Reading: #BonoCoupleActivity : Learn the art of tantric massage and surprise your partner
8. Do some home improvement
Put on your thinking caps, pick a room, reorganize and then redecorate. Redecorating is not as bland and boring as it seems. It can be fun to pick out new rugs together, move around tables, dig up old wall hangings, and play around with the settings a little. 
This activity can take days together but will not seem long when you are with your girlfriend. Order some Chinese food when you're tired, kick your feet up, and discuss potential wall paint colors when the day is over. 
9. Workout together
Working out all by yourself can seem tedious. Having a workout buddy, on the other hand, can make you enjoy it and look forward to exercising. This is one of the things to do with your girlfriend in quarantine when the gyms are closed and you feel super guilty about snacking all day. Layout those yoga mats and try some fun workouts to do with your partner.
You can make this a regular activity where either of you can suggest a set of exercises each day. This way you can keep learning something new and work all the muscles of your body. Get those endorphins pumping and kickstart a beautiful day with your beautiful girl. 
10. Play some music and dance around
This is one of the weird things to do with your girlfriend but oh-so-fun. Bring out those old jams or introduce each other to new music. Rock, pop, blues, you name it! You can spend the evening discovering new music together and dancing away in the living room. This is one of the perfect rainy day date ideas for you to try.
Make it seem like prom night in your house by dimming the lights and laying out some sodas and snacks. Except, it's going to be better than prom because you don't have to deal with the pressures of teenage drama and you get to be in charge of the music! Play some blues to dance away those blues!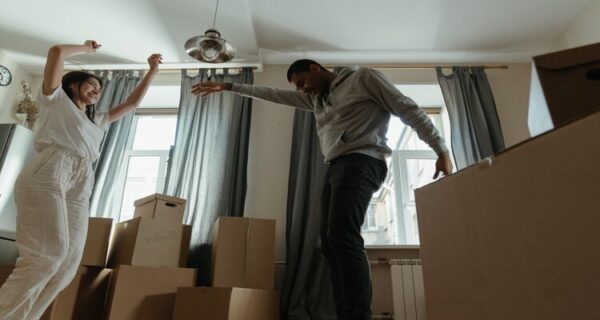 11. Let her give you a haircut
And a hair color if you're up for it! This is gonna take some guts to pull off but will be etched as a good memory, nevertheless. You can ask your girlfriend to try something with your hair and maybe do the same for her. This is indeed one of the weird things to do with your girlfriend at home but something you will remember for years to come.
You can enjoy a fun time at the store picking out fancy conditioners and choosing new hair colors and products. Getting your hair styled is always a soothing experience. With your girlfriend, you can enjoy a full styling session at home. By recommending some outlandish colors and haircuts, you can turn it into a fun way to annoy your girlfriend too.
12. Read to each other
One of the more soothing things to do with your girlfriend at home is to relax and read. Either of you can pick up a book and read it aloud to the other. Or play an audiobook and revel in the magic of words together.
Reading together is interesting because it can spark a variety of discussions and opinions that can lead to healthy debates. This way you can also open up with one another more. This is one of the best things to do with your girlfriend at home when you want to spend your time getting to know each other even better.
13. Put on a fashion show
One of the things to do with your girlfriend when bored is to put on some snazzy clothes and do a fashion show. Call it closet cleaning or mere vanity, you can bring out some clothes that you never wear, try them on, and decide whether they are worth keeping or not. 
Closet cleaning is often a boring activity and confusing too when it comes to deciding what to keep and what to throw. By having a fashion show, you can not only enjoy yourself but also get a good second opinion from your girlfriend. This is one of the spontaneous things to do with your girlfriend at home that can turn out to be super fun and productive at the same time.
Related Reading: Top 30 Couple Poses For Unique Pictures And Selfies
14. Bake a batch of cookies
Add sprinkles, chocolate chips or any other kind of toppings that you like. You can look up some delicious recipes online and then try them out together. Enjoying the aroma of freshly baked cookies is an experience of its own.
The best thing about cookies is that they do not take too long and you can try several flavors on the same day. Indulge your senses by baking away with your girlfriend on a summer afternoon. You can throw a fancy tea party for yourselves afterward. 
Being creative is one of the trademark habits of couples in strong relationships, as it helps in keeping the chemistry and spark alive.
15. Make a photo album
To reminisce old memories and appreciate moments gone, it can be a beautiful thing to dig up some old photos and sort them out in a scrapbook. With digital media, nobody ever makes scrapbooks anymore. However, they have an old and personal touch which can really make you cherish your memories. 
Bring out some pens, write some fun quotes around the pictures, and make your scrapbook as interactive as possible. This archive of photos is one that you will want to keep forever.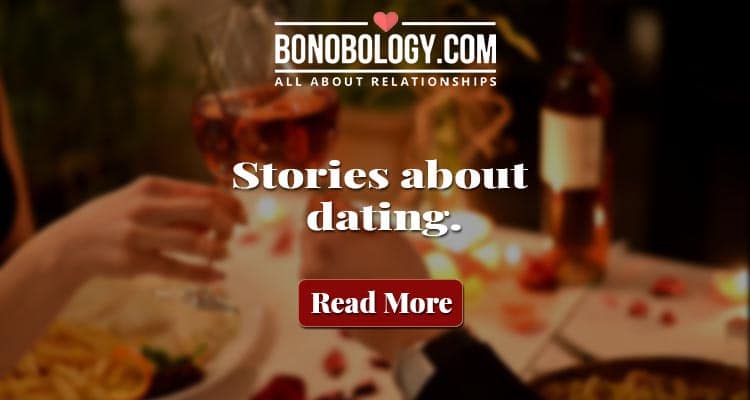 16. Make S'mores (Yes, indoors)
An indoor fireplace can also do the trick. No this is not one of the weird things to do with your girlfriend at home because it is indeed hella romantic.
On a lovely evening, you can buy some graham crackers, cookies, marshmallows, and even bananas to roast over a fire. Enjoy the fuzziness, warmth and deliciousness with your girlfriend for an unforgettable night at home. This is one of the amazing first date ideas too if you want to charm her completely with your cute and goofy side.
17. Do a wine/beer tasting
For a hopelessly drunken night at home, indulge in a few wines of your choice, or buy an assortment of beers and taste them together. If you're fond of drinking together, exploring new palettes is always interesting. Get to know your girlfriend's tastes and choices by organizing a makeshift tasting at home. This is one of the things to do with your girlfriend in quarantine when, sadly, all the bars and restaurants are closed.
To make the activity more fun, you can turn it into a blind tasting. By blindfolding yourselves or wrapping the bottles in foil, you can make each other guess the drink and turn it into a cute competition. 
18. Double date online with your friends
Video call your favorite double date couple and have dinner with them virtually. This can save the trouble of having to dress up, finding a restaurant, and worrying about who pays. Online interactions can truly be a blessing when you're feeling a little lazy.
You can just wear your jammies, eat anything you like at home and your double dates are only a call away. You can even plan a Netflix party or screen share a movie to take it a notch higher. Who thought something so simple and easy could be one of the creative things to do with your girlfriend at home?
Related Reading: 50 Double Date Ideas That Are Fun
19. Get an inflatable pool
If you have a huge open space in your backyard, you can spend a sunny morning in your swimsuits in an inflatable pool. You bring books, music and your sunglasses to enjoy a beautiful tan in your very own backyard.
One of the spontaneous things to do with your girlfriend at home, she will be gushing with happiness when she sees you filling out the pool in the morning. Revisit your childhood memories of pool days and have a splash! Who said one needs a full beach day to enjoy some sun? 
20. Take a bubble bath together
To get hot and heavy, you can start with a relaxing warm water bubble bath with your girlfriend. One of the things to do with your girlfriend at night is to get a bath bomb and run some hot water. 
You can sit across from each other or cuddle one another while drinking some wine and talking. This is one of the most underrated ways to create romance at home without too much effort. It is, indeed, one of the flirty things to do with your girlfriend at home. Rekindle the love with this one!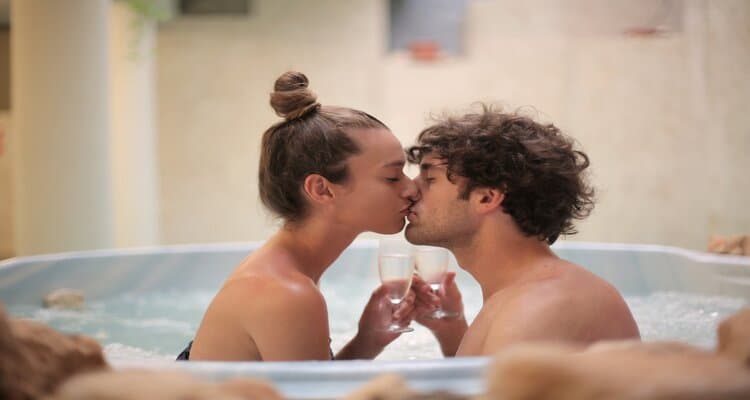 21. Make fun Instagram reels
You do not necessarily have to post them unless you want to. Instagram reels have a variety of options for you to try. You can spend some time researching trends or get creative and execute some fresh ideas. Get ready to be an insta couple!
By acting, dancing, and playing funny audio clips, add a punch to your Instagram feed and your evening. This is one of the unexpected bonding activities but super easy to try at home. 
22. Listen to a podcast together
When everything is closed and you're trying to stay safe indoors, one of the things to do with your girlfriend in lockdown is to find a podcast to listen to together. Since lockdown and other restrictions have deprived us of so many social interactions, it can be great to listen to something fun together.
From movies to current affairs to economics or simple stories from one's life – podcasts are the future of storytelling and information. So put on something you two enjoy and lounge around together. This will also give you so much more to discuss together.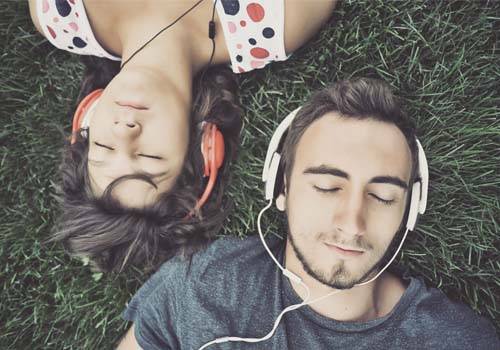 23. Do some online shopping
Sounds underwhelming but you have no idea how fun this can be and you can kick this off for a good couple of hours during your evening. One of the things to do with your girlfriend when bored is to indulge in some retail therapy. Buy books, buy pots, buy shirts or even groceries. But do it all together!
Related Reading: 21 Best Relationship Books That Everyone Should Read
24. Indulge in some DIY
Home isn't boring at all if you are able to find some creative things to do with your girlfriend at home such as making tie-dye shirts or painting some pots for your plants! It can be extremely therapeutic to do something hands-on with your partner when spending a lazy day at home. It can almost be like a couples therapy session where you can talk, work out differences while doing something interesting.
With Youtube tutorials all over the place, there is a lot to choose from. One of the cooler things to do with your girlfriend in quarantine, you can do so much from making earrings from scratch to decorating old notebooks.
25. Play strip poker
Yup, we had to end this nice list with something a little naughty. One of the best things to do with your girlfriend at home is to play sexy games. You will never be bored during this one. So bust out your cards, your layers and your sexy side!
Clearly, there is no dearth of options when it comes to doing things with your girlfriend at home. Don't panic if you are unable to spend time on an activity that involves going out. Home can be just as good as long as you two are willing to spend time together.