Shekhar slept peacefully beside me. His nostrils flared and his stomach went up and down. And I kept on looking at him sleep. I wish I could look at him with love. I wish I could feel the urge in me again to want to gently snuggle up to him so that our breaths and bodies synchronised. But I couldn't. The image of Saheli doing that kept on cropping up. And I let her crop up in my mind. For after what had happened, it was as if the Mrs. Shekhar in me had died.
Here's when I started smelling signs of an affair
The first time I smelt something fishy was when I smelt something fruity on his shirt. I'm not a fan of fruity smells and, in fact, over the years, I had begun using the same musky smell I used to choose for my husband. Our two sons too used the same smell. So when I smelt something fruity, I was a little surprised. And everyday before putting Shekhar's shirt into the washing machine, I began smelling it. Most days it was musky, but at times it smelt fruity.
Then, after our younger son Vishal left for the engineering college where his elder brother was, the fruitiness became more frequent. I didn't confront him or ask him about it. His behaviour too, didn't change. He owns a factory a little away from the city and its head office is not really close to our home. He comes back quite late. But honestly, if you're having an affair, the time of the day has nothing to do with it. Lovers find time, always.
But honestly, if you're having an affair, the time of the day has nothing to do with it. Lovers find time, always.
She's not my lover
But then again, Saheli wasn't his lover. That's what he told me when I found him at the movie theatre with her watching a matinee show when he should have been "seeing off a big consignment at the factory". I had gone to my friend Padma's house and she suggested we go for a movie instead of lunching, as we had planned. I didn't know I would find Shekhar sitting with Saheli in a corner seat.
"Who is she?"
"I'm Saheli. Who are you?"
"I'm Shekhar's wife."
"Oh! You're more beautiful than I expected…"
"His shirts smell of your perfume every day
Related Reading: 15 signs your husband is cheating on you with a co-worker
Why had I not known?
Saheli was younger. She was petite. She was single. And she and Shekhar had been seeing each other for about a year. I don't know what she saw in Shekhar, for she could seriously have done better. What lay in my old husband? And as for Shekhar, I understand why he went around with her. She made him feel younger. I was too old fashioned. I stuck to sarees. And I stuck to being a homemaker. Stuck to making his family, to making his house a home. I don't know why I had remained quiet despite the smell for so long. I don't know why I had ignored this for so long. We had been married for so long it was tough to accept it perhaps… Perhaps I never thought that I would get to witness him with another woman. I don't know. I really don't.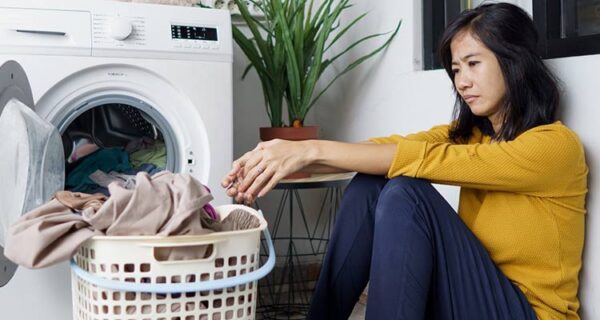 He called me many times. I didn't say a word. Only nodded. He gave many explanations. He said he was sorry.
Related Reading: Even after discovering that her husband was sexting with his ex, she didn't lose her cool
I didn't say a word. Padma had witnessed it all and she suggested I stay with her for some time. I readily took up the offer. But I didn't tell my sons about it. My sons were out of the city, they didn't need to witness this. They didn't need to know of this. They needed to know that their parents were fine. Else their studies would be affected and this was the formative stage of their lives. Shekhar seemed grateful for it. He asked Padma about me. He spoke to Padma and she told him how affected I was. How I had stopped eating. How I had stopped speaking. She explained to him my stance.
Then I returned to him
My silent reaction shamed Shekhar. He began dropping by Padma's house for tea every day and I would see him trying to smile at me. I saw things change in him. I stayed at Padma's for a month. And in that month Shekhar started looking older. He fell ill one day and begged me to come home. Somehow I knew I could take care of him in a manner no one could. I went home and nursed him. He promised never to stray and never to contact Saheli. I am too old and too weak for a divorce on one hand and on the other, I'm too concerned about my sons to disrupt their lives. I began speaking to Shekhar and slowly things returned to normal, albeit superficially.
On nights like these, and such nights have begun to come often, I can't accept myself accepting Shekhar back. I don't deserve this. And also, I wonder how can Shekhar accept this? How can he sleep so peacefully when peace had become so alien to me? I think about Saheli. What has happened to her? I'm not on social media and I have no way of tracking her. But I still smell Shekhar's shirt every day. It smells of musk.