I was having loads of fun with my four friends over wine and cheese. This night out with friends was absolutely amazing! It was strictly a ladies night out in the cottage in my garden which, for that night, was off-limits to my husband. This way, we could discuss our marriages and relationships freely! Ever tried discussing with you SO about who said what behind your back? Don't even go there.
Four Friends And Lots Of Gossip!
And yes, I can't see us gossiping into the small hours about Koffee with Karan. Good lord, he would start yawning his way out in no time. He doesn't even know the names of lead actors after having lived for decades with a Bollywood Wikipedia — yours truly. Words like Bollywood, fashion, designer brands (which are like a religion to me) are alien to him. Mention someone who has gone under the knife to improve on her looks and he'd simply give you the eye-roll, like, what's the big deal.
The less said the better about my weight loss solutions. He just can't get why I keep saving tips on weight loss from the Internet. Just eat healthily and walk regularly, how tough is that? Or that time when I seriously needed to know if my red dress made me look fat. My lord and master, in a deadpan manner, said that I look the way I always do. It's a good thing my hands were otherwise engaged, and I was unable to throttle him.
Yes, I understand this is all small stuff. But it adds so much spice to an otherwise dull existence. Where's the fun? Yes, that's where my girlfriends come in and the concept of a night out with friends. Many times, what I need is a barrel of wine and some serious bitching sessions with them. Here I come back to my girls night out!
Related Reading: How To Get Over A Friendship Breakup
Endless Fun On A Girls Night Out
Ms. B looked fab in her new dress. Everyone oohed and aahed over it for a while. Terms like 'babe' and 'sweetie' were heard several times over the next couple of hours. Ms. A conspiratorially winked that someone we knew was high maintenance big time. What a waste, since it hardly yielded any result. Frankly, she didn't need it. She was genuinely beautiful with an hourglass figure. But you sometimes succumb to your insecurities.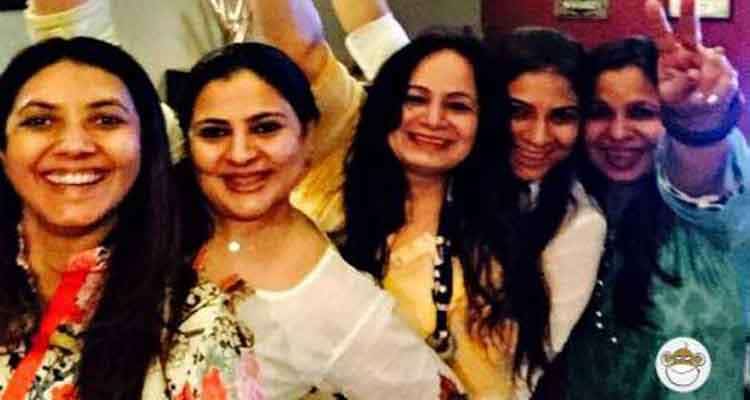 Ms. D thought if she had friends like us she would never feel like that. She teased me mercilessly on my sedentary lifestyle, mimicking me lying on my bed with a book and a packet of chips next to me. I retorted that she didn't know the new me. I now eat every two hours and work out on the treadmill regularly. This impressed everyone on our ladies night out.
They all pitched in as to how I should go about it. Frankly, they are experts and I listened to their advice carefully. Someone even offered to monitor my diet and exercise regimen regularly. This is why I love my gal pals so dearly. They're ready to help with anything and everything — night out with friends or not.
Related Reading: 10 things to do with your girl gang today!
And common interests lead to great girls night out stories
Biting into a chunk of Brie, Ms. C mentioned that she was reading PG Wodehouse and enjoying herself thoroughly. We cracked up over Bertie and the cow creamer and laughed hysterically while narrating bits and pieces from the book. The wine was probably making us giddy with excitement.
Out of the blue, someone declared Kareena Kapoor looked extremely stylish in her maternal outfits. The next half hour was devoted to clothes and accessories. Current topics like demonetization in India, Trump, Obama's farewell speech were dissected, ridiculed or given the green light in a very frivolous manner. Not all girls night out stories are full of gossip. We have meaningful conversations too!
Ms. B craved my special orange cake which I promised to bake for her the very next day. Someone pointed out that after demonetization her hubby has become slightly stingy and spoke more about her money and marriage problems.
Sounds of laughter drifted out of the cottage as we decided to meet again very soon for another night out with friends. Hubs were happy to have me back from spending time with my four friends all rejuvenated and in high spirits. I'm sure he also enjoyed his me-time. His thoughtfulness toward me is visible and I somehow fall more in love with him.
Related Reading: 17 Signs Of True Love From A Woman
Distance breeds fondness
Spending time with my friends brought many of my hubby's niceties to my notice. I guess giving each other space helps to retain your individuality and love quotient. That is another reason which makes a ladies night out important.
It's not that we only enjoy a good gossip and have a laugh, but we also watch each others' backs and give trustworthy advice. They never fail to uplift and motivate me, upping my self-confidence in the process. It's comforting to sink into a sense of belonging during your night out with friends. And yes, the fun element is always in abundance at our meets. Everyone needs to lighten up.
As someone said, "Don't take life too seriously, nobody gets out alive anyway!"
FAQs
1. What to wear on a girls night out?
On a girls' night out or a ladies' night out, if you want to make things extra fun — then consider deciding on a theme and everyone dresses that way. Think of something snazzy like Met Gala looks, famous celebrities, favorite TV show characters or even something wacky if you like.
2. What do girls do on a girls' night out?
During a night out with friends, girls mainly set up a lot of food, drinks and music. They play card games, talk about their lives, dance the night away and so on.
3. What are some good girls' night out ideas?
If you need some ideas for a night out with friends, consider setting up a wine tasting at one of your houses. You can even have a pyjama party with a few drinks and binge something on Netflix.