Have you ever entertained even a fleeting thought about what is the most dangerous zodiac sign? If you believe in astrology, you'd know that where we're placed in the sun signs chart governs how we go through life.
The way we love, the way we conduct ourselves in relationships, our likes and dislikes, our habits and behaviors…a lot of elements of our lives are determined by the zodiac sign we're born under. But that's not all.
Your sign can also govern how far can you push the limits of societal norms and find yourself on the wrong side of the law. Yes, believe it or not, how dangerous a person can be when provoked or wronged is also determined by our stars and signs.
To help you understand which people are most likely to display an aggressive, even murderous streak, we've compiled this most evil zodiac signs list.
The 6 Most Dangerous Zodiac Signs Ranked – Less To More
Each one of us has a certain element of aggression within. The anger, the rage that makes us dangerous in volatile situations. By extension, the same is true for all zodiac signs too. Each sign displays certain traits that can be categorized as dangerous.
For instance, among the zodiac signs driven by Fire, Sagittarius can be prone to borderline criminal behavior when pushed into a corner but they also know how to get away with it. Leos, being the most fierce, can also be dangerous to a great extent.
But it is the dominant Aries that trumps other dangerous zodiac signs representing the element of Fire with an aggression that can turn murderous if the circumstances so demand.
The aggressive streak is most pronounced in zodiac signs that represent elements of Air. The two-face Gemini, the balanced Libra and free-spirited Aquarius take a no-holds-barred approach when it comes to getting even with someone who's wronged them. From defrauding to violating the law, these signs can go to any lengths in their quest for revenge. That's why they feature predominantly on the most evil zodiac signs list.
Among the Earth signs, the Taurus stands out for its intimidatingly violent temperament. The aggressive tendencies in Virgos are driven by their passion whereas Capricorns are known to be generally and universally dangerous.
Related Reading: What Are Your Most Valuable Zodiac Sign Traits?
Of the water signs in the zodiac chart, Pisces and Scorpios can have near-lethal characteristics owing to the unpredictability of their behavior and mind. Cancer, on the other, may not be hardened or intrinsically dangerous. Even so, when their cruel side does rear its ugly head, they don't how to pull stops or draw a line. This means when a Cancer becomes dangerous, they do things that can land them in trouble and even get them on the wrong side of the law.
Now, from this broad analysis, let's move on to a more specific lowdown of the most dangerous zodiac signs, in the growing order of their hazardous streak:
6. Aquarius (Jan 20 to Feb 18)
"Silent people like still waters, are deep and dangerous"
Known for the ability to conceal their deepest emotions, Aquarius is one of the most dangerous zodiac signs. It is almost impossible to tell what runs in the mind of an Aquarian. Even while it may seem that you know everything about them, there will always be a part of them left to unravel, like a twisted mystery.
Their ability to conceal their deepest fears and failures make them formidable foes and very strong opponents with very little weakness to show for.
5. Scorpio (Oct 23 to Nov 21)
"The most dangerous thing is a strong memory"
People born under the Scorpio sign rarely forget how they have been treated. Known to carry their grudges to their graves, their hatred and love is one-of-a-kind. While they can love like no one can, once scorned, people of this zodiac will not leave a stone unturned to give you what you think you deserve.
Their tenacity backed with their unforgettable memory is a very dangerous combination, making them feature on this most evil zodiac signs list.
4. Libra (Sept 23 to Oct 22)
"If you think adventure is dangerous, try routine; it is lethal."
Social, adventurous, vivacious and upbeat, Libras detest the monotony. While they are always on the lookout to do something interesting, they can get too carried away in trying to chase the next best thrill.
They love to make a statement with their shenanigans and can sometimes forget to draw the line, making them quite dangerous for the rest in their way. Not to forget their nonchalant attitude that makes it difficult to judge the havoc this sign can cause. That's why it won't be wrong to place them in the most evil zodiac signs list.
Related Reading: Who Would Be Your Best Friend According To Your Zodiac Sign?
3. Pisces (Feb 19 to March 20)
"Love is dangerous."
Known as the classic lovers, Pisceans are what fairy tales are made of. While they are true romantics at heart, they can get obsessed with the idea of love. While they feel this emotion greatly and truly, Pisces are procrastinators who may find it difficult to express the same with ease and confidence.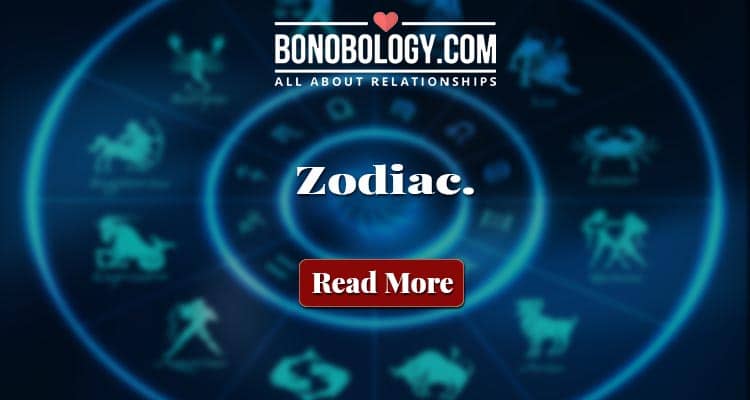 This can make them frustrating and illusionary for not only people around them but also themselves. This fixation with love makes them one of the most dangerous zodiac signs. This tendency is equally perilous for themselves as they are to others.
2. Gemini (May 21 to June 21)
"The most dangerous person is the one who listens, thinks and observes."
Few other zodiac signs are as lethal as this Air sign. Geminis are the masters of communication but also of manipulation. Their keen understanding of people makes them experts at gauging what people need. Then, giving them exactly what they want.
People born under the Gemini sign understand others very well. Through their acute observation and analytical skills, they can easily know what drives a person. And can use it to their advantage. The right words and the right gestures from their end can easily get them to control you without you even realizing that you've been played.
When necessary, they can use this skill ruthlessly, making them a zodiac sign that must be feared. And for good reason.
1. Aries (March 21 to April 19)
"Power is always dangerous. It attracts the worst and corrupts the best."
There is no zodiac sign as driven and as ambitious as this Fire sign. While the Aries' grit and determination are unmatched, their quest for growth and power can make them quite ruthless in their pursuits.
They act first and think later, making them clueless about the collateral damage they can cause in the process. This also makes it difficult for them to set healthy boundaries when it comes to achieving what they want. They don't hesitate in justifying the means through which they are willing to achieve it.
Related Reading: Find Out How Each Zodiac Sign Shows Love
Are you one of these most dangerous zodiac signs? If yes, it's time you take note of the tendencies that bring out the beast in you. Then, and work conscientiously to rein them in as far as possible. On the other hand, if you're closely associated with people born under these dangerous zodiac signs – as a lover, romantic partner or friend – tread cautiously to avoid being at the receiving end of their aggressive streak.