Happy romantic relationships are a lot about affection, physical attraction, and similar interests. But in the long-term, there are many more relationship qualities that are necessary. American philosopher Cornel West has stressed: "We have to recognize that there cannot be relationships unless there is commitment, unless there is loyalty, unless there is love, patience, persistence." The list is long…
A relationship is a dynamic concept and needs constant evaluation and nourishment. An ardent gardener would regularly look at each plant, check if it is doing well, and take corrective action. Partners in a relationship are like gardeners and they have to constantly tend to and nurture their garden – their relationship. And, there are qualities of strong relationships which couples can learn to cultivate so that their garden blooms and thrives.
In their book The Happy Couple's Secret: How to Build a Lasting, Satisfying Relationship, marriage therapists, Dr Harville Hendrix and Dr Helen Lakelly Hunt, offer three key tips for relationship happiness. First, they say, replace negativity with supportive encouragement. Second, increase fun and laughter. Third, become passionate friends with your partner.
11 Relationship Qualities That Are A Must Have For A Happy Life
There are a lot of aspects to finding joy in a relationship. And mostly, it might not be possible to nurture all of them at the same time. Don't you worry, we've got your back. Which are the strong relationship qualities which make for happiness? Here are 11 we have picked out for you.
1. Joy
This may seem obvious, but it is integral to a happy successful relationship. What's the point of being in a relationship if it doesn't bring you joy? True, there are ups and downs – good times and not-so-good times. But overall, there must be joy. Fun and laughter are aided if one or both partners have a good sense of humor. The ability to laugh at yourself and your foibles is a gift that enriches the couple relationship. Tending to feel contented most of the time is another mantra for a joyful relationship.
It is not necessary for both partners to be extroverted, fun-loving people. Cheryl is an exuberant person with an easy laugh while her husband Roger is an introvert with a quiet sense of humour. Together, they complement each other, and have a joyful relationship.
Related Reading: 7 Point Happy Marriage Checklist You MUST Follow
2. Gentleness
Being gentle with each other – verbally, emotionally and physically, is a given. Kindness, patience and compassion go hand in hand with gentleness. A gentle partner gives you a sense of safety and you are able to be vulnerable with him or her. This is truly a romantic gesture.
Gentleness and compassion also give you the capacity to forgive, which is vital in a long-term relationship. In the words of German theologian and physician Albert Schweitzer: "As the sun makes ice melt, kindness causes misunderstanding, mistrust and hostility to evaporate."
3. Respect
While chemistry is the magnet that may draw a couple to each other, it is mutual respect that is the relationship quality that glues them together. Respect includes appreciation for each other's achievements and successes, however small. Developing respect in a relationship is also respecting each other's boundaries.
Miranda loved her husband David very much but somehow she could not respect him. The reason: he could not hold down a job, was a messy person, and often forgot to do assigned household chores. All the love in the world cannot rescue a relationship where mutual respect is missing.
4. Communication
The key to good communication is listening keenly and actively to what your partner says. Some people are very articulate – they can clearly explain their viewpoint, but they are poor listeners. This is a clear hurdle to a happy relationship because the partner who is not being 'heard' will not feel understood or valued. Listening shows that you care for your partner. If your partner is in pain, listening will help him or her feel better and get closer to you.
These days, couples very often communicate through text messages. A 2013 study titled 'Using Technology to Connect in Romantic Relationships: Effects on Attachment, Relationship Satisfaction, and Stability in Emerging Adults' analyses the impact of texting to communicate in a relationship.
The study found that among women using text messages to apologize or make decisions is associated with lower relationship quality. For men too, frequent texting is linked with low relationship quality. One positive finding was that if partners express affection via text it enhances the relationship!
5. Intimacy
Emotional and physical intimacy is the very cornerstone of a couple relationship. It keeps the spark going. Showing affection verbally and physically on a regular basis does for your relationship what recharging the battery does for your phone!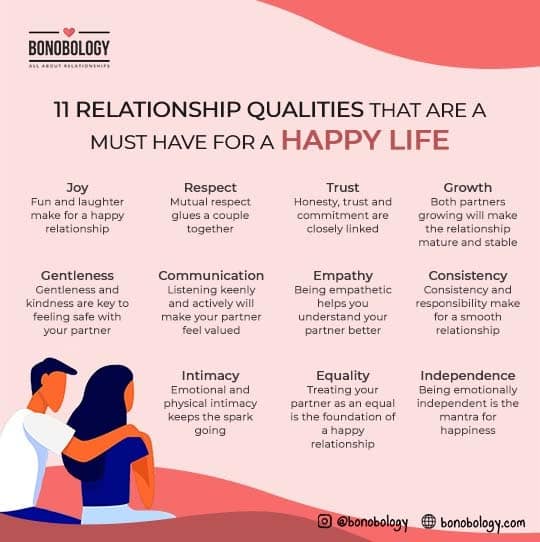 For intimacy to develop, you have to understand your partner's love language – does he/she respond to loving words, help with the household chores, a hug and kiss, or a surprise gift. Once you know what brings the love-light in the eyes of your partner, you need to do those things more often.
Related Reading: Know How Much He Loves You Through His Body Language
As Leo Buscaglia, American author and motivational speaker (also called "Dr Love"!) has put it, "Too often we underestimate the power of a touch, a smile, a kind word, a listening ear, an honest compliment or the smallest act of caring, all of which have the potential to turn a life around."
6. Empathy
The ability to empathize with your partner is a subtle but key relationship quality. Empathy is all about being able to put yourself in your partner's situation and frame of mind. It is a great way to understand his or her perspective. Empathy is a relationship quality that brings with it thoughtfulness and understanding.
Despite a turbulent marriage, what kept Rachel and Tom together was Tom's empathetic attitude to his spouse. Whenever she vented, he would try to put himself in her shoes and see the situation from her viewpoint. This not only enabled him to keep his cool, it also made Rachel calm down and feel understood. She valued this quality in Tom deeply, which strengthened their relationship.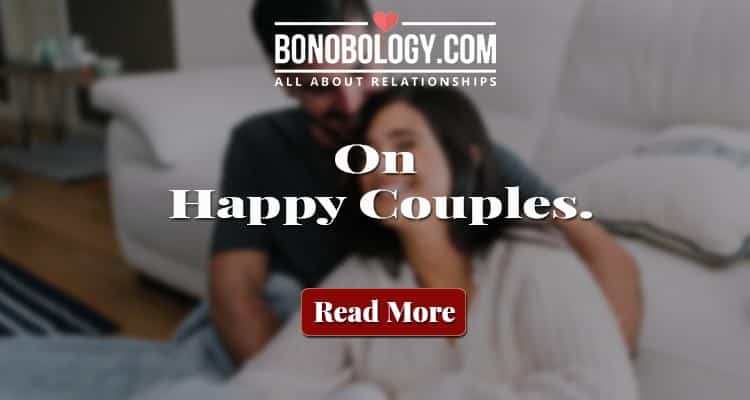 7. Trust
Without honesty no relationship can last long. When partners are determined to be honest with other, a bond of trust develops. When one partner cheats physically or is 'emotionally adulterous', it is difficult for the relationship to overcome the breach of trust and survive.
Trust and commitment are closely linked. Commitment begets trust and vice versa. Staying committed is not easy, but it is a relationship quality that is essential for happiness. It's not just being committed to your partner that matters, you have to be committed to the relationship.
Related Reading: Top 9 Tips To Build Trust In Relationships
Kiara and Mathew were in a committed relationship. There was only one flaw. Kiara loved watching content on the OTT platforms and Mathew didn't. This made Mathew resentful and he felt ignored and left out. After a serious discussion, she decided to reduce screen time and instead do something which both of them could share. Her decision to put the relationship ahead of her own interests, worked wonders.
8. Equality
This is one of the ideal relationship qualities which is vital in modern marriages. Partners should consider and treat each other as equals. There should be no unhealthy power dynamics with one partner dominating the other.
Equality enables partners to have fewer disagreements on money matters and sharing of household chores. In fact, a survey by the Pew Research Centre of American adults "sharing household chores" ranked third in importance on a list of nine items associated with successful marriages. Incidentally, the first was faithfulness and the second, happy sexual relationship.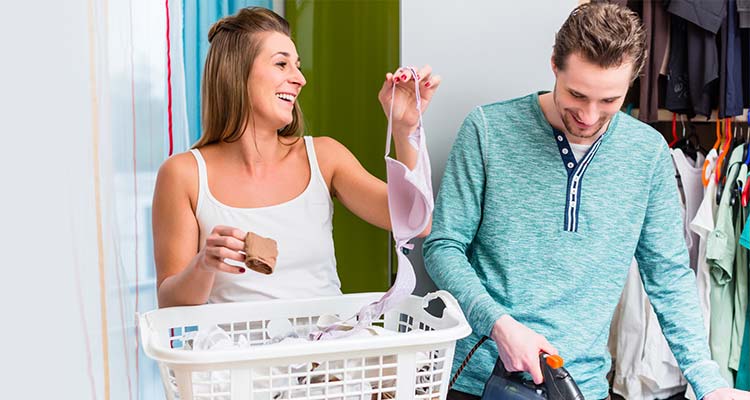 9. Independence
One of the best relationship qualities is independence. Of course, it's important for partners to strike a balance between independence and interdependence in a relationship. But a basic level of independence is necessary. Co-dependent relationships (imbalanced relationship where one partner is in control or is the caretaker) are unhealthy. A high level of emotional dependence on your partner is the recipe for unhappiness.
The other aspect of independence is the freedom to have your own views, make your own decisions, and most of all, the freedom to be yourself. This is a relationship quality which cannot be compromised on. Living in each other's pockets will only cause relationship fatigue. Both partners should pursue their own interests apart from shared interests. Modern couple relationships require each partner to be self-fulfilled and independent.
10. Consistency
Among the good relationship qualities, consistency is underrated. Consistency of moods and deeds in the good times as well as when the going gets tough, is vital for a stable relationship. A volatile partner is very difficult to handle. Constant moodiness can spell the death knell of an otherwise healthy relationship. Allied to consistency, is a sense of responsibility which keeps the relationship grounded. Here, each partner fulfils the responsibilities assigned to them.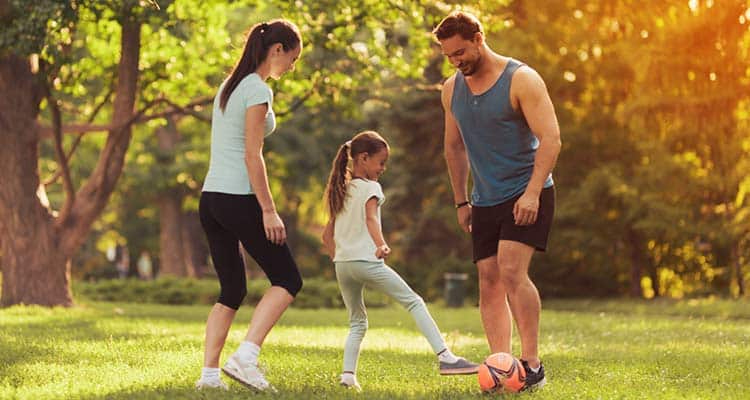 11. Growth
It is necessary for both partners and the relationship to be continuously growing. Each partner should be willing to learn from mistakes and move towards maturity. This is a two-way process. Author and poet Catherine Pulsifer has put it succinctly: "Relationships, marriages are ruined where one person continues to learn, develop and grow and the other person stands still."
In their marriage, Steven sought self-help in any form he could – reading books, listening to podcasts and practicing mindfulness. He was growing as a person. But in the marriage, he was drifting apart from his spouse Rebecca as she still clung to her immaturity and frustrations.
Expert Take
We spoke to clinical psychologist, couple's therapist and life coach, Dr. Nimisha from Mind Life Consultants about good relationship qualities. Here is what she had to say:
"In my experience, the most important relationship quality is Emotional Engagement (EE) between partners. It becomes the wagon to reach all the other qualities like empathy, trust and intimacy. When EE is missing, the relationship becomes hollow – it appears that each partner's presence in the other's life becomes just a habit or a social requisite."
Related Reading: 20 Questions To Ask Your Partner To Build Emotional Intimacy
For EE to take place one or both partners have to recognize and respond to 'bids' from each other, she says. She quotes from The Gottman Institute: "A bid is an attempt from one partner to another for attention, affirmation, affection, or any other positive connection. Bids show up in simple ways, a smile or a wink, and more complex ways, like a request for advice or help."
According to Dr Nimisha, EE can be strengthened by adopting 'positive interactions' recommended by The Gottman Institute. Some of them are: intentional appreciation, finding opportunities for agreement, making jokes, making kind gestures, turning towards your partner and validating your partner's perspective.
Love isn't the only thing that makes the world go round when it comes to relationships! Love has to be bolstered with many other qualities. That's what makes a good relationship. That's what helps build a bond between a couple that will last in the long term even through trying times.
7 Steps To Cultivate Harmony In Relationships: Expert Tells You
Lack Of Affection And Intimacy In A Relationship: 9 Ways It Affects You