Sometimes we ourselves get in the way of building our happily ever after. This tendency is what psychologists define as self-sabotaging relationships. This can be defined as a knack for making your relationship fall apart, either subconsciously or consciously.
For a lot of people, the self-sabotaging behavior is so inherent that they fail to recognize the problematic patterns.
Related Reading: 11 Examples Of Self-Sabotaging Behaviours That Ruin Relationships
Obviously then, there is no scope of correcting course and they subconsciously run the relationship. To stop self-sabotaging relationships you need to understand why do we self-sabotage romantic relationships and learn to identify the signs of this behavior. Only then can you break the cycle, and give yourself a real shot at building meaningful romantic partnerships.
Why Do We Self-Sabotage Romantic Relationships?
Self-sabotaging often manifests as a tendency to subconsciously ruin relationships and the reasons for it can vary from person to person. Our consulting counsellor Meghna Prabhu, a psychotherapist and member of the APA, explains why do we self-sabotage romantic relationships, "Even though the triggers for self-sabotage may vary, it all comes down to one thing – not opening up emotionally and building an intimate relationship."
Related Reading: How To Watch Out For The Relationship Red Flags – Expert Tells You
According to Meghna, this happens mostly because we are afraid that the relationship won't work out. We may do things like finding reasons to break up, arguing about things we normally wouldn't care about, focusing on our individual lives more than the relationship.
The main reason behind all of this is the fear that the relationship won't last. So we don't want to invest or open up and may even break up before the other person leaves us.
It's a way of being in control or believing that we are in control. Some people even try to manipulate partners in order to get a certain outcome or reaction. It's their way of being in control.
Most people do these things because being vulnerable is scary, and they end up sabotaging a relationship out of fear. But being vulnerable and emotionally intimate with our partners is essential for making relationships work. The fears that lead to self-sabotaging romantic relationships can come from failed past relationships.
Besides, a partner with low self-esteem is always more likely to self-sabotage a relationship. The feeling that one is not good enough or doesn't deserve to be loved becomes a trigger in such cases.
As you can see, it all boils down to the fear of getting our heart broken. It's a basic human tendency to avoid pain.
Related Reading: How To Get Out Of A Controlling Relationship – 8 Ways To Break Free
Signs Of Self-Sabotaging Behavior
This behavior is extremely common, and many people continue self-sabotaging romantic relationships without even realizing that the problem lies with them.
If you've had a string of failed relationships in the past, it helps to introspect whether it's because of this latent tendency.
Here are the signs of self-sabotaging behavior to take note of:
Not addressing negative emotions such as anger, resentment, doubts or frustration toward your partner or relationship is a big red flag. The inability to talk about these unpleasant feelings signals to fear, which is the root cause of self-sabotaging relationships
Being paranoid that your partner is doing something wrong without any basis or proof. For instance, a person with self-sabotage tendencies may be convinced that their partner is cheating on them even when there is no evidence or red flags to suggest so
A person who is overtly critical about their partner may be sabotaging a relationship subconsciously
Relying on unhealthy habits such as excessive drinking, smoking or drug use as a way of coping with your insecurities is also a clear-cut sign of self-sabotaging behavior
Holding grudges against your partner, fueled by poor communication from your end, is a surefire way to self-destruct a relationship
Another key indicator that you may be sabotaging a relationship out of fear is that you take the focus off your relationship and start prioritizing work, friendships or hobbies the minute things start becoming intense
Deliberately backtracking on promises to invest in the relationships or plans to spend more time together. This is a sign that you're not only ruining a relationship but also making your partner resent you for it. By doing so, you're laying the groundwork for self-sabotaging relationships
Focusing on your partner's shortcoming and imperfections all the time, and letting this perception eclipse all their good qualities and strong suits
Using the silent treatment in fights primarily because honest communication doesn't come naturally to you
Related Reading: What This Psychologist Did When She Said, "Husband Does Not Give Me Attention"
How To Avoid Self-Sabotaging Your Relationships?
Speaking of how to avoid self-sabotaging your relationships, Meghna says, "The main thing is to understand what is causing it. You have to find the reason behind the fear and address it. This can be done either by introspection or seeking help to arrive at the root cause by talking to a therapist."
Getting to the root is the only way you can stop self-sabotaging relationships. So, let's try to decipher what you can do to avoid self-sabotaging your relationships.
1. Understand attachment style to stop self-sabotaging relationships
If you have been struggling to maintain long-term relationships, it helps to turn your attention to your attachment style. Often, the way we attach to others as adults is a reflection of our childhood or adolescent experiences.
A person who has been through abandonment, trauma, loss, toxicity in their nascent years may grow up to develop an insecure attachment style.
This can lead to negative emotions such as anger and jealousy creeping in, leading a person to self-sabotaging romantic relationships. Similarly, growing up in an environment that was loving and warm in some instances, and cold and isolating in others can make a person needy for reassurances and attention.
This is a classic pattern of a partner with low self-esteem. Someone who is designed to ruin their romantic partnerships by exhausting the other person with their constant needs.
However, attachment styles are not permanent. With the right help, you can re-work it and do away with negative patterns to be able to build thriving romantic relationships.
2. Commit to honest communication
One of the biggest hurdles for a person inclined to sabotaging a relationship subconsciously is a fear of communication. Particularly, when it comes to talking about the not so pleasant aspects of the relationship. So, to break the cycle of self-sabotaging behavior, you need to overcome this hurdle.
The best way to do it is by initiating a conversation about your fears, apprehensions, doubts and anxieties. In doing so, let your partner know all that's been bothering you about the future of the relationship and create an environment where they can do the same. Discuss your problems and figure out what's the best way forward for you both.
Don't let the issues pile up long enough that the differences between you to become irreconcilable.
3. Identify your trigger to stop self-sabotaging relationships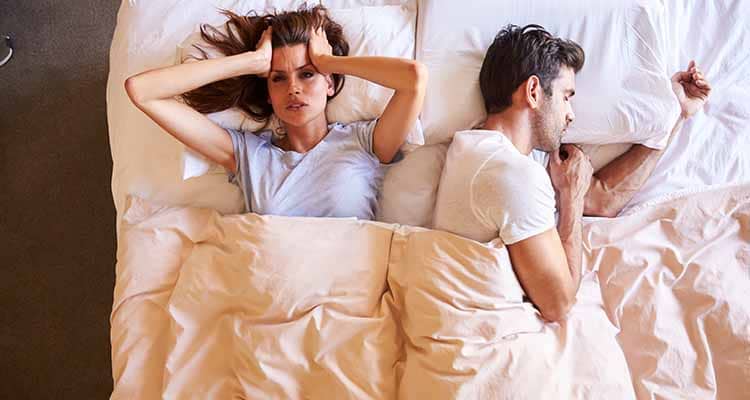 To be able to stop self-sabotaging relationships, you need to understand what's causing it. So, start by paying attention to your triggers. When you suddenly feel the need to snap the chord because you're too afraid that things may not pan out as expected, introspect a little about what brought on that fear.
What situation were you in? How did it make you feel? Why does it scare you? If your fears come to pass, how would it affect you? It's a good idea to start maintaining a record of these moments and your assessment of them.
Over time, you'll begin to see a pattern and that'll help you connect with your vulnerabilities better.
Related Reading: What Is Stonewalling And How To Deal With It?
4. Learn to be patient if you subconsciously ruin relationships
Whenever a woman or a man sabotages a relationship, there is a clear pattern behind it – the relationship goes through a rough patch and they decide to withdraw emotionally to save themselves from getting hurt.
The key here is to remember that no relationship is perfect, no relationship is easy. There are bound to be ups and downs. It is the resolve to stay and fight for your togetherness that makes relationships last. So, you have to learn to be patient and stick by your partner when the going gets tough.
It helps to build a support system to get you through these times of upheaval without worrying that your entire world will come down crashing.
5. Seek counselling to avoid self-sabotaging your relationships
Recognizing and accepting your unhealthy behavior is never easy. Even if you do zero-in on the problem, you may not know how to deal with it. That's why seeking individual or couples' counselling can be one of the most reliable ways to avoid self-sabotaging your relationships.
It gives you and your partner a safe and supportive environment to discuss your concerns in. Besides, a trained therapist can show you the way to break the cycle of self-sabotaging relationships in an empathetic and non-judgmental way.
As long as you're committed to working on yourself, you may be able to bounce back from this damaging behavior and also save your relationship.
6. Do not rush into relationships
A string of unsuccessful relationships can leave anyone feeling deflated, demoralized and worn out. But don't rush into a relationship in your desperation to make it work. For instance, don't start dating the next hot guy you meet in a bar the day after you get out a relationship just to feel better about yourself. What'd happen if you end up dating an alcoholic?
Yet another relationship gone wrong will only add to your inherent fears of being hurt or getting left behind. This, in turn, will only aggravate your tendency of self-sabotaging romantic relationships.
Once you realize that your own behavior is part of the problem, take the time to introspect what kind of partner do you want. Then, patiently wait for the right person to come along.
7. Stop playing the victim
Given that people displaying self-sabotaging behavior operate from a place of fear and often turn own to be a partner with low self-esteem, it is very easy for them to wallow in self-pity. You must stop playing the victim card to free yourself from this pattern of self-sabotaging romantic relationships.
The whole 'poor me' perception will only fuel your insecurities. This, in turn, will snowball into troublesome patter such as being emotionally detached, playing the passive-aggressive game with a date, making a love interest jump through the hoops to validate your sense of control. You have already seen where that leads.
So, focus on your strengths instead. Work of becoming a more confident and self-assured version of yourself. Someone who doesn't need to feel in control of a relationship at all times.
When you make these changes, you will see that you can get emotionally invested in a relationship far more easily.
Related Reading: 8 Signs You Are In A Rebound Relationship
8. Most importantly, learn to detach from the past
The tendency of sabotaging a relationship subconsciously is related to certain unpleasant or traumatic past experiences 100 per cent of the time. The fear and anxiety you feel could be stemming from some unfinished business for your past or an experience that impacted you deeply.
These experiences, or at least how a person felt during those experiences, then become triggers for self-sabotaging behavior. You must learn to snap the chord and detach from your past.
The next time you feel aggravated by a situation, pause and reflect whether it's a past experience that's making you react disproportionately. It may not always work, but being mindful of this possibility helps you move toward healthier behavior patterns.
The pattern of self-sabotaging relationships can be a crippling experience but not one that you are doomed to live with. Once you learn to identify and acknowledge the problem, there are myriad ways to address and overcome it. If you're struggling to make headway on your own, know that expert help is only a click away.
FAQs
1. How do I stop self-sabotaging my relationship?
The first thing you need to do is look at your past experiences. It could be a toxic childhood or a string of broken relationships that is causing self-sabotaging issues. To stop self-sabotaging your relationships identify the trigger, be honest and communicative, seek counselling and be patient.
2. How do you stop sabotaging yourself?
Get rid of the anxiety, commitment phobia, the insecurity that leads you into push pull relationships. Stop playing the victim card and detach yourself from the past. Don't rush into relationships, instead take your time and know what you want from the relationship.
3. How do you tell if you are self sabotaging?
You know you are self-sabotaging a relationship when you make it only about yourself, you are very critical of your partner, you become anxious and secure. You have trust issues, you over think and you cannot let go off your past.