The concept of a virtual wedding began catching on as a raging pandemic turned our perception of normal on its head. When the COVID-19 pandemic took the world by storm in 2020, many engaged couples put off their plans to get hitched in the hope of waiting out the pandemic and then having that dream wedding.
As weeks rolled into months and seasons began to turn, the realization hit – returning to our pre-pandemic way of life was a distant dream. So, many couples turned to the next best alternative – have a virtual wedding, with their loved ones in attendance, albeit over a screen.
With vaccination rollouts, the COVID restrictions may be easing up in many parts of the world but the virtual wedding trend seems here to stay. As couples realize that this alternative to a traditional wedding gives them a chance to share their happiest moment with a wider circle of friends and family, virtual weddings continue to find favor with many.
If you too have been considering saying 'I do' virtually or having an intimate ceremony and sharing it with extended family and friends through a live feed, it's natural to have many questions about how to get it right. How do you plan the perfect virtual wedding? Is it possible to get married online? Can you get married online for free? If not, what is the ballpark budget you're looking at? What are some of the essentials to pull off a glitch-free virtual wedding? Do marriages that are solemnized virtually have legal recognition? We answer them all to help you plan your virtual wedding like a pro.
The Trend of Virtual Wedding Amid COVID-19
If you had to postpone a wedding due to the COVID-19 pandemic, know that you're not alone. Thousands of couples had to make this emotional decision when the coronavirus hit and lockdown restrictions began being imposed the world over. The unforeseeable situation that erupted quickly on a global scale put many plans on the backburner.
An entire wedding industry was thrown for a loop and so many dreamy plans stopped in their tracks. However, as the world began to adjust to a new normal, a new trend began to shape up – that of a virtual wedding ceremony. The popularity of the virtual wedding trend can be gauged from the fact that the terms 'virtual marriage' or 'virtual wedding' are featured in Google's list of 'Year in Search' for 2020.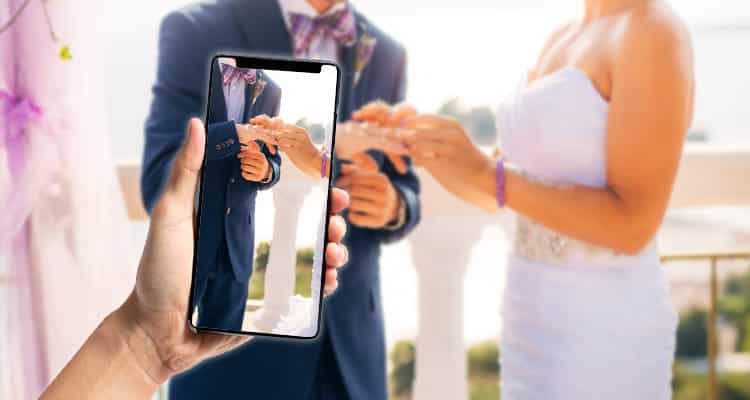 Many couples decided that they didn't have to let months of careful wedding planning to arrive at a date go to waste when they could have a virtual wedding in an intimate setting, with their loved ones cheering them on from tiny grids on a computer screen. These were at first considered to be a placeholder for the real deal until it was safe for people to gather again to witness a couple exchange their vows the traditional way.
The virtual wedding trend turned more meaningful when these ceremonies began to gain legal sanction in many areas. Today, in the US, you have several states where you can get married online. New York Governor Andrew Cuomo was one of the first to issue an executive order that allowed couples to wed legally via video conferencing. Colorado, California, Illinois, Utah and Hawaii have since followed suit. With a legal sanction, couples were no longer just planning a virtual wedding for fun or reassurance. It became the real deal.
Related Reading: Virtual Dating – Is It Here To Stay?
Understanding Virtual Wedding – 10 Points
Be it in India where weddings are a grand affair and more a social statement than a celebration of a couple's love and dedication for each other or the US where weddings and marriages already come in different shapes and forms, the virtual wedding trend is taking root across cultures and ethnicities.
In many ways, it is also a way of reclaiming a sense of control over one's life and plans in the uncertain times of COVID-19. Besides, for many new-age couples, the possibility of a virtual wedding has driven home the point of the wastefulness of extravagant ceremonies.
Have you and your significant other too postponed a wedding because of the coronavirus pandemic? Are you still waiting it out because you're unclear about how to put together a virtual wedding? If you're sitting on the fence just due to a lack of clarity on where and how to get started, we're here to help you understand virtual wedding ceremonies in these 10 simple points:
1. Virtual wedding meaning is that the entire ceremony happens online
The virtual wedding meaning is that the entire ceremony takes place online. Typically, the groom and the bride are together at a location of their choice – the living room, the backyard, the terrace or even an empty park or deserted beach (if the circumstances allow for it).
Many couples also opt for a micro wedding or minimony with a virtual extension, especially now that more and more people have been vaccinated and interacting with family and close friends is no longer out of bounds. In such ceremonies, a close-knit circle of loved ones – typically under 20 people – are physically present at the ceremony, and others join in virtually.
For couples navigating long-distance relationships, the nuptials can be performed even with the bride and groom in different locations. You can even plan the most dreamy virtual wedding proposal to make the love of your life say 'yes', and then, follow it up with a virtual wedding ceremony. Technology truly has made distance irrelevant for those who are committed to staying together and making it work.
However, the legal sanction of such ceremonies remains in limbo. Canada, for instance, doesn't recognize such weddings as legally valid. This means you may have to be in a virtual marriage even after exchanging your vows and may need a do-over once you're together.
2. You can choose video conferencing or live streaming
Once you start planning your virtual wedding, one of the first decisions you have to make is that of a platform to host it on. You can either choose to live stream the wedding through an Instagram Live or Facebook Live, or opt for a video conferencing platform like Google Meet or Zoom.
The choice depends on the number of guests and how interactive you'd like the ceremony to be. In live streaming, for instance, your guests can't interact with each other except through messages. Likewise, Google Meet and Zoom have a limit on the maximum number of participants but your guests can talk to each other. So, the choice of medium depends on how many people you'd want to invite and how interactive you want the event to be.
Many couples are also streaming their wedding ceremony on YouTube now for the benefit of friends and family who couldn't be in attendance physically. Jasmine and Clive had to plan a blended ceremony for their wedding since the groom was flying down to India from Canada for the wedding, and the couple didn't want to risk the possibility of getting infected, which is hard to rule out in large gatherings that are typical of Indian weddings. So, they streamed the entire ceremony on YouTube, and 500 people tuned in whereas only 50 were in attendance physically.
Related Reading: How To Have A Non-Religious Wedding – Some Awesome Tips!
3. Get a friend to officiate or rope in your minister
Even if you choose to have a virtual wedding, you need someone to officiate and solemnize it. One option is to ask someone close to both you and your partner to get ordained on the internet and officiate the ceremony. If you're both religious or want to have some traditional elements in your virtual wedding ceremony, you can ask your minister to perform the nuptials virtually.
In case you already had all the details of your wedding chalked out, finding one won't be hard. Simply reach out to the minister you had roped in for your in-person wedding and ask them to be a part of the virtual one. Otherwise, you will need to do some research and find someone to officiate the wedding.
You could consider reaching out to your local church and asking the priest to bless your union virtually. If the person officiating the wedding isn't going to be present at the venue with you, make sure you arrange the setup for them to be able to join in the ceremony. The last thing you want is to be stranded sans an officiant on your wedding day. So, ask one of the bridesmaids or groomsmen to be present with the officiant, making sure they can log in at the appointed time and stay connected throughout.
4. It's possible to plan a virtual wedding free, but it may not be worth it
One of the biggest allures of a virtual wedding is the big saves you can make in the process. Sure, it's possible to plan a virtual wedding for free, but doing so may interfere with the smooth execution of the ceremony. That's a dampener you wouldn't want when you're already compromising on so much else.
Aisha and Martin decided to elope to Gibraltar and get hitched when their wedding plans got pushed back for a second time. Since, for them, it was going to be a placeholder ceremony, with both families in attendance virtually, they wanted to get married online for free or at least spend as little as possible.
Instead of hiring a professional photographer for the ceremony, they asked a couple they'd made friends with the night before to attend the wedding and also record it. As luck would have it, the memory card of their appointed photographer's camera malfunctioned and they had no pictures of the ceremony to submit as proof for obtaining a marriage certificate. Thankfully, for them, Aisha's sister had captured a few screenshots of the ceremony that came in handy.
So, don't fixate on the idea that you can get married online for free. You will anyway save a huge amount on caterers, location, décor, and such. So, if the need arises, don't hesitate to loosen up those purse strings a little. Invest in a better internet connection, buy the premium plan on your streaming platform, spend a little on your outfits and décor to elevate the experience.
5. A virtual wedding doesn't have to be a consolation ceremony
Just because you decided to have a virtual wedding doesn't mean it cannot still be a dreamy ceremony that you or your partner had always hoped for. For instance, getting married in a virtual ceremony doesn't mean you and your partner cannot splurge on a wedding gown and tuxedo.
Or hire someone to set up that canopy that you always wanted to get married under. Or do up the place with star lights to recreate the whole 'married under the stars' experience. If the circumstances allow for it, get in touch with the decorators you had finalized for your original wedding plan or find new ones to spruce up the place a little.
You can also consider having wedding favors or little treats shipped to your guests who are close by. Going the extra mile can transform your virtual wedding into a ceremony you and your partner can cherish for the rest of your lives. Now that there are several states where you can get married online with full legal sanction, planning and putting together another ceremony to have that 'dream wedding' may seem like too much unnecessary work.
Besides, with new COVID variants unleashing new waves of infections intermittently, who knows when you'd be able to pull off a traditional ceremony with full aplomb. So, make your virtual wedding count.
6. Guest lists and e-invites are a must
Again, just because things are happening in the virtual dimension, doesn't make your wedding or marriage any less real. So, don't slack on the basics such as putting together a guest and sending out e-invites well ahead of time. Besides, since you can't be present in-person to make your guests feel welcome, this is the least you can do to let them know how much you value them sharing in on your special day.
Hire a professional to design dreamy invites for your virtual wedding and send them out well ahead of time. To create a buzz and make people look forward to attending the wedding, you could also consider setting up a special web page or social media page on Facebook and Instagram to keep your guests updated about the wedding plans.
Starting a wedding hashtag and inviting people to share messages, photos, videos for your big day on social media platforms can be a great way to make your guests feel involved and also build up the excitement for your wedding day. But remember, these online pages are not a replacement for personalized invites.
Related Reading: Life After The Wedding And The Honeymoon – Post Marriage Life
7. Successful virtual wedding rides on good connectivity
After more than a year of working from home, most of us know that connectivity issues can throw a curveball at even the most immaculately planned events. Don't let that be the case with your virtual wedding ceremony. For Jasmine and Clive's wedding, for instance, a lot of people could get a clear view of the ceremony because the internet connectivity was sketchy at the venue and a big chunk of the live feed appeared grainy and distorted.
They spent the day after the wedding sending out apology messages to loved ones who had taken the day off from work just to be able to witness them tying the knot. You can prevent that by paying attention to the details and preparing contingency plans for any potential glitches.
Upgrade your internet connection or get a high-speed hotspot just for the event. Have backups for internet connectivity and device battery in place, so that blurred images, breaking voices and interrupted connections don't play spoilsport with your wedding festivities.
8. Managing the virtual platform is best delegated
You don't want to be juggling between saying the vows that you've written with your heart and soul and also muting that one guest who won't stop chattering away. Or run to add back the old granny who accidentally hit the disconnect button just as you were going to exchange rings or have your first kiss as husband and wife.
That's why managing the virtual platform for the smooth conduct of the ceremony is best delegated. This is where the person who was designated to be the best man or maid of honor comes in. Keep them involved in your virtual wedding planning from the get-go and let them take charge of setting everything up and making sure that transmission is seamless well before the wedding festivities begin.
9. You can make it as elaborate or intimate as you like
One of the biggest drawcards of the virtual wedding trend is that you have a lot of room to play around and put together a ceremony that aligns perfectly with your taste. You could keep it intimate, with just a handful of guests, and short – exchange vows, rings, seal the deal with a kiss, raise a toast with your virtual guests and say your goodbyes.
Or you could turn into an elaborate affair with bachelor and bachelorette parties, rehearsal dinners, toasts, wedding ceremony and after-party, spread over a couple of days, and get everyone you hold dear to join in. There is no blueprint on how to conduct a virtual wedding. Whatever feels right to you and your partner is the right way.
Related Reading: Here's A Checklist of What Not To Do On Your Wedding Night
10. You can file for a virtual wedding certificate afterward
With many states in the US – as well as other countries – now legalizing virtual weddings, you can get a legal stamp on your relationship as a married couple. Check with the concerned local authorities to understand the procedure for obtaining a virtual wedding certificate and apply for a marriage license accordingly.
This way whether or not to have another ceremony once the pandemic is over becomes a personal choice and not a necessity. As we learned from Aisha and Martin's experience, make sure you have all the necessary proof and documents in place when applying for a marriage certificate.
This typically includes a copy of the wedding invite, identity proof of both spouses and wedding pictures. In addition to these, you may need to furnish other documents, depending on the rulebook of the issuing authority.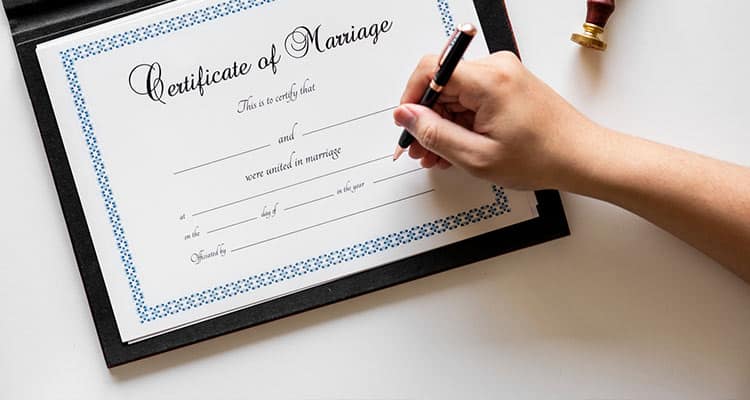 How Do You Do A Virtual Wedding?
By now, you probably have a clear picture of what it takes to have a virtual wedding. Even so, let's touch upon some of the specifics for sake of clarity. Here is how you can plan and perform a virtual wedding:
Bring your A-game technologically: Make sure your technology game is on point for the smooth conduct of your virtual wedding ceremony
Dress up: Dress up for your big day, DIY your hair and makeup. We recommend that you try different looks beforehand to see what works and what doesn't and finalize on the one that feels just right
Customize your wedding rituals: Don't fixate on doing things the way they have always been done. Adapt to the new normal by picking and choosing the rituals that matter the most to you, and leave out the rest
Test, test, test: A test run before the ceremony is a good idea so that you can make sure everyone knows what needs to be done, and you can manage participants better
Every device is a guest: Remember that every device is a guest and deserves your attention. Plan your ceremony such that you have time to interact with every guest, preferably one-on-one. Even if the conversation is brief, it will make them feel special and valued
Entertain your guests: Your guests don't have the option of interacting with each other in cozy corners – not without everyone talking over each other anyway – or an open bar, so keeping them entertained is your responsibility. Create a playlist or video montages to keep attendees engaged
Have a dress code: It's a good idea to have a dress code or theme in place, so your guests don't show up in their pajamas. It's a good idea to include a color theme or dress code in the invite to get the message across subtly
Get witnesses: You will need witnesses to the ceremony. Identify them beforehand and seek their consent
Organize toasts: Similarly, identify and request anyone you'd like to hear a toast from. Also, let them know the order in which they will be speaking
Don't wing it: Structure the ceremony with elements like readings, vows, exchange of vows and rings, the first kiss, the first dance and a reception afterward, lest you're left to wing it in the end, which can turn out messy
Prepare a wedding program: Time the duration of each element and share the program details with your guests beforehand, so that they know what to expect
Plan a wrap-up: Have a definitive wrap-up to the ceremony. This will give your guest their cue to leave and save everyone the awkwardness of just hanging in there, not knowing what to do
Putting together and pulling off a virtual wedding can be fun and exciting. All you need is to shed break-free from the notions of what a wedding ceremony ought to be like and embrace the new normal of saying 'I do'. If you're still at a loss for direction on where to begin and how to go about it, you can consider reaching out to virtual wedding planners for help. Quite a few have mushroomed in this up-and-coming space over the past year.
FAQs
11 Virtual Dating Mistakes Everyone Makes But YOU Can Avoid!