What not to do on your wedding night
Months of planning, years of conceptualising a dream wedding. And when the day finally arrives, you want it to be the magical day of your life. Festivities and rituals, wedding gowns and photographers, you leave no stone unturned when it comes to aesthetics. When the ceremony is over and the best day of your life comes to a close, it is a brand new beginning for the next chapter of your life with your loved one. But back it up a moment. Before the ceremony is over and the next chapter begins, the wedding night is crucially the most important moment in a married couple's night.
Wedding night is important as this is the first time you are together after getting married. You may take up your spouse's last name or you may not. But on this night you come together as man and wife, so make sure you do not do anything random to spoil this night.
Here are some tips on what not to do on your wedding night:
1. Do not expect sex on the wedding night
For both men and women. Weddings are hectic. You are the centre of attention for a whole day, or may be days, with all the Indian rituals that last for weeks. So after a day of ceremony, socialising with your relatives and smiling constantly at people you don't even know while looking your absolute best, your body has taken a toll.
Do not expect sex from your spouse just because it is your wedding night. It has been an emotionally draining day and one might not be up for creating love between the sheets. And that is perfectly okay.
Read more: Why newly wed couples in Bengal cannot spend the first night together
Read more: Planning for the first night: here's what you should do
2. Do not invite your friends or relatives to stay over in the same room
It is a ritual for most Indian weddings that the bride's sister or friends stay with the newly married couple after the wedding. This is supposed to be your wedding night; sex or no sex. You have both entered a new phase in your life and the wedding night is the perfect way to kick start that, without the intruders.
3. Do not obsess over your body
You spouse has seen you in your worst shapes and your best. And after a long, tiring day, slipping into something comfortable is a good way to start a married life. But, if skimpy lingerie is what you are aiming for, do it too. But do not obsess about how your body looks; your spouse's idea of a perfect night and a perfect life is with you. Obsessing over your body will only ruin your wedding night.
4. Don't be unprepared
Face it. Over the last few days, you have been tired, sleepless and hungry- which might lead to headaches, stomach cramps, acidity, allergies etc. You might also be prepared for sex.
Do not forget to keep an emergency medicine kit nearby. Keep it stocked with medicines, inhaler, sanitary napkins, condoms, pills just to be on the safer side. Keep it in your purse or assign one of your friends or relatives for safekeeping.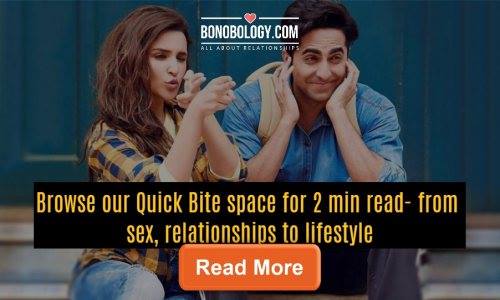 5. Do not bring up the past
It is the night of love, not a night of interrogation. You might be tempted to ask that one question you have always wanted to ask your spouse but never did, well you wedding night is not the time to have your queries answered. You have your entire life left for that.
Also, do not give negative feedback about your spouse's relatives or friends. There might be an irritating aunt who you met in the course of the wedding but do not throw negative light on that. Not on your wedding night at least.
Also, wedding night is not the night of confessions. If you have something you want your spouse to know, wait for the next day. Unless you have murdered and buried someone in the backyard, the information can wait till the next day.
Give positive thoughts, ideas and actions on your wedding night. It starts your married life on a positive note.
Tales of arranged marriage couples who didn't sleep on their first night