You have found the man of your dreams, are ready to take the plunge and decide to exchange vows. But you choose to go for a non-religious wedding. Now, this may evoke varied reactions from your friends and family – either shock or surprise.
It's but natural to have raised eyebrows when you decide to go against the tide. When it comes to weddings, there are two options in front of you – travel the tried and tested route that bridal couples have taken since millennia following the same traditions and rituals or create a whole new ceremony, scripting a bespoke template to cement your bond and begin a new chapter in your lives together. If the latter is what appeals to you, then that's when you opt for a non-religious wedding.
Related Reading: Life After The Wedding And The Honeymoon – What They Don't Tell You!
What Is A Non-Religious Wedding?
As can be deduced from the term, a non-religious wedding ceremony or a secular wedding is an event that strays away from the established tenets of a religion or way of life you may have followed all your life.
These days, non-religious wedding ceremonies are gaining popularity especially among inter-faith couples who do not want to subscribe to any one singular edict as prescribed by a religion for an important life event.
In esoteric terms, a marriage may be a union between two souls in love but let's admit it, a wedding is very much an earthly ritual prescribed by religion that comprises rules, guidelines and processes.
The entrance rites, wedding vows, the exchange of rings, the nuptial mass and the promises a couple makes in front of God as officiated by the priest – to name just a few of the rituals – are an integral part of cultures across the globe, but there are men and women who like to personalise and customise their day through non-religious wedding rites.
Mostly, these are people who have a strong sense of individuality or may just want to move away from established norms and write their own wedding vows.
Whatever be your belief system, you and your partner can plan a non-religious wedding in the most beautiful manner, fusing different elements, vows and readings from varied religions to create an event of your own. The bottom-line is: the day should be the best reflection of your vision, feelings and emotions.
Related Reading: Paying For The Wedding – What's The Norm?
How To Have A Non- Religious Wedding
A non-religious or secular wedding can be conducted in many ways (depends on your imagination, really!) but here are a few basic factors that may be common to such ceremonies. For instance, you can choose a neutral venue. Did he pop the question on a beach? Then how about holding a destination wedding in the Bahamas? Or maybe you can include literature, love poetry or romantic ceremony music to add that extra zing to the ceremony!
Simply put, the idea of a non-religious wedding may sound exciting and creative but how do you exactly go about it? If you are stuck, here are a few tips that you may incorporate in your non-religious wedding gameplan.
1. Make it Private and Personal
The more guests you invite, the more opinions (or perhaps misunderstandings) it gives rise to. Ensure that whoever you invite are with you in your idea to have a non-religious wedding.
It would be best to have an agenda printed and distributed along with your wedding card so that guests know what they can expect.
2. Choose an understanding officiant
If you opt for a typical religious ceremony, choosing an officiant should not be a problem. However, a non-religious wedding officiant should be chosen carefully.
Do have one or more meetings with him to ensure that you are on the same page. To make it more special, include a welcome note from the wedding officiant.
3. Add personality to your ceremony
The core idea of a non-religious wedding is to make it bespoke. The entire ceremony needs to have a personal touch as it should say your story.
One way to do that is to have carefully chosen readings and songs. Make it subtle and meaningful so that they stand out.
Related Reading: 12 Thoughtful First-Night Wedding Gifts For Your Husband
4. Make your wedding vows emotional
Give your wedding vows a lot of thought and emotion as they make all the difference. Since you are basically scripting your own ceremony, the wedding vows are arguably the most important part that your guests will look forward to.
Make the vows unique and meaningful so that they touch a chord among your guests. And mean what you say!
5. Choose interesting readings
In a religious ceremony, these are mostly pre-decided. But in a non-religious wedding, readings can range from your favourite poem, a sonnet or just a few lines that you may have penned yourself that best describes your relationship.
Keep it short, simple and straight from the heart. The words should sound sincere.
6. Invite friends to do readings
The advantage of a non-religious wedding is that you are not restricted by the traditions and rituals of a traditional ceremony.
Invite your friends for special readings. You can especially involve those who mean a lot to you.
These may also include friends who may belong to other religions and may bring their own touch culturally.
Related Reading: 22 Ways To Make Your Wife Happy
7. Try different unity rituals
The unity candle is an important part of a Christian wedding but in a non-religious wedding, you have the freedom to use other symbols.
Once again, look into your relationship, choose what brings you together and select a ritual that both of you believe in.
8. Use technology creatively
The world is the limit if you decide to bring in technology to your wedding. The non-religious wedding officiant can tell your story to your guests.
But how about making it more fun and quirky by showcasing your own story to your guests through a video or message broadcast at the venue?
Who performs a non-religious wedding?
A civil wedding, that is, one conducted in the court of law, is also a type of non-religious wedding. Predictably, the rites here are performed by a person who is not connected to any religious organisation.
These can include a government official, a judge, mayor or minister of religion. But otherwise, you need to hire an officiant who will conduct the ceremony the way you want it.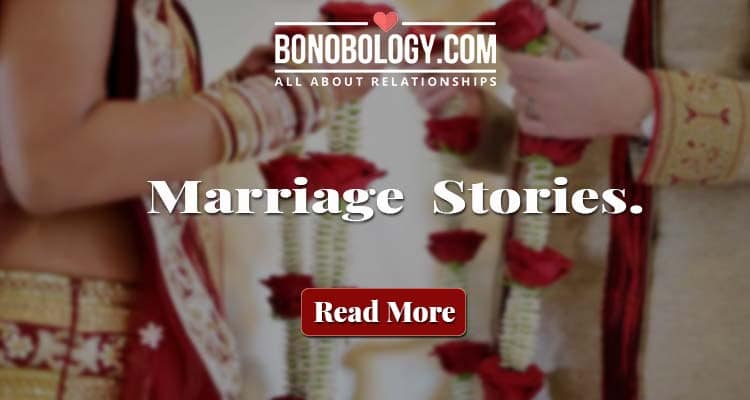 It's best to refer to your own state's laws for the legal position, as mentioned above, but there are couples who opt for retired judges, magistrates or justices of peace to perform the wedding.
You can also request a friend or family member to become ordained for this purpose and make it even more meaningful! Either way, ensure the legalities are taken care of whatever be the nature of your ceremony.
Non-religious church wedding : All you need to know
You may be irreligious or may be getting into an interfaith wedding writing your own rules but if you still want a beautiful church as your venue, it is possible! First and foremost, figure out the laws in your state.
Then get the officiant to do the rest. A non-religious wedding can be held in a church as a venue, especially one that does not hold active congregations. But first get it approved and inform the relevant authorities at the site.
Related Reading: 50 Things To Discuss Before Marriage
Non-Religious Wedding Vows
As we mentioned above, this deserves a special mention because vows are one of the most important parts of both, religious and non-religious wedding ceremonies. But some couples may find traditional wedding vows outdated and perhaps even sexist, not conforming with their broadminded outlook.
So if you are opting for an unconventional wedding, what do you do? It's simple. You just write your own vows. Here are a few samples that you may work from…
1. The promise to love
I take you to be my (husband/wife), my partner for the rest of my life. I cherish our union and promise to walk into the future with respect, trust and love.
I promise to stand by you in good times and bad, making efforts to overcome obstacles and challenges together.
2. The promise of togetherness
I take you to be my lifelong partner, my friend and guardian with whom I will share my joys, success, failures and emotions.
I look forward to getting to know you more, getting to know the (man/woman) you will become and falling more in love with every aspect I know.
3. The promise of trust and honesty
I take you to be my wife/husband in the presence of the universe and the people we love and cherish. I promise to stand by you, with all my faith, in times of adversity and happiness.
We will face each of life's experiences with trust and honesty and share and support one another's goals, dreams and desires. This relationship will be based on the bedrock of love and I promise to walk any path with you.
4. The promise of sharing, caring and supporting
You are my best friend, partner and support for life. The one and only I want to share my life with. I will stick by your side and be the strength behind your growth.
I will strive to make this relationship the most special ever and become stronger day by day. We will remain the best friends for life, all the days of our lives.
Related Reading: Tips for Getting Through The First Year Of Marriage
5. The promise of gratitude
I am thankful to have you as my partner in life. I am grateful for the support you offer me, for the joy you bring to my life, for the laughter to ease my pain and for the compassion you fill my days with.
I shall forever strive to be worthy of your love and cherish every single moment of togetherness.
6. The promise of unending love
Today, I promise to keep you happy to the best of my ability. To hold your hands in sickness and in health. To share your joys, your pain, your deepest emotions and your incredible love.
I promise to soothe you during your bad days, to celebrate you during your good. Most of all, I promise not to give up on you, or give up on us. We are there forever.
7. The promise of protection
I promise to protect you from all evils. I will guide you through difficult times leading from darkness to light. I will go through any danger to ensure you are safe.
Related Reading: Adjustment in Marriage: 10 Tips For Newly Married Couples to Make Their Relationship Strong
Non-Religious Wedding Songs
In religious weddings, music essentially means sacred hymns sung in the church or other forms of religious songs. But who said a bit of contemporary flair can't be added to enliven the proceedings if you are having a non-religious wedding?
Make the playlist based on personal selections, your personality and the general mood. Here are a few suggestions.
1. While guests are seated and await the bride
The bride enters with pomp and gaiety but while things are being readied, ensure your guests get into the groove with some peppy upbeat tunes that the DJ or the wedding band can spin. Suggestions:
Love and Marriage (Frank Sinatra)
L-O-V-E (Nat King Cole)
I Love Me (Demi Lovato)
Rare (Selena Gomez)
2. During the procession
This is the time to play a few songs that are more about celebration as it sets the stage for the bride to walk in.
Heavenly Day (Patty Griffin)
Stuck with U (Ariana Grande and Justin Bieber)
What I need (Megan Thee Stallion)
Conversations in the Dar (John Legend)
3. After-Wedding Music
These numbers have to be played after you have exchanged your wedding vows and are ready to walk back down the altar post the non-religious wedding.
Can't help falling in love (Haley Reinhart)
Perfect (Ed Sheeran)
Golden Hour (Kacey Musgraves)
City of Stars (Emma Stone and Justin Hurwitz)
So there you have it – a complete guide to conduct a beautiful non-religious wedding. It can have its own rituals and rites, it can speak of special wedding vows and promise but at the heart of it, these weddings are the same as others – the beginning of the most beautiful time of your lives with the person you love the most in your life.
Does Living Together Before Marriage Mean You Are Ready For The Wedding?
Wanted: New-Age Indian Husband! Requirements: To Lead and Follow Too!
15 Clever Ways To Deal With A Manipulative, Scheming Mother-In-Law