Truth bomb: The person you marry might not be the same person you will always be in love with. We grow up thinking marriage is supposed to give us ultimate happiness and spouses are destined to be our soul-mates. It may even seem like that in the honeymoon period of your marriage but over time, you might be in a position where you are happily married but love someone else.
This seems unfair initially because your marriage might be perfect. With great children, a husband that cares and an extended family that loves you, it is still possible for you to fall for someone completely different. The heart wants what it wants and it has weird ways of telling us. Read two stories below to understand this dilemma.
Happily Married But Attracted To Someone Else
(Names changed to protect identities)
Sheila was in my team of 40, one of the graphic designers, happily married to her classmate from the same college in Boston. She was pretty, modern, and outgoing and her husband was the opposite – an introvert and fairly unattractive by peer group opinion poll.
He worked as an architect in another company. They were in love. It was interesting to watch them be so crazy about each other because Sheila was way too outgoing to even be dating an introvert, let alone marrying one. I guess opposites do attract.
Robert was also in my team, a pleasant guy who was liked by everyone– he too was her classmate. He never dared to speak out about his love because he knew his family would never agree to any alliance outside his community. Sheila knew about his feelings even though he had never expressed anything in words. Also, she was happily married to someone else.
Five years passed by. Both Robert and Sheila excelled at work and were promoted and slowly she began to have feelings for Robert He was almost dog-like in his devotion to her, always knew what she needed and was at hand to do as she pleased, a quick lunch, or snack at the cafeteria, a ride home, or even just a few minutes at the campus gazebo watching the clouds.
Related Reading: Story Of A College Reunion Hookup – Tasting The Forbidden Fruit
When friendship turns into temptation
One day she came to me for advice. She felt so guilty that her feelings for Robert were becoming full-blown love. She felt this was wronging her husband who was wonderful to her. She had never thought that someday she would be in a position where she was happily married but in love with someone else.
Her husband and she were planning to build a house on his father's property that he was going to inherit. She asked me what I thought she should do, as she was constantly thinking about Robert. She said to me, "My husband is the perfect man for me. He cares for me deeply. How can I be happily married but in love with another man? Is this emotional cheating?"
Over the years I did hear rumors of her having an affair but happily married to her husband still. I guess he had no idea what had been running through her head as she smiled her way through that marriage.
Well, recently I got to know that after nearly eight years, she had succumbed to her feelings and was now married to Robert after a peaceful divorce from her husband to whom she was so happily married. I hope that she found what she was truly looking for.
I Am Happily Married But I Have A Crush
Aidan was my boss; he had left his family behind in Oregon, just to take up this job in New York. He'd left his loving wife and an adoring daughter back in Portland too, just to further his career, and of course, the money was good. He was awfully good-looking and had a soft-spoken articulate way of dealing with his reportees.
As he was single here, there were many young girls who vied for his attention; many of them used this as an MO to get ahead in their career, even though they knew he had a wife whom he was happily married to. That did not deter them.
I was easily 15 years older than him and had more work and life experience and he felt comfortable using me as a sounding board. We were discussing our next marketing campaign at the office food-court when he suddenly blurted out, "Oh no, what do I do? I am falling for Catelyn – the legal counsellor at our company. I'm so confused, I'm worried this will turn into a full blown office romance gone wrong"
So I asked him what he was going to do about it. He looked miserable and said though he was so happily married to his wife he seemed to be irresistibly drawn to this woman. "I feel like I'm already cheating on my wife – emotionally. I am so happily married but love someone else. Is that even possible?" he said.
And I listened intently.
Related Reading: I flirted with a colleague until my wife's call brought me back to my senses
Fighting the feelings
He said he loved her poise and cool confidence. And, that though there were no physical transgressions yet, he thought that would be inevitable because he couldn't stop thinking about her constantly. They would talk into the night and he was completely enamored of her radical thoughts and opinions.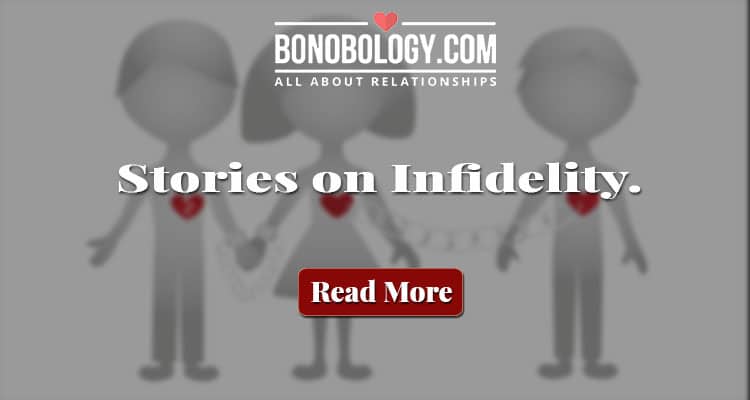 When you are working in the same space for 10 to 12 hours a day, these feelings for someone else seem plausible, even when you are happily married and love your spouse. So I told him to admire her from afar, and keep the friendship platonic.
After all, his status as a happily married man must not be tarnished. Six months later he told me he had processed these intense feelings and decided to get over the crush. They are still good friends, but I know sometimes love waltzes into one's life despite the circumstances. You see, there are no rules with love. Who knew one day that someone as desirable and perfect as Aidan would be happily married and attracted to someone else? Who thought Aidan could ever get his heart broken?
Related Reading: 11 Easy And Effective Tips To Survive Heartbreak Without Breaking Yourself
They stepped back
On her part, Catelyn did not let her feelings of love for a married man sway her. She did confess to Aidan that she had deep feelings for him and laughingly declared that she would spare him, as she did not want to cause any malicious breakup. "After all," she said, "You are happily married to someone else. I do not want to be the one to destroy such a beautiful thing."
Aidan is back in Portland, back with his loving wife – his happily married life intact. I suppose he may nostalgically remember Catelyn and wonder what might have been. I realize being happily married and in love with someone else at the same time is a complex and intriguing situation to deal with and only the strong tide over the feelings of love for someone else other than one's spouse.
FAQs
1. What do you call it when a married person has a relationship with someone else?
It can be called an affair. Even if it is sexual or not, any kind of romantic relationship outside a marriage is an affair.
2. Is it possible to fall in love with someone else while married?
Yes, it is. The person you marry might not be the person you love forever. It is natural to feel attracted to other people during your marriage.