What are the consequences of affairs between married couples? This is a question that is often on our mind when we see two married people locked in an extramarital affair. In fact, writers, filmmakers and creative artists have tried to answer this question through their respective mediums.
In this respect, I would like to mention two Hindi films that showed two very starkly different consequences of affairs when both parties are married. One is Yash Chopra's Silsila (1981) and the other is Karan Johar's Kabhi Alvida Na Kehna (2006), made 25 years later. Interestingly Silsila, despite its stellar cast tanked at the box office because Indian audiences were not yet ready to watch extramarital relationships unfolding on screen and on the contrary Kabhi Alvida… made huge business in India and overseas showing that more and more people could identify with the concept of affairs between married couples.
Related Reading: Surviving An Affair – 12 Steps To Reinstate Love And Trust In A Marriage
Do The Affair Between Married Couples Last?
This is a million-dollar question and there is no statistic to back up my answer. But if we go by what Yash Chopra and Karan Johar have to tell us, we can say these don't or very few do. As they showed in Silsila the two married people involved in the extramarital affair had left home but they had to come back because of an incident that reminded them that they loved and cared for their partners too. Dramatic indeed but realistic too. Affairs when both parties are married are usually flippant.
Because very few married people take the step to move out of their respective marriages and most usually go back to their respective partners or continue the relationship until the whistle is not blown on them.
The ending of Kabhi Alvida Na Kehna is even more dramatic. Two married people leave their respective homes but they do not get together and move on to have single lives. But this is not to say affairs between married couples don't last. It depends on how much serious two people are about the affair. Usually, people look for things – consciously or unconsciously – that they lack in their marriage and once they get it from someone else they are satisfied. Emotional affairs or lust are common in extramarital affairs that's why when guilt and shame kick in they try to go back and reconcile in the marriage. So married couple affairs don't last.
But there are people with abusive partners, cheating or irresponsible spouses who want to get out of the marriage. As it happened with Tanuka an actress and her husband Ritz, who is a director. They were friends as couples but they were in troubled marriages, they fell for each other, divorced their respective partners and are happily married now. So their two married couples affair survived.
How do affairs between married couples start?
This is another tricky question. But let me start by saying that affairs between married couples are common. Statistics show that 30-60 per cent married couples in the US have extramarital affairs at some point or other. A survey conducted by Gleeden dating app in India showed that 7 out of 10 women cheat on their spouses to escape unhappy marriages.
So starting an extramarital affair seems to be the easiest thing because in the online era being in touch constantly is easier. When two people are married it often happens that they meet socially a number of times before the affair takes off and they start meeting secretly. Although social meets often continue after that.
Office friendships often turn to office affairs, sometimes people also meet on dating apps or they could have been friends as couples for ages when suddenly they feel more intimate than before and an affair takes off. It's hard to pinpoint how an extramarital affair between two married people exactly starts but in the modern era, there is no dearth of ways in which it can.
Related Reading: Her SMS To Me Revealed My Husband's Extra Marital Affair
How do affairs between married couples end?
It's true most affairs between married couples do end because the burden of carrying the affair is enormous. Once the affair is discovered both the people involved in the affair have to deal with the allegations and anger of the respective spouses and if children are involved then it does become further messy.
Filmmaker Rituparno Ghosh in his film Dosar brilliantly shows how the respective spouses deal with the extramarital affair after its discovery happens after an accident. The stages of anger, heartbreak and reconciliation are poignantly shown.
The consequences of extra marital affairs between married couples are devastating at times. Also, as it is seen women find it harder to leave home than men so that leads to further complications if the couple wants to look at a future together.
But there is no denying the fact that there are some rare life-long affair stories between married couples. As one man, who could not marry the love of his life because of social pressure but came together with her later in life when they were both married and they stayed in love for the next 20 years, said, "We survived because we kept it under wraps and lived in separate states of India and met very rarely. If it had been a full-blown affair and everyone came to know we would have probably had to give up because we had grown up children who would have never accepted it."
Another young man, who is a college professor and having an affair with a colleague, they are both long-married and are parents too. He said, "We both are married but we have fallen in love. It's a very fulfilling relationship. I am not willing to let go. I will remain a dutiful husband and father but she is an important part of my life, my wife will have to accept that."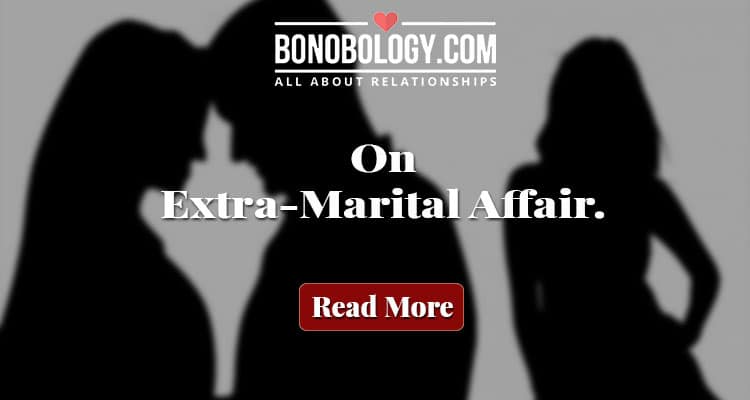 As Anton Chekov puts in the last lines of his famous short story Lady With The Pet Dog, a story that looks into an affair between a married couple:
"Then they spent a long while taking counsel together, talked of how to avoid the necessity for secrecy, for deception, for living in different towns and not seeing each other for long at a time. How could they be free from this intolerable bondage?
"How? How?" he asked, clutching his head. "How?"
And it seemed as though in a little while the solution would be found, and then a new and splendid life would begin; and it was clear to both of them that they had still a long, long road before them, and that the most complicated and difficult part of it was only just beginning."
Guess that's the consequence of an affair between two married people. It stays complicated from the beginning to the end.
I have a five-month-old baby and my husband is having an affair
20 Warning Signs of a Cheating Husband Which Defines an Extra Marital Affair