(Names changed to protect identities)
Sheila was in my team of 40, one of the graphic designers, happily married to her classmate from the same engineering college in Trivandrum. She was pretty, modern, and outgoing and her husband was the opposite – an introvert and fairly ugly by peer group opinion poll. He worked as an architect in another company, but within the Software Techpark campus. They were in love.
Tarun was also in my team, a pleasant second-generation Marwari boy, who doted on Sheila – he too was her classmate. He never dared to speak out because he knew his Marwari family would never agree to any alliance outside his community. Sheila knew about his feelings even though he had never expressed anything in words. Also, she was happily married to someone else.
Five years passed by. Both Tarun and Sheila excelled at work and were promoted and slowly she began to have feelings for Tarun. He was almost dog-like in his devotion to her, always knew what she needed and was at hand to do as she pleased, a quick lunch, or snack at the canteen, a ride home, or even just a few minutes at the campus gazebo watching the clouds.
When friendship turns into temptation
One day she came to me for advice. She felt so guilty that her feelings for Tarun were becoming full-blown love. She felt this was wronging her husband to whom she was so happily married. Her husband and she were planning to build a house in his father's property that he was going to inherit. She asked me what I thought she should do, as she was happily married but constantly thinking about Tarun.
Well, recently I got to know that after nearly eight years, she had succumbed to her feelings and was now happily married to Tarun after a peaceful divorce from her husband to whom she was so happily married.
Related reading: Breached lines, broken hearts: An office romance
I love someone else, but I am happily married too…
Shantanu was my boss; he had left his family behind in Kolkata, just to take up this job in Bangalore. He'd left his loving wife and an adoring daughter back in Kolkata, just to further his career, and of course, the money was good. He was awfully good-looking and had a soft-spoken articulate way of dealing with his reportees.
As he was single here, there were many young girls who vied for his attention; many of them used this as an MO to get ahead in their career, even though they knew he had a wife whom he was happily married to. That did not deter them.
I was easily 15 years older than him and had more work and life experience and he felt comfortable using me as a sounding board. We were discussing our next marketing campaign at the Barista in the food-court when he suddenly blurted out, "Anney, what do I do? I am falling for Aparna – the legal counsellor at our company."
So I asked him what he was going to do about it. He looked miserable and said though he was so happily married to his wife he seemed to be irresistibly drawn to this woman. "I feel like I'm already cheating on my wife – emotionally," he said.
"I feel like I'm already cheating on my wife – emotionally," he said.
And I listened.
Related reading: I flirted with a colleague until my wife's call brought me back to my senses
Fighting the feelings
He said he loved her poise and cool confidence. And, that though there were no physical transgressions yet, he thought that would be inevitable because he couldn't stop thinking about her constantly. They would talk into the night and he was completely enamoured of her radical thoughts.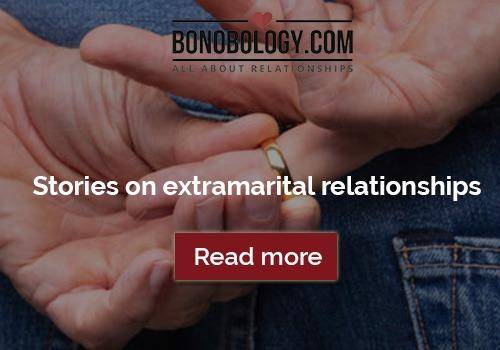 When you are working in the same space for 10 to 12 hours a day, these feelings for someone else seem plausible, even when you are happily married and love your spouse. So I told him to admire from afar, and keep the friendship platonic. After all, his status as a happily married man must not be tarnished. Six months later he told me he had processed these intense feelings and decided to love her from a distance. They are still good friends, but I know sometimes love waltzes into one's life even though one is happily married. You see, there are no rules with love.
They stepped back
On her part, Aparna did not let her feelings of love for a married man sway her. She did confess to Shantanu that she had deep feelings for him and laughingly declared that she would spare him, as she did not want to cause any malicious breakup. "After all," she said, "You are happily married to someone else."
Shantanu is back in Kolkata, back with his loving wife – his happily married life intact. I suppose he may nostalgically remember Aparna and wonder what might have been. I realise being happily married and being in love with someone else at the same time is a complex and intriguing situation to deal with and only the strong tide over the feelings of love for someone else other than one's spouse.
I love my husband very much but I'm still attracted to my co-worker
I love a married man who loves three women equally. How do I stop loving him?