Long-distance relationships can be extremely challenging emotionally. You can't hug or kiss to make up after a fight, you can't snuggle on the couch with them at the end of a bad day. However, despite these drawbacks, long distance relationships can be incredibly deep and meaningful. Long distance makes the simplest moments extra special.
With video conferencing and texting at our fingertips, the physical distance seems more and more insignificant. You can stay updated with what's happening in each other's lives and you can even watch shows and movies together on streaming platforms.
It has become easier than ever to survive a long-distance romantic relationship. Nothing can come in the way if two hearts are committed to being onee despite the distance, troubles and emotions.
Here are some of our favourite long distance relationship quotes to make your heart happy apart from the distance.
1. Absence is to love as wind is to fire; it extinguishes the small and kindles the great.
2. "Absence sharpens love, presence strengthens it." – Thomas Fuller
3. "If love cannot stand the test of time, then it has failed the test of love." -Bernard Byer
4. "And ever has it been known that love knows not its own depth until the hour of separation." -Khalil Gibran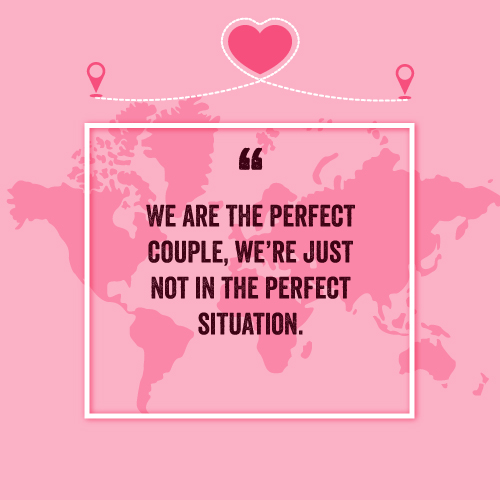 5. "We are the perfect couple, we're just not in the perfect situation."
6. "The simple lack of her is more to me than others' presence." -Edward Thomas
7. "I'm not telling you it is going to be easy- I am telling you it is going to be worth it." -Art Williams
8. "You have to go wholeheartedly into anything in order to achieve anything worth having." -Frank Lloyd Wright
9. I have late-night conversations with the moon; he tells me about the sun, and I tell him about you. – S.L. Gray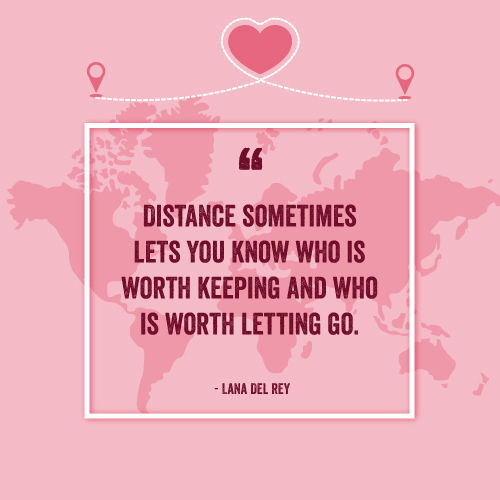 10. Distance sometimes lets you know who is worth keeping and who is worth letting go. – Lana Del Rey
11. Being apart teaches us how to be together.
12. Distance means so little when someone means so much.
13. "How lucky I am to have something that makes saying goodbye so hard." – A.A. Milne, Winnie The Poo
14. Distance never separates two hearts that really care. – Cheryl Ott
15. The pain of parting is nothing to the joy of meeting again. – Charles Dickens
16. Distance makes the heart grow fonder. – Thomas Haynes Bayly
17. True love can endure any circumstance and reach across any distance. – Steve Maraboli
18. When two hearts are meant for each other, no distance is too far, no time too long and no other love can break them apart.