Sometimes it's hard to put into words what your partner makes you feel. Romance has been the subject of hundreds of movies, songs and plays because it's something we're fascinated by. It brings forth feelings of intense passion, love and intimacy. 
We're put together 35 quotes that will remind you that love might not always be easy, but it is always worth it. So, whether you're in a long-term relationship or just starting out on your romantic journey, these quotes will inspire you to cherish the love that you have, and to keep searching for that perfect connection.
1. "True love stories never have endings." – Richard Bach
2. "There is no charm equal to the tenderness of heart." – Jane Austen
3. "Morning without you is a dwindled dawn." – Emily Dickinson
4. "I saw that you were perfect, and so I loved you. Then I saw that you were not perfect and I loved you even more." —Angelita Lim
5. "If I had a flower for every time I thought of you… I could walk through my garden forever." —Alfred Tennyson
6. "To the world you may be one person, but to one person you are the world." —Unknown
7. "In all the world, there is no heart for me like yours. In all the world, there is no love for you like mine." —Maya Angelou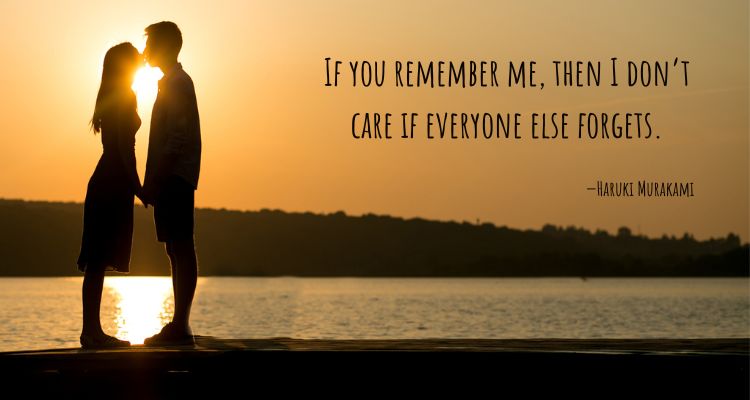 8. "If you remember me, then I don't care if everyone else forgets." —Haruki Murakami
9. "You are, and always have been, my dream."―Nicholas Sparks
10. "Love is composed of a single soul inhabiting two bodies." — Aristotle
11. "Loving you never was an option. It was a necessity." — Truth Devour
12. "I would rather spend one lifetime with you, than face all the ages of this world alone." – J.K.K. Tolken
13. "My love for you has no depth, its boundaries are ever-expanding." – Christina White
14. "Loved you yesterday, love you still, always have, always will." – Elaine Davis
15. "If I know what love is, it is because of you." – Hermann Hesse
16. "We loved with a love that was more than love." — Edgar Allen Poe
17. "Love does not consist in gazing at each other, but in looking outward together in the same direction." – Antoine de Saint-Exupery
18. "You're nothing short of my everything." – Ralph Block
19. "I love you" begins by I, but it ends up by you. ―Charles de Leusse
20. "For thousands of nights I dreamed of making love to you. No man on earth has ever hated sunrise as I do." ―Again the Magic
21. "I never want to stop making memories with you." — Pierre Jeanty
22. "There is no remedy for love but to love more." – Henry David Thoreau
23. "You don't love someone for their looks, or their clothes, or for their fancy car, but because they sing a song only you can hear." – Oscar Wilde
24. "I swear I couldn't love you more than I do right now, and yet I know I will tomorrow." – Leo Christopher
25. "To love and be loved is to feel the sun from both sides." – David Viscott
26. "There is a madness in loving you, a lack of reason that makes it feel so flawless." — Leo Christopher
27. "Grow old along with me; the best is yet to be." – Robert Browning
28. "I love you more than there are stars in the sky and fish in the sea." —Nicholas Sparks
29. "So dear I love him, that with him, all deaths I could endure, without him, live no life." —John Milton
30. "I love that you are my person and I am yours, that whatever door we come to, we will open it together." —A.R. Asher
31. "Because of you, I can feel myself slowly, but surely, becoming the me I have always dreamed of being." —Tyler Knott Gregson
32. "If one day the moon calls you by your name don't be surprised, because every night I tell her about you." —Shahrazad al-Khalij
33. "Chemistry is you touching my arm and setting fire to my mind." —Nayyirah Waheed
34. "Love is an irresistible desire to be irresistibly desired." —Robert Frost
35. "Love is the whole thing. We are only pieces." —Rumi
Ask Our Expert
You must be Logged in to ask a question.