When the 'I do's are exchanged, nobody anticipates that a healthy relationship might one day be plagued by financial problems. The reality is, however, that money relationship problems might just end up making a couple sleep in different rooms, cursing each other under their breath. What seemed destined to be a "happily ever after" suddenly turns into a ticking time bomb, all because finances were never discussed. 
Discussing finances before marriage or even having a constructive conversation early on in the relationship can save you both from a slew of money problems in your relationship. Unfortunately, love isn't really all it takes to keep a healthy relationship going. 
So, just how bad are financial problems in relationships? How much damage can they do? More importantly, how do you overcome money relationship problems? Read on to find out how money issues in a relationship can weaken the strongest of bonds.
Money Issues Causing Problems In Our Relationship
When Rachel and I moved in together after a relationship of six years, we assumed it'd be a dry run for our future together. The house she picked was slightly out of my reach, but I went with it anyway. "I can always pick up some extra work," I thought while justifying the out-of-budget house.
That was followed by home shopping, setting up the kitchen and other expenses I did not account for. I did, on occasion, feel that Rachel was going overboard with the budget, considering we weren't really married yet. But I kept my thoughts to myself. After all, nobody really tells you it could be one of the biggest priorities in a relationship.
Since I made more money, the responsibility of paying the rent and other expenses came to me. In addition, I handed her an amount for monthly purchases. Rachel would occasionally get a loaf of bread or a few packets of milk of her own accord, but that was where her financial involvement ended.
Her expenses were more of a personal nature; shampoo, body wash, lotions, trinkets and such. And over time, I found my expenses rise substantially and without a solution in sight, I brought up the matter with her. The discussion seemed fruitful, as we decided to open a joint account and put in a certain amount every month for domestic expenses. But the very next month, Rachel decided to pursue her long-overdue doctorate, while taking on projects on the side to help me out financially. As I'd soon find out, this was just the beginning of our financial woes.
Related Reading: Money And Marriage Tips: 12 Ways To Sort Out Finances In A Marriage And Grow Rich
Money issues in our relationship kept getting worse
A year into the house, we got ourselves a dog to feel more like a family. Unfortunately, disaster struck when my company decided to downsize two months later and I was out of a job. To make matters worse, it turned out Rachel wasn't getting much work either. What seemed like a bad situation with money relationship problems in the beginning, now seemed as though it'd be impossible to cope with.
Between her doctorate and my unemployment, things became progressively worse. Rent was delayed for the next few months and since I was mostly out hunting for work, the landlord gave Rachel a piece of his mind instead. What followed was Rachel blaming me for not being able to pay the rent, in an attempt to vent out her frustration.
As the argument escalated, I blamed her for being too high maintenance and splurging. We couldn't figure out how to stop fighting, there seemed to be no resolution in sight. While to each of us it seemed as though the other was being irresponsible, in hindsight, we were both trying our best.
She had stopped ordering in on a daily basis, and I was constantly on the lookout for new projects. Now I understand that the difference was in our upbringing. Our perceptions of luxury and necessity were slightly different.
The differences between us came afloat through money relationship problems
With a little bit of retrospection, the differences in our mindset became apparent. I, for example, didn't mind walking an extra mile to save 30 bucks on a kilo of chicken for the dog. Given that he ate almost 5 kilos a week, it was a sizable saving to me. Rachel, on the other hand, preferred buying it from the neighborhood store for a little extra money instead of wasting time traveling farther.
It probably didn't even strike her. But back in those days, it drove me nuts because it felt like I was the only one putting in the toil and the sweat to keep both of us afloat. While she had grown up without ever thinking much about saving money, I grew up witnessing the turmoil financial problems can cause in a household.
Related Reading: 12 Tips For Married Couples To Split Finances
Financial disagreements morphed into less communication, reduced intimacy, aggravated tempers and lesser patience. Things went from bad to worse, leading to a major showdown. While she accused me of not being financially responsible, I retorted that she had conveniently dumped all expenses on me, contributing nothing to home finances.
She concluded that I was trumpeting my financial contribution, while I thought she had no appreciation of the hard work I was putting in with the freelance projects, given the absence of a regular job. For a week we didn't talk. Not much good came from the never-ending fights. The only result was that I felt lonely in my relationship.
How we handled financial problems in our relationship
Finally, when we allowed each other some effective personal space and tempers had cooled down a little, we sat down together and talked. Should we be together, given our financial disagreements and try to find a way around them, or should we just walk out?
We came to the consensus that the financial crunch had brought out the worst in us, but like all rough times, this too shall pass. So we settled on putting a fixed amount of money in a box that holds our home expense money, excluding the rent. Both of us contribute an equal amount.
Barring the occasional tiff, everything is back to being great now. But for us to come to a financial understanding, we had to go through hell, which can be completely avoided if couples set the ground rules for finances before they move in together. After all, there can be far more worthy reasons to break up than money, can't there?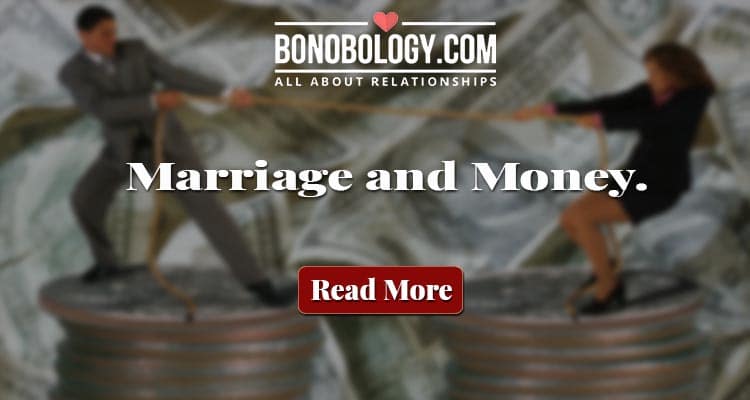 How To Deal With Money Relationship Problems Effectively
What nobody tells you about when you move in with someone or marry someone is just how big of a role financial stress can play in your relationship. In six years of dating, it never seemed like we'd ever reach a stage where we'd avoid talking to each other just because of money issues in our relationship.
Financial issues in relationships, while completely avoidable, can still cause sleepless nights, a million arguments and even failed marriages. Listed below are a few points to help you figure out how to deal with money issues in a relationship
1. Money relationship problems? Talk it out
The golden rule of handling money issues in relationships is by talking about it with your partner. Once you improve communication in your relationship and encourage a healthy, judgment-free environment, conclusions will be reached efficiently. Try to avoid playing the blame game, all that'll get you is another week of fighting.
Instead, through effective communication, answer the question of "what now?". Going forward, devise a plan to deal with money relationship problems and don't delay the important conversations, fearing they will incite a fight.
Related Reading: Does It Help To Talk About Mutual Finances Before Marriage?
2. Reach a compromise
A relationship is built on compromise, especially if you're sharing a roof with each other. You can't expect to settle financial problems in relationships if one of you is stubborn as a mule, disagreeing to compromise on some of the needless expenses. Be understanding towards your partner and don't be unwilling to compromise.
3. Plan a definite budget
More importantly, stick to it! The budget you will meticulously plan out with your partner will count for nothing if one of you is sneaking out, spending the money on things you can't afford. Control your impulses, there will come a day when the storm passes and you'll do better financially. Till then, settle for home-cooked meals instead of 5-star restaurants.
Perhaps "what's mine is yours" isn't really the best strategy to use when it comes to finances in your relationship. Sooner rather than later, you'll end up saying something along the lines of "please get your hands off what's mine"! The most effective way out of money problems in your relationship is to communicate with your partner, and then communicate some more. As a result, you'll see not only the bank account looking a lot healthier but your relationship as well. A healthy relationship, a healthy financial situation, a healthy dog. What more could one ask for?
(As told to Vakratuund)
(Names changed to protect identities)
FAQs
1. How important are finances in a relationship?
Financial issues in a relationship can end up driving a wedge between a couple. The "your money is my money" approach quickly turns inefficient and money issues can very easily drive two people apart, who otherwise might be perfect for each other.
2. What is more important in a relationship: love or money?
Both go hand in hand, and to have a loving relationship, you must be harmonious in all aspects of it, including the financial. Agreeing on money matters is extremely important if you want to experience love in its truest form.
How We Divided Our Financial Responsibilities After Marriage
Husband and in-laws harassing me and my father financially. How do I avoid reporting and start resolving?