When all the wedding ceremonies are going on and you're fighting the cold feet you thought you wouldn't have, you're probably not thinking about what your married life is going to look like. When you eventually come across petty fights (like wet towels on the bed) three years down the line, you'll be wishing somebody gave you some tips for a happy married life when you just started out.
That's exactly what we'll be doing today, so all those petty fights won't make you want to pull your hair out. You'll still be fighting about what to order in for at least 2 hours, but these tips for a successful marriage will at least make sure you don't frequent the sofa every other day.
Let's take a look at these simple yet effective tips, so you can become that couple who's always uploading pictures of themselves on vacation, without a care in the world.
How To Live A Happy Married Life – 10 Tips
It may seem like you're not going to be one of those couples who's always fighting, throwing their dirty laundry out in public. But when five years down the line, you realize you're annoyed at your spouse for the most trivial things, communication between you two may just suffer as a result.
The issues creep up without you realizing they're there, and without addressing them, they tend to get worse. With the following tips for a good marriage, however, you can make sure the minor inconveniences don't end up ruining your date nights, which are already few and far between.
Let's take a look at what you need to do to make sure you and your spouse have a happy married life, despite how the annoyed married couples around you might say.
1. Say 'I love you' to your spouse
The number of times you say "I love you" to your spouse can never be enough. By saying the three words, you'll be reassuring your spouse of the love you have for them. In a relationship that's supposed to last you the rest of your life, it's easy to take it for granted and just assume your partner already knows how much you love them.
While your adoration for them may be apparent in your own mind, it's always helpful to show some signs of affection every now and then. Tell them you love them, tell them they mean the world to you, and most importantly, show them you'd do anything for them.
Related Reading: How Men Say 'I Love You' Without Saying Anything At All
2. Make time for one another
Even if you're both busy with work, make sure you make time for each other. Try to seize every opportunity to spend time with your spouse. You'll regret not doing that when you're both old, thinking of the years you spent running around at work.  
Whether it is morning tea time, watching TV in the evening, or grocery shopping, all of this can be done together. This advice to married couples is to make sure they make time for each other so they can continue to make memories together.
Couples that spend too much time away from each other always drift apart. To ensure intimacy in a long-term relationship, you must always take time out of their day, even if it's only for a little bit to spend with each other. 
3. The secret to a happy marriage is to take vacations together
While married couples do make time for each other in their daily routines, they also need to take long vacations every now and then to explore different places. It is not necessary to have an expensive one, but even if you can spend time on a farm exploring the local cuisine and culture together, the novelty of the marriage stays intact.
The secret to a long-term relationship is going out, traveling together, and exploring the world in each other's company. It will only strengthen the love and the bond between the partners. The new experiences give a couple a fresh perspective. 
4. Look after each other in sickness and pain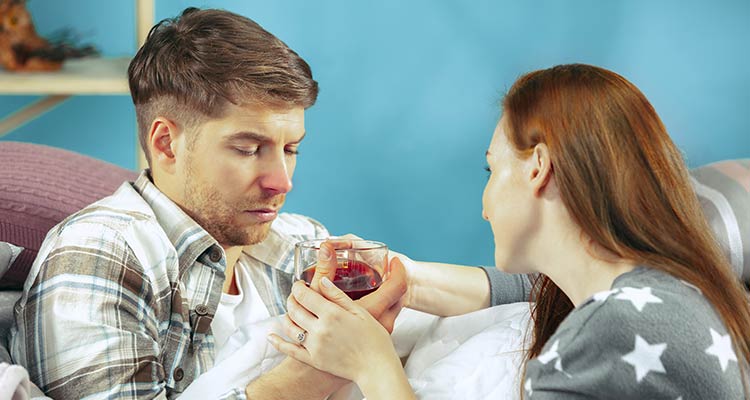 Whenever your partner is unwell, take good care of them. No one is going to be healthy all the time. If your spouse is sick with the flu, please take the day off from work to be with them. They need you the most when they are physically ill.
The key to a happy married life is sticking by your spouse when they are most dependent on you. No one wants to be alone when they are sick or in pain. In fact, this is the time when you should give your spouse extra love and attention.
5. Don't worry about what others think
Married couples should not let any third person take over their relationship. There is no need to think about what others think of you because their opinion doesn't matter.
Society and extended families that have opinions about everything are the ones who'll make your married life terrible. Only keep people around you who genuinely care about you and your marriage. If you want a happy married life, always remember that it is you and your partner against the world. People will always try to tear you down. 
Think about the "us," you and your spouse. Do whatever makes your relationship stronger and more fun. It is only your life partner that will be around for the longest period of time. Others will come and go because their interest in your life is temporary.
Related Reading: Love Overcomes Any Handicap
6. Arrange for your spouse's financial independence in advance
Though it may seem like a grim thing to do, being prepared for the future and talking about finances is always a good idea. You never know what's going to happen, and taking care of things before anything unfortunate happens will also make you two feel more secure.
Whether it is a man or a woman, both need to have their wills ready and must update them every other year as their investments and financial status change. Make sure that all your assets are accounted for, in the event of your untimely demise.
When we talk about a happy marriage, you probably never think of something like getting your wills in order. Though it may seem like a bizarre thing to take care of, it's one of the most important and thoughtful things you can do.
7. It is never too late to say sorry
An apology at the right time heals. When you realize your mistake, have the courage to go to your spouse and apologize for your blunders. Even if some time has passed. Remember that your ego is not bigger than your marriage. You must apologize to your spouse if they deserve it. A simple "sorry" goes a long way in healing some wounds. 
If you let fights go unresolved for an extended period of time, the animosity is only going to get worse. Don't let the molehills become mountains, and rectify the situation as early as possible. One of the best tips to a happy marriage is to swallow your pride and apologize.
8. The best tip for a healthy marriage: improve communication
When you don't talk to a lover about a touchy subject, fearing it would incite a fight, you might just be leaving a problem unchecked. We all know what happens when you leave issues unchecked for too long. Improving communication in your relationship will help you work through nearly all the problems that may arise.
When you both know how to talk to each other about everything under the sun, you'll make sure you leave no stone unturned in your journey towards a happy marriage. Do you want your partner to spend more time with you? Talk about it. Do you want to talk about something that's been bothering you? Do it, it won't hurt. Hate that wet towel on the bed? Tell your partner.
9. Don't keep score and help out around the house
"I took out the trash yesterday, it's now the wife's turn to take the trash out and do the dishes," since you're not roommates who occasionally have sex, this isn't really going to work. Try not to keep score in your marriage, it isn't a sporting event, where each fight "won" amounts to a point.
Don't try to win fights, and don't do things expecting some return. Help out and take over the chores just because you want to, not because you want something back. The tips for a happy married life don't get any easier than doing the dishes.
Related Reading: 12 Best Zodiac Pairs For Marriage
10. Have some personal space
Our last "happy marriage" tip may just be the most important one, given how personal space in a relationship holds it together. Yes, we know, we asked you to spend time together in the beginning of this article, but making sure you're not joint at the hip is also a priority if you want to be in a happy marriage.
Life has its ups and downs, but if you follow some simple marriage tips, then you can keep the love and intimacy intact in your marriage, and live a long, happy married life. Just remember that true love is always worth all the effort. Make time for each other and be each other's pillar of strength. 
Planning To Get Intimate With A Baby Sleeping In The Same Room? 5 Tips To Follow