(Names changed to protect identities)
Nikhil and Arundhati completed three happy years of their marriage. Arundhati wasn't really happy with the marriage proposal but gave in trusting her parents' choice. Everything turned out to be perfect, beyond her imagination.
The perfect husband
He never said 'No' to her, ever. He was always supportive of everything Arundhati wanted to do. Both of them worked all day and got back together in the evenings.
They had a cook. Nikhil would make their morning teas and wake her up with a smile. They were the best part of her day… every day.
Then she met him
Arundhati often got late from work or had dinner plans with office colleagues or movie plans late-night and Nikhil never asked a single question. He knew her well and trusted her. Arundhati respected him for it. During those days, Arundhati got close to a guy in her office. He was her boss, Dhiraj. He was younger than her, a decent man. They had meaningful conversations every time they had time to themselves. Office desks, cafeterias, evening coffee and sometimes, even dinners… they never let any opportunity go.
He had a girlfriend and Arundhati was a married woman, and yet neither of them could control whatever was going on between them.
When Arundhati was home, she felt guilty. She couldn't make eye contact with her husband. And the thing that killed her was that he never doubted her… he was never suspicious about anything. Arundhati, sometimes, exchanged texts with her boss late in the evenings, lying by Nikhil's side and yet he never raised an eyebrow.
An invisible line they never crossed
When Nikhil went out of town for work, Arundhati went to Dhiraj's. They spent the whole night together… talking, watching movies, sitting in each other's arms and finding comfort in each other's company. They exchanged a kiss here and there and hugged quite often but there was nothing beyond that. There were countless nights that Arundhati spent at his apartment but they never really slept together. Neither of them wanted that. Dhiraj was happy with anything that made her happy and never did anything that made her uncomfortable.
Both of them loved their partners but couldn't resist each other at the same time.
Maybe it was the way they clicked or the emotional connection that Arundhati felt with him or the way she smiled and laughed when he was around. He made her believe in books and blogs and fairy tales. They shared their wildest fantasies and yet had a similar value system. It was like an inexplicable bond that Arundhati shared with him. Arundhati never felt this acquainted with anyone in her life, not even her husband and it felt so comforting that she couldn't express those emotions in words.

It felt like a once in a lifetime kind of bond, something not many people in the world get to experience. He became the food for her soul and the only answer to all her woes.
Real life intrudes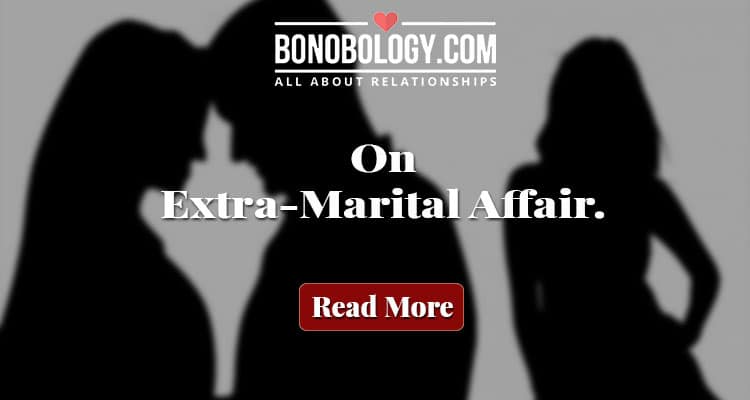 Arundhati knew what she had in her heart was not right. On the other hand, Nikhil and she were planning to start their family. It wasn't fair to do this to him. She couldn't become a mother and have an affair with another man! This was too much to handle.

More than that, the everyday guilt was killing her, her conscience wasn't ready to take it anymore.
And that is why Arundhati had to put an end to it. She tried distancing herself from Dhiraj but it just wasn't possible to stay away from someone with whom she worked all day.
Arundhati resigned. Dhiraj was shocked, but he knew what she was going through. Arundhati couldn't do it anymore to her husband. And it was good for both of them to stay apart and that was only possible if she quit her job.
She'd never felt that way before but they couldn't continue. Now she only had memories to last a lifetime.
13 things we all DON'T do in bed and thus miss out on great sex
Ask Our Expert
You must be Logged in to ask a question.