Recently censured in 2017 for trying to show liberated women and their rampant sexuality in Lipstick Under My Burqa, Mumbai based Indian cinema have had the yoke of sanskaar aka culture to bear. Fairly playing safe to sustain the industry, Bollywood have also been blamed for germinating the outrageous idea of 'falling in love' and even more, marrying for it! With such scandalous thoughts in the make believe Victorian country with a postcolonial hangover, it is only natural to have a few films to balance the evil ones. There have been the likes of Hum Aapke Hain Kaun, Dhadkan, Namastey London, Just Married and many more that have tried to mystify the world of arranged marriage with abrupt and random romance. There have been a few films that have honestly portrayed the Russian roulette that love is and how some stories of arranged marriage grow into a love story and not habit induced liking. There are a couple of odd balls with a different spin off that I personally enjoyed as romantic films. The fact that they came with the arranged marriage setup was secondary. Let's see if my list of five matches yours. Here is my list for Bollywood films celebrating arranged marriage romance.
5 Arranged marriage movies in Bollywood
Arrange marriage is all about getting married and then falling in love. Some Bollywood movies have shown that beautifully. We tell you why we love these arranged marriage movies.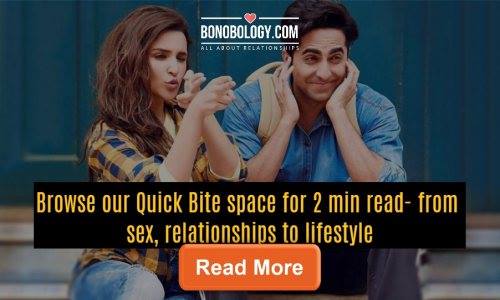 1. Socha Na Thaa
This is the less known but deeply loved film by Imtiaz Ali, before his Jab We Met fame. It is a story about a young boy and girl meeting up for marriage, thanks to their family. Disinterested in this arrangement, both decide to call it off. A 'no' comes from Abhay Deol's family that is not received well by Ayesha Takia's family. The charming chemistry of the duo becoming friends is refreshing. In the process of trying to help the boy get married to his girlfriend, the girl falls in love. The guy follows suit in realisation. This is followed by the sadly laughable enmity of the two families that once were ready for the arranged marriage. The possibility of a heavy soppy drama is transformed by Imtiaz Ali's craft which keeps the characters simple, innocent and real. This is one of the best arranged marriage movies of Bollywood.
Related reading: 5 Bollywood couples who give us fashion goals
2. Hum Dil De Chuke Sanam
Bhansali's magnanimous set was outdone this one time by the gargantuan drama that was this plotline. Nandini, the torch bearer of traditions and rituals, falls in love with the crazy student Sameer who is visiting her father to learn the intricacies of Indian classical music. Love being the curse of hell, Sameer is thrown out of the mansion. After a dramatic swing scene where the explicit sexual detail of their relationship is disclosed by Nandini, comes the story of her arranged marriage. Once upon a time, seeing her dance to Nimbura Nimbura Vanraj had fallen in love with hers, I mean, her.
The bank lawyer Vanraj comes into Nandini's life as the unwanted smitten husband. Vanraj then carries out his husbandly duty of giving Nandini the love she deserves by backpacking through Italy to find Sameer. Followed by a crazy amount of willing suspension of disbelief we reach the juncture of Nandini choosing between the two love stories and she chooses Vanraj. After that much amount of drama my feeling was exhaustion, but some say it was about arranged marriages working out. I don't know really.
Related reading: 5 Bollywood movies that will restore your faith in love
3. Tanu Weds Manu
This one is a fun watch. This is one the best movies in Bollywood that talk about arranged marriage. Kangana Ranaut's feisty Tanu is not someone you forget in the crowd of brides in Indian cinema. Hungover on the day of the groom's visit, Ranaut is hilariously outrageous in this film. The innocent Madhavan, our RHTDM lover boy, arrives as the ultimate catch as a groom. Tanu, of course, refuses to marry the boring doctor from London. She has bigger plans with her boyfriend who had roughed up the groom's family when they had landed in Kanpur initially. Manu backs off even though he has fallen in love with Tanu. The two meet again at a friend's wedding and romance blooms. This is not a run off the mill romance, but a rather odd and clumsy cluster of emotions that make these characters extremely real. Threatened at the mandap by the irked ex-boyfriend, Manu manages to marry Tanu with bravado. Besides the strong plot line and casting, the inimitable and uncontainable spirit of Tanuja Trivedi aka Tanu is what gives this film the extra edge.
4. Roja
One of the earliest teenage memories is hearing "Dil hain chhota sa…" coming from the TV set and me running to get a good spot for the next couple of hours. Decorated by Rahman's music, Roja is made of Mani Ratnam magic. Rishi is visiting the village to marry Roja's sister who refuses to marry him. Because of traditional compulsions, the man has to refuse, for a deal to break. Rishi refuses the marriage with the excuse that he wants to marry Roja. The innocent girl gets married without warning to a complete stranger. The creepy suggestive song "Shaadi ki raat kya kya hua" has always been an object of curiosity taking into consideration India's high moral standards. Initially distraught, Roja soon softens towards Rishi. Thrown into the arms of beautiful Himalayas the couple soon falls in love. In no time this beautiful romance is upturned by terrorism and Kashmir conflict. Roja then follows and conquers the quest of rescuing her husband. This is a perfectly made arranged marriage movie. But the romantic melodies of Roja are immortal and we rarely remember that it was the story of an arranged marriage that was being created through those songs.
5. Shubh Mangal Savdhan
The recent favourite is a film about arranged marriage. There is no digression or a larger plot to which this is a device, but the film revolves around arranged marriage and that's it. So what is new? It is about an arranged marriage with erectile dysfunction and romance blooming in the middle of all the upheaval. Yes, it is as much a riot as it sounds. Ayushmann Khurana and Bhoomi Pednekar are the bride and groom who are going through the tussle of heart and genitals. Is having sexual pleasure and procreating bigger than love? As the couple fall in love and try to find a solution to the troubles in bed, the families get involved and all hell breaks loose. An unidentified caller enters the scene, which is revealed as the father of the bride who is deeply disturbed by this issue.The new mother in the hood; Seema Bhargava gives a stellar performance as the mother of the bride. Amidst the familial ego clashes, sexual tension, edgy humour, the story of romance in an arranged marriage is told in a casual, matter-of-fact manner. To sum up the film- "Iss dil ke laddoo bant gaye"