"How can I talk to my fiancé in an arranged marriage?" Is this a question you have been asking yourself since your match has been settled and you have been craving for some arranged marriage phone conversations?
Yes, it's true an arranged marriage turns out to be a marriage between two families and even if in the modern set up the to-be bride and the groom are "allowed" to first meet at a restaurant to understand each other other better, most of the later interactions turn out to be a family affair, unless you are talking to your fiancé over the phone. But you want to talk to him in person too.
That's when you find yourself repeatedly asking the question:  How do I start an arranged marriage conversation? Well! There are ways and means to do that. Both conventional and unconventional ones. We will tell you how to go about it.
Related reading: How long does it take to fall in love in an arranged marriage?
How Can I Talk To My Fiancé In An Arranged Marriage?
In an arranged marriage set up there is actually a lot of things to talk to your fiancé about because you hardly know each other and this is how you will get to know each other better before you tie the knot. Conversations between a boy and girl after engagement are a necessity. And there are things you should keep in mind when you are engaged and awaiting marriage.  You can talk with your fiancé over the phone or in an arranged marriage, texting is also cool now. But there are a few ways you can talk to your fiancé  before marriage. We will tell you how.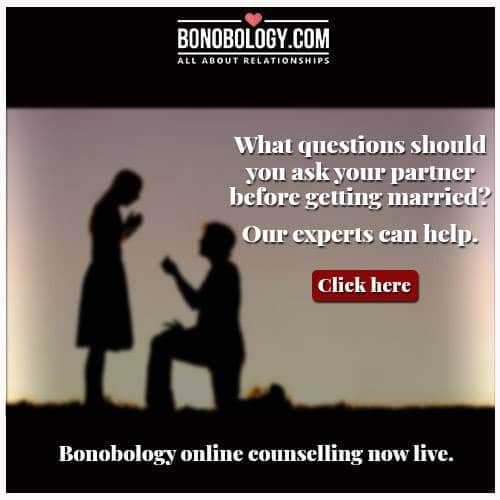 1. Take the help of younger siblings
There are are some practical ways to start a conversation. Younger siblings come in handy in these situations. If you are the younger sibling, then you need to find a younger cousin. They can be great spies if you play your cards right. Best usage of this resource can be made for sending messages to and fro.
Show them that you trust them and make them understand how important it is for them to carry this message: without raising suspicion and away from grownups' eyes. Once you convince your sibling or cousin to do this for you, you have successfully opened up a channel of conversation. One more tip; do it before your partner does. Yes, it is a competition.
This might seem like an archaic way in an age of smartphones when you can happily text in an arranged marriage any time you please. But using a sibling to help you make contact is a lot of fun. And exchanging messages to and fro this way in Dilwale Dulhania style could bring that zing to the arranged marriage conversations with your fiancé.
In fact, sometimes you can get a sibling or cousin to casually make a call to your husband-to-be and then pass on the phone to you. You can start a phone conversation then. Like the idea? 
2. Kids can work great too
"How can I talk to my fiancé  in an arranged marriage?" When this question is plaguing you and you have a whole lot of arranged marriage questions to ask them see if you can take the help of kids in your family.
Have you observed how kids run amok in any ceremony, getting in the way of everything? They can be of use if you want to talk to your partner. Even adults don't pay much attention if you two talk while surrounded by kids. Kids act like a natural adult repellent in a ceremonial house and that provides perfect cover. But be very very careful, kids have incredibly low attention span and are always highly curious.
At any point they can abandon the mission because they don't understand it. And if you two are found together, without the mediation of kids, getting close to each other before marriage, you will never hear the end of it. (Yes Indian society is still mighty conservative). So remember to bribe the kids with chocolate and sweets: it may spoil their dinner, but it will increase your prospects of getting to know each other.
And remember if you are caught by a kid in the midst of a phone conversation with your fiancé then the bribe always works. 
Related Reading: 8 Famous Arranged Marriage Stories
3. Use grownups as shields
There's always that fun aunty or lenient uncle in every family: they just love the younger generations and encourage rule breaking within limits. Though they fall under the general category of 'adults', they swing their alliance towards the younger generation under special circumstances.
So, if you want to go shopping with your fiancé or take them to a restaurant, invite your 'young' adult to tag along and you will sure get permission to go on a not-so-official date with your fiancé.
4. Ask for help from married cousins or siblings
Is there a married cousin or sibling in your family? Talk to them. They have been in your situation and they will understand your problem and help you with practical ways to start a conversation.
Submit to them if everything else fails and let them arrange the perfect rendezvous for you and your fiancé. They will manage the grownups, they will stand guard, and they will let you be alone together. Everything said and done, you will be teased forever for asking them for help. But that's the price you will have to pay for those precious moments of togetherness.
In an arranged marriage it is supremely important that a boy and a girl have conversations before the marriage.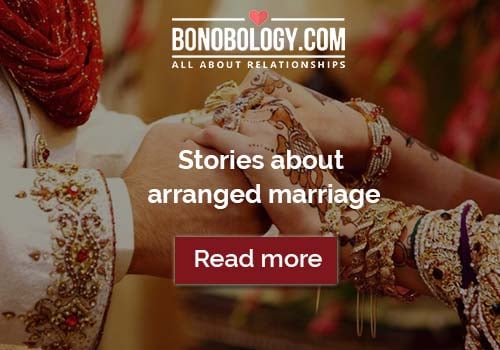 5. What should I talk to my fiancé about daily?
If you have been thinking, "How can I talk to my fiancé in an arranged marriage?" chances are you are also thinking, "What should I talk to my fiancé  about daily?"
Siblings, cousins, aunts could help the two of you get together but after that the conversations are your responsibility. A great way to break the ice in an arranged marriage is through texting and then for starting a conversation you can ask your groom these very important questions or some first date questions could come in handy as well.
You two are embarking on a journey together, a journey which will last forever. Before you get into the regular drudgery of daily life, you should look for some stolen moments of happiness with your partner. Talking your fiance before an arranged marriage is a pleasure, you should enjoy every bit of it.
I had an arranged marriage and here's how I got my wife to trust me
Questions to ask him during the arranged marriage meeting
Why finding a match in arranged marriage can be like F1 racing