When it comes to our dream marriage story, there's always a battle between Vivaah and Two States. Our parents say that marriages are made in heaven and it is destiny that brings us and our partner together. We wish for a filmy ending like those in movies where girl meets guy, falls in love and have a happy ending after overcoming all obstacles. Seeing the same kind of ending has become boring. But what is not boring? It's seeing our filmy celebrities going through the traditional routes and finding love. Here we are with handpicked famous arranged marriage stories.
From Shahid Kapoor and Mira Rajput to Nikitin Dheer and Kratika Sengar, we've all wanted a happily ever after like them. The most magical thing about their marriages is that they were all arranged marriages. One arranged marriage fact that cannot be ignored that they have better success rates.
8 Famous Arranged Marriage Stories That Will Make You Go Aww!
Be it Cupid or destiny, a happily ever after is something that we all wish for. "A match made in Heaven", is what we all want people to say this when they see us with our partner. Among the many types of marriages prevalent in India, arranged marriages are most common.
Surprisingly, many celebrities found love after their marriage was arranged and their love sets boundaries for those who fell in love and got married. If we see Shahid Kapoor and Mira Rajput vs Virat Kohli and Anushka Sharma, it will be difficult to gauge which couple is more in love because the former had an arranged marriage and the latter a love marriage. That's the magic of the amazing backstories that all these couples with arranged marriages share. Here are some famous arranged marriage stories of couples who sealed the deal with love.
1. Divyanka Tripathy and Vivek Dahiya
July 8, 2016, there's no one who could have missed the hype of Divyanka and Vivek, or as they called it #Divek's wedding. If you're wondering why they are number one on our list of famous arranged marriage stories, it is because their story actually started as an arranged marriage. Both of them wanted to settle down and were looking for suitable partners. Their common friend actually brought them together. From the beginning of their courtship, they looked at each other as future partners.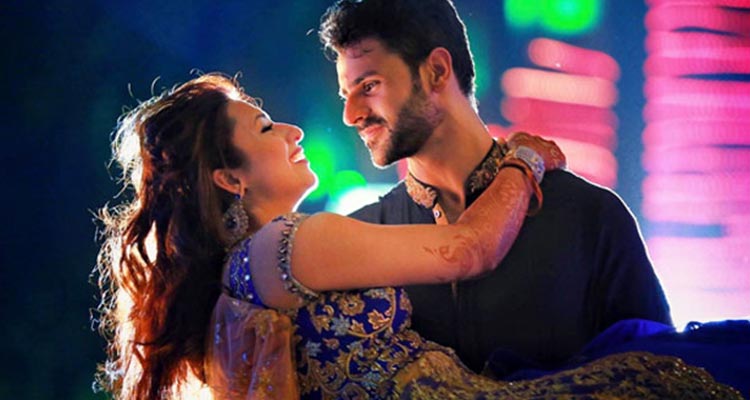 They spent most of their courtship in understanding each other and seeing whether they would be compatible as life partners. Shocking right? Their adorable Instagram posts make it hard to guess that this was an arranged-cum-love marriage.
After two years of happily being married, in an interview, Vivek said, "She is such a supportive partner. She lets me be me. At the same time, I have become more responsible for the life and my family. Divyanka is a motivator and I feel blessed to have someone like her as my partner. Things have been great in these two years and I hope they continue to be for the next 60 years. Bas Zindagi haste khelte nikal jaye."
Aren't they the sweetest?
2. Nikitin Dheer and Kratika Sengar
It's our very own Tangaballi of Chennai Express and Jhansi Ki Rani of the popular TV show we are talking about. Who knew that two people famous for portraying such contrasting characters would end up together? Makes for a unique arranged marriage stories, huh! Here, Nikitin's dad acted as Cupid. It was when Kratika was auditioning for a short film she caught Nikitin's father, Pankaj Dheer's attention. He instantly liked her and told her that he wanted her to be his daughter-in-law. It so happened that Nikitin and Kratika did fall in love after their parents met and pushed them to know each other better.
They got married on September 3, 2014.
Kratika said, "Nikitin is a pure soul. The transparency is very visible in him. I always wanted a family like Nikitin's family and I am blessed to have him in my life. I am too excited. Punar Vivah ke baad ab sach mein mera pehla vivah hoga…"
Isn't it beautiful?
Related Reading: Arranged Marriage Stories: At 19 I Hated Him, at 36 I Am Madly in Love with Him
3. Shahid Kapoor and Mira Rajput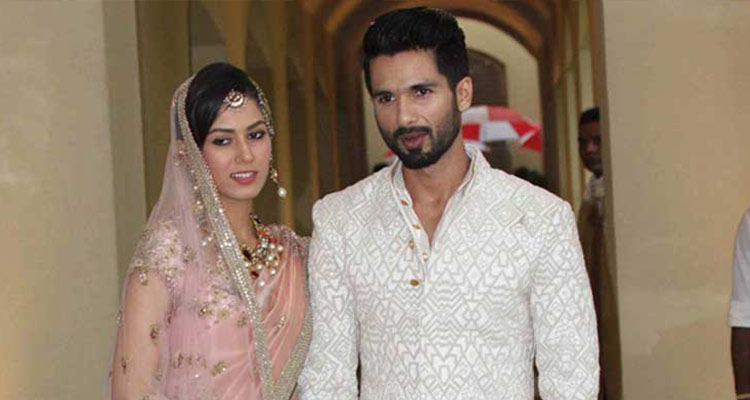 Adorable "Misha" is one of Bollywood's cutest jodis that got hitched through the traditional route and all credit goes to Shahid's father Pankaj Kapoor. Yes, their daughter too is known by the same name. One of the most inspiring arranged marriage stories, it has a unique character. Their story begins the same way with boy meets girl but with a traditional twist. Here both families belonged to the same religious group – Radha Soami Satsang Beas and this is where Shahid and Mira met.
Pankaj Kapoor saw that Shahid and Mira would make a good match and went forward with it. As it so happened, he was right. If you've watched their interview on Koffee With Karan, you know what we are talking about.
Shahid has always had positive things to say about his wife Mira. "My wife is an amazingly mature, evolved human being who decided and was sure of whom she wanted to marry at the age of 20. It takes a lot of clarity and conviction even whether it's work or marriage to decide that you want to do this at this stage in your life." In another interview taken in 2019, Shahid said, "Even though it's just been four years, a large part of who I am has been formed since the day we got married". It seems lasting respect is their secret to a happy marriage.
Now it's 5 years and they are going strong with two additions in the family.

4. Suresh Raina and Priyanka Chaudhary
Let's not forget our Indian cricketer Suresh Raina who went traditional when it came to his marriage. Suresh and Priyanka were neighbours when they were kids. Priyanka's family shifted to Punjab after some time. It so happened that Raina got a call from his mother saying that his marriage had been fixed. Later on, Suresh realized that it was his childhood neighbour Priyanka. Suresh's arranged marriage story could do for a great Girl Next Door movie.
In a tweet Suresh Raina posted on his wife's birthday, he said," More than a wife, I have found a friend for life. A wonderful mom, a loving wife and above all, a fantastic human being."
Just makes us go aww!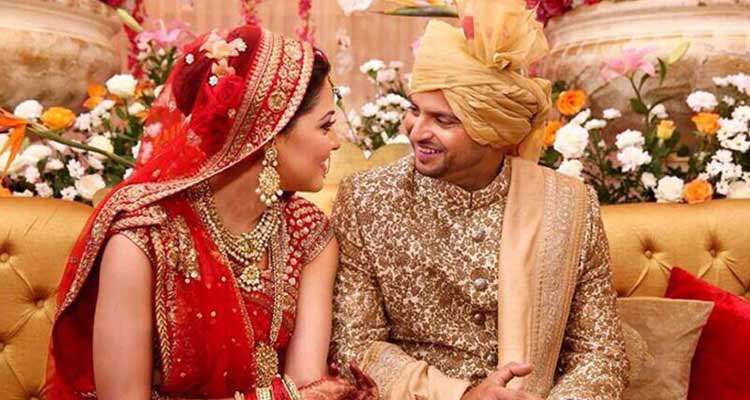 Related Reading: 10 Questions Every Girl Should Ask a Boy Before an Arranged Marriage
5. Dhanush and Aishwarya
Dhanush is the guy whose Kolaveri Di went viral and kept us at the edge of our seat with movies like Ranjhana. This guy married none other than our very own Rajnikanth's daughter, Aishwarya. Dhanush was the son of Kasthuri Raja, a well-known Tamil Director and producer. Both the families arranged the marriage traditionally. When Dhanush was asked about his marriage to Aishwarya, he said, "It is an arranged marriage and both our parents have accepted the proposal."
Married in 2003, this couple has had their ups and downs. In an interview, Dhanush said, "If romance had a scale from 1 to 10, it would be just my films. After that, come my sons. I am a very bad husband. My wife has to adjust with that." Marriage is all about compromises and being each other's backbone and Dhanush has shown how much his wife has been a support to him all these years.
A strong foundation can go a long way. A marriage is a marriage, there's nothing like an arranged marriage or a love marriage.
6. Neil Nitin Mukesh and Rukmini Sahay
New York actor Neil Nitin Mukesh tied the knot on February 9, 2017. Their wedding was nothing less than a fairy-tale with a destination wedding at Udaipur. According to his parents, Neil was always old school and wanted to leave the decision of choosing a life partner to his parents. Rukmini shared the same values that Neil was brought up with since childhood and won everyone's hearts instantly.
In an interview, Neil said, "There's nothing shocking about it, sometimes we overlook things which our parents don't and it's coming together of two families. When you look into detailing, it makes more sense. It's a strong foundation."
They compliment each other so well!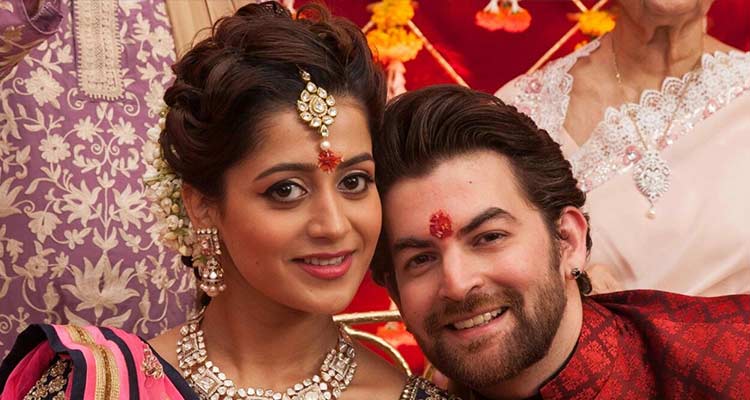 7. Karan Patel and Ankita Bhargava
Karan was working with Ankita's father, Abhay Bhargava for the TV serial, Yeh Hai Mohabbatein. Ankita had heard a lot about Karan from her father but had never got the chance to know him personally. Surprisingly, this time Daddy Bhargava wasn't the one who brought the two families together but it was Karan's co-star Aly Goni. Aly brought the two families together and arranged the talks for marriage.
Ankita was shocked when she knew that Karan had sent a proposal for marriage to her house. When both families met to take it further, Ankita and Karan went on to speak privately for an hour and a half and decided to get married. Surprised, right? Soon after they agreed to marry, it became, what they call, a Chat mangni pat byaah scenario.
Nobody ever imagined Karan Patel to have an arranged marriage. To this, he replied, "Well the wildest stallions have proven to be the winning ones provided the right person handles them and Ankita is the ideal one for me. She makes my world perfect. Her calming nature keeps the balance in my life."
Just makes my heart melt.
Related Reading: 7 reasons why you should opt for love marriage and not arranged marriage
8. Govinda and Sunita
They say old is gold. Here is one of our favourite from all arranged marriage stories that is old yet solid as gold. Govinda and Sunita's marriage was a love-cum-arranged marriage which is nothing short of a filmy story. Our very own Chichi, King of Comedy had a desi guy and classy girl story. Sunita's elder sister was married to Govinda's maternal uncle. At that time, Govinda stayed with his uncle and Sunita would often come to visit her sister. They both were fond of dance but Sunita didn't want to share this fondness with Govinda because he belonged to a small town Virar. However, Cupid had to strike and they both fell in love. Their love turned into an arranged marriage when Sunita's mother found Govinda's love letter to her. Govinda's mother too was fond of Sunita and the couple got the blessings of the elders. However, their marriage was kept a secret for a long time to the public and his fans.
In an interview, Chichi said, "I had never meant to get so seriously involved with Sunita. I was looking for a girl to go around with. Before I knew it, I found myself already committed to Sunita and my mother had arranged the marriage."
One never knows when Cupid strikes, right?
Be it love marriages or arranged, our celebrity love stories are no short of a fairy-tale. These successful arranged marriage stories just make your heart jump, don't they? Who said that you find love before marriage? Cupid can strike at any time and our celebrities have proven that you can find love through the traditional route as well. Some of these stories are so magical that they just make you want to find love in the traditional way.
Ask Our Expert
You must be Logged in to ask a question.