Skincare has become such an essential part of our lives – even though most of 2022 has been spent indoors, we've still realized that taking care of the skin can't take a backseat. As people couldn't visit a salon to get your facial or exfoliation, they resorted to bringing the salon home.
A lot of brands have started catering to skincare needs for women by creating portable products and kits that can be used and stored easily at home.
These have also become excellent gifting items! One of the more popular among these are microdermabrasion kits, which are used to rejuvenate one's skin and are a great way to exfoliate.
What Is A Microdermabrasion Kit?
This is an anti-aging treatment that can be undertaken at home. The microdermabrasion treatment uses fine crystals/minute diamond-studded tips to exfoliate the skin. The objective is to remove dead skin cells. This process also helps your skin to feel younger and rejuvenated as it facilitates the production of collagen and helps to better your skin tone and texture.
What's more? Be on the lookout for better skin elasticity, reduction of acne, spots and scars and even enlarged pores. Investing in a home microdermabrasion kit has become all the rage – you can whip out the machine at your leisure and treat your skin to some excellent care.
Related Reading: 21 Christmas Gifts For New Moms | Unique Motherhood Gift List [2020]
So, what are some popular microdermabrasion home kits available online and are trending this season?

1. PMD Personal Microderm Classic At home Microdermabrasion Kit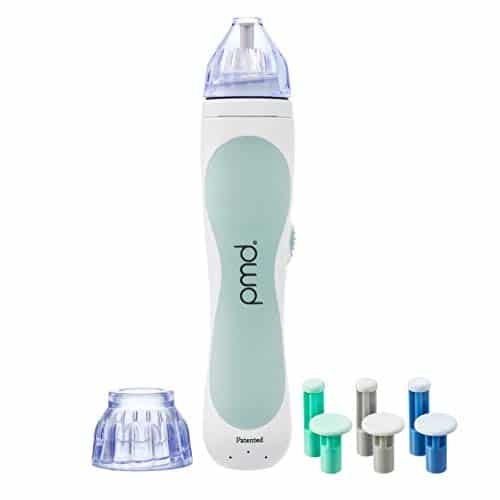 For just about $100, you can uncover a vibrant and radiant version of your face – whenever you want! The PMD personal microdermabrasion kit helps women perform a variety of complex treatments on their face and skin and leaves the skin feeling supple, soft and overall, just great. It helps to smoothen the skin tone, reduce any kind of blemishes on the face, and even helps with doing away with fine lines and face wrinkles.
This PMD device can be used once every week and is fine to be used on any skin type. It comes equipped with a charger and is a revolutionary device that can be customized to suit your needs. It has excellent exfoliation capabilities and absorbs dead skin cells in a jiffy – definitely worth it!
2. Neutrogena Microdermabrasion home starter kit
Looking for a complete microdermabrasion facial system that includes an applicator as well as 12 rejuvenation puffs? The Neutrogena microdermabrasion kit is for you! With a strong brand name in the health and wellness section, Neutrogena's facial system is designed to provide luminous looking skin in no time.
People who have used it have also said that continuous use of this product has made their skin firmer and healthier over time. It provides gentle exfoliation when used, and has also reduced fine lines and wrinkles on the skin.
3. 2021 Newest Blackhead Remover Tool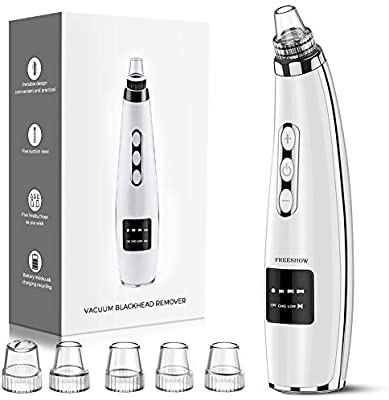 A new and super powerful home microdermabrasion find has taken over the internet – this affordable blackhead extractor is a great tool that most women are now swearing by. It helps to directly achieve facial deep cleaning, effectively remove blackheads, whiteheads, dead skin, grease and even residue from makeup.
This device can also be used to massage the skin, smooth fine lines and wrinkles, shrink pores and improve skin elasticity. The device comes equipped with 5 powerful levels of suction that are designed for oily, sensitive or dry skin. No matter what your skin type, this at home microdermabrasion tool is going to help both men and women looking radiant and ready to take on the new year.
Related Reading: 21 Gifts Ideas For College Girls [Updated List For This Christmas]
4. Glo Mini Diamond Microdermabrasion and Suction Tool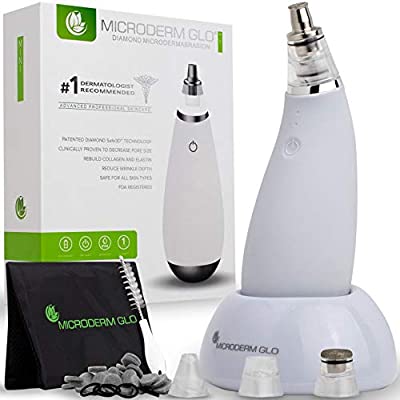 With this powerful microdermabrasion suction tool, you can now be one of those people who looks makeup ready, even without any makeup on! This tool helps you feel confident by cleaning up your skin and making it glamorous all the time. It gives your skin a youthful firmness and perfect glow by using its suction to rebuild pores, tighten skin, rebuild collagen and skin elasticity.
With this tool, get ready to reveal healthy glowing skin. This microdermabrasion tool contains safe patented 3D technology that helps to transform your skin and promote the growth of new skin cells. The best part? Each time you whip this out, it takes as less as 4 minutes for one round of treatment!
5. Microderm GLO Complete Skincare Package
Looking to get a professional skincare package without constantly visiting a beautician? Get the Microderm GLO kit. This is a wonderful solution to cleanse, detoxify, exfoliate and hydrate your skin within minutes, at the comfort of your home. This package includes safe and patented medical grade technology certified tools to help you achieve radiant skin instantly.
The diamond microdermabrasion machine and suction tool is well built to be used across your face – along with it, the package contains a sonic facial cleansing brush, peptide complex serum, premium extra thick filters and diamond tips. This pack has been featured across magazines like Cosmopolitan and InStyle for its amazing results and is also something that makes for a wonderful gift.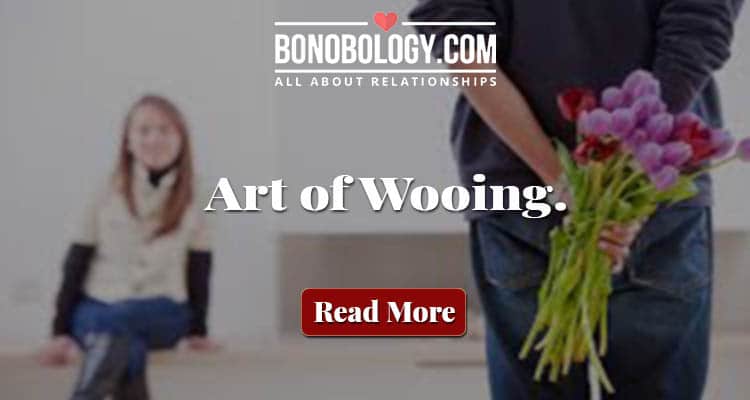 6. Voyor Blackhead Remover
Can't seem to get rid of whiteheads and blackheads on your face? Constantly getting troubled by your pores and oily skin? Do you think it's time to treat your face and give it back the healthy radiance it deserves? Get the Voyor Blackhead remover pore vacuum – a tool designed specifically to effectively extract whiteheads, blackheads, oil, impurities and grease right from the roots of your skin.
The tool has an adjustable level to help you use the level of suction which works best for your facial skin. It comes with 6 functional heads for different areas of your face – along with a silicone head for sensitive skin. This device is rechargeable and portable and very easy to clean and use. Best part? It's under $20!
Related Reading: 21 Best Real Silk Robes To Add Luxury To Your Morning Routine
7. Olay Brush
Designed by trusted dermatologists this microdermabrasion tool helps to cleanse your face with proven results, right at home. It has been known to exfoliate 700% better than the scrub alone, and has given many women visibly brighter and even skin tones. It comes with a thermal crystal polisher that helps to gently polish away dull patches of skin, leaving room for a flawless face.
The brush has an exfoliating renewal cleanser – a tool that promises (and delivers!) to exfoliate your facial skin and enable glycerine to fortify and strengthen the moisture on the skin and help other ingredients reach deeper layers. It has a 3-speed system that can be customized to suit your skincare routine. This water-resistant tool can be used in the shower!
8. Facial Cleansing Brush
Gentle face exfoliation, deep cleansing, blackhead removal – this can all be achieved with this simple and portable microdermabrasion facial cleansing brush which is waterproof and comes with seven different brush heads. The brush sizes are so you can customize your skincare routine from a deep and vigorous clean, to a more surface clean. You can enjoy spa quality facial treatment in the confines of your own home with the 2-speed setting this brush has to offer.
It helps to improve skin elasticity, enable collagen, remove blackheads and whiteheads easily as well as clean up acne and rashes, leaving your skin looking firmer, brighter and better than before. Each head has a different function. Remove calluses, makeup, use a pumice head to polish your facial skin, and use the massage brush at your ease and convenience.
9. Diamond Microdermabrasion Machine – 3-In-1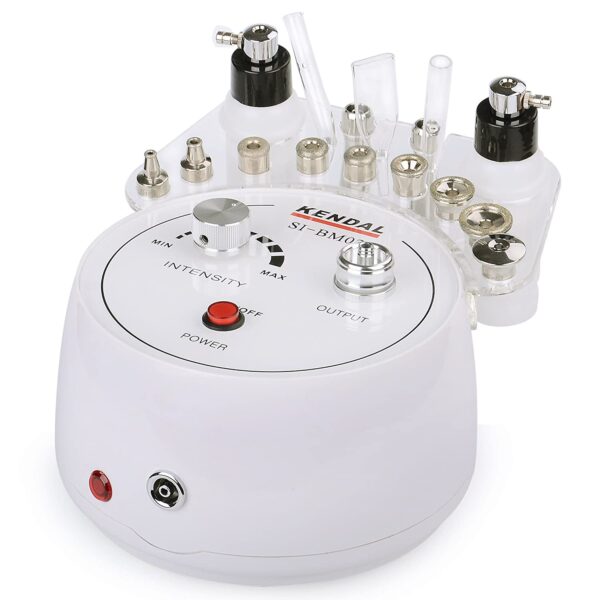 Looking for a strong device that can remove skin debris, scars, blemishes, improve fine lines and get rid of pores, wrinkles and blackheads? Wish to reduce unevenness in the pigmentation of your skin? Wondering what tool to use for fear of very sensitive skin? This Diamond microdermabrasion machine is the perfect fit for you. It has a powerful suction mechanism which helps in microdermabrasion therapy, vacuum therapy and has a spray function that can help you to rejuvenate your sun damaged skin, including on the face, neck, shoulders, back, arms and legs.
It helps to reduce spots, blemishes, and blotchy skin colour. Overall, this is a great machine to use to improve your skin's health. It comes with an instruction manual and there are various videos one can consume online to check how to use this machine. Don't get daunted, it's like getting salon treatment, DIY!
10. Annynice Pre Vacuum Cleaning Tool
Want to care for your skin the right way? Give this wonderful suction tool for cleansing, deep cleaning the skin and removing blackheads and whiteheads a try. It specially is designed to treat stubborn pores and blackheads on the nose and T-zone of your face. It also helps to remove dead skin cells, fight oil and grease, makeup residue and smooth out facial wrinkles and lines. With five levels of functions, this tool can be used on a variety of skin types at various suction force levels.
It has removable probes that have different intensive levels of suction and the best part is, there are no chemicals or toxins involved in this process. This microdermabrasion tool is an extremely safe and reliable method to removing impurities on the skin and achieving flawless looking skin in no time.
Related Reading: 11 Cozy Gifts for Your Girlfriend | Thoughtful and Unique Gifts for Her | 2020
11. Spa Sciences MIO Diamond Microdermabrasion Remover
This rechargeable pore suction tool is one of the top sponsored tools for home microdermabrasion solutions. It helps to gently remove dead skin cells, soften skin texture, smoothen the skin and make it radiant and brighter. The device has laser-cut diamonds, when used on the skin, leave it instantly feeling softer. It helps to remove dry skin patches in no time and has a sleek design with a handle that allows you to easily operate the device on your face.
The device comes equipped with multiple tips of different sizes which can be used as per your needs and on different parts of the face like the cheeks, neck, under-eye. The 5-speed power setting allows you to control the suction power and easily give yourself spa like treatment whenever you want. Get this patented microdermabrasion tool to easily remove pore congestion.
With these amazing microdermabrasion kit options, you can comfortably sit in the confines of your own home and treat your skin to a wonderful routine. Spend a relaxing weekend taking care of your face or other parts of your body's skin and achieve a radiant face or brighter skin tone in no time. You no longer have to depend on costly treatments to remove those rotten whiteheads and fix your blemishes, with these home microdermabrasion tools, you can easily take your skincare routine in your own hands!
21 Gifts For Your Girlfriend's Parents & In-laws | Under Budget Gift Ideas
11 Last-Minute Gift Ideas For Someone Who Has Everything | 2020
11 Last-Minute Hostess Gifts Ideas | Inexpensive Hostess Thank You Gifts | 2020