While gifting someone specific, it is essential to know what could be beneficial to them. Gifting random stuff may make them happy, but it might not be useful. So if you are looking for gifts that can benefit and bring a big smile on the face of a new mama, then gift them some relevant items.
Related Reading: 11 Last-Minute Hostess Gifts Ideas | Inexpensive Hostess Thank You Gifts | 2020
But don't worry, we have made this task easier for you by listing some of the appropriate options you can choose to gift a new mom. Here are the products below.
1. Co Little Baby Handprint & Footprint Kit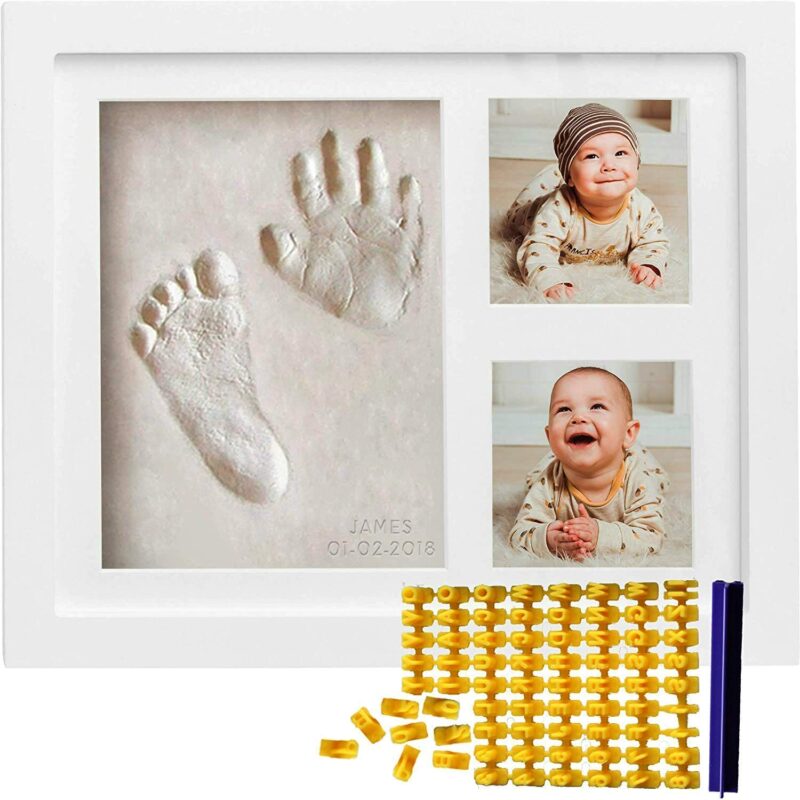 The handprint and footprint of a newborn baby are precious, and preserving them on a frame will be a new mom's dream. So gift them with this handprint and footprint kit. The pack contains a durable wooden frame, which is 11.1 × 9.09 inches in dimension. It has a rear glass cover and has metal hinges to ensure it's safety. It can be decorated on a table or hanged on a wall with an intact durable frame stand or metal wall hanger. It is provided with 300g safe and non-toxic clay for storing the footprints that should be kneaded well before placing it over the designated area.
Other than this, it includes few accessories like alphabet and date stamp and a wooden roller. Combining these things perfectly, it can be the most lovely gift for a new mom.
2. Willow Tree Angel's Embrace Ornament
Ornaments are the smartest and loveliest way to express your emotions towards someone. And what can be a lovelier ornament than an angel holding a baby? This sculpture shows the love and closeness of a mother angel towards her baby. It has a beautiful and sentimental tagline on the hangtag intact with the ornament "Hold close that which we hold dear."
Related Reading: 21 Best Romantic Gifts For Couples | [Cute and Cozy At The Same Time] | 2020
The 5″ inch high resin ornament is hand-painted by the artists of Susan Lordi's Willow tree. The wings are beautifully represented by wires' help that gives a complete angel look to the piece.
3. Momma Shark Wine Glass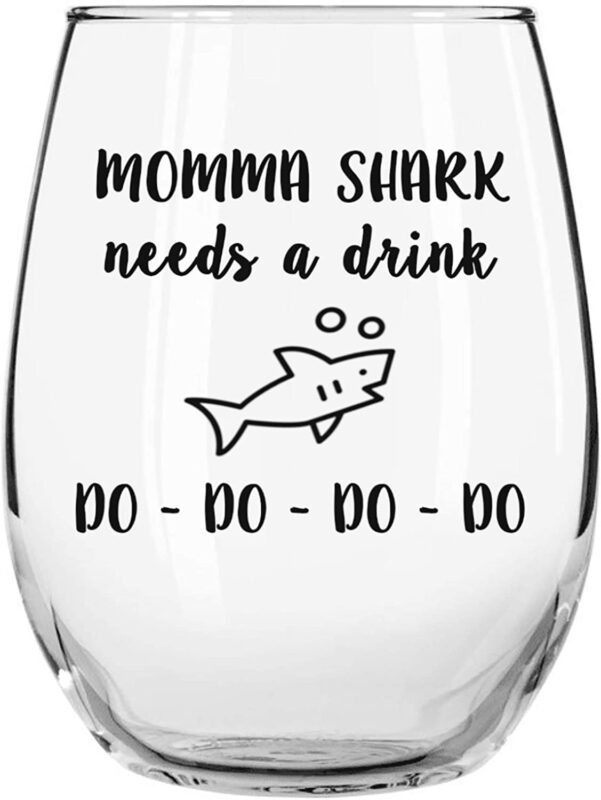 Whether a mom or any person on this earth, Christmas Eve is incomplete without a glass of wine. And gifting someone with this beautiful wine glass with an exciting quote can't be more special. This wine glass is made up of the highest quality materials that ensure it's prolonged use. It is dishwasher safe and microwave safe. This beautiful line "Momma Shark Needs a Drink – Do Do Do Do" is written with ceramic inks and is burned at a temperature of about 1200 degrees, to vote for its extended life.
Dimension wise it's perfect and very light in weight. It is safely packed and double wrapped to avoid breakage during shipping, which ensures order straight away.
4. Sodilly Stainless Steel Tumbler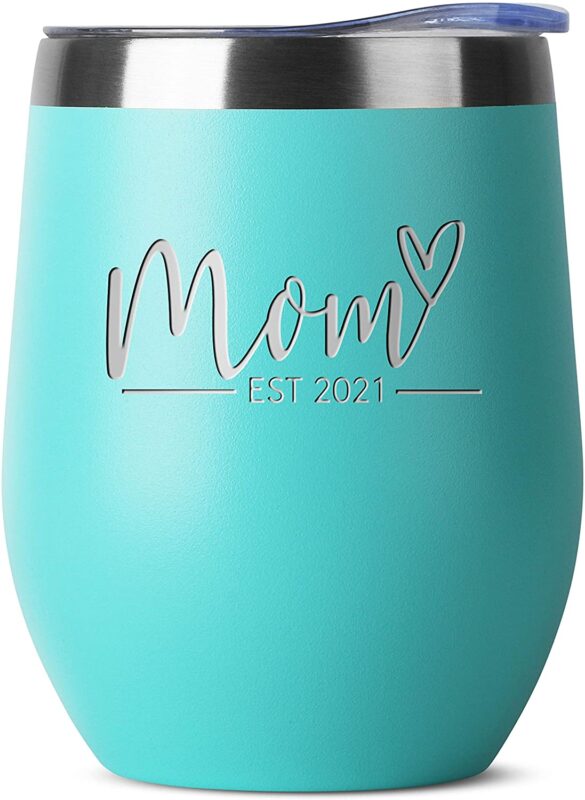 Imagine your gift is making the new mom think of her baby every time she uses it. Gift her this sodilly's tumbler that she will be using while taking beverages, coffee, wine, etc. This 12oz capacity tumbler is made of premium 304 18/8 food-grade stainless steel. It is double-walled and vacuum insulated that helps keep warm drinks warm and cold drinks cold for a longer duration irrespective of the outside environment. To avoid spilling and decline in temperature, it has a BPA free lid that tightly covers the tumbler. It is printed with vibrant and durable ink that keeps your customized text for years without being faded.
Most importantly, it is backed by a 100% money-back guarantee. If any case is found to be damaged or misprinted, it can be returned for a full refund without any questions asked.
5. NineCiFun Women's Slip On Fuzzy Slippers
Gift new moms with soft and comfortable slippers. They will use these slippers with much joy while strolling outside or working inside the house. This shoe by NineCiFun shows a great symbol of craftmanship with a highly cushioned footbed knitted with memory foam. The rubber sole gives enough support to the feet and increases this beautiful pair's life span. The sole is anti-slip and waterproof that uses in outdoors or wet areas but beware just for light uses. If you are concerned about cleaning, then don't worry, you can wash it in the machine, but hand washing is more recommended for gentle cleaning.
Do you think it will look outdated on a specific color? Don't worry. It is available in about 7 different colors. And to fit in every foot size, it is available in all sizes.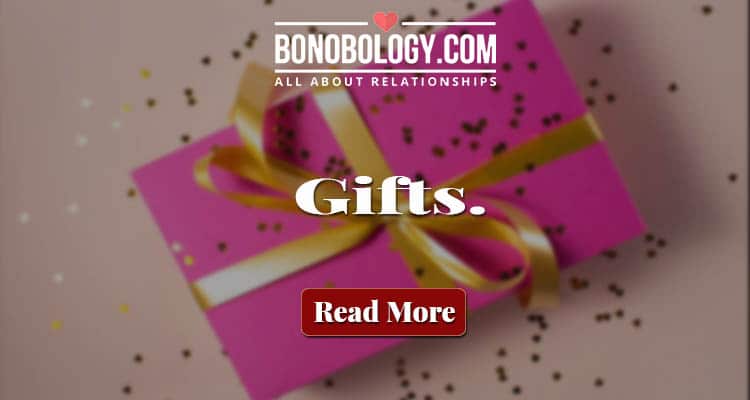 6. Bambusi Cheese Board And Knife Set
Wanna serve cheese on the best platform? Then why don't you pick this cheese board into the list of your kitchenware? Or are you looking to give it to somebody? Then without hesitating, you can go for that too. This cheese board is purely handmade with superior quality organic bamboo. This will look classy with a glass of wine and Italian ricotta or English cheddar on it.
Related Reading: 21 Romantic Gifts For Him [Sentimental Christmas Gift For Men] 2020
The center portion is plain and great for cutting cheese. It has grooves on borders for holding crackers or olives with a hidden utensil tray that contains four utensils and a knife.
7. Spa Gift Baskets For Women (Lavender)
Gifting a new mom with a basket full of self-care products or a home spa kit will make her happier than something else. And DluxSpa's basket full of home spa & beauty products will be a fantastic choice. They are packed in a galvanized tin basket with a transparent plastic wrap, tied with ribbon on top. It consists of 13 different products to experience a deluxe spa and bath at home. The 10×15 inch basket consists of these products – shower gel, bubble bath, body lotion, body butter, body mist, body scrub, body salt, shampoo bar, flowery bath bomb, twilight bath bomb, flower bath pouf, and eye mask.
These products help to renew and revive the skin with a personalized spa treatment. The fragrance of lavender gives the experience of a luxurious bath.
8. Mommy Gift From Baby Boy
It's an emotion that binds two souls, and a photo frame consisting of both the souls looks very beautiful. This frame is designed to gift new mom her first present from her baby boy.  This is a 7.3×5.4 inch(each side) foldable frame that can add beauty to the table. The frame is build of brushed silver metal and has a front covering of glass. The back portion is removable and is made of black velour.
Each side can fit in a 6×4 inch photo, but it's designed to keep the poem on the left during any personalized photo on the right. The poem is pre-written in a kid's typeface.
9. Candle Gift Set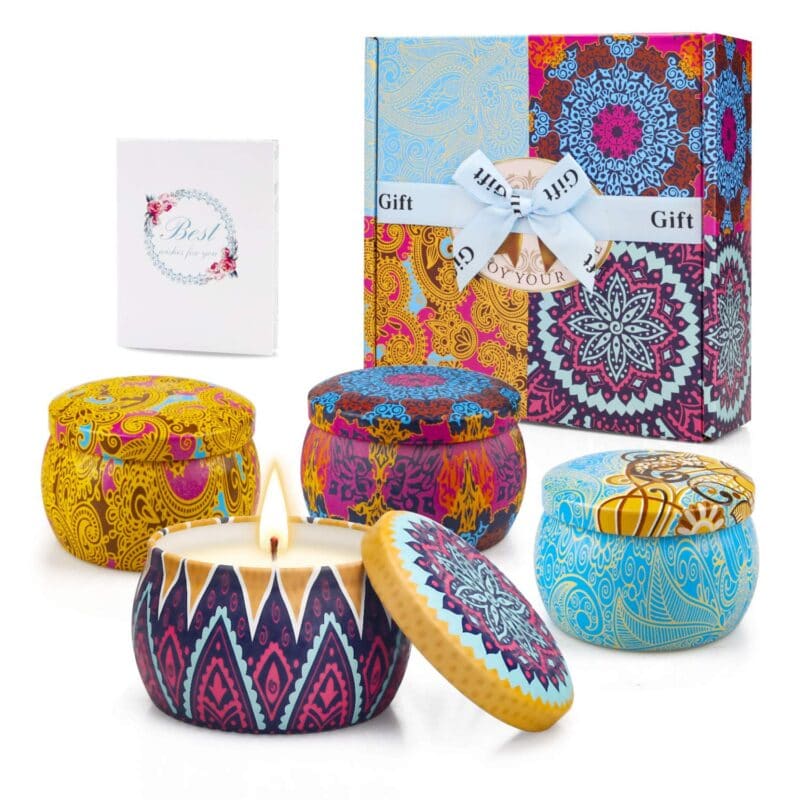 Enhancing the environment with the fragrance of glowing candles can help develop a great mood. And offering this thing in the form of a gift to a new mom at Christmas won't be a bad idea.
Gift them with a beautifully crafted box containing the traditionally printed and most aromatic candles and a hand-crafted gift card. These candles are made of 93% soy wax, 7% essential oils, and fragrances. It has four different candles with nature-inspired fragrances of lavender, Mediterranean fig, spring, and lemon. 4.4 ounces of wax in each tin jar burns for about 25-30 hours spreading the soothing fragrance.
The lead-free cotton wick helps to burn evenly and release the non-toxic and harmless aroma of nature on the beautiful eve of Christmas.
10. Michael Kors Jet Set Travel Double Zip Wristlet
Call it a wristlet or a clutch, a perfect companion of ladies at a party. This double zipped wristlet is a great option to keep cards, money, and cells, all at the same place. This will help you keep all your essentials handy with two compartments. These compartments are zipped with tab and snap closure. Along with compartments, it has 6 card slips, a clear ID window, and a smartphone slip inside. This is built with printed PVC and polished with golden tone hardware. The wristlet strap can be removed depending on preference. This is a slim clutch available with different colors for making a great choice.
Related Reading: 21 Graduation Gifts for Her [Suits The Occasion] | Oct.2020
Gift this beautiful and durable wristlet to a new mom and make this her companion for all her future travels and events.
11. Sun-E 2.5 Inch Owl Pot Set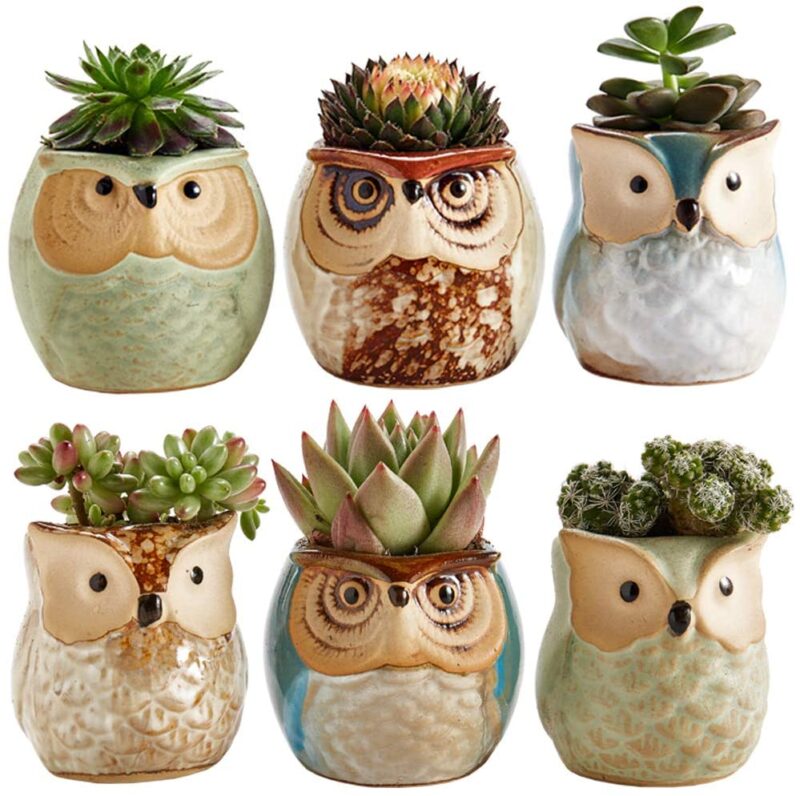 Gift these tiny owls to those members of your family or friends who love adding a modern touch to their decorative minds. These pots are made of top-quality clay and are baked at very high temperatures for more extended durability. The design is pretty impressive with an owl-like look. Plant beautiful small plants like bonsai, cactus, aloe vera, decorate it on your table, shelf, or arrange them on a decorative gardening desk. The pack contains 6 pots of 2.2×2.2×2.4 inches each. These pots add beauty and modernize your living space.
So, gift these small babies to the new moms and help them decorate their baby's room with a touch of fancy green.
12. Fat Cat Coasters Set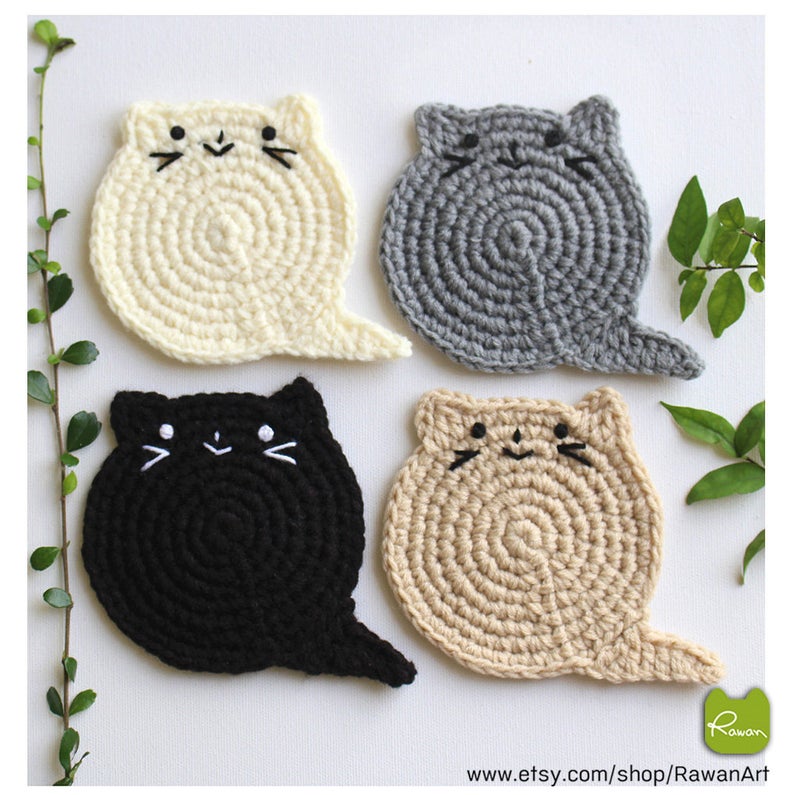 Want to gift a new mom at Christmas? Is she a cat person? Then why waiting? Give her this beautiful and cute fat cat coasters set. Gift this fabric crocheted coaster with two strands held together. This is made of premium quality acrylic yarn. It helps to protect the furniture from a hot coffee mug or a chilled cola glass. These coasters are available in multiple colors: ivory, grey, black, brown, and tan. It is dimensionally enough to keep a mug comfortably. It is washable and is advised to wash with hand but can be machine washed with cold water and gentle cycle.
It is sold in a pack of 2, 3, 4, 5, or 6. Buy as per your requirements. Gifting these fat cats will bring a giant smile on their face.
13. Jack & Rose Essential Oil Diffuser Bracelet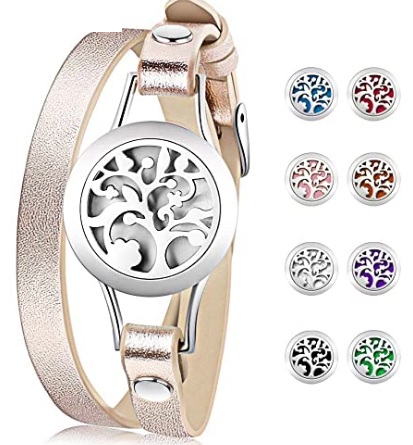 Gifting a bracelet is common, but giving Special Aromatherapy Diffuser Magnetic Bracelet is different. This bracelet is made of 316L stainless steel for longer life and durability. The bracelet is like a frame that encloses a washable pad inside it. It consists of 8 different pads of different colors that allow you to match your bracelet with your outfit. The role of this pad is to spread the fragrance of essential oil. Open the bracelet with just a tap. Then just add 3-5 drops on the pad and place it inside the bracelet.
The magnet will help to place the pad correctly inside the bracelet. The packing of this bracelet is very excellent. This can be very relaxing, and a unique gift for new mom's on Christmas eve.
14. SIX FOXES Solar Hummingbird Wind Chimes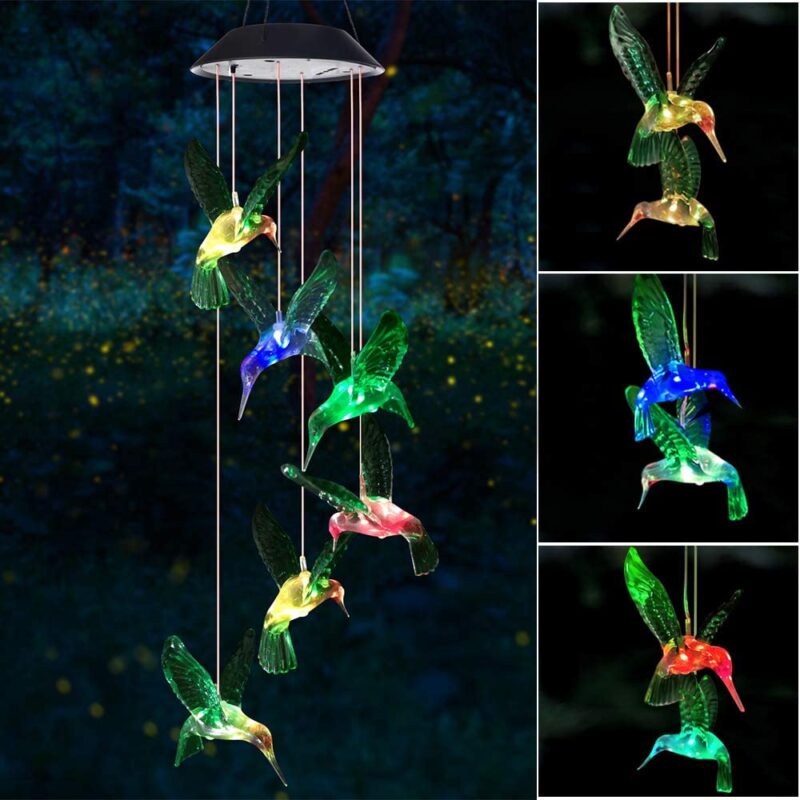 Have you ever thought of decorating a garden with a glowing hummingbird wind chimes? Isn't it a great idea? Six foxes present a solar hummingbird wind chime that glows on charging the monocrystalline silicon panel present at the top. It is provided with a high-quality sensitive light sensor, and the whole chime is made up of durable ABS material. The LED lights are long-lasting, lasting up to 1,00,000 hours, and don't fade with time. It is designed to be self-powered by storing solar energy in a battery. The life span is 600 days and can power up to 8-10 hours on a full charge.
Related Reading: 21 Gifts For Beach Lovers [Gifts For People Who Love The Beach] | Christmas 2020
These are very much debattery's corative and can be used both indoors and outdoors. So, considering this as a gift for a new mom won't be a bad idea.
15. ElekFX Family Birthday Reminder Calendar Hanging Board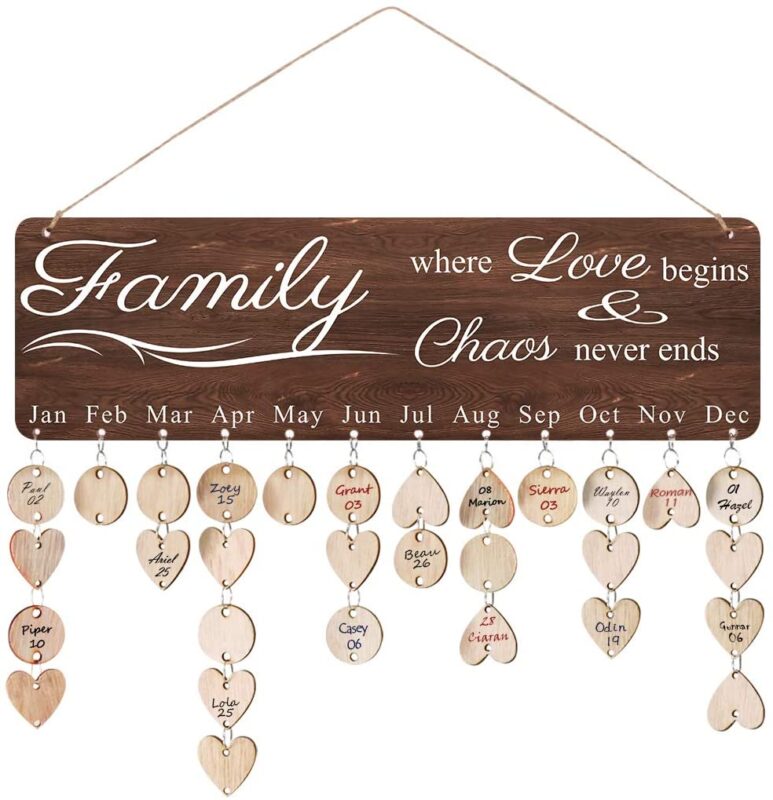 Remembering everyone's birthday in a family can be a difficult task for anyone. Right? So, using a reminder won't be a bad idea. ElekFX has produced this beautiful DIY family birthday reminder calendar that can be decorated on a wall. It is hand-crafted with natural wood and durable hemp for making rope. The board has a written text on family and all the months of a year. The pack contains one wooden calendar hanging plaque of size 15.7×4.7×0.2 inches, one durable hemp rope, a wooden adhesive hook, hundred wooden pendants, and 100 assembly hook. Decorate the wooden pendants in a personalized way or write the name and date of the birthday person.
Arranging them can be done using your unique DIY ideas. So, don't you think gifting this to a new mom can be a great option? She can use it to include her baby in the birthday calendar.
16. Titan Raga Women's Analog Quartz Watch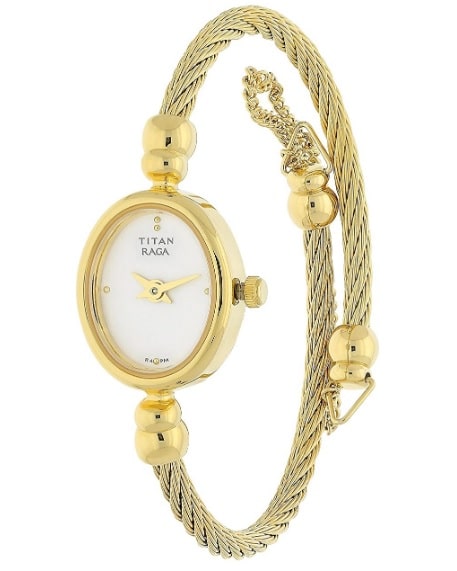 Are you thinking of a gift? Then blindly go for a watch. Watches are the best option to gift somebody, and if it's for a new mom, this Titan watch is excellent. The design of this watch is inspired by jewelry or a bangle, and it fits in casual attire and formal too. This is a precisely curated watch that gives you the perfect time all day. The analog is unique and straightforward that displays a numberless dial. It is golden in color, but the material used to manufacture this beautiful watch is brass. It is highly durable due to the material used, and it is water-resistant up to 30 feet depth but can not take long immersion in water. The glass is scratch-resistant, and it covers a manufacturer's warranty of two years.
If you are looking for better designs, then don't worry. It has multiple designs within the same price range.
17. 1sock2sock Women's Donut Socks Gift Boxes
Do you want to prank new moms at Christmas? Gift them these socks donuts. They are appropriately arranged and packed, which looks like a donut when looked from outside the box. These socks are made with 86% cotton, 12% nylon, and 2% spandex, which does not compromise the user's quality and comfort. The design is pretty versatile that can fit in both casual and formal shoes. The fabric is highly breathable that doesn't smell much and does not cause any allergy or skin irritation. These donut socks are highly soft, lightweight, and very comfortable.
Its length reaches up to your calves. These are relatively inexpensive and come in different colours. This can be a perfect gift item for Christmas.
18. Ucuber's You Are My Sunshine Music Box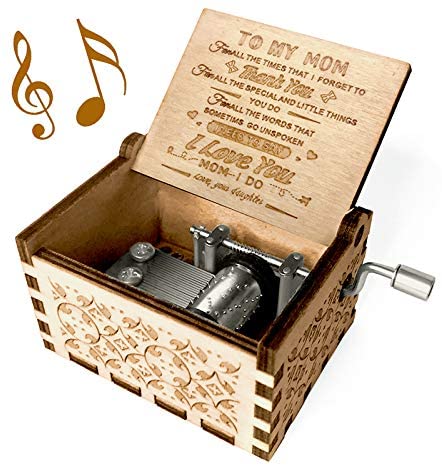 A musical box dedicated to moms by a daughter. This sounds so amazing. Ucuber designed this beautiful musical box, especially for moms out there. It can be picked by daughters to gift their moms on Christmas Eve. This is a cute DIY wooden box that produces music whenever paddled with hands. It is a small box that has the size of a palm. It is built with high-quality materials for the seamless production of music. The sides and top of the box have beautiful arts and crafts that give it a more classy look. Don't worry about the service, as Ucuber's post-sale service is always ready to help you.
Related Reading: 21 Gifts For Sister-In-Law | What To Get Your Sister In Law for Christmas | 2020
Inside the box, a small note on mom is printed. It does not require any battery, just rotate the handle manually and enjoy the beautiful melody "You are my sunshine."
19. Brimma Fruit Infuser Water Bottle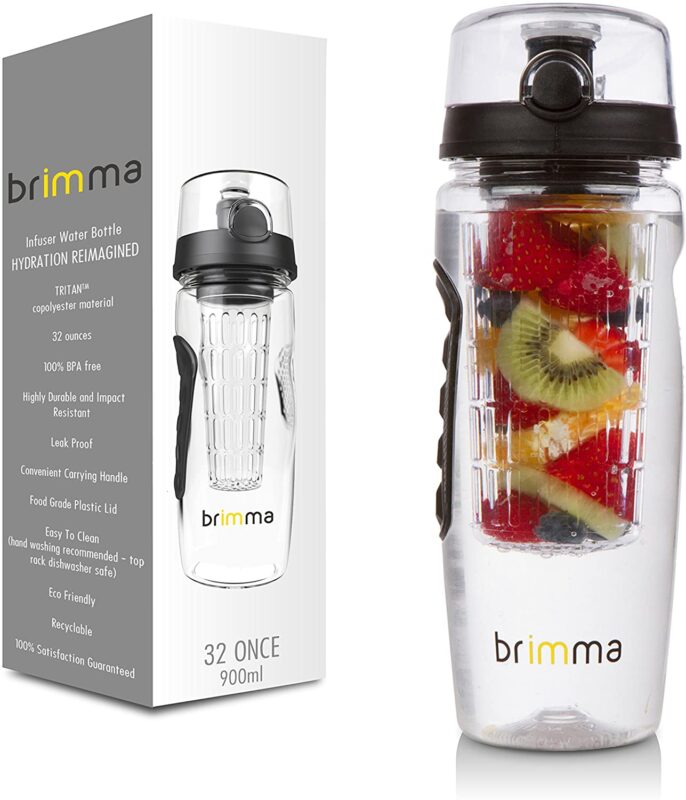 Gift this fruit infuser water bottle to a super active mom and keep them hydrated. This water bottle is special due to its ability to add natural flavors through the infuser tube. It is made with high quality and durable Eastman tritan food grade quality material. It is 100% BPA free, recyclable, eco-friendly, and shatterproof. It can hold water up to 32 ounces. It can be opened very quickly with a push-button flip-top lid. The cleaning is not severe, and it is dishwasher free. The grip is magnificent, which helps to hold the bottle tightly, and the carrying handle makes it easier to take it to places.
It can be a great companion while doing yoga, gym, cycling, or on a beach. Just add a few slices of favorite fruit inside the infuser tube and feel the magical change of flavour.
20. Mommy T-shirt
Are you planning to gift something to a new mom? Why don't you give them one of these beautifully printed t-shirts? It is made with quality ring-spun cotton that erases the question over its durability. The texts printed on these t-shirts are basically for moms, but both mom and dad can use them. It is available in a vast range of colors and almost all sizes. The text color and t-shirt color follow a pattern: dark text on a light tee and vice-versa.
It can be washed both manually and with a machine. But while using a machine, make sure you are taking cold water to ensure the colour doesn't fade.
21. Mom Cutting Board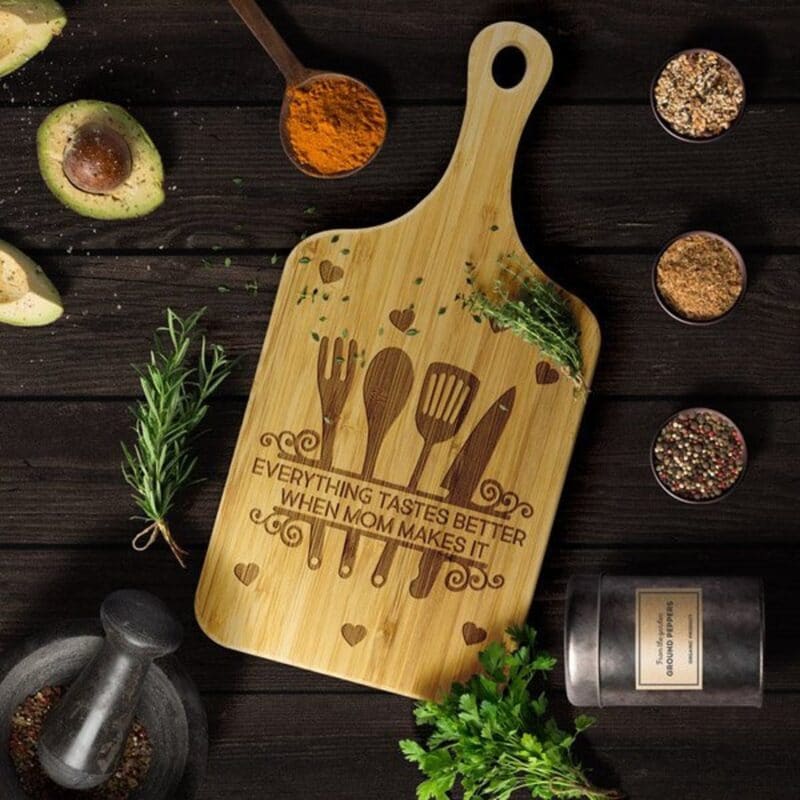 We get food when mumma cooks. So gifting mom with a beautiful cutting board will enhance her energy to cook better dishes for you. This board is quite challenging and durable, which is made up of high quality organically grown bamboo. The board is of medium size, and dimensionally it is 11.5×5.5 inches from handle to base. This board is very safe to cut fresh vegetables as fertilizer, chemicals, and pesticides are free. The safety of food is tested and passed by the US-FDA.
This board has customized designs or text on it, and it can be customized depending on the customer's choice. It has a dual-use to use it as a cutting board or a kitchen decor item.
Final Say
We are sure you must have selected more than just one item from the list. So what are you waiting for? Please a new mom now and give her a little 'you are special' treat this Christmas with our amazing suggestions. Grab these gifts now!
21 Gifts For Your Co-Workers | Gift Like Star Performer [2020]
21 Long-Distance Relationship Gifts | Updated List [Oct. 2020]