The pandemic has put an unplanned stop to the fast lives we live and taught us the importance of slow living. These stay-at-home times have renewed our homely needs, specially that of comfy clothes and loungewear. If you are someone who used to dream of spending lazy evenings at home wearing soft silk robes and enjoying an ambience of scented candles, then it's time to make those dreams come true.
When you are spending long days working from home or lazy weekends with coffee and books, indulgent silk robes can be your outfit of choice for the ultimate comfort and luxury.
If you thought earlier that silk robes were not necessary enough to be a part of your wardrobe, now it's high time you invested in a few of them to make your stay-at-home experience more glamorous and relaxing.
Related Reading: 21 Amazing Gift Ideas For Harry Potter Fans [ List For All Age Group]
Now you'll definitely be getting more use out of these home-wear pieces, so take the plunge and get your hands on some opulent silk robes that can take you from busy mornings to romantic dinners at home in effortless style.
From pretty printed varieties and buttery soft kimonos to sexy satin short robes and exotic embellished flowy ones – you'll be spoilt for choice once you embark on the journey of robe-shopping. So, we are bringing you this hand-picked list of the ultimate glamorous silk robes that can help you up your stay-at-home looks in style!
1. 100% Silk Japanese Printed Kimono Robe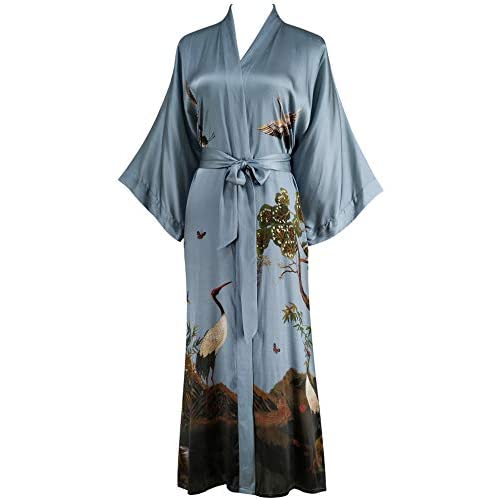 What can be more luxurious than a real silk robe in long, flow-y Kimono style? A soft silk robe in a Japanese-inspired print can be just what you need for those dreamy Saturday nights in, spent with a glass of wine and some Jazz music. You can wear it belted for a svelte look or wear it open over a nightdress for some comfy-chic style.
This pure silk Kimono robe from Ledamon store can be the perfect pick for your wardrobe. With more than 20 color and print options to choose from, you can pick one that suits your style and personality. Perfect for adding a touch of luxury to your stay-at-home outfits.
2. Real Silk Hand Painted Kimono Robe
Silk kimono robes are a statement piece in itself, and what could be better when coupled with exquisite hand painted designs? These dry cleanable robes come with unique patterns and can be used as both long robes and dressing gowns. Wearing this silk robe will be just like wearing a piece of art, quite literally, and can be worn while you transition from day into night.

So, get this 100% silk kimono robe from Kim+Ono Store come with waist-tie closures and are designer pieces inspired by Asian art. These exclusive silk robes come with hand sketched designs, saturated in rich watercolors. So, what are you waiting for? Get your hands on this robe and start painting your own masterpiece.
3. 100% Silk Floor Length Kimono Robe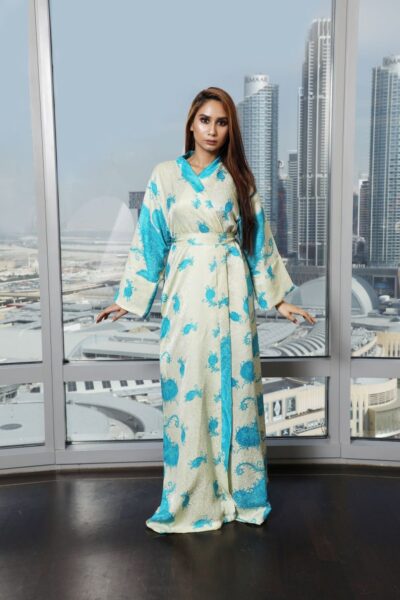 Pure silk kimono robes are perfect for waking up in on the first morning of your newlywed life and can be the sole reason you get a good night's sleep after a quite hectic and eventful day. Floor length robes add to the luxe feeling and you could be very well in the mood of leaving a bit of awesomeness behind you wherever you go with the help of your silk trail.
Related Reading: 21+ Weird Yet Wonderful Long-Distance Relationship Gadgets [Trending 2020]
This 100% silk kimono from Wear Watashi comes in a gorgeous blue and cream color combination and is immensely soft and gentle to touch and feel. These silk robes are perfect to be donned by women who always appreciate timeless style.
4. Reversible Cashmere Silk Robe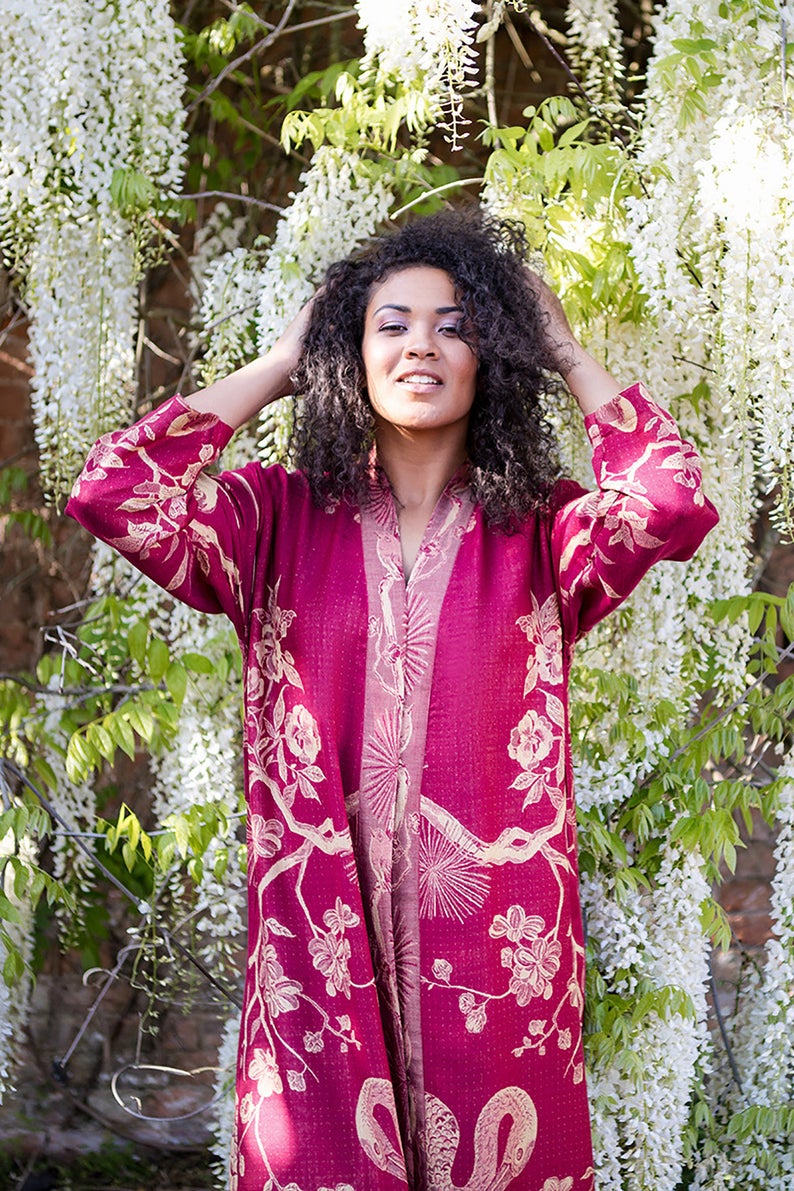 This piece is one of a kind, and made up of 70% cashmere and 30% silk topped off with a rich color like deep raspberry. This dressing gown is so luxurious and chic that once you wear it, you won't ever feel like taking it off. And the best part is that this silk robe can be worn on both the sides, due to the clever French seams, the other side being a neutral tone like butterscotch.

So, with this piece from Shibumi Style, you can wear one side to a party, while change onto the other side for spending a cozy weekend at home. Also, you can customize the length as per your liking and make sure you spend the rest of your life looking like a complete diva.
5. 100% Mulberry Silk Robe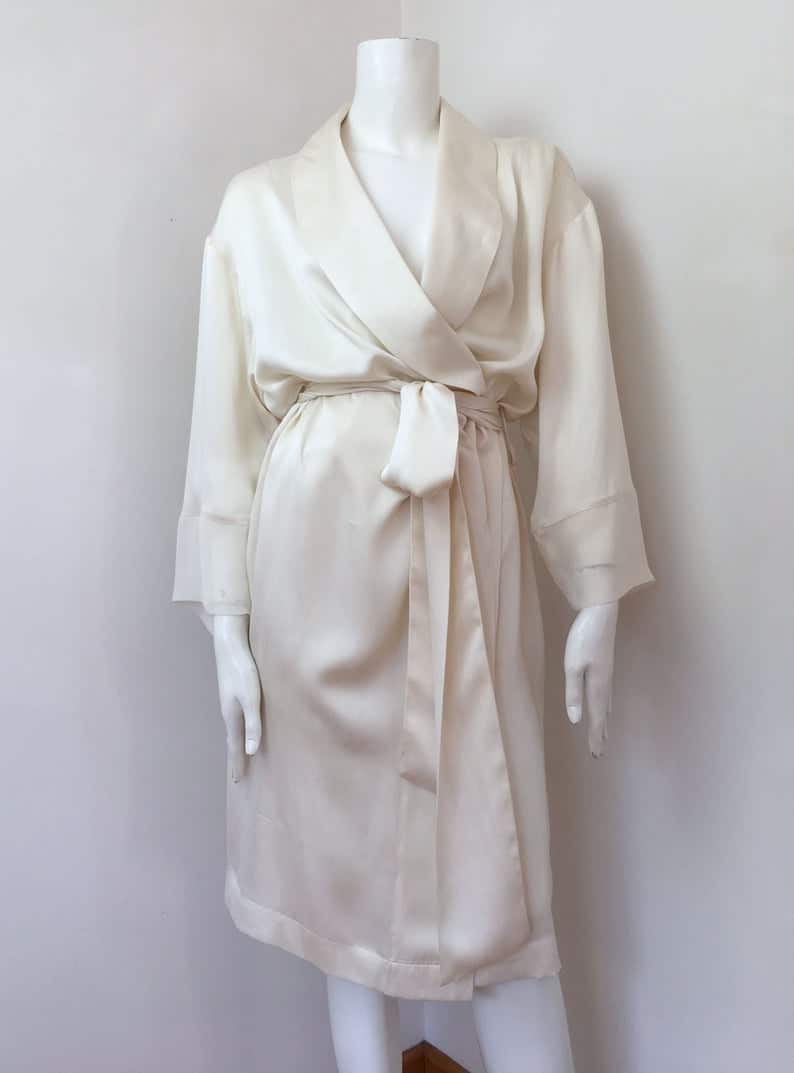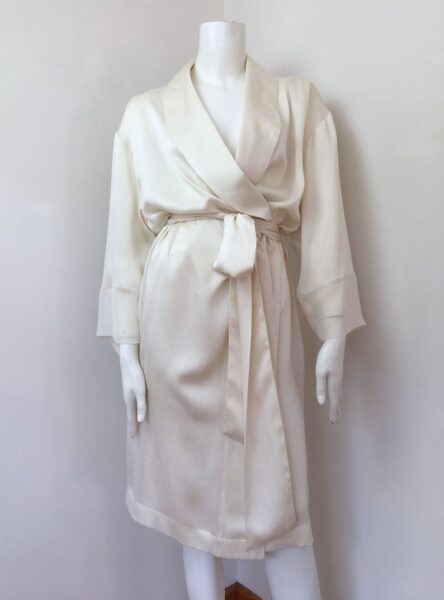 An epitome of classiness and comfort, this silk dressing gown is a classic piece that deserves a place in the wardrobe of every fashionista. It is made of 100% A Grade mulberry silk that feels like butter on the skin and comes with a wide shawl collar and a plunging wrap like neckline. This piece can be very well considered to be the Rolls Royce of Robes.
This mulberry silk robe from LeSourceress is a perfect gift for those special occasions like honeymoons; anniversaries etc. and sport the finest trims and finishes. Also, it comes with two concealed pockets and a wide waist sash, doesn't it seem like an exquisite dream come true? It surely does to us.
6. Ruffle Hem Silk Robe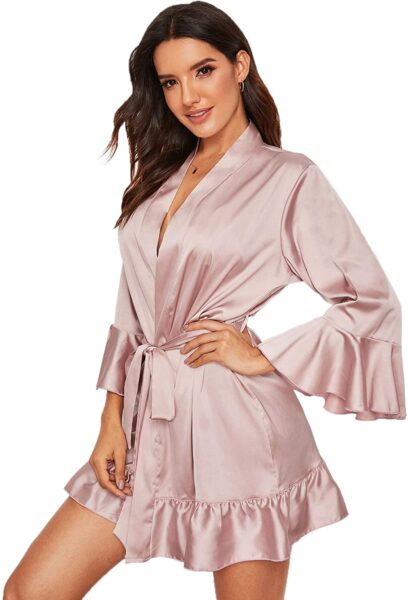 Cutesy ruffles along the hem are the accents that can add the right dose of fun to short silk robes. These cropped robes are ideal for lazy Sunday mornings or even as cover-ups over your swimsuit when you feel like hitting the society pool. Ruffles and frills are not going out of trend anytime soon, so these cute details on your robe can elevate this wardrobe staple from basic to trendy!

This Floerns Belted Kimono Robe available on Amazon is perfect for women who want to indulge in some frilly fun! You can choose from various prints or solid colors. Slide on this silky robe when you are in a playful mood and even staying at home can feel exciting.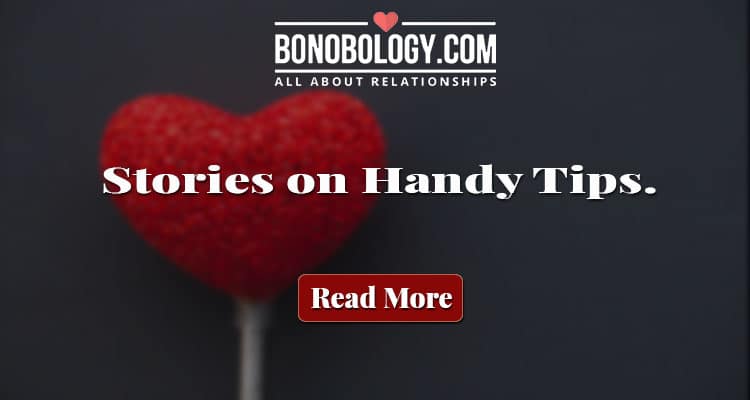 7. Floral Printed Silk Robe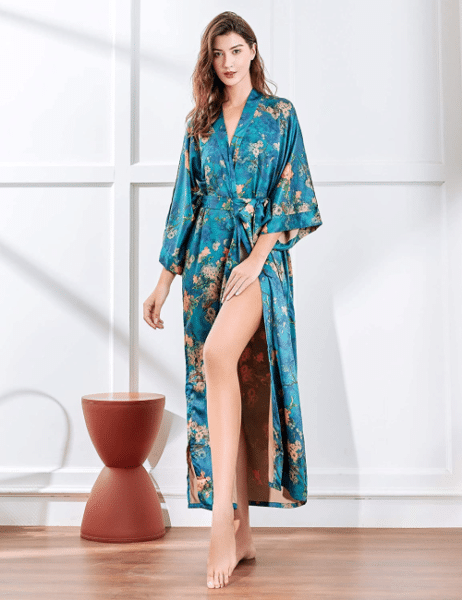 Get this super pretty floral printed silk robe, made up of silk satin which you can flaunt on a number of occasions. This robe comes in different prints and colors and has flared dream-like sleeves to die for. You can wear it on occasions like a bridal shower, bachelorette party etc. or even around the house for a-pamper-yourself kind of Sunday.
Related Reading: 21 Gift Ideas For Teenage Girls | Checklist 2020
This silk cover-up from Babeyond store will come up to your ankles and is so comfortable, that you feel like you are wearing feather-light material. And the best part is that it's one size fits all, so say goodbye to the worries of size issues and unwanted returns and exchange processes. 
8. Lace Kimono Silk Robe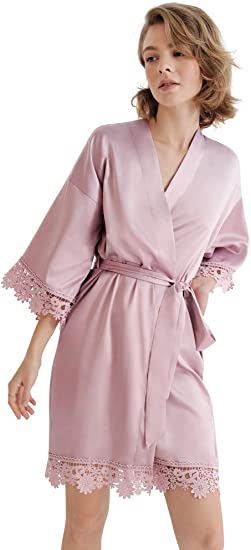 Silk Satin coupled with lace looks elegant and exotic. The material of this short dressing gown makes it really soft, silky and cooling on the skin for hot, summer days. The lace floral stitching on the sleeves and the hemline add to the chic, feminine factor of this kimono robe.
So, get this beautiful, elegant lacey robe from SIORO store and we are pretty sure you won't be disappointed. Get this robe for yourself and all your girlfriends and you are sure to have a blast at your bachelorette or even elevate a regular slumber party into a vogue fashion show.
9. Puff Sleeved Silk Robe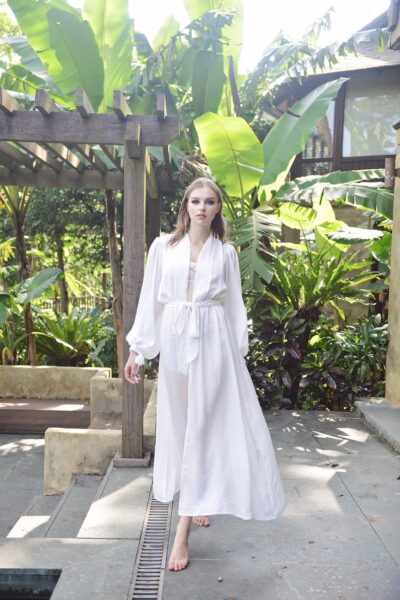 Who doesn't love something extra that amps up their regular clothes, no one right? The same applies to silk robes, and we all are crushing over this pretty long silk robe that comes with statement puffed sleeves. The tie-up at the waist helps to cinch the waistline and give more definition to the body shape. You could opt this as a special bridal option as this feminine piece fits right into the need of the hour.
So, get this exquisite silk robe from LelaSilk which flows quite gracefully and comes with huge bell sleeves that offers plenty of movement. And to top it all off, it looks unbelievably pretty in pictures, take our word for it. Not to forget, the material is so high-quality that it's sure to make you feel like royalty.
10. 100% Silk Short Robe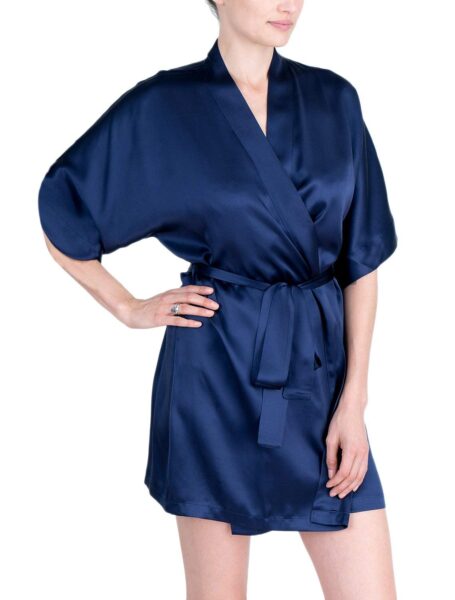 Are you looking for a pure silk kimono robe, but fancy a shorter length? Well, this silk robe has it all as it's made of the highest quality, comes with a kimono collar and has an attached belt. If you were looking for a luxury silk robe option that's not too heavy on your pocket, this piece is just the one for you.
Get yourself this short silk robe from Oscar Rossa and there are so many good colors to choose from, you will be spoilt for choice. These are perfect to be starting out in the silk-y sleepwear department, and come with a 'luxe' feeling and you can then move on to longer, more expensive ones.
11. Silk Robe with Batwing Sleeves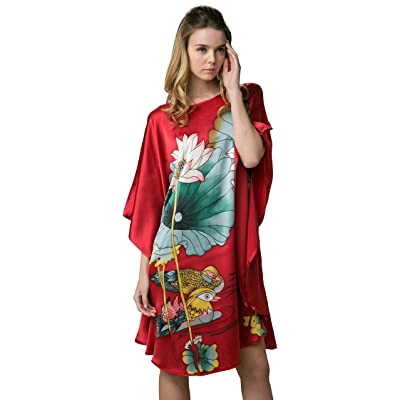 Are you tired of being greeted with only kimono styles of silk robes, whenever you are surfing online for a new robe? Well, not anymore. This piece of silk robe is a contemporary take on the classic kimono style. It's a short silk robe and comes with flared batwing sleeves and a round neck.
Related Reading: 21 Gifts Ideas For College Girls [Updated List For This Christmas]
This 100% real silk kimono from Ledamon Store features roomy batwing sleeves for total comfort. Also, this piece comes in various designs and colors, having hand-painted artwork on both back and front. And the best part is that it comes in one size fits all, making it a perfect gift to be bought for friends, sisters, mother, girlfriend etc.
12. Personalized Silk Robe
These silk robes can add life and luxury to any bridesmaid party or bachelorette coming up in your life. These short, belted silk robes come with personalization options, and you could choose to have any lettering on your robe like names, quotes, Team Bride etc. and they come in a bunch of different prints.
These personalized silk robes from Bells and Balloons are customizable down to the very lettering color, metallic, glitter or matte finish etc. These robes are perfect for a lady who loves luxurious things. The matching lace detail on the hem and cuffs takes the whole look to another level altogether.
13. Printed Silk Kimono Robe
If you want to add a kimono in your wardrobe which will be like a breath of fresh air amongst the pile of floral ones, this kimono is just the one. It comes in different colors, and has a variety of prints to choose from. These prints include that of feather, leaf, crane, dragon, tumbleweeds and even cute bunnies.
So, get your hands on one (or more) of such cute printed kimonos from Vallenia and elevate your regular mornings with a hot cup of coffee and this skin-friendly loungewear. This unmatchable combination of beauty and softness is meant to be embraced as you come home after a long, hot day at work.
14. Silk-Satin Mono-Colored Robe
These lightweight satin robes feel and look ultra-luxurious, even though they are very easy on the pocket. They are shiny and smooth to touch and feel and come in various colors like midnight black, deep navy, rich burgundy, classic grey, emerald green, and more. It's perfect to be worn all year round and bask in the glory of the 'silk'.
These short satin silk robes from Ekouaer come with both exterior tie-up belt as well as interior ties to keep the robe safely closed. The ¾ sleeves come with paneled mesh detailing and are perfect for all those spa days and slumber parties. Also, they come in all sizes from S to XXL, so, what are you even waiting for?
15. 100% Vintage Silk Saree Robe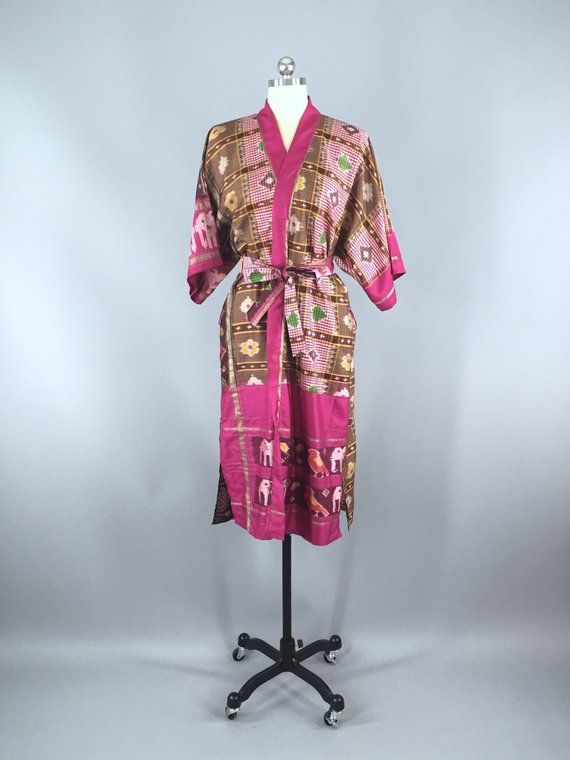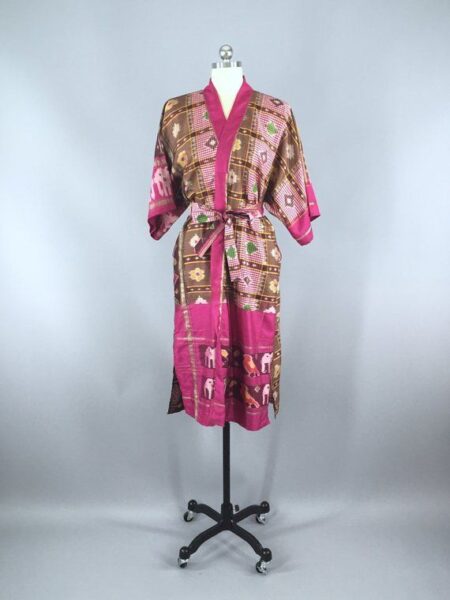 If you are seeking something different than all the floral printed, silk kimonos that you have in your closet, this one is going to be such a unique new member. This silk kimono robe is made up of vintage silk sarees and will be shipped to you right from India. These are handcrafted and designed in India and have a luxuriously beautiful and aesthetic quality.

Related Reading: 11 Last-Minute Gift Ideas For Someone Who Has Everything | 2020
This silk saree robe from Shreejagannath can be worn as a cover-up on a beach or can be slipped into on a bright summer morning. This versatile silk-saree recycled kimono robe comes with long flared sleeves and a tie-up belt at the waist which gives such a boho-chic look when paired with jeans.
16. Bridal Lace Silk Satin Robe
Are you a to-be bride and looking forward to waking up as your partner's wife in your lovely home together. This robe is the perfect combination of comfort, style and beauty and deserves a place in your wedding trousseau. It comes in 19 colors, both pastel and neutrals, and it's so easy on the pocket that you can literally flaunt a different color on each day of the week.

This bridal silk-satin lacey robe from URRU has lace detailing on the hemline and sleeves making it one of those timeless, aesthetic, silk-satin kimono robe designs. These make for a perfect gift for all your girlfriends who are getting married (or yourself), and you won't even have to rob a bank.
17. Long Silk Robe with Piping Detailing
This handmade, long, blend-silk robe is the one to look out for if you are in the mood to spend all day (and night) in something smart yet comfortable. These pieces come in monochrome combinations, and have to-die-for piping detailing on the neckline, high slits and pockets. These robes can be dressed up or down to create the mood and style as per your liking.

These elegant robes from LelaSilk come in a variety of pretty shades, if you are not a black n white kind of a person. The quality is top-notch and we highly recommend this piece if you were meaning to get your hands on a long silk robe for some time now.
18. Summery Silk-Satin Nightwear Set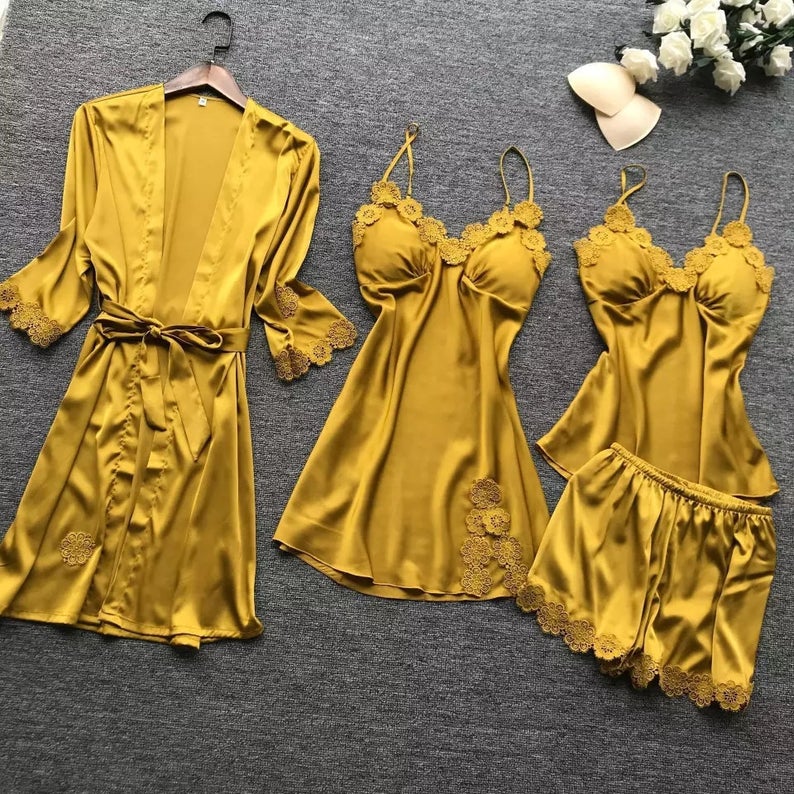 Why stay contented with only a silk satin kimono robe, when you can get a complete nightwear set with it? This cute, bright yellow nightwear set comes with a silk-satin robe, and matching babydoll, shorts and top. The lace and crochet detailing imparts a feminine and chic outlook and is perfect for all those aesthetic Instagram pictures.
This complete silk-satin set from YalabDesign can even be worn on a holiday as you spend the day by the pool or in the spa. And the best part is that it comes in a bunch load of trendy colors like hot pink, blush pink, sea green and grey. So, get your hands on this picture-perfect nightwear set today.
19. Mother-Daughter Silk Robe Set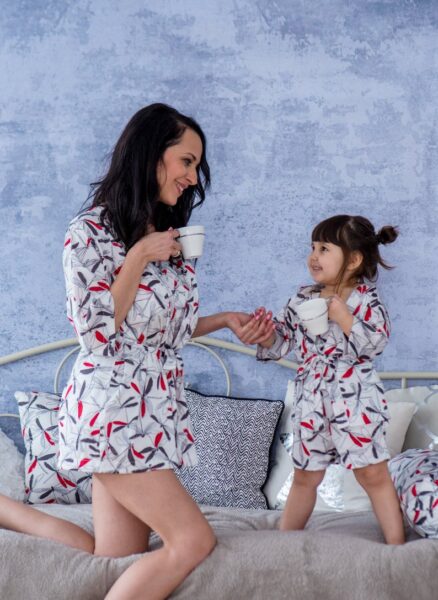 Do you want to be twinning with the cutest and most adorable little girl in your life, yes we mean your daughter, niece, or anybody who you feel fits the said description. This two-piece set comes with matching kimono style silk-satin robes for this powerful duo, and can be customized as per body measurements.
Related Reading: 21 Christmas Gifts For New Moms | Unique Motherhood Gift List [2020]
This silk-satin matching robe set from TrendyBG comes in cute prints and will be the perfect outfits for a mommy-daughter weekend date at home. These sets are totally comfortable and smooth on the skin, and you won't have to worry about your toddlers not liking it. And you can thank us later for all those cute pictures that are going to come up on the Insta feed later.
20. Plus-Sized Printed Satin-Silk Robe
If you are finding it difficult to come across good floral printed kimono robes that fit all those plus-sized curvy beauties out there, well we have something for you too. These long floral printed satin-silk robes come in a variety of colors and ensure that nobody feels left out of a trend.

Applesauce has their plus-sized satin-silk kimono robe option which look as good as they feel. They are luxuriously light and silky, without you having to feel guilty about the purchase amount. These robes come with a sash tie closure, inside ties, have plenty of give and are perfect for all the plus size divas as they deserve all the love.
21. Bridal Nightgown Set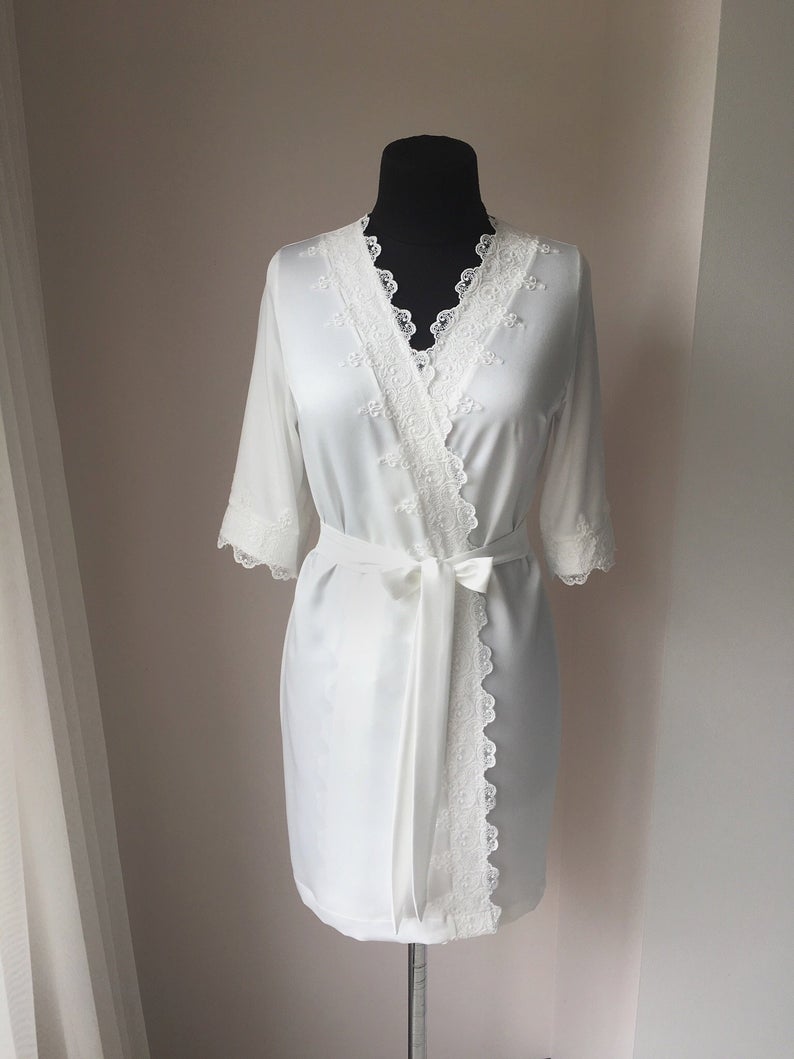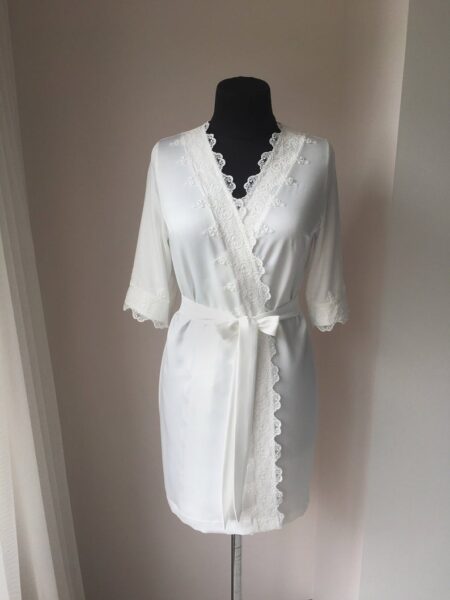 This set of a lacey satin-silk short robe with an inner nightgown is perfect for your first wedding night or honeymoon or for times when you want to relive those moments. This set comes in a classy ivory shade, beautifully decorated with lace. This set is a perfect example of high quality tailoring coupled with attention to detail.
So, choose this 100% handmade satin silk robe set from BellaDonnaUa and you will be pleasantly surprised to see the exquisitely soft, French seamed, made to fit piece. It is a dream of a robe and will make any bride feel the most pampered and special after a quite memorable and eventful wedding day.
Tips And Tricks To Buy The Perfect Silk Robe
So, as we have already mentioned, if you have always dreamed about getting yourself a luxurious feeling silk robe, now is the perfect time to splurge on it.
We have provided you with an ultimate list on all the great options you can check out and we are pretty sure you won't be disappointed by these top selling styles. Also, here are two most valuable tips and tricks to keep in mind before you take the plunge:
Related Reading: 9 Best Gift Cards For Your Spouse [Best Gift Cards for Couples] 2020 Updated
Quality Matters the Most: One of the two most important things to keep in mind is the quality of the silk robe you are purchasing. Silk robes come in a variety of mixes with other fabrics, and you need to ensure that the one you are purchasing is still silk, and the second fabric is soft enough to complement the silk, if not your pocket is allowing you to go for 100% silk.
The Style and Color: The other thing that you need to concern yourself with when you are out on a mission of buying silk robes is that whether you truly enjoy the style and color.  Silk robes come in a wide array of styles and designs, mostly the difference being in the length and cut. Some are bolder and outgoing, while some are more comfortable and laidback. As long as you are paying close attention to what you are buying, you will be good to go.
So, long story cut short, it's a great opportunity for you to get your hands on any one or more of these amazing silk-robe options which are easily available on Amazon, Etsy and Target. Pamper yourself with a silk robe and bask in its soft, buttery glory and if kept properly, away from direct sunlight, your silk possession will be able to serve you for decades to come.
21 Gifts For Beach Lovers [Gifts For People Who Love The Beach] | Christmas 2020
21 Gifts For Sister-In-Law | What To Get Your Sister In Law for Christmas | 2020
13 Gifts Don't You Dare Give To Your Co-Workers [Must Read Guide]