The perfect gift guide for your girlfriend doesn't exist – scratch that, it does! If you've been racking your brains for hours searching for cozy gifts for her, then this is the guide for you. Oftentimes, girls secretly exchange gifts received from their boyfriends in order to spare their feelings. This happens when the gift isn't personal enough, or warm enough to exude that special kind of attention.
Men – time to pull up your socks! Ever wondered what personal gifts to get your girlfriend to make her feel cozy in your love? Look no further than this carefully curated list. We have put together a few items that are bound to make your girlfriend feel your warm vibes, love and affection from even a thousand miles away! Without further ado, let's focus our attention on this list of thoughtful gifts for girlfriend.
Comfy And Cozy Gifts For Her
Here are 20 cozy gifts for her that are definitely going to make her feel that she picked the right partner for herself. Be sure to notice the change in your girlfriend when you give her your gift. Want to know what that change will be? It will be the light that shines in her eyes and the genuineness of her smile when she receives the gift. Keep reading to ensure a filled-with-gratitude and a beaming smile on your girlfriend's face.
1. Comfy bathrobe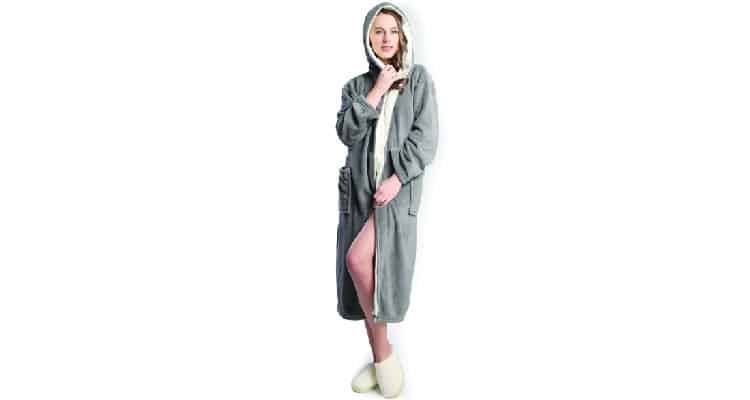 It may not sound like a necessity, but it absolutely is! You do want to get comfy gifts for her, right? Then, get your girl the softest bathrobe ever. These bathrobes are made of plush and soft fibers, making them sit on a person's body ever so lightly. Bathrobes are the perfect cozy gifts for her as they are something every girl needs – it makes her feel warm, relaxed and comfortable. These luxury bathrobes have thick collars and two large pockets which can hold small items like a set of keys or a phone. The bathrobe is extremely durable and long enough to cover till just above the ankles.
Slip into this all-season fleece robe to stay comfortable and relaxed
100% polyester 
Bathrobe comes with traditional patch pockets, double lips and belt 
Available in sizes : S, M, L, and XL
Related Reading: 9 Best Gift Cards For Your Spouse [Best Gift Cards for Couples] 2020 Updated
2. Cozy slippers
What's the one thing you have to wear all the time, even when you're indoors? What's the one thing that can give your feet comfort and make you feel good? A pair of really comfortable slippers! These slippers are the cozy gifts for her that she will appreciate more than anything. Not only are they comfortable, but they will also make her feel sexy and fashionable at the same time.
Made with fluffy plush to keep feet comfortable at all times 
High density memory foam added for longer usage 
Hand and machine washable 
Available in multiple colors
3. Coffee pods organizer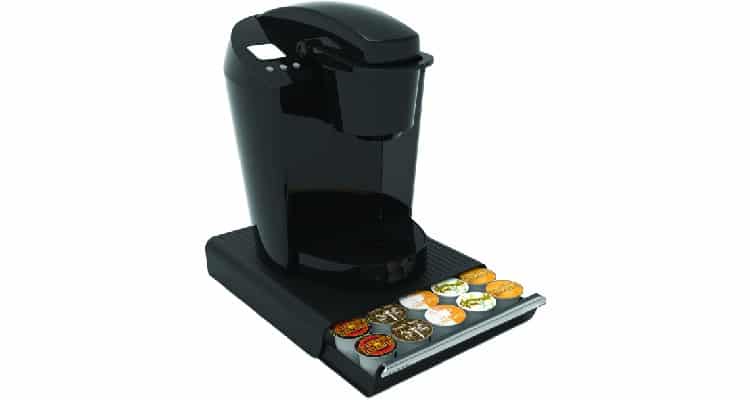 Want your girlfriend to think about you as soon as she gets up in the morning? Want to send her a little friendly reminder that the day is going to be great? Gift her a great coffee pod organizer for her espresso machine! Coffee is the go-to best beverage to wake someone up, make them feel great and give them that push to get their day going. These coffee mugs are such thoughtful gifts for girlfriends, especially when you know she needs coffee more than anything else first thing in the morning…and sometimes, that even includes you.
Perfect space saver as you can store all 30 single coffee servings in one place 
Easy to clean with simple paper towel or wet cloth 
Coffee pod storage has rubber grips underneath insuring placement wherever you feel fit
4. Luxury candles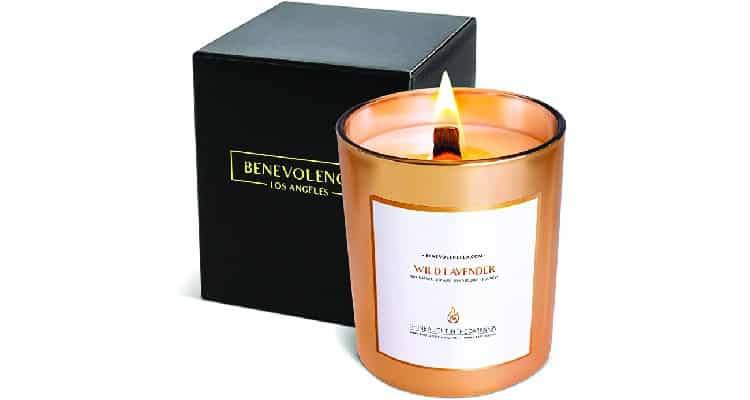 One of the greatest gifts out there are luxury candles. These candles have an amazing aroma and the power to lift up your spirits. The fragrances associated with luxury candles often help the user feel indulgent and extravagant because of the rich odor they give out when lit. Luxury candles, like this one, make great showpieces for a dining table, shelf or a mantlepiece. These candles are great cozy gifts for her and for you. Every time you come over, she will make it a point to light these in order to show how much she genuinely likes them.
 Natural wax and lead-free cotton wick
Paraben-free and paraffin-free
Burn time of 45 hours
Wild lavender in color
Related Reading: 21 Amazing Gift Ideas To Impress Your Crush Who Is A Big Instagram Influencer
5. Bath salts
One of the best places in the world, to feel completely at ease and comfortable, is in a bathtub! Bathtubs are the reason most people even do staycations at hotels! They just love the whole experience of some personal time to recuperate and rejuvenate. If your girlfriend has a bathtub at home, make her bathtub experience just like one she can find at a hotel or a spa! Gift your girlfriend a set of bath salts. These salts are the perfect cozy gifts for her as they have amazing healing qualities and can come in handy to your girlfriend when she is looking to relax or have some quiet time. 
Nutrient-rich bath soaks formulated to support sore muscles and damaged skin; provides soothing relaxation
Unique combination of oils and salt to provide moisturization
You get to choose exact amount for a perfect bath 
Customer care available for any questions or possible issues
6. Facial kit
Is your girlfriend really serious about her skincare routine? Does she crave that feeling of rejuvenation after a long and a tiring day? Is she someone who wishes she could take a day off and focus on self love and a self-care grooming routine? In that case, why not put together a facial kit? Great facial kits are all the vogue these days – some brands even offer large hampers of all kinds of skincare products that are bound to make someone feel very special. We suggest putting together a facial kit comprising some amazing fragrant face masks. These are refreshing and made of various ingredients, and are just the right cozy gifts for women. 
20 piece kit includes: mask sachets, mask tubes, silicon scrubber, silicon mask applicator, spa headband and make-up remover towel  
Various varieties of mask in kit include cucumber, avocado, apple cider vinegar, watermelon and aloe, coffee, green tea, and sweet-tea and lemon. 
Mask benefits include cleansing, removing, purifying, exfoliating and deep cleaning 
Perfect for all skin types – normal, oily, combination, dry and even sensitive
7. Cozy mermaid blanket
With so many various inventions of the classic blanket, this one really takes the cake. These mermaid tail blankets are wonderful cozy gifts for her, especially if she loves curling up in a corner from time to time. The softness, the comfort and the warmth of these blankets make them genuinely thoughtful gifts for girlfriends. You can bet she will be happy especially if she loves staying indoors, reading, enjoys movie nights on the couch, or even camping outside. The best thing about the blanket is that the feet remain covered in the warmth of the material toward the tail end.
Made from acrylic fibers
Suitable for travel, indoor relaxing, outdoor activity and autumn nights
Vibrant colors and ombre fish scale design gives the feel of a real mermaid
Dimensions:  L 74 in x W 35 in
Related Reading: Gift Ideas For Her: 15 Necklaces With Special Meaning
8. Kindle to snuggle with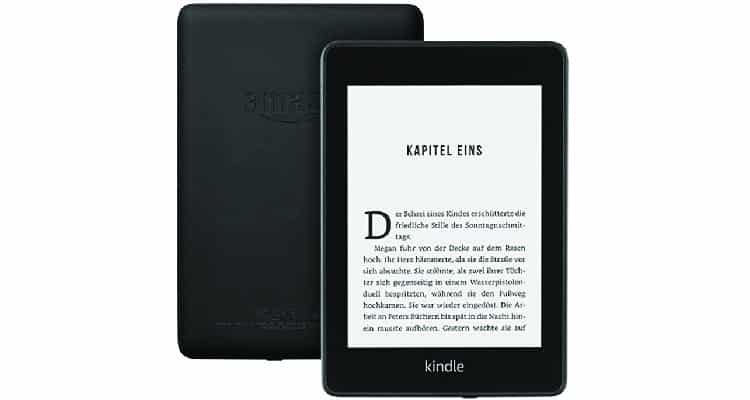 Are you wondering why Kindles make good cozy gifts for her? Imagine if there's this one book that the both of you absolutely love, that you both have a special connection with, then wouldn't you want your girlfriend to take it with her wherever she goes? In a beautiful way, that book will bind you together no matter where you are. Plus, you can keep surprising her but topping up her library. All one needs to do is buy a book on Amazon, and voila, it's delivered straight to their Kindle to offer the ultimate reading experience. Gifting your girlfriend a Kindle, especially if she's into reading books, is a sure-shot way to her heart.
With flush-front design and 300 ppi glare-free display that reads like genuine paper even in bright sunlight, this is the smallest, lightest Kindle Paperwhite yet
Waterproof 
A single battery charge last weeks, not hours 
Built-in adjustable light lets you read indoors and outdoors, day and night
9. Warm scarf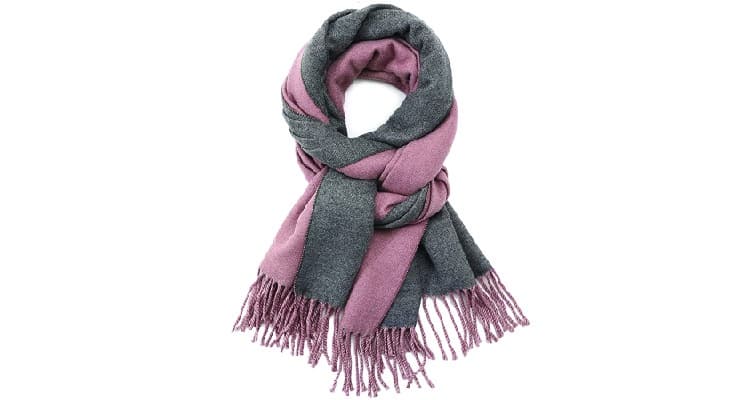 Looking to buy cozy gifts for her, especially for when you're not around? The next best things to warm hugs are scarves, something that wraps you up and keeps you warm – while being oh-so fabulous and trendy at the same time! For the latest trends in scarves, head over to Amazon to find some amazing styles and prints to give your girlfriend. This is a gift that will double up as a fashion accessory as well as a source of comfort – guaranteed to make her look and feel great. Scarves are great cozy gifts for a girlfriend, especially for someone who loves accessorizing their outfit and mixing and matching prints and styles with their outfits.
Warm cashmere scarf will keep your girlfriend warm and fashionable 
 Pair it with jackets or coats to blend with trends 
Available in 3 colors 
Dimensions : L 73 in x  W 23 in
10. Luxury towel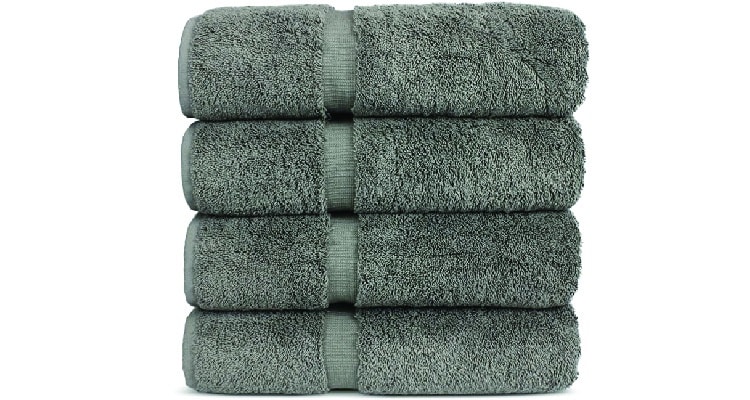 You know that feeling you get when you wrap something warm around yourself and it makes you feel like everything is alright? That's the exact feeling luxury towels can provide your loved ones when they step out of a hot shower having washed off all the worries in the world. This product right here is your sign to stop wondering what kind of comfy gifts for her you should get, because this is a really good call.. The towel has a spa-like quality which is bound to make any person feel refreshed, relaxed and rejuvenated – and imagine feeling that way each time you step out of the shower!
100% pure cotton for softness, absorbency and durability
Great for daily use, at the beach, in hotels and spas, 
Quick drying and multipurpose usage
Perfect for all skin types
Extra long durability
Related Reading: 21 Long-Distance Relationship Gifts | Updated List [Oct. 2020]
11. Luxury bedcover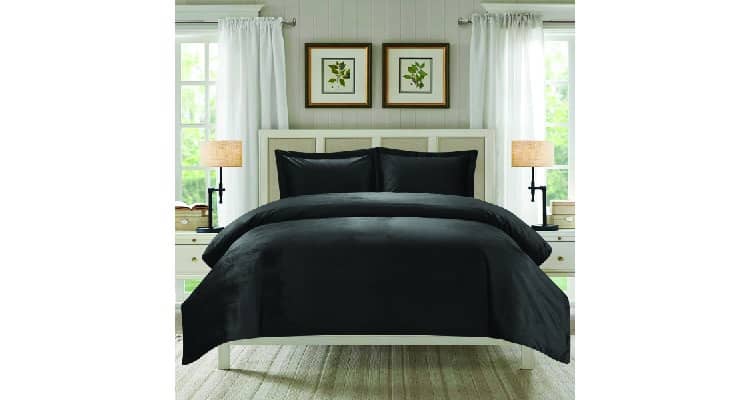 When you go to a hotel, what's the one thing that really stands out that you don't have at home? Their bedding and linens. Every hotel has a great set of bed covers that make you feel not just warm and comfortable, but so warm and comfortable that you never want to leave. So why not bring her this comfort straight to her home? Get your girlfriend this amazing set of bed covers that will transform her room within minutes.
32 options available
Includes 1 pillow cover, 2 pillow shams, 2 flange and 2 bonus pillow cases
Microfiber material
Easy care
12. Heating pad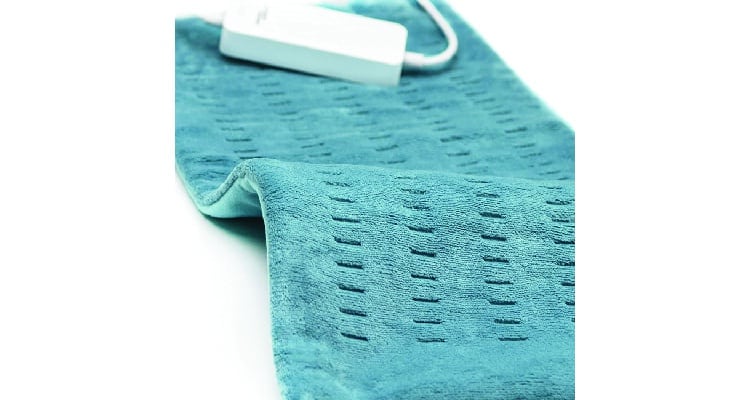 Do you want to make your girlfriend really happy? Gift her something that she can genuinely use during the worst days of her month. That's right – her periods. This heating pad will not only comfort and reduce her pain, but it will also show her that you truly care. This gift shows her that you're more than just roses and chocolates, you're here for the real deal. This heating pad is one of the best cozy gift ideas for her.
Super fast heat up in just 20 seconds of usage 
Effective pain relief 
Soft and long micro plush fiber providing utmost comfort 
Machine washable
Related Reading: 15 Simple Ways To Make Her Fall In Love With You
13. Jewelry box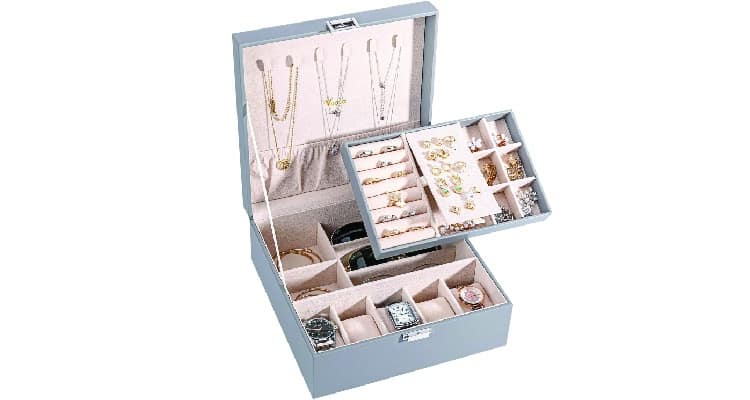 Every girl can make use of a jewelry box, especially those who have a tendency to lose their precious trinkets and baubles. It goes without saying that this jewelry box can be used to store all the necklaces, charm bracelets, or earrings that you've ever gifted or will gift her. However, she can also use it for storing jewelry that her mother gives her, or something that is of sentimental value to her. Give her this beautiful jewelry box and watch how much use she gets out of it.
Designed for organizing all types of jewelry like earrings, bracelets and necklaces
Double-layer stackable storage 
Multiple separate storage cells with removable dividers for storing different types of jewelry in different sizes and shapes
Dimensions : 10.25 x 10.25 x 4.33 inches
14. Birthstone necklace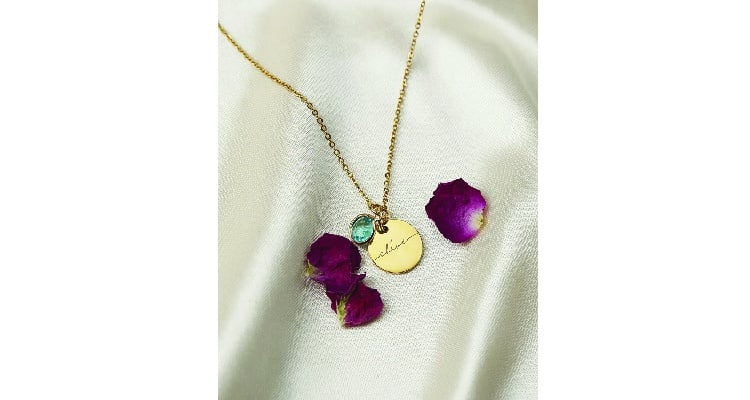 Here's a little secret for all of you confused men out there – once you gift your girlfriend jewelry it turns out to be something she actually likes, it is highly unlikely that she will ever take it off. This birthstone necklace has both – you and her – in it. Her name will be engraved on it, and the love of her life would be giving it to her. Gift her this beautiful necklace and notice how she wears it with every possible outfit she owns.
Customize your girlfriend's name on pendant 
Available in rose, silver and rose-gold plated steel 
Dimensions: L 17.5 inches 
Resizable
15. Love capsules
No matter where you are, don't miss a chance to make your girl feel special. Inside the capsule is a blank piece of paper which you can fill with things that you love about your girlfriend. Get creative with this, give her one capsule when you're at a restaurant, or when she's having a bad day, or just because you simply want to. These capsules are the most thoughtful gifts for girlfriends anyone has ever had.
90 capsules and one glass bottle 
Capacity – 3.72 pounds 
Capsules available in mixed colors 
Amazing gift for boyfriends who shy away from telling their girlfriends how much they love them
16. Shower steamers
Shower steamers and shower bombs can help change your bathroom into a spa-like retreat when you're feeling uptight, need a moment of clarity, or just want to relax. They're affordable, smell great, and some even have additional benefits like cleansing your sinuses and helping you relax before bedtime. Aren't these shower steamers the best cozy gifts for her? We think so too.
Smells ah-mazing
Set includes 6 shower melts : lavender, eucalyptus, vanilla, watermelon, grapefruit and peppermint 
Beautifully gift packed 
Vegan and cruelty-free
Related Reading: 35 Cute Ways To Say I Like You Over Text
17. Wearable blanket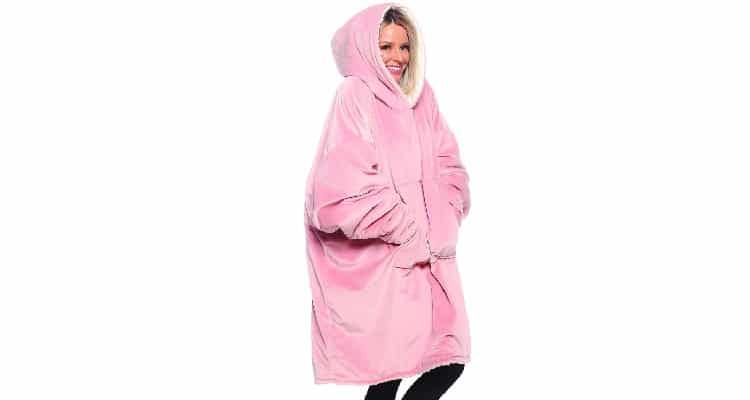 Blankets that you can wear and still look fashionable in? Sign us up! This wearable blanket will let your girlfriend stay warm and cozy wherever she is – in front of the TV, reading a book or drinking coffee on the balcony. Double layered with luxurious fleece microfiber on the outside and premium fluffy Sherpa on the inside, this blanket is coziness redefined. If by now you haven't been able to wrap your head around what cozy gifts for her should you buy, then you know this is the answer.
Available in plus sizes starting from 5XL 
Wear it when watching TV, playing video games, or even on a beach night 
This is the original wearable blanket as seen on Shark Tank
18. I wrote about you
Get your girlfriend this book filled with the most meaningful words – yours! Filled with lovely prompts and delightful illustrations, this book will show her how much you truly care. Writing is the purest form of love, and your loved ones deserve only the best. She can open to any random page and find your heartfelt message waiting for her. This book will turn out to be your savior, especially during fights. We hope you write your heart out.
Designed to be filled out by you to give to someone you love
Print length : 64 pages 
Dimensions: 7.1 x 0.5 x 7.9 inches 
Item weight: 11.2 pounds
19. Date night box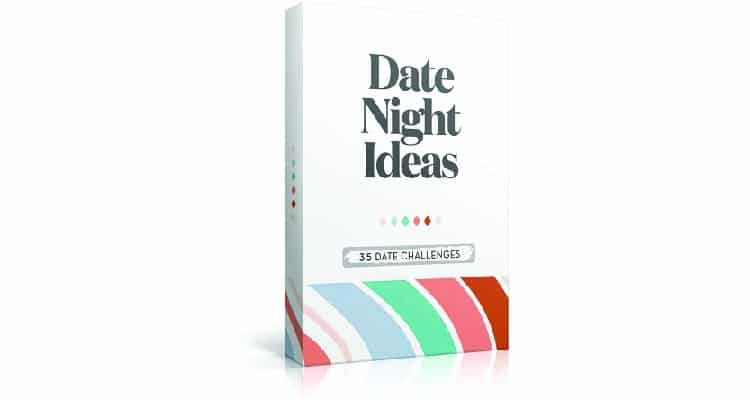 Do you and your girlfriend want to do something out of the ordinary? Do you still want to keep the spark between the two of you alive? Gift her this box with a bunch of romantic and adventurous date night ideas that the two of you could explore together. Besides making unforgettable memories, she'll know how much effort you are willing to put into the relationship to make it work.
Included are 35 fun and exciting date challenges and 2 scratchers for easy scratching. 
There's only 1 rule – once you scratch off the challenge card, YOU MUST complete the adventure date. There are no take backs
Each card includes helpful symbols to help you better understand whether the dates will take place at home, indoors, away and even if you need a babysitter (If you have kids)
The purpose of these cards is to bring excitement and happiness into your relationship with these fun and adventurous date ideas
20. Expressive cards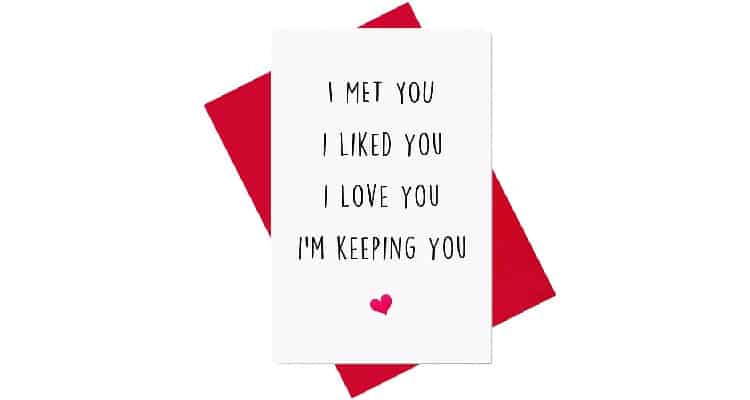 Having trouble expressing your love for her? Don't worry, buy a card that says everything you wish you could. This folded card is blank inside so it is your turn to pen your feelings down. Tell her what you absolutely love about her, how much you care for you and how she'll always have you in her corner. Use this card to tighten the bond between you and your girlfriend.
Premium super smooth 300gsm white card
Size (folded):  8 x 5.3 inches or  20.5 x 13.5 cm
Will make someone in your life feel very special
Folded card is blank inside for your personal message
With the help of the list above, there is no way that your girlfriend will be disappointed this year. Anytime you want to make your girlfriend feel special and loved, just take one good look at the list above and you'll know what to do. And if you're in a long-distance relationship, no matter what the distance between the two of you, these gifts are bound to bring you closer.
FAQs
1. What can I buy a girl to make her happy?
Girls will appreciate any gifts, as long as you put in the proper amount of time and effort into it. Don't just get your girl something last minute, make sure you've put a lot of thought into it and have added sentiment to your present.
2. What is the greatest gift you can give someone?
The greatest gift you can give someone is your time. Make sure you take the time out for people who matter, for people who you love and hold dearly.
3. How can I impress a girl on her birthday?
As cliché as it might sound, take her out for a beautiful candle-lit dinner. There is nothing girls appreciate more than good, honest and intimate conversation.
11 Last-Minute Gift Ideas For Someone Who Has Everything | 2020
Ask Our Expert
You must be Logged in to ask a question.