Hollywood movies about cheating in a relationship fiddle around with the same recurrent themes. Grizzly sex scenes? Check. Nudity? Check. A murder or two? Double-check. Because infidelity in a monogamous relationship means Armageddon and there are people who pay the price.
We have thrillers like The Loft, Chloe about unfaithfulness. We have Le grand amour from the '60s – the cliched comic tale of having an affair with an attractive secretary. In drama, we have movies like Closer with a star-packed cast and erotic mesh of four lives entangled together. Wolf of Wall Street glides through the unfaithfulness part with a lot of bickering with the wife, a lot of drugs and truckload of money that's unaccounted for.
If you look at the list of top Hollywood movies on infidelity, these classics are just the tip of the iceberg.
Top 10 Hollywood Movies About Cheating In A Relationship
Hollywood encroaches the aftermath of infidelity, deals with the psyche of the infidel, launches a reverse trajectory to show us infidelity does not always have to be the same. Here is our pick of top 10 Hollywood movies about cheating in a relationship that delve into the complex dynamics of romance and fidelity from a fresh lens: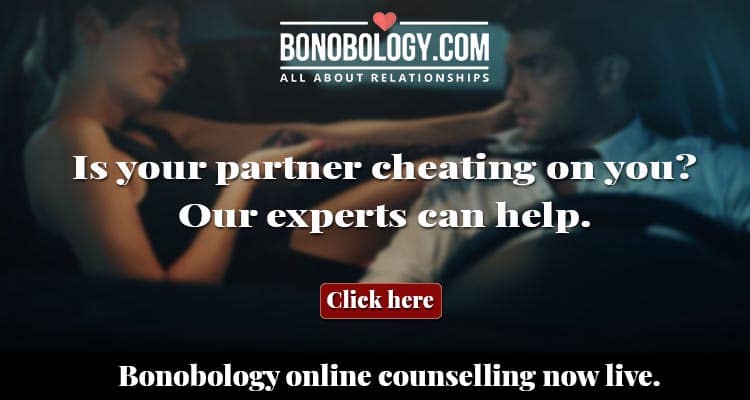 1. In the Mood for Love
Director: Wong Kar-Wai.
Wai is generous. Wai is forgiving. In the Mood for Love is a standing testament to it. Two neighbours find out their respective partners are cheating on them with each other's partners.
Instead of acting out and having an affair of their own (they were attracted to one another), a slow seduction builds up that do not result in anything sexual. The film teems with a slow pace, warm tones and rain-drenched streets of Hong Kong. The affair of their partners is not the focus in the movie; the slow build-up of a companionship –platonic and romantic – is.
They do not leave their spouses but goes separate ways. The only intimate moment between them is when Mrs Chan lays on the shoulder of Mr Chow on their cab ride back.
2. Gone Girl
Director: David Fincher
Amy Dunne is every cheating husband's nightmare now. Sweet, sociable and amazing Amy disappears on the morning of their anniversary. All fingers point to the husband, the crime scene has been set to make the police believe it is an abduction.
Life insurances bumped up, a shed full of expensive gifts? All fingers point to Nick, the husband. The infidelity is shown in the first half itself, but its Amy's character that sends goosebumps down your spine.
Do you think you can drag Amy down to the bottomless pit of a country and leave her for a younger, bouncier girl? No, way baby. You don't get to win.
Husbands, take note.
Related Reading: He Cheated On Me But Wants Me To Take Him Back
3. Unfaithful
Director: Adrian Lyne
The story of a straying wife and the hopping in the sack with a young, French man happens while being married to Richard Gere (who would want to cheat if their husband is Richard Gere!)
This is one of those Hollywood movies about cheating in a relationship that address the irony of women straying from a doting husband who is also good at sex for sex. There are steamy scenes fuelled by the French lover but things turn ugly when the husband learns about the affair.
4. Blue of the Warmest Colour
Director: Abdellatif Kechiche
Adele falls in love with Emma, an art student who brings forth the former's love for women. The film revolves around their relationship, Adele's coping with her girlfriend's artistic world and friends until she cheats on Emma with one of her male colleagues.
If you are looking for a happy ending or reconciliation between these two, you are barking up the wrong tree. Adele's reconciliation with Emma ends, with the movie and many hearts breaking in many different ways.
This is one of the Hollywood movies about cheating in a relationship that you should watch for its bittersweet ending.
5. Anna Karenina
Director: Joe Wright
Leo Tolstoy's classic novel tells the story of Anna Karenina's affair with Count Vronsky. The romance is sweep-off-your-feet kind of a royal affair.
The infidelity ends in tragedy for Anna (because only the woman is supposed to pay for the affair?). Thought the plots sound a bit generic, watch it for the excellent cinematography and costume design.
Related Reading: The Anatomy Of An Affair
6. Fatal Attraction
Director: Adrian Lyne
Adrian Lyne brings another erotic thriller after Unfaithful. A man, after a two-day affair with a woman, doesn't know what he has done. Unknowingly, what he signed up for was not the woman's obsession with him who refuses to leave him alone after the affair.
Will the affair come out? Will the obsession become a murder mystery? You got to watch it to find out. You won't be disappointed.
7. The Descendants
Director: Alexander Payne
This movie delves into the aftermath of an affair. While his wife lies comatose in the hospital, Matt and his daughters decide to find the man she was having an affair with. The illicit affair has never been shown on screen, just the aftermath it has on a family,
8. The Great Gatsby
Director: Baz Luhrmann
Let's not go into the controversy if Leo Di Caprio makes a great Gatsby. The movie, like Fitzgerald's book, deals with the lavish lifestyle of Jay Gatsby. But he has an ulterior motive for throwing such elaborate parties – to lure Daisy, the love of his life from many moons ago.
Sure it's easy to say that Jay's obsession with Daisy is what drowned him at the end. It's easy to be swept off your feet when your ex-lover comes back into your life, having bazillion dollars in their account but woos you with more than just money.
Watch it for the extravagant affair that Daisy indulges in with Jay, the green light at the end of the dock and Leo's great performance.
Related Reading: 15 Warning Traits Of A Serial Cheater – Don't Be His Next Victim
9. The Loft
Director: Eric Van Looy
So, you and your friends share-rent a loft where you carry on your extramarital affairs? Sounds very post-modern. Doesn't it? But what happens when the girl you brought over gets murdered in the loft?
Now, one of you is a cheater AND a murderer. Watch it for the suspicions among friends, being friends with a murderer and how guilt, fear and suspicion can wreak havoc.
10. Below Her Mouth
Director: April Mullen
Jasmine gets seduced by Dallas while the former's live-in fiancée is on a business trip. Thus, begins a salacious sexual and emotional affair which offers quite the twist at the end. Add this to the list of top Hollywood movies on infidelity you must watch for the rollercoaster ride it offers.
Have you seen these Hollywood movies about cheating in a relationship? Or have more to add to the list? Write to us or leave a comment below.
Confession Story: Emotional Cheating Vs Friendship – The Blurry Line