When it comes to the reel, infidelity is a fascinating word. Be it in Hollywood (read: Unfaithful) or Bollywood (read: Silsala) infidelity has churned out cult films that have remained the talking point for ages. Adultery is something that has always fascinated filmmakers because of the gamut of emotions it explores, the shades in each character it shows and the most interesting part is the way it looks into the beginning of an extramarital affair
Extramarital affairs do make an interesting subject for filmmaking. Take Maqbool, look at Aitraaz or even Bombay Talkies deals with a closeted gay husband cheating on his wife. Movies that delve into adultery and cheating have always got our instant attention and some movies have stayed on in our minds for decades now.
Related Reading: Some Of The Best Bollywood Films That Deal With Unrequited Love
10 Best Bollywood Movies On Extra Marital Affairs
There are plenty of movies in Bollywood that have dealt with extramarital affairs but here we will talk about those that have left an indelible impression on our mind. Here are our 10 best Bollywood movies on adultery.
1. Murder
Simran (Mallika Sherawat) engages in passion outside of marriage with Sunny (Emraan Hashmi) who is her ex-boyfriend. The torrid affair is not what makes up the movie. The murder that follows leads to an investigation where the husband Sudhir (Ashmit Patel) gets thrown into the mix.
A loveless marriage, lack of passion attracts Simran to Sunny but the end of the day she becomes the adarsh Bharatiya nari and stays on with hubby.
What we can't forget: The sexual chemistry between the adulterous couple played by Mallika Sherawat and Emraan Hashmi.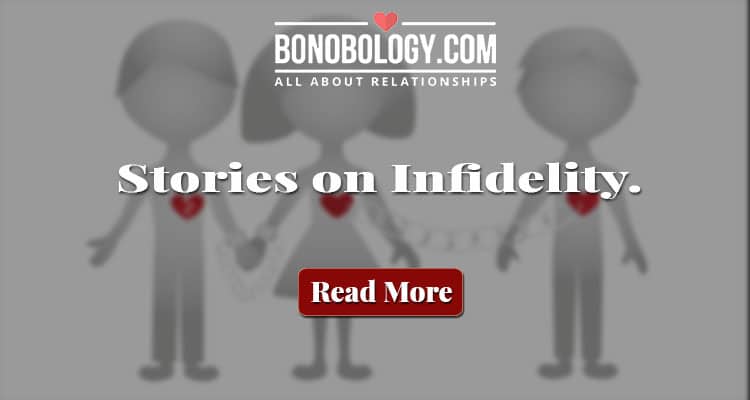 2. Kabhi Alvida Naa Kehna
SRK's wrinkles in the song Mitwa are not the only noticeable thing in this movie. Two married couples are introduced. The star cast included Shah Rukh Khan, Rani Mukerji, Abhishek Bachchan and Preity Zinta. The concept of marriage as an obligation, being stuck in a loveless marriage leading to a companionship that later blossoms into a wild night of love-is how the storyline of the film unfolds.
The ending is reconciliation between the two infidels facilitated by the respective spouses. KANK is somewhat complex and leaves you with mixed feelings about infidelity. But it's a beautiful film.
What we can't forget: It's interesting in the way the affair starts. They were initially trying to give each other's marriages a boost but then they fell for each other.
3. Silsila
Yash Chopra wanted to have the supposed off-screen love triangle between Rekha-Amitabh-Jaya on-screen in Silsila. His calculation didn't work, the film was way ahead of its times and tanked at the box office then but later on it became a cult film on infidelity that people keep watching and re-watching.
Silsila remains one of the best movies, all thanks to the grand cast, hint of behind-the-scene actual drama and Yash Chopra's brilliance. The movie ends with "Love is faith and faith is forever". The performances are brilliant but the end of the film is too predictable.
What we can't forget: The chemistry between Rekha and Amitabh and Sanjeev Kumar's performance. It was just mind-blowing.
4. Guide
The film won a number of National Awards and remains one of Dev Anand's best. Raju (Dev Anand) and Rosie (Waheeda Rehman) begin an illicit affair even though Rosie is married to Marco. What makes Guide a great watch is not the extra-marital affair, but the fact that women back then were portrayed to have a voice in the marriage and a passion of their choosing. The movie won many accolades.
What we can't forget: The evergreen songs of this film. We are still humming…
5. Life in a…Metro
In one of the nine lives of Mumbai portrayed, Shilpa Shetty (Shikha) indulges in a romance with a theatre artist played by Shiney Ahuja, outside of marriage. While her husband played by Kay Kay Menon (Ranjeet) is in a relationship with his office junior played by Kangana Ranaut (Neha).  Directed by Anurag Basu, the affair does not end in a positive note, with Shikha going back to her family. Shilpa Shetty explained the change in the climax scene where she was supposed to leave her husband and go with the artist. The reason why she decides to stay with the family was that Basu thought most Indian women would do exactly that. The infidelity in the movie was real; so was the outcome.
What we can't forget: Super handsome Shiney Ahuja and vulnerable and young Kangana Ranaut.
Related Reading: 20 Signs Of A Cheating Husband That Defines An Extra Marital Affair
6. Bombay Talkies
What makes Bombay Talkies great is the way they have dealt with contemporary issues. Rani Mukerji (Gayatri) is married to Randeep Hooda (Dev), who is a closeted gay. As a repressed housewife, Gayatri and Dev have an unhappy marriage. Directed by Karan Johar, this part of the four-part movie is called Ajeeb Dastan Hain Ye. The likeable intern (Saqib Saleem) Avinash, hired by Gayatri manages to give her a good laugh and her husband, a good experience. Critically acclaimed for its brevity, Ajeeb Dastan Hain Ye is an out-of-the-box take on infidelity.
What we can't forget: The super hot Randeep Hooda. He just has a way of getting our eyeballs. We particularly liked the scene where Avinash confronts Dev.
Related reading: Surviving An Affair – 12 Steps To Reinstate Love And Trust In A Marriage
7. Pati Patni Aur Woh
The 1978 movie deals with infidelity with humour. Ranjeet (Sanjeev Kumar) and Sharda (Vidya Sinha) are happily married with kids until the man begins the most clichéd love story of all times: having an affair with his secretary Nirmala (Ranjeeta). And that's not all, Ranjeet has convinced Nirmala that his wife is on her deathbed. It's a sensitive yet funny take on to what extent men could go to get attention from another woman.
The 2019 film has Kartik Aaryan, Bhumi Pednekar and Ananya Pandey as the other woman. It's a much more modern and a wee bit convoluted take on infidelity but the film does get one thinking.
What we can't forget: In the old one it was subtle humour and in the new the heroines, of course.
8. Masti
Three men cheating on their wives with one woman played by Lara Dutta is the plot of Masti. The movie is a sex comedy, with three cheating husbands played by Vivek Oberoi, Aftab Shivdasani and Riteish Deshmukh, three clueless wives, Amrita Rao, Tara Sharma and Genelia D'Sou– all striving to make do with what's best for them. The movie ends with the wives finding out about the straying husband. Promises are made to be faithful, but for how long? A comedy dealing with adultery is a double-edged sword. It revels in laughter and cheap humour but is dealing with a subject as serious as adultery.
What we can't forget: It was slapstick humour all the way but we are still laughing.
9. Thank you
A response to the women who have been cheated on by their serial cheater husbands. Thank You revolves around three men Bobby Deol, Irrfan Khan and Suniel Shetty who start a yacht business to have some fun beyond heir marriage. But their wives get a sniff of what they are up to and hire a private detective played by Akshay Kumar to catch them red-handed. On the whole, the movie resorts to the gracious forgiving nature of women and the general gluttony of men. Adultery is looked at with the same old lens but presented in a new package.
What we can't forget: The four men, of course.
10. Arth
This Shabana Azmi starrer is a gem in Indian cinema. Inder (Kulbhushan Kharbanda), a director leaves his wife Pooja (Shabana) for Kavita (Smita Patil), a sensational actress. Being deserted by her husband, with a maid who provides her mental support, Pooja rises to the occasion, proving you need no man to be valued. The film is driven by two women more than the man who cheats. Arth is the film that first comes to one's mind if we are talking about adultery in Bollywood.
What we can't forget: The plight of the two women. One who has lost the man and one who has gained him but is still insecure. The emotional vulnerabilities were so well portrayed.
In our view, these are the 10 best films made in Bollywood that deal with extramarital affairs with a totally different outlook. Bollywood does have many more films on infidelity, cheating and adultery but we somehow can't help but think of these when it comes to making our favourites listicle.
Which film, in your opinion is the best on infidelity?
Confessions Of Five Women Who Say, "My Husband Cheated But I Feel Guilty"