The life you have built together comes crashing down when you realize that your husband might be or is, in fact being unfaithful. There are so many questions that appear about the future and the uncertainty of it all – how to deal with a cheating husband? Then there are questions about whether you should just ignore your cheating husband and move on or stay with someone who cheated on you? This is only going to encourage him to stray even further.
We know you're hurting and we're not here to say that we know how you feel or that reading these tips to deal with a cheating husband, will somehow make the pain go away. Because, let's face it – there is no rule book that guarantees perfect relationships, nor is there any easy way to deal with a cheating husband.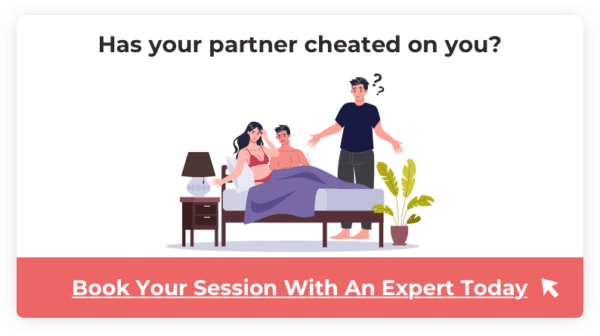 But every problem comes with a solution and this one is no exception. Here we have compiled some tips and ideas on what to do when you find out your husband is cheating. Take a deep breath and start the process.
Related Reading: How To Forgive Your Cheating Partner, And Should You?
How To Deal With A Cheating Husband – 13 tips
After 3 years of marriage with Ross, Linda was pregnant. To take care of Linda, her cousin Susan arrived. And before Linda could deliver her first child, Ross was completely into Susan. The most joyous time of her life was blotched with Ross' cheating. Linda was wondering, "Should I leave my husband for cheating?" as her unborn child needs his/her father. But being a woman of brain and tactics, she handled the situation smartly. How? Let's find out.
This is a tough situation and every relationship is different but you can gather the pieces and take a good look at your options. You can plan how to actually begin to deal with a cheating husband, with these 13 tips.
1. Double check your facts
You might have an inkling that something is amiss. You may have been noticing some cheating partner signs but can't say for sure? Women are intuitive beings but pause and verify. Check and double check to make sure if it is really happening. Is it just some friendly banter and a chat over text? Or is he really cheating on you online?
Go onto the next step only after you have done your due diligence. It is extremely important that you confirm the situation before because a false accusation can damage trust in your relationship for a long time.
Related Reading: 12 Signs He Regrets Cheating And Wants To Make Amends
2. Confront him
What to do when you find out your husband is cheating? Take a deep breath. We know how mad it makes you but let's calm down a little bit. Find the right time mostly after you've tucked the kids away (if there are any in the picture) and just ask him point blank.
Don't hint at it or beat around the bush – just ask him. Let the question take him by surprise to get an honest answer. A cheating husband will deny having an affair when asked about it but you will know from his expressions and body language.
A little tip – notice whether he avoids looking into your eyes or answers looking straight at you. There are other tell tale signs of lying like turning his back to you or touching one's nose or scratching the face. Because you're married to him, you might already have noticed these signs when he lies or tries to cover something up.
3. Counselling is key
By now, you know that he cheated on you but do not understand why or how to deal with a cheating husband. This is the time to give your marriage some help. Do not shy away from consulting a couple's counsellor and try to bring everything that you have buried deep, out !
Nikita and Derek were about to part ways after Nikita found out about his infidelity. But as a last chance to save their marriage, they went to a counsellor. It bore fruit. They came to terms are proud and happy parents to twins today.
Bringing issues out of the closet will help you understand if something was missing in your relationship and can be worked on or if you're to deal with a cheating husband who has made a compulsive habit of it.
4. Don't involve the kids, try not to involve your family
There is no rulebook on how to deal with a cheating husband but it must be done, for the sake of our own sanity and self respect. The best way to deal with a cheating husband after the initial shock of it all, is to get a grip over your emotions and think about how your reactions and the way you deal with it affects the people you love, like your children and close family.
Don't ignore your cheating husband in front of others. Let things at home be as close to normal as can be. Don't involve the kids or your extended family. It will only cause gossip and force people to take sides and that is never healthy.
5. Do not involve the other woman
Now, you may or may not know who the other woman is. If you do know her, stay away from involving her in the matter. This will only make things ugly. Your battle is with your husband and not the other woman. And, come what may, maintain your dignity.
It's possible to clean the air and not place the blame on a third person. Try meditation, it helps to deal with a cheating husband spiritually and get over infidelity pain.
6. Don't blame yourself, don't get defensive
Now, don't get us wrong. We are so conditioned to put blame or the 'other' person in order to let go of what happened that when we are unable to do so, we internalise it and start blaming ourselves. We spoke to women who were cheated on by their husbands and most of them recalled moments of self blame.
"Maybe, it was my fault."
"All the cheating partner signs were there. I should have seen it coming."
"Maybe I'm not interesting enough."
"I'm not beautiful."
"He deserves better."
"Should I leave my husband for cheating? I feel like it was my fault."
Current studies of American couples indicate that 20 to 40% of heterosexual married men will have an extramarital affair during their lifetime. So, do yourself a favor and do not blame yourself. There is nothing that you could have done to prevent your husband from cheating on you.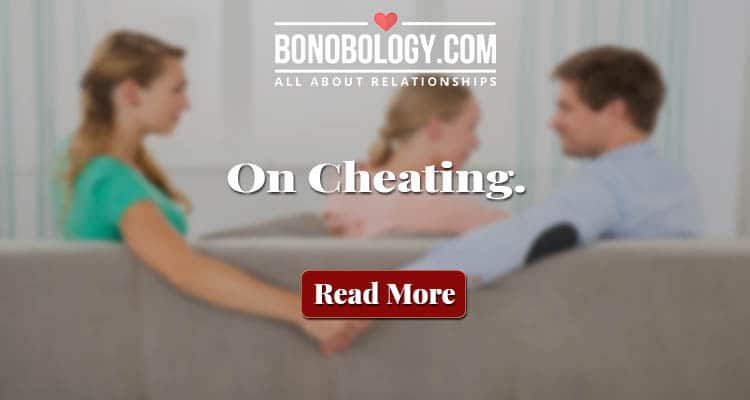 7. Let him have his say. Listen !
Your mind is swarming with so many thoughts and opinions – about him, about her, about yourself that you don't give him a chance to explain. When the initial rush has died down, maybe look at the situation in a different way. For a while, ignore your cheating husband and focus on the whys of his cheating. Although there is no excuse or reason to cheat, be prepared to listen to him as well.
Cynthia Jared, Vice President of a bank, recalls sitting down for a coffee with her husband despite all the anger brewing inside her. She said, "Let's forget for a moment, that we're married. Think of me as your best friend. Tell me, what happened?"
Cynthia recalls this a magical conversation that went on for hours and really lifted a lot of self doubts for her. She told us, "I did not know whether I would be with this man or not, in the future but one thing was certain – I had embarked on the journey of forgiveness."
Asking the right questions to your unfaithful partner will help you understand them, and you will be able to cope better.
8. Don't take revenge. Deal with a cheating husband spiritually
Revenge is ugly. Revenge is just immature. What makes us a bigger person is that we deal with it without stooping low and doing the same thing or something worse that hurt us in the first place. Don't think of ways on 'how to hurt my cheating husband' but ways to deal with the situation.
One of the best ways when confused how to deal with a situation is to meditate and take the spiritual path. Your inner wisdom will be able to guide you in the right direction.
9. Be respectful. No name calling, please.
Respectful? We know you must be thinking we're crazy to even suggest such a thing when you're dealing with this horrible situation. But if there's one thing we know for sure, is that we do not. This approach proves beneficial if you are staying with someone who cheated on you
We do not know what really happened, whose fault it was. We do not know whether things were hidden or falsely portrayed. All we know is that we are in a situation that needs to be resolved. We can make it ugly or we can deal with it gracefully. We're sure you have too much ugliness in life already, so let's go with the latter, okay?
10. Quit being a doormat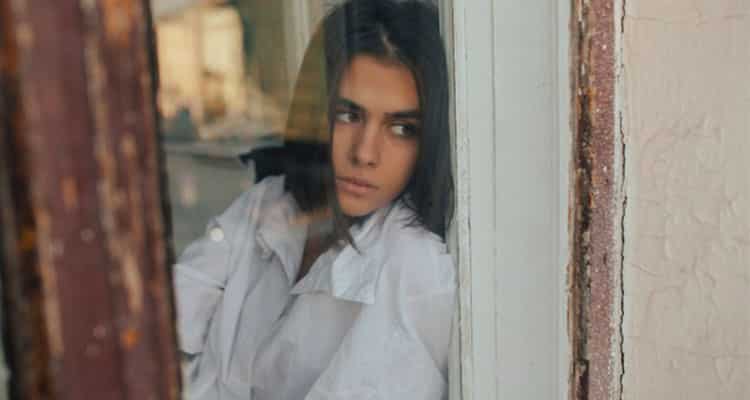 How to deal with a cheating husband? Let's also talk about you shouldn't deal with it! Don't be under the impression that if you're not going to acknowledge things or speak up, the situation will get swept under the floor and never surface again.
Speak up, confront him, do not blame yourself, quit being a doormat. Every woman deserves love, respect and loyalty, not being cheated on.
Related Reading: Infidelity: Should You Confess To Cheating On Your Partner?
11. Time for some tough decisions
You have tried everything but there's no solution in sight? Thinking of leaving your husband for cheating? You are constantly in the thought – "my husband cheated and I can't get over it."
12. Tell him to keep you informed about his whereabouts
When you find out your husband is cheating and to reestablish trust, ask him to keep you informed about his whereabouts throughout the day. Make him realize that what he did was serious and shattering. He has lost your trust completely. So, he has to work on it to rebuild it if he is dedicated to win you over again.
However, don't be too controlling and show him how composed you are. Let him realize the disastrous act he has done and its consequences.
Related Reading: 21 Elements To Develop Respect In A Relationship
13. Forgive on your own terms
As you continue staying with someone who cheated on you, your husband might become guilty stricken and seek forgiveness. Having already decoded cheating partner signs in your partner, you might feel as if it will take forever. Take your time. Heal slowly and give yourself time to prepare for forgiveness.
The betrayer has to understand that they can't make haste to be forgiven and start things all over again with you afresh. Here you have to ignore your cheating husband and let him know that you are heartbroken and need time.
Taking a decision like this is easier said than done, but, you need to give him an ultimatum and let him know that you will follow it through. If you have not made up your mind about staying with someone who cheated on you and the ultimatum is just an empty threat, he's never going to take you seriously and you're likely going to end up in a similar situation again. Our final word of advice is to be strong emotionally to be able to make some tough decisions.
Know that you're strong and you deserve all the love and respect in the world. Do not let anyone tell you otherwise. Husbands cheat and so do wives. Relationships are not perfect.
What matters though, is how you deal with these situations and grow into a better person with each one of them. Life is hard but maybe it's trying to teach us a lesson?
FAQs
1. What can one say to a cheating husband?
Tell him how disappointed you are. Talk to him about it to understand where it stems from and what can be done about it, now that it has happened. Decide on a marriage counsellor together and agree to be honest in expressing your feelings or trying out the methods suggested by your counsellor.
2. How do you communicate with a cheating husband?
Cheating or not, communication between spouses should be dignified. Don't ignore your cheating husband. Communicate with him the way you would like him to communicate with you.

Try not to put him down, especially in front of children and close relatives, as it is bound to affect them. If it is getting very difficult, couple's counselling is a good way open dialogue and bring out your emotions.
3. I love my husband but he is cheating on me. What should I do?
First of all you need to breathe and take your time to let it sink in before reacting. Have a conversation with your husband about it and let yourself listen and let him do the talking. Ask yourself how you feel and what you want to do about it.

You may not get an answer immediately because it's very difficult to get over infidelity pain. Give yourself time to think it through before making any hasty decisions. Go for couple's counselling as staying with someone who cheated on you is a difficult ask.
4. Can I ever forgive my husband for cheating?
It might seem very hard to forgive him right now but time heals all wounds. Couple's counselling is the first step towards understanding what might have gone wrong.

Counselling helps one bring out what they are feeling and will definitely help you to deal with a cheating husband. Many women try to deal with a cheating husband spiritually – try to meditate and listen to your inner wisdom.
5 Women Reveal Why They Have Forgiven Their Cheating Husbands
Tips On Dealing With Emotional Cheating From An Expert Therapist