There were whispers in the village that my cousin was in a relationship with a man of a different race. Now, in this modern age, you would be right to wonder what the big deal about interracial relationships is. But, for the villagers, it was news that elicited great excitement and disapproval from some quarters.
On the official introduction of the groom, there was barely any room to stand in the village. Everyone wanted to see this white person who was coming into a black family. There were looks of envy directed at the bride due to the perception that white people are rich, and she must be so lucky to have landed one. 
It got me thinking that my cousin's foray into an interracial relationship was not going to be as easy as she had hoped. She would have to deal with issues of institutionalized racism, biracial children, negative feelings toward the relationship, and much more. 
From what my cousin had to share about her experience, I learned a lot about what it takes to navigate interracial relationships. Through this article, I want to share some of that learning with you, along with some sound advice for couples who are currently navigating similar relationships. 
What Is Considered An Interracial Relationship?
What does interracial mean? Strictly on surface-level considerations, an interracial relationship would be a marriage or a romantic relationship between two people of different races. So, a white person dating a black person would pretty much fit the bill. Or Asian Americans involved with those of African-American descent.
Does skin color matter in a relationship? It might, but race is not the only defining factor. There are some nuances that make this definition a bit simplistic. For instance, mixed-race individuals do not necessarily fit into a single-race category. Thus, the term interracial may not entirely capture their experience. There's the element of culture and ethnicity to consider.
A black person from Africa may share the same skin color as one of African-American descent. Yet, there is a major difference in their cultural and ethnic backgrounds. The complexities of defining what is considered an interracial relationship require a whole other article. But, for this article, I will consider it a relationship between people of different races.
Related Reading: 9 Best Interracial Dating Sites (2023)
Interracial Relationship Facts
Mixed-race dating was frowned upon at one time. Earning societal and family disapproval was easy due to several factors. For instance, a black person dating a white person was seen as a kind of betrayal due to the historical context of the two races. Amongst the older people, my cousin was often asked if she knew how the white people mistreated the blacks. African American descendants would face the same wrath due to the ugly face of slavery yet they managed to foster on and successfully navigated the rough patches in the relationship.
However, despite the interracial dating issues, there are and have been some famous mixed-race couples. Top of the mind is Prince Harry and Meghan Markle. Mariah Carey, the biracial singer, was at some point married to Nick Cannon, who is black. The Kardashian family is another celebrity example. The matriarch herself is dating Cory, a black man. Amongst the kids:
Kim Kardashian has been linked to Damon Thomas (Black), Kanye West (Black)
Khloe Kardashian has been linked to Lamar Odom (Black), Tristan Thompson (Black)
Kylie Jenner has been linked to Tyga (Black), Travis Scott (Black)
Mixed-race couples coming in with children from previous relationships may also have some challenges. It is important to learn how to resolve conflicts in blended families. I could fill pages with more examples, but the fact remains that in this day and age interracial relationships are very common. Now, let's explore some other interesting interracial relationship facts to help you gain a more nuanced perspective on the subject:
Related Reading: The best thing I learned from my partner is…
1. When was interracial marriage legalized?
To start things off, let's brush up on our history a little bit and look into these interracial marriage facts. Interracial marriages have been legalized in the US since 1967 when anti-miscegenation laws were deemed unconstitutional by the Supreme Court. However, remnants of such policies persisted, with the final of such laws being repealed in Alabama in the year 2000.
2. Do interracial marriages have a higher divorce rate?
While there are several variances, there is a slightly higher rate of divorce among interracial couples. According to a Pew research report, 10 years after marriage, interracial couples had a 41% chance of separation or divorce. Compare this to the 31% chance of separation among those who married within their race. 
So, why do interracial relationships fail? It may be primarily due to interpersonal issues but it is widely seen as a reaction to external pressures and stress. In interracial relationships, family disapproval can play a big role. The same applies to societal pressure and institutionalized racism. The latter refers to a systemic perpetuation of racism, usually through policies and laws — for instance, discrimination in employment and housing, police brutality, and more.
Sometimes love is not enough to keep interracial couples together, and for many interracial couples, this reality hits too close to home. Oftentimes, people would refer to my cousin as the nanny when walking with her biracial children. Sometimes, there was open hostility when she would be with her husband. As much as they both tried not to let it bother them, sometimes it would put a strain on their relationship.
Related Reading: How To Have A Non-Religious Wedding – Some Awesome Tips!
3. Have interracial marriages increased?
One of the more obvious interracial relationship facts is that they've become more common and acceptable with time. Studies show that interracial marriage rates have increased greatly over the years. Starting in 1980, the share of intermarried newlyweds had about doubled to 7%. However, by 2015, the number had risen to a soaring 17%. And that begs the question, are interracial couples happier? There's no clear-cut answer to that question. Research findings make it even harder to find an answer. One current research shows that individuals in mixed-race relationships experience poor physical health and psychological well-being.
According to a recent study by Research Gate, interracial marriages are often less happy and stable than intra-racial marriages. The study goes on to contend that the effect of race and culture is quite difficult to separate. The major disadvantages of interracial marriage seem to boil down to discrimination and stigma toward the relationship.
But, looking at the increase in interracial relationships, it would be hard to focus on the negative. Like in any other relationship, both partners have to be willing to work together to make the partnership a success. They cannot pull in opposite directions and hope not to fall into the separation or divorce statistics.
4. Who has the most interracial marriages?
This is another one of the interracial marriage facts. Studies reveal that amongst nearly all races, there was a higher tendency for people with some level of college education to have an interracial marriage.
Benefits And Difficulties Of Interracial Relationships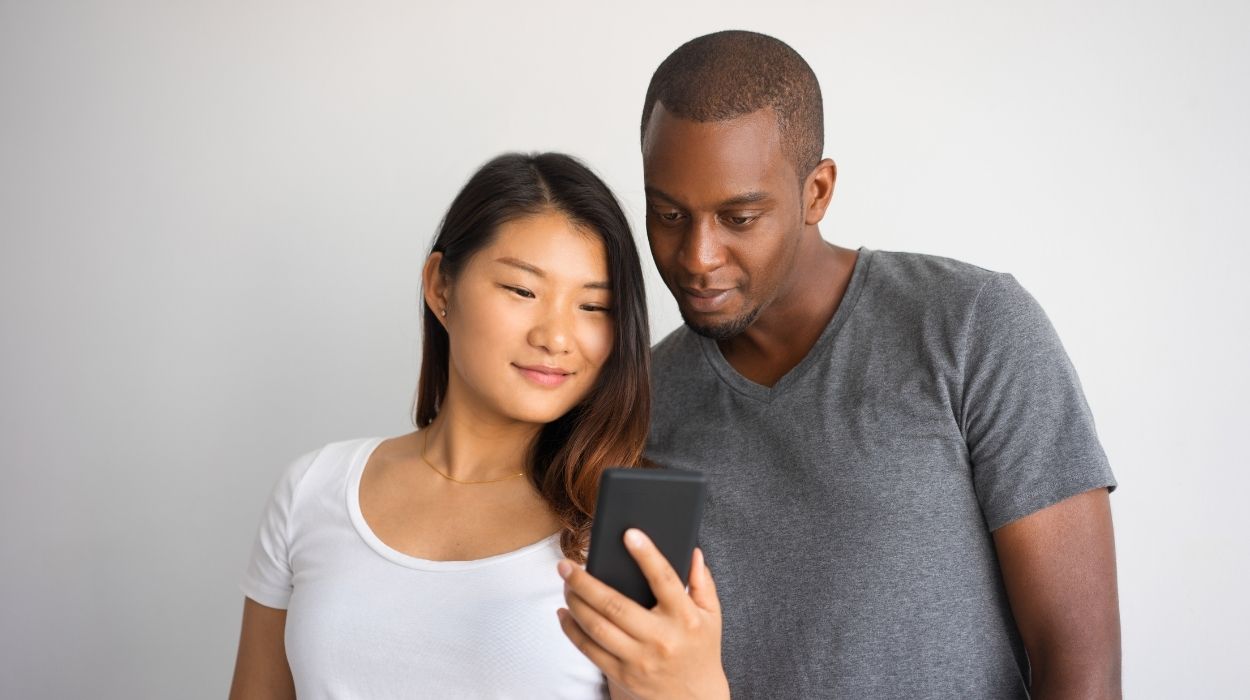 Now that we've answered, "What does interracial mean?", and explored the different facets of these relationships through the years, let's take a look at what you can expect from such a relationship. Well, other than the love, there will be difficulties you both need to explore.
| | |
| --- | --- |
| Benefits of interracial relationships | Interracial Relationships Problems |
| Cultural exchange: There's a greater opportunity for learning and appreciation of different cultures, customs, and traditions in interracial love | Cultural differences: Variations and cultural backgrounds can lead to misunderstandings or conflict in the relationship if there is a lack of respect and sensitivity in navigating them |
| Broader perspective: An interracial match allows for exposure to diverse viewpoints and experiences that can improve one's worldview, thus fostering tolerance for different people | Family and community reaction: Interracial relationships family disapproval and societal judgment can create tension and stress |
| Increased self-awareness and understanding: Mixed-race relationships provide an opportunity to confront personal biases and prejudices |  Microaggressions: Interracial couples can face aggression due to institutionalized racism, which can be hurtful and exhausting |
| Breaking down racial barriers: This helps promote better acceptance and understanding | Pressure or stress to represent: The interracial couple may experience pressure to represent the culture or race well |
| Rich heritage: Biracial children can inherit a rich blend of ethnic and heritage | Stereotyping: Unfair judgments and assumptions can be attributed to one partner due to the other partner's race |
| Greater empathy: There is more empathy in the relationship and understanding due to each other's experience | Lack of understanding: Lack of awareness about each other's cultural nuances can lead to unintentional hurtful actions or statements |
Every couple in an interracial relationship will have different experiences based on their personalities, backgrounds, and support systems. However, it is undeniable that along with the benefits, a couple has to brace for the disadvantages of interracial marriage. 
Related Reading: How To Handle An Interfering Mother-In-Law?
9 Tips To Make Interracial Love Relationships Work 
I asked my cousin how they had been able to make their interracial love last so long. Her reply was quite illuminating: "We have made it work because we both want the same thing. We love each other and are willing to lock out anyone who does not bring positive feelings or thoughts."
But can it really be as straightforward and cut-and-dry as this? Let's look at some tips on how to deal with interracial relationships that can help you prioritize your relationship above all else and make it so: 
1. Cultural respect and curiosity
Interracial dating tips number one is to understand that neither of your cultures is superior to the other. Every experience has made you the individual you are. So, instead of judging each other, be curious to learn different customs, beliefs, and traditions.
A simple thing like gender roles can be an issue. My cousin grew up in a patriarchal society. The notion of a man cooking or helping with household chores was 'un-African'. When her husband tried to help around the house, she perceived it as him not being satisfied with her housekeeping and cooking skills. It is only after interactions with other white people that she understood that is just how they operate in their homes. 
2. Educate yourself about racism
Another excellent interracial relationship advice is to educate yourself constantly. The race issue is never-ending in interracial love relationships. And even within yourselves, it can elicit interracial dating anxiety.
Will the family accept me because of my race?
Will I be able to fit in?
How will other people see us?
How will our biracial children fit in? 
All the answers are available if you take the time to educate yourselves about racism. There's plenty of information in books, documentaries, articles such as this, and more. Also, talk to other couples who are in a similar situation. Their experiences will give you a pretty good idea of what to expect.
Related Reading: How The Future Of Relationships And Dating Is Expected To Change In The Next 10 Years
3. Be open and accepting
In your interracial match, your partner will bring different perspectives into the relationship based on their background and experiences. Some may shock you since they are quite new or even unexpected. But now that you've decided to love them, it's time to put in effort in the relationship to be able to bridge those gaps. To start on the right note, be more open to their ideas, habits, wants, and upbringing. Don't compare notes, and do not belittle them for who they are.
4. Work on your communication
Be conscious about how you communicate with each other. There should be empathy and understanding at all times. Practice active listening rather than thinking you need to respond to everything. In the words of the renowned talk show host, Dr. Phil, "Never miss an opportunity to shut up." Active listening is the best way to overcome interracial dating struggles. Find out why communication is so important in a relationship.
5. Check your privilege and support your partner
Privilege is a touchy yet unavoidable topic in mixed-race couple relationships. A black person dating a white person may be viewed as an opportunist and have to deal with other negative stereotypes. This is for the simple reason that white people are seen as a superior race. If the white person takes that sense of entitlement into mixed-race dating, chances of success will be minimal.
They must also have empathy for their partner, who happens to fall in the 'less superior race' category. My cousin has had her fair share of rude comments and stares due to this. But her husband is always the first to reassure her that she is the most precious and amazing person. He will even check any family member who dares to try to put her down. Supporting your partner is a sure recipe for a successful marriage.
Related Reading: How To Have A Non-Religious Wedding – Some Awesome Tips!
6. Choose the right circle of friends
Try to go out and spend time with more like-minded individuals. And, don't ignore any offensive behavior. One may make an insensitive, race-laden joke, and in trying to be a good sport, you brush it off. But over time, it turns into a series of jokes that make you both uncomfortable. This is the sad reality for a mixed-race couple, so choose your friends more wisely. Spending time with supportive friends can improve the interracial couple's relationship.
7. Create a safe space for discussions
A lot can be said during heated discussions and arguments between a mixed-race couple. Sometimes, race can be a point of contention that can be mishandled or mentioned inappropriately. Know that you two must create a safe space in your relationship and set boundaries of what is acceptable. 
8. Address stereotypes
A common stereotype my cousin faced was that being African, she comes from a low-income or poverty-stricken household. So, her white husband was the savior who would elevate her to a higher social or economic status. Yet, that could not have been further from the truth. She comes from an upper-middle-class family while her husband was not from such a well-to-do background. If anything, the narrative should have been swayed more in her favor.
However, such stereotypes are commonly associated with inter-race relationships. The two have learned to laugh off such ignorant statements and simply not address them. But behind closed doors, they have had several conversations to address the topics and not allow them to interfere in their relationship.
Related Reading: The 7 Fundamentals Of Support In A Relationship
9. Have common goals
Nothing new here, yet worth mentioning as it is the key to many successful relationships. The best interracial relationship advice is to have shared goals and interests. You need to marry someone who wants the same thing you do. These are the foundations you need for a strong mixed-race partnership. If not, it's less likely the relationship will survive.
Key Pointers
Interracial marriages have indeed increased over the years, however, they also have a higher divorce rate than same-race marriages

 

Lack of information can be a major problem in interracial love. So, educate yourselves on racism and create a safe space for you and your partner

While there are many benefits of interracial marriage/relationships, there are just as many hurdles along the way.  A couple's commitment toward one another, solid communication and conflict resolution skills, and compatibility go a long way in determining the outcome of the relationship

To navigate their relationship well,

a mixed-race couple should practice active listening, check their privilege, and be careful of the friends they choose
Navigating interracial love isn't always easy. Certain mixed-race relationship problems come with the territory. But there is more to being a mixed-race couple than just struggling. Every relationship has challenges, yet they can just as easily be learning experiences that enrich your life. Overcoming these challenges only helps to make your relationship stronger.
FAQs
1. Are interracial relationships difficult?
While this is a highly subjective issue, generally, interracial relationships do come with unique challenges that you will have to learn to deal with. However, there is no relationship without any difficulties. The course of love never did run smooth, and what are a few additional bumps in the road if the route is beautiful?
2. What are the challenges of intercultural marriage?
Intercultural relationships are always going to entail a clash of worlds. Each person comes from a different upbringing and cultural values. Sometimes they might align, and sometimes they might be polar opposites. It is up to each couple to examine these cultural differences and communicate their perspective to come to a common understanding.
3. What is the divorce rate for interracial couples?
According to the Pew Research Centre, "interracial couples had a 41% chance of separation or divorce, compared with a 31% chance among couples who married within their race." Having said that, there is a degree of variation to this number, dependent on the combinations of race and gender. 
4. What is the best interracial dating app?
You can try InternationalCupid, Black White Dating App, and Mixed or Interracial Dating Chat.
7 Steps To Cultivate Harmony In Relationships – Expert Tells You
15 Signs Of Relationship Compatibility Between You And Your Partner
Ask Our Expert
You must be Logged in to ask a question.